Forgot Your Username
If you have forgotten your username, please provide your email address in the box below. We'll send you an email with your requested username. If you are having trouble, please call us toll-free at 1-800-221-0814.
Email Sent
You'll receive an email in a few minutes. Please check this email to find your requested username.
If you do not receive an email or you are having trouble logging into My Account, please call us at 1-800-221-0814.
LAOS
Easy-going and laid back, it is jokingly said that the PDR in the Lao People's Democratic Republic actually stands for "Please Don't Rush." When encountering the natural beauty, stirring spirituality, and welcoming people of Laos, rushing should be the furthest thing from your mind.
This lush, mountainous region—surrounded on all sides by Thailand, Cambodia, Vietnam, Myanmar, and China—was first established as the Kingdom of a Million Elephants (Lan Xang) in 1353. For 400 years, it reigned as one of the largest empires in Southeast Asia, but internal conflict tore it apart. The region then became a French protectorate in 1893, and French colonial influences are still very strong here today. Laos finally reunified and gained its independence back in 1953.
The road for Laos has not been an easy one. During the Laotian Civil War, the Lao government was accused of genocide and other human rights violations against the indigenous Hmong people—some of whom fought on the Royalist against the communist-backed Pathet Lao. The fallout caused many Hmong to flee the country. While there was a repatriation effort, very few Hmong returned to Laos. But those who still live in Laos today continue to live off the land as they always have.
From its gilded temples and saffron-robed monks to the mighty Mekong River and vibrant green mountainsides, Laos is a land of man-made and natural wonders, emerging from its once-turbulent past to invite travelers to come, discover, and above all—take your time.
Laos Interactive Map
Click on map markers
below to view information about top Laos experiences
Click here to zoom in and out of this map
Most Popular Films
Films featuring Laos from international, independent filmmakers
People of South East Asia
Witness the essence of Southeast Asia, reflected through the eyes of its people, in this short film featuring locals from all walks of life.
Produced by Janis Brod
Laos Foundation Site: Tin Keo Village
See the difference we're making at the weaving center and local school in Tin Keo Village.
Pictures of South East Asia
From bucolic scenery to cheeky wildlife to whirling cityscapes, experience a visual love letter to Southeast Asia.
Produced by Janis Brod
Laos: Month-by-Month
There are pros and cons to visiting a destination during any time of the year. Find out what you can expect during your ideal travel time, from weather and climate, to holidays, festivals, and more.
Laos in December-February
As with most Southeast Asian countries, cooler seasons will bring a larger number of tourists. In Laos, the situation is no different—larger crowds mean hotel and vendor prices will be higher, which can affect your travel dollar.
Yet, with the cooler temperatures, what is usually an incredibly hot and humid country becomes quite pleasant. Be sure to pack warm clothes as nighttime in Laos can be brisk.
The rice harvest begins in December. In the countryside, thousands of acres covered in marshy green paddies can make for especially pleasant back roads travel. Being in the countryside is probably best, as most tourists are crowding into Vientiane and other major cities.
Holidays & Events
December 2: National Day celebrates the country's independence from France in 1953. Expect massive military parades in Vientiane.
Late December: Hmong New Year
End of January: The Laos Food Festival, an annual event in the capital of Vientiane, brings almost 200 vendors to the streets. The largest in the country, it's easy to come across all forms of produce, the iconic laap—a zesty meat salad flavored with garlic and lime—and a spirit of entrepreneurship among women.
Must See
Hmong New Year, celebrated by the Hmong people of Laos, brings all the resplendent colors they're known for to the fore. Dancers wrapped in robes of ornate design and shining hues sing songs in elaborate displays of cultural pride. One of the celebration's biggest highlights is Hmong storytelling—from legend and myth steeped in animist beliefs to struggles of the modern day during the Vietnam War, much of the Hmong culture is designed to preserve the past.
Laos in March-April
Driving through the hot and humid countryside of Laos during March and April, it'll be hard not to notice a thick haze hanging in the air. Farmers are burning their farmland to make space for the next round of crops.
Temperatures in Laos are on the rise quickly at this time, with highs of over 80 degrees and high humidity. Traversing higher elevations, such as the verdant mountains surrounding Luang Prabang in the north, would be preferable. Most low elevation destinations in Laos, such as Vientiane, will be extremely hot.
Holidays & Events
March 22: Day of the Lao People's Revolutionary Party
Mid-April: Laotian New Year
Must See
Laotian New Year is arguably the largest celebration in the country. For up to a week in larger cities, Laotians celebrate the breaking of the dry season by washing homes, Buddha statues, and each other in water. It's not uncommon to see domesticated animals running free in town—as a way to build merit in the Buddhist tradition, people will set their animals free. This is also a great time to see some of Laos' most beautiful cultural dance routines, including the majestic lamvong, or "circle dance."
Laos in May-June
As it's the rainy season all over Laos, short and intense showers drop a deluge of water in the course of hours. Areas near the rivers, such as Vientiane, will experience less rainfall than in the mountains.
The cities and towns around Laos will be quiet, as tourists avoid the country's rainy season. Expect your travel dollar to go farther at this time, when you're able to use it. The rains, especially in the countryside, can cut access to whole regions.
Holidays & Events
May 29: Vixakha Bouxa is a celebration of the Buddha's birth, enlightenment, and death. Floats depicting the Buddha, often in glowing gold and light, are solemnly driven down the streets of cities and towns. Monks will also travel to receive alms from worshipers.
Various Dates in June: The Rocket Festival
Must See
The Rocket Festival, or "Boun Bang Fai" in the Lao language, is a Buddhist celebration of fertility rites. Along with skies alight from fireworks and rockets—marked with phallic symbolism—large processions of women and men in brightly-colored garments perform ornate dances down the streets. Larger cities, such as Vientiane, become an ecstatic cacophony of music for days.
Laos in July-August
Laos blooms in green as the foliage pops from the wet season's rains. Many of the roads in the countryside—and the cities, for that matter—are washed away. Some rural communities could be inaccessible due to flooded roads.
Backpackers tend to travel at this time to Laos, and the rest of Southeast Asia, as tourism is experiencing a lull. Expect to see people hitchhiking on the side of the road, as well as some American and European tourists taking advantage of the low season's prices. Your tourism dollar will go far in July and August.
Holidays & Events
July 9 to October 5: Boun Khao Pansa, otherwise known as Buddhist Lent, is a time for reflection, alms-giving, and meditation. For three months, many devout Buddhists will refrain from drinking alcohol, take more time to reflect on their lives, and give supplies and food to monks. Monks will not leave their temple once for the three-month period.
End of August: Boun Ho Khao Pad Abdine, known as the Laotian "Day of the Dead," brings Buddhists from all over the country to the temples bearing offerings. On one level a chance to build merit by offering food to the monks, people also ask the monks to make special offerings to their ancestors. Taking place for about two weeks, some mornings are marked with energetic drum music and splendid feasts.
Must See
As the rainy season is in full swing, the rivers and waterfalls of the country will be flowing strong. Just outside of Luang Prabang, Kuang Si Waterfall is an almost dreamlike collection of turquoise falls, nestled in a jungle clearing. At full flow, you can bathe under the main falls, a welcome respite to the heat and humidity.
Laos in September-October
The rainy season has subsided by September, leaving a landscape lush with both green vegetation and flowers. The waterfalls and rivers of the Laotian countryside are still flowing strong, though boating will be a bit calmer.
These two months are right before tourism season hits hard in the region. This is the time to visit the larger cities—Vientiane, Pakse, and others—to experience a slice of true Laotian life. Street markets will be in full swing for their own local populations, so you'll experience good prices and an authentic experience. Try a spicy bowl of papaya salad, a delicacy in Laos.
Holidays & Events
September 10: Boun Khao Salak, a celebration of the dead, brings many to their local temple to pray and bring offerings to the monks.
October: Wan Ok Phansa
Must See
Wan Ok Phansa marks the end of Vassa, or Buddhist Lent. Boats made of paper are illuminated with colored candles and set down the Mekong River on a moonless night. The light can be seen for miles, and fireworks downriver light up the sky, reflecting on the water in a dream-like scene.
Laos in November
Tourism season is in full swing by November, meaning the larger cities—and many of the most popular attractions in and around them—will be crowded. Expect your tourism dollar to not go as far as in previous months.
Laos' rivers, lakes, and waterfalls are at full power this time of year. While cosmopolitan areas of Laos will be less desirable, cruising along the robust Mekong yields a relaxing ride in comfortable temperatures.
Alternately, trekking the northern highlands is also more enjoyable. Tourists to Laos tend to congregate around the cities—this could be a great time to see the natural side of the country while enjoying the serenity of the Laotian countryside.
Holidays & Events
November 22: Boun That Luang, which celebrates the Pha That Luang temple in Vientiane, brings thousands of Theravada Buddhists to the monument. As the most important symbol of Buddhism in the country, worshipers bring alms-giving bowls filled with offerings to the gleaming golden stupa, and circle the monument with bowed heads in reverence to its meaning.
Must See
The Mekong River is alive with life at this time. Taking a boat ride down the river—especially with a trained guide—will yield great sightseeing and bountiful flora-spotting. With time for the rains to settle, the vegetation has truly begun to mature into what many consider its most beautiful season.
Average Monthly Temperatures
Compare Our Adventures
Click 'Select to Compare' to see a side-by-side comparison of up to adventures below—including
activity level, pricing, traveler excellence rating, trip highlights, and more
20 DAYS FROM $3,995 • $ 200 / DAY
Small Group Adventure
Thailand: Bangkok • Laos: Luang Prabang, Mekong River Cruise, Vientiane • Cambodia: Phnom Penh, Angkor Wat • Vietnam: Ho Chi Minh City (Saigon)
40 meals—daily breakfast, 13 lunches, and 9 dinners (including 1 Home-Hosted Dinner and 1 community lunch)
Traverse the Mekong River by traditional longboat
Rise early to participate in an ancient alms-giving ceremony
Visit with school children and learn about life in a rural Hmong village
Explore the beguiling capital city of Vientiane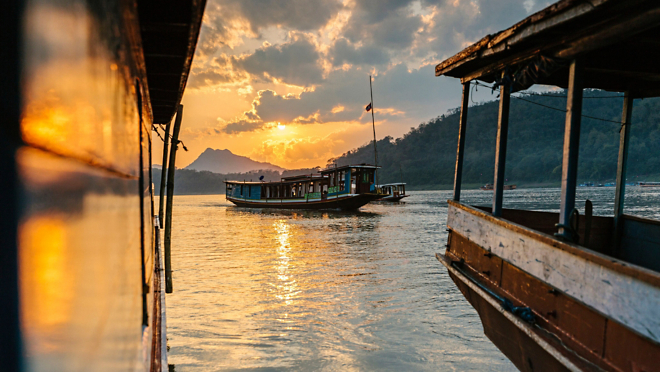 ;
6 NIGHTS FROM FROM $1,645
Traverse the Mekong River by traditional longboat
Rise early to participate in an ancient alms-giving ceremony
Meet the villagers of a rural Hmong hill tribe
Explore the beguiling capital city of Vientiane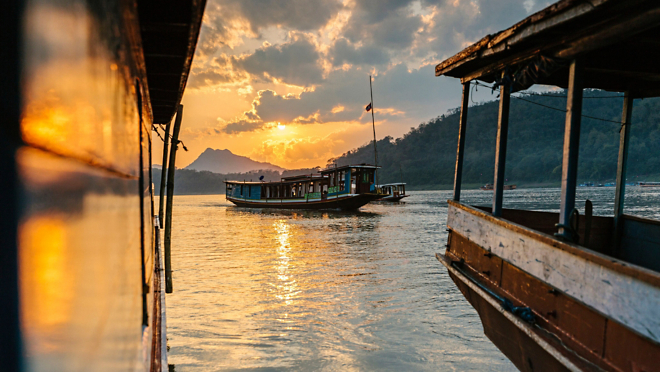 Not Applicable*
Not Applicable*
14 meals—6 breakfasts, 4 lunches, and 4 dinners (including 1 Home-Hosted Lunch)
Traverse the Mekong River by traditional longboat
Rise early to participate in an ancient alms-giving ceremony
Meet the villagers of a rural Hmong hill tribe
Explore the beguiling capital city of Vientiane