Forgot Your Username
If you have forgotten your username, please provide your email address in the box below. We'll send you an email with your requested username. If you are having trouble, please call us toll-free at 1-800-221-0814.
Email Sent
You'll receive an email in a few minutes. Please check this email to find your requested username.
If you do not receive an email or you are having trouble logging into My Account, please call us at 1-800-221-0814.

JORDAN
Compare Our Adventures
Click 'Select to Compare' to see a side-by-side comparison of up to adventures below—including
activity level, pricing, traveler excellence rating, trip highlights, and more
Trip Itinerary
Discover ancient sites, local customs, and other itinerary highlights from our NEW Small Ship Adventure.
18 DAYS FROM $8,095 • $ 450 / DAY
Small Ship Adventure
Israel: Tel Aviv, Jaffa, Haifa, Sea of Galilee, Golan Heights • Egypt: Suez Canal, Giza Pyramids, Luxor & Valley of the Kings • Jordan: Aqaba, Wadi Rum, Petra, Madaba, Mount Nebo, Dead Sea, Bethany Beyond the Jordan • Allenby Bridge Border Crossing • Israel: Jerusalem
43 meals: All breakfasts, 14 lunches, 13 dinners—plus all onboard house beer, wine, and soft drinks
Discover the rose-tinted city of Petra, buried by the sands of time
Climb aboard an open-air, all-terrain vehicle to explore the landscapes of Wadi Rum
Discover the array of ancient churches and prayer halls in Bethany Beyond the Jordan
Visit the Red Sea resort of Aqaba, Jordan's only coastal city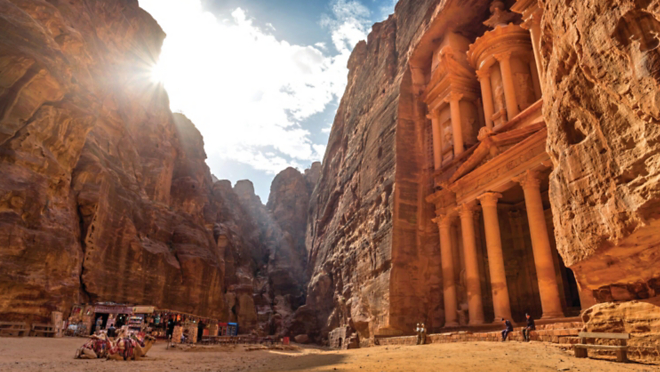 ;
5 NIGHTS FROM $1,695
PRE-TRIP EXTENSION
Jordan
DAYS IN JORDAN
4
Stroll through the lost city of Petra
Explore the Greco-Roman ruins of Jerash;
Discover the ancient amphitheater of Amman
Enjoy a Home-Hosted Dinner in Amman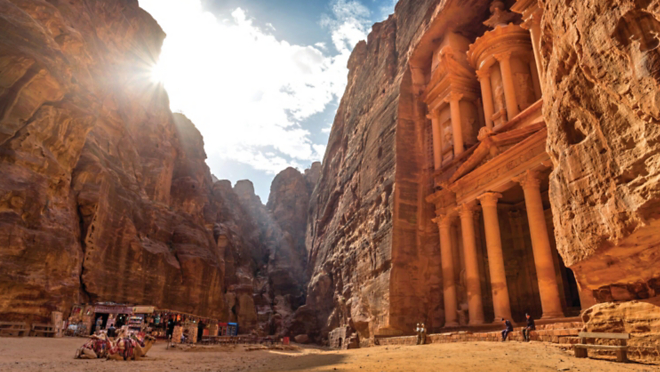 Not Applicable*
Not Applicable*
15 meals—5 breakfasts, 5 lunches, and 5 dinners (including 1 Home-Hosted Dinner)
Stroll through the lost city of Petra
Explore the Greco-Roman ruins of Jerash;
Discover the ancient amphitheater of Amman
Enjoy a Home-Hosted Dinner in Amman
Compare Adventures
Find the Adventure That's Right for You
Our Activity Level rating system ranks adventures on a scale of 1 to 5 to help you determine if a trip is right for you. See the descriptions below for more information about the physical requirements associated with each rating.
Travelers should be able to climb 25 stairs consecutively, plus walk at least 1-2 miles over some uneven surfaces without difficulty. Walks typically last at least 1-2 hours at a time. Altitude can range from zero to 5,000 feet.
Activity Level 2:
Moderately Easy
Travelers should be able to climb 40 stairs consecutively, plus walk at least 2-3 miles over some uneven surfaces without difficulty. Walks typically last for at least 2-3 hours at a time. Altitude can range from zero to 5,000 feet.
Activity Level 3:
Moderate
Travelers should be able to climb 60 stairs consecutively, plus walk at least 3 miles over some steep slopes and loose or uneven surfaces without difficulty. Walks typically last for 3 or more hours at a time. Altitude can range from 5,000 to 7,000 feet.
Activity Level 4:
Moderately Strenuous
Travelers should be able to climb 80 stairs consecutively, plus walk at least 4 miles over some steep slopes and loose or uneven surfaces without difficulty. Walks typically last for 4 or more hours at a time. Altitude can range from 7,000 to 9,000 feet.
Activity Level 5:
Strenuous
Travelers should be able to climb 100 or more stairs consecutively, plus walk at least 8 miles over some steep slopes and loose or uneven surfaces without difficulty. Walks typically last for 4 or more hours at a time. Altitude can range from 10,000 feet or more.
Hide Acivity Level
TRAVELER EXCELLENCE RATING
PRICE
including international airfare
HIGHLIGHTS & ACTIVITIES IN JORDAN
*This information is not available for our trip extensions. You must reserve the main trip to participate on this extension.
**This information is not currently available for this trip. Please check back soon.
Recommended Viewing
Watch this video showcasing what makes this country so unforgettable
Israel, Jordan, and Egypt via Suez Canal
Follow traveler William T. from Georgetown, TX on his journey through the Middle East.
Submitted by William C. Thornton, 19-time traveler
Recommended Videos
Watch your fellow travelers' favorite films & videos
ReelEarth: Leveling the Playing Field in Jordan
Sarah's Historical Highlights in Israel, Egypt, and Jordan
Join traveler Sarah Y. from Rogers, Arkansas as she journeys through the countries of Israel, Egypt, and Jordan from the Old City of Jerusalem and the ruins of Masada to the Temple of Luxor on the banks of the Nile River.
Submitted by Sarah Young, 21-time traveler
Trip Experience
Rosa and Mary's Israel Trip Experience
Follow good friends and long-time travel partners Rosa and Mary as they discover Israel and Jordan together for the first time—interacting with locals, donkey-riding through Petra, and learning about life in a local kibbutz along the way.
Travelogue: Jerash, Jordan 1969
Witness the ruins of Jerash, Jordan through the eyes of a traveler from the 1960s.
Produced by David Conover & Paul Villanova
Moving with the Times
See how the nomadic Bedouin people are adapting to modern life in Jordan.
Produced by Owen Kilgour
Jordan: Month-by-Month
There are pros and cons to visiting a destination during any time of the year. Find out what you can expect during your ideal travel time, from weather and climate, to holidays, festivals, and more.
Jordan in January-March
During the winter months, much of Jordan is soaked in freezing rains and driving wind—and it occasionally gets cold enough to snow. Even the desert experiences temperatures well below freezing, although the sun comes out often. This is Jordan's shoulder season for tourism, so even popular sites like Wadi Rum and Petra are less busy. In the areas surrounding the Red Sea and the Dead Sea, winter is still balmy and comfortable, with temperatures near 75 degrees Fahrenheit.
Holidays & Events
February: Aqaba Traditional Arts Festival
February: The Azraq Festival celebrates the folk art and culture of Jordan.
Must See
Two festivals celebrating Jordan's Bedouin heritage take place in February: the Aqaba Traditional Arts Festival and the Azraq Festival. Both festivals promote traditional arts and handcrafts and provide an excellent peek into Jordan's rich indigenous culture.
Watch this film to discover more about Jordan
Boya Boya
In Jordan, one Syrian refugee defies the odds with a shoe shine kit in hand and a song in his heart.
Produced by Karen Boswall
Jordan in April-June
The rains die down in most of Jordan by the end of March, and even Amman and the northern hills dry out by mid-April. With warming temperatures and increasingly stronger sunshine, the entire country becomes carpeted in wildflowers—even the desert. The forests in northern Jordan are especially lush after the winter rains.
The weather is nearly perfect at this time of year, with one exception. The khamseen is a brief desert wind that blankets everything in a coating of sand. It usually lasts several days in Jordan. By June, summer temperatures of nearly 100 degrees Fahrenheit begin to set in.
Holidays & Events
May 25: Independence Day celebrates the end of British control in Jordan in 1946.
Watch this film to discover more about Jordan
Boya Boya
In Jordan, one Syrian refugee defies the odds with a shoe shine kit in hand and a song in his heart.
Produced by Karen Boswall
Jordan in July-September
Jordan positively sizzles during the summer months, with scorching winds and temperatures as high as 120 degrees Fahrenheit near Aqaba and the Dead Sea. In Amman and the nearby hills, the heat is (somewhat) more tolerable at around 100 degrees Fahrenheit. This is the low season, so travelers who love the heat benefit from a lack of crowds across the country.
Holidays & Events
Late July-early August: The Jerash Festival of Culture and Arts is a showcase of live performances, including plays, poetry readings, and concerts in the theaters of the ancient Greco-Roman town.
September-October (dates vary each year according to the lunar calendar): Muharram is the Islamic New Year, when Muslims commemorate and mourn the martyr Imam Husayn, the grandson of the Prophet Muhammad.
Must See
In early to mid-August across the Northern Hemisphere, the Perseids meteor shower lights up the night sky with shooting stars. Jordan's remote deserts, like Wadi Rum, are a perfectly dark location to catch the show far from light pollution.
Watch this film to discover more about Jordan
Boya Boya
In Jordan, one Syrian refugee defies the odds with a shoe shine kit in hand and a song in his heart.
Produced by Karen Boswall
Jordan in October-December
Jordan experiences a short autumn between the scorching summer months and the chilling rains of winter. The first rains begin in October, before the cold sets in, and the welcome moisture brings wildflowers back to life for a few weeks. Winter descends in December, bringing cold temperatures, more frequent rains, and occasional snow especially in the north. Tourist sites are often empty.
Holidays & Events
November (dates vary each year according to the lunar calendar): The Prophet Muhammad's birthday, called Mawlid, is a public holiday in Jordan. Actual celebrations are discouraged according to the Muslim faith, but some worshipers recite songs and poems in his honor and give candy to children.
Watch this film to discover more about Jordan
Boya Boya
In Jordan, one Syrian refugee defies the odds with a shoe shine kit in hand and a song in his heart.
Produced by Karen Boswall
Average Monthly Temperatures
Jordan Interactive Map
Click on map markers
below to view information about top Jordan experiences
Click here to zoom in and out of this map
Amman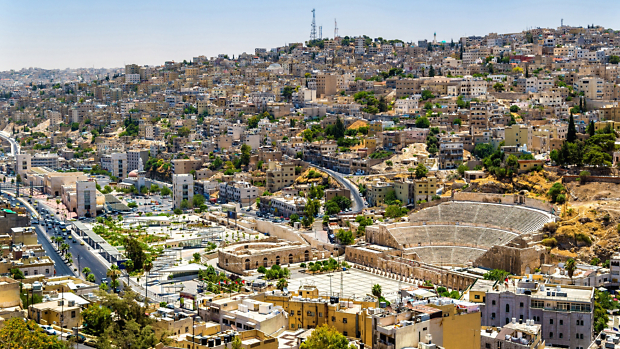 One of the world's oldest continuously inhabited cities, Amman was little more than a forgotten village until 1921, when it became Jordan's capital. Today, about four million people live in this sprawling, modern metropolis laid out over a series of hills. Considered one of the most liberal cities in the Arab world, Amman offers visitors an enchanting mix of the old and new, with cafés, chic shops, and trendy art galleries sitting alongside ancient mosques, citadels, and relics of civilizations long past. The Citadel, nestled on one of Amman's original seven hills high above the city, is an open-air museum of many of Jordan's most celebrated Roman, Byzantine, and early Islamic treasures. Civilizations have lived both inside and outside the fortified walls of Amman's Citadel since time immemorial. An idyllic refuge from the bustle of Amman can be found at Darat Al Funun, a contemporary arts complex that is also home to several restored residences from the 1920s—including the villa where T.E. Lawrence wrote much of Seven Pillars of Wisdom.
Explore Amman with O.A.T. on:
Wadi Rum
If you wish to literally walk in Lawrence of Arabia's footsteps, Wadi Rum is where you want to be. This majestic desert canyon is where British officer T. E. Lawrence was based during the Great Arab Revolt of 1917-18—and where he laid out plans to lead an army across the unforgiving desert sands to launch an attack on the coastal town of Aqaba—an idea considered so foolhardy that the Ottoman Turks never even bothered to defend against it. Rising abruptly from the desert plains, Wadi Rum (also called The Valley of the Moon) features breathtaking landscapes of red-ochre sandstone mesas, towering granite cliffs, red dunes, and narrow canyons carved by weather and winds for millennia—and aptly described by Lawrence as "vast, echoing, and God-like." While many sections of the Jordanian Desert are virtually untouched by humans, nomadic Bedouin tribes with their goat-hair tents still roam the sands, as do populations of Syrian wolf, striped hyena, Nubian ibex, and other small animals.
The landscapes surrounding Wadi Rum can legitimately be described as "otherworldly," as it is a Hollywood favorite for films that take place on other planets—most recently, Ridley Scott's The Martian, a movie set on Mars.
Explore Wadi Rum with O.A.T. on:
Petra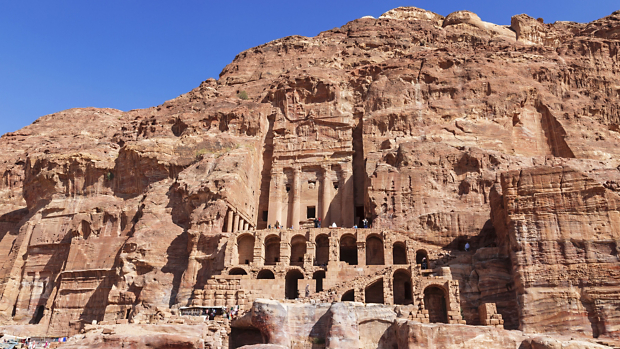 Petra's location—tucked behind a remote desert canyon—kept it hidden from the Western world for some 500 years. To enter Petra, one must journey through a narrow, mile-long cleft in the Earth called the Siq. Looming through the fissure at its end is a magnificent temple carved into the face of a mountain in the first century B.C.—just one of more than 800 structures carved into the sandstone cliffs by the skilled hands of ancient Nabateans. No one really knows what lured the Nabateans to this remote desert locale in the sixth-century B.C., but several hundred years later Petra became a flourishing stopover for trade caravans bearing silks and spices. A series of devastating earthquakes in AD 551 led to the city's abandonment. Petra eventually faded from memory, until it was "rediscovered" in 1812 by a Swiss adventurer who disguised himself as an Arab pilgrim and persuaded local herdsmen to reveal its location once again to a grateful world. Petra was declared a UNESCO World Heritage Site in 1985 and one of the new Seven Wonders of the World in 2007. Film buffs will also recognize the magnificent entrance to Petra and its Al-Khazneh (Treasury) from the film Indiana Jones and the Last Crusade.
Author Rose Macaulay perhaps summed Petra up best in her 1953 book Pleasure of Ruins: "If ever a dead city held romance it is Petra … hewn out of ruddy rock in the midst of a mountain wilderness, sumptuous in ornament and savage in environs, poised in wildness like a great carved opal glowing in a desert, this lost caravan city staggers the most experienced traveler."
Explore Petra with O.A.T. on:
Bethany Beyond the Jordan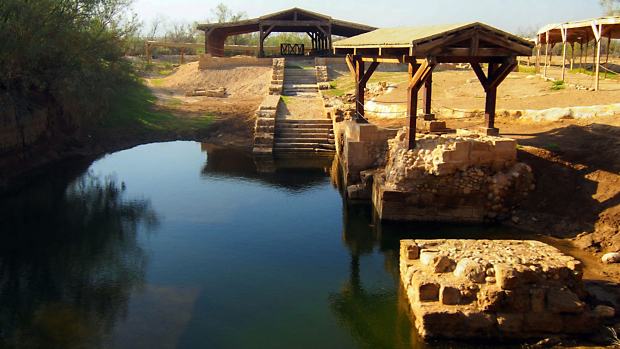 Set on the eastern bank of the River Jordan a little over five miles north of the Dead Sea, Bethany Beyond the Jordan is the archaeological site where John the Baptist lived and is said to have baptized Jesus of Nazareth, thus laying the foundations of the early Christian faith. Also known as Al-Maghtas (Arabic for "baptism" or "immersion"), this UNESCO World Heritage Site includes relatively recent excavations of some 20 churches and chapels, hermit caves, and baptismal pools dating from the Roman and Byzantine periods. An important Christian place of pilgrimage, the area is also associated with the ascension of the Prophet Elijah into heaven in the ninth century BC, which is commemorated at a hill called Tell Mar Elias (or St. Elijah's Hill).
Explore Bethany Beyond the Jordan with O.A.T. on:
Aqaba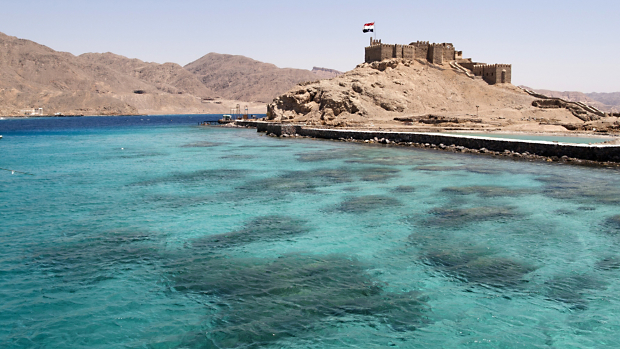 This sunny corner of Jordan on the crystal-clear Gulf of Aqaba has it all: sandy beaches, palm trees, warm breezes, colorful coral, and tropical fish. Located at the junctions of major trade routes from Asia, Africa, and Europe, Aqaba boasts some 5,000 years of history. It entered the world stage during World War I when T.E. Lawrence crossed the Negev Desert to capture the then-sleepy town by uniting Arabian Bedouins against the Ottoman Turks. Today, this charming Red Sea resort town also houses several historical treasures, including the 16th-century Aqaba Fort and the remains of the world's oldest known Christian church. Aqaba is also home to one of the largest freestanding flagpoles in the world. At 430-feet-high, the enormous flag was installed to commemorate the Great Arab Revolt of 1916— and can be seen from Israel, Egypt, and Saudi Arabia.
Explore Aqaba with O.A.T. on:
Dead Sea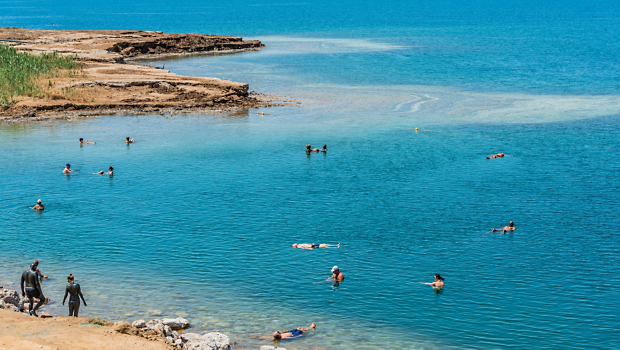 Straddling the borders of Jordan and Israel, the Dead Sea—at almost 1,400 feet below sea level and more than 1,000 feet deep—is the lowest place on the Earth's surface. The Dead Sea (actually a lake and not a sea) is almost nine times saltier than the ocean, making it pretty much uninhabitable for all plant and animal life (even boats can't sail on it). But its waters are also extremely rich in minerals. The Dead Sea's healing properties have been attracting visitors since ancient times, making it one of the world's first health resorts. It is believed that King David, Herod the Great, and even Cleopatra took rejuvenating dips here. As you can imagine, the water's high salinity also creates rather unusual buoyancy, something almost all visitors wish to discover for themselves with a refreshing swim.
Explore the Dead Sea with O.A.T. on:
Featured Reading
Immerse yourself in Jordan with this selection of articles, recipes, and more
ARTICLE
Discover the extraordinary life of British military officer T. E. Lawrence.
ARTICLE
Learn what's essential to life as a desert nomad.
Lawrence of Arabia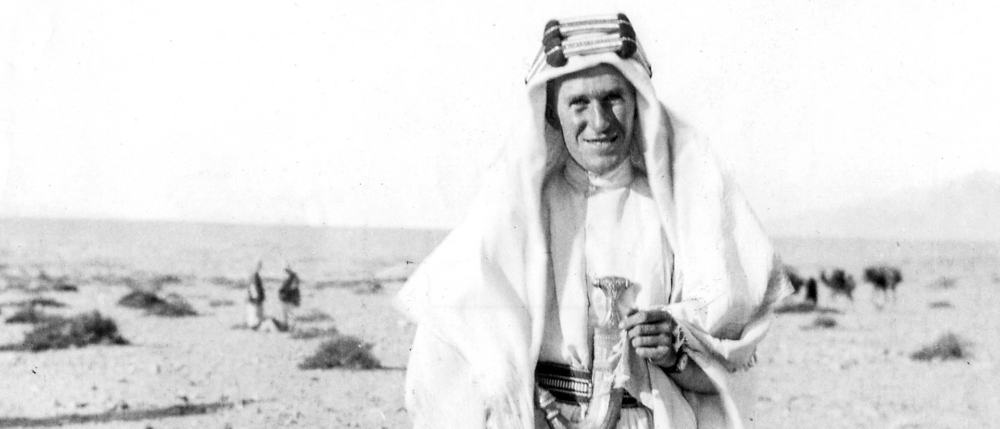 by John Bregoli, from Dispatches
Winston Churchill once said of T. E. Lawrence: "I deem him one of the greatest beings alive in our time ... We shall never see his like again. His name will live in history. It will live in the annals of war ... It will live in the legends of Arabia."
That's some pretty high praise for someone who considered himself just an "ordinary man." But most would agree that Lawrence—who came to be known as Lawrence of Arabia—lived quite an extraordinary life.
Thomas Edward Lawrence was born in 1888 in Wales. He was interested in history at an early age, and loved exploring old churches and castles. After embarking on a thousand-mile walking tour of Syria to explore Crusader castles as a student at Oxford, Lawrence decided to become an archaeologist. So he returned to the Middle East in 1910 and remained there until 1914, working on archaeological surveys. It was during this time that Lawrence developed a passion for all things Arabic—often living with nomadic tribesmen, wearing traditional Arab clothing, and going for long walks in the desert.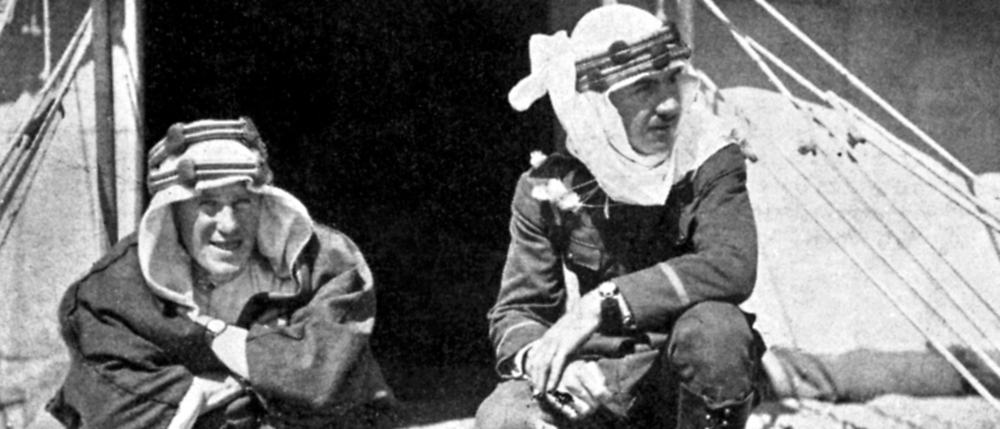 He was back in England at the outbreak of World War I, however, and because of his knowledge and familiarity with Arabs, he was assigned to the intelligence section of the British Army in Cairo. In 1916 he joined the Arab forces under Faisal al Husayn and became a leader in their Great Arab Revolt against the Turks (who were allied with the Germans). The Arabs seemed no match for the Turks, who at the time had the fourth largest army in the world and were expertly trained and possessed modern weapons. But Lawrence developed brilliant guerrilla warfare tactics to tie down large Turkish armies with an Arab force of only a few thousand and he eventually defeated the Turks.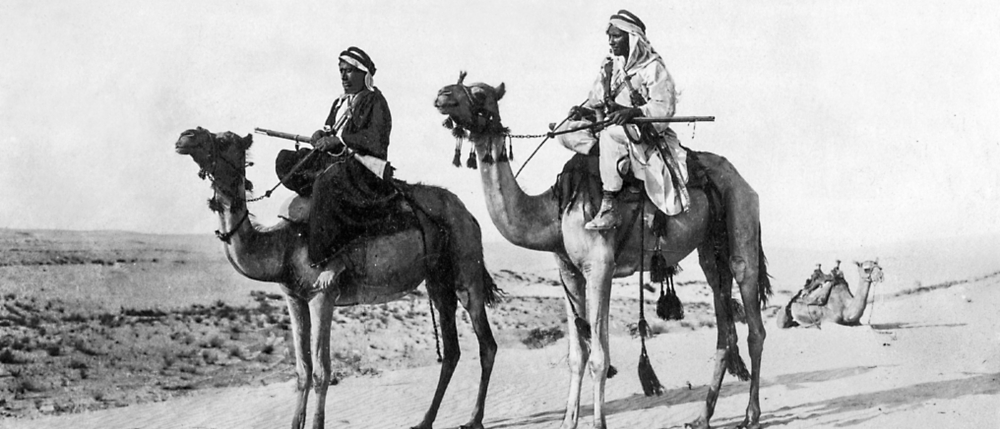 By the end of the war, Lawrence was a hero among the Arabs. But he had already gained their respect in many ways. Apparently, he could ride a camel faster and more easily than most of them (he could run alongside a moving beast and then swing into the saddle that was some nine feet off the ground). He was also brave beyond belief while fighting in the desert landscapes of Wadi Rum, where he had been captured and tortured—and wounded dozens of times. And he famously rode hundreds of miles across the desert sands with Arab fighters to take the port of Aqaba from the Turks in July of 1917 without firing a single shot.
But in the end Lawrence had made a promise to the Arabs that he couldn't keep—independence once the war was over. With the Allied victory came bitter disappointment when Arab hopes for independence were betrayed, with Great Britain and France sharing the spoils. This was a blow to Lawrence, too, and he refused to accept war medals from the British king. He went on to write his war memoirs, The Seven Pillars of Wisdom—which was inspired by the stillness and beauty of the desert landscapes he witnessed and the Bedouin people whose lives he shared.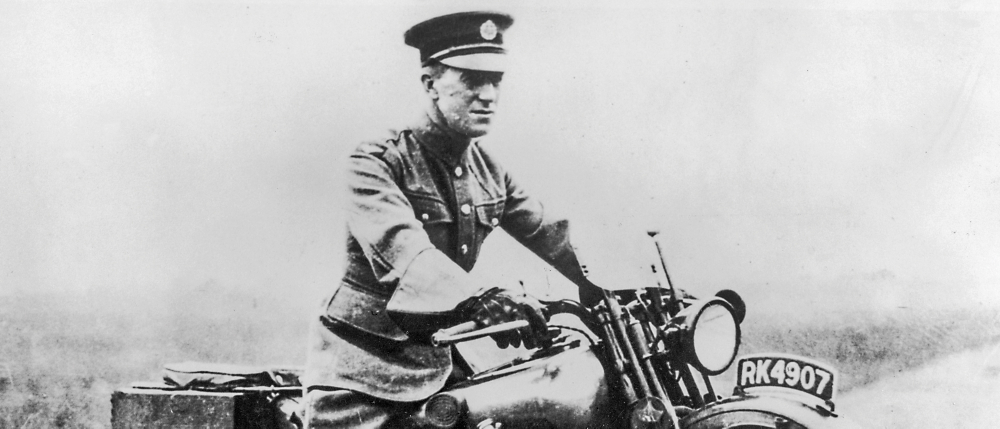 T. E. Lawrence later returned to the armed forces, hoping to serve in anonymity under assumed names. But embittered by his country's policy towards Arabs, he retired to his cottage in Dorset, England in 1935. Two months later he was thrown from a motorcycle and died at the age of 46.
A Bedouin's Best Friends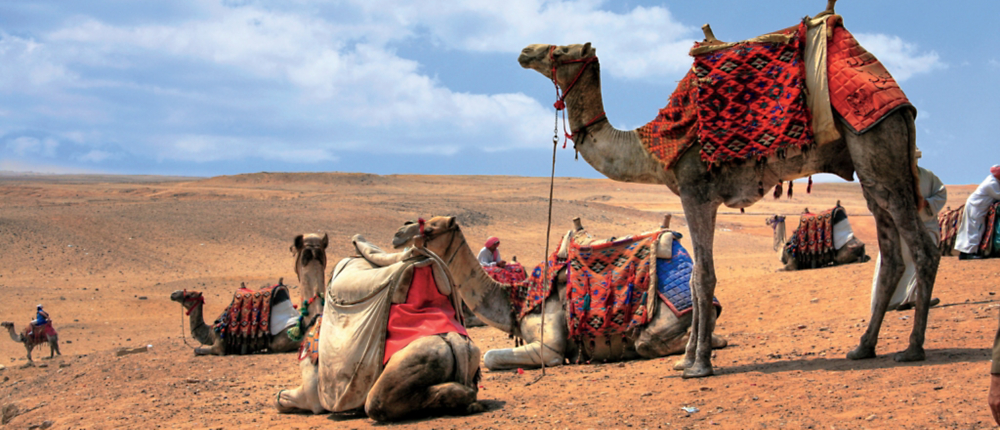 by John Bregoli, from Dispatches
For the Bedouins of Jordan, the desert is home. Traditionally, these nomadic people have eschewed the modern trappings of the city in favor of the vast wilderness—and the modest amenities that come with it.
Camels. Up until recently camels were an indispensable part of Bedouin life. In fact, the desert dwellers' name for the single-humped dromedary, Ata Allah—or "God's gift"—says it all. Camels were not only a Bedouin's primary source of transport, but also served his needs as a source of shade, milk, meat, wool, and hides. And contrary to their reputation as obstinate creatures prone to spitting, camels are known to be patient, intelligent, and surprisingly sensitive—mothers tend to cry when they leave their young.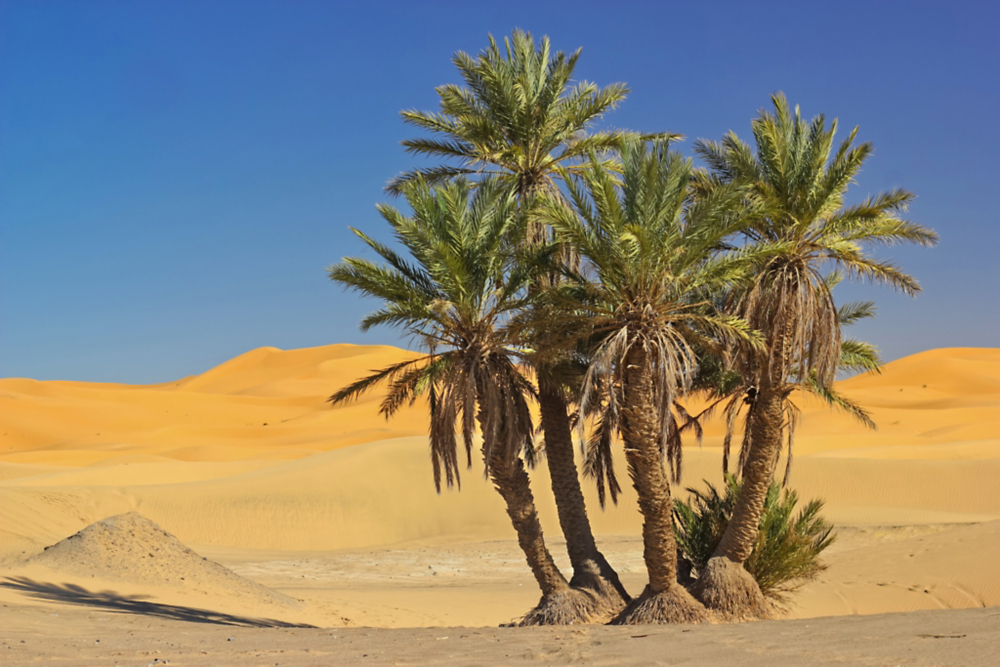 An adult camel can reach seven feet tall (at the hump!) and tip the scales at more than 1,500 pounds. Their loping gait—suggesting the gentle rolling motion of a boat—gave rise to the nickname "ships of the desert." During a day's work—which might consist of a 25-mile trek across the desert—the pads of their feet spread out to prevent them from sinking into the deep sands. Although they can go five to seven days with little or no food or water, camels love palm dates and all manner of grains—and they've also been known to enjoy snacking on their owner's tent! The harmonious relationship between a camel and its Bedouin master often lasts a lifetime.
Date Palms. Arab Bedouins often refer to the date palm as the "king of the oasis," and this tree of life does indeed reign supreme amidst the oceans of desert sand. Thought to be the oldest known cultivated tree, the date palm has provided life-sustaining food and shelter for Bedouin tribes for centuries. As a food, this low-fat, carbohydrate-rich fruit may be eaten raw, cooked, baked into cakes, or pressed into a delicious sweet syrup. And nothing is wasted—the date palm's sturdy trunk can be made into timber, other parts are used to weave baskets or mats, make rope, or braided into fences. The pits of the dates are ground and fed to livestock. The date palm is even used to construct crates—to be filled with more dates! An ancient Persian hymn lists well over 350 valuable uses of the date palm.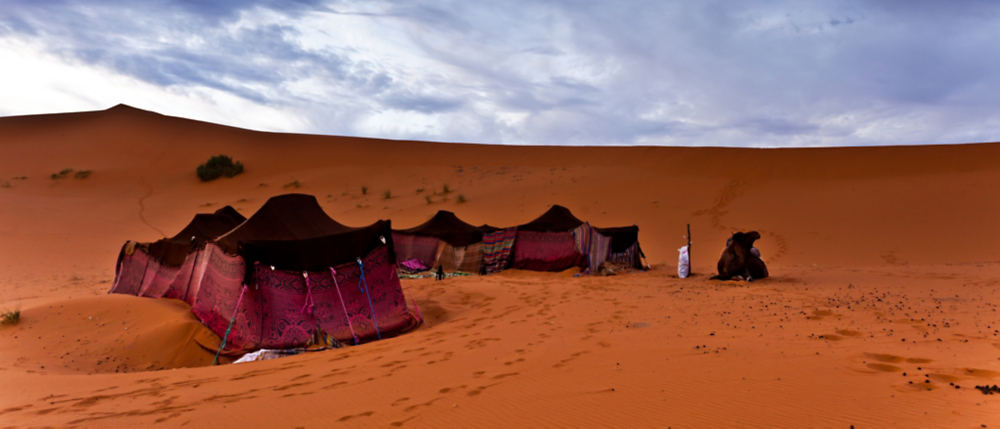 "Houses of Hair." Until recently, Bedouin communities were distinguished by a series of long, low black tents known as beit al-sha'ar—literally, "houses of hair." Woven of goat's hair gathered from the family's livestock, these traditional shelters provided comfort and protection for generations of nomadic tribes. The tents were perfectly adapted for harsh desert life and could be packed and moved quickly on the backs of camels to the next oasis. Tents are divided in two sections: the mag'ad, or "sitting area," which is kept open during the day and reserved for men and guests; and the maharama, or "place of the women," which is kept closed. In the Middle East, the tent is synonymous with the heritage, culture and lifestyle of the Arab world. Sitting cross-legged in a Bedouin's black "house of hair" tent, sipping mint tea or cardamom-infused coffee, is an honor and treasured memory for visitors.