Forgot Your Username
If you have forgotten your username, please provide your email address in the box below. We'll send you an email with your requested username. If you are having trouble, please call us toll-free at 1-800-221-0814.
Email Sent
You'll receive an email in a few minutes. Please check this email to find your requested username.
If you do not receive an email or you are having trouble logging into My Account, please call us at 1-800-221-0814.

INDONESIA
With more than 700 languages spoken by its 250 million inhabitants, there are nearly as many unique cultures in Indonesia as there are islands—and there are a lot of those (17,000, to be exact). As a whole, the nation defies categorization; it is a destination for spiritual pilgrims, food lovers, nature buffs, history fans, adventure seekers, and those in need of a beachside getaway. Just about anyone can find something to love within the Indonesian archipelago.
The annals of history show that the region has been an important trade center for thousands of years. With trade routes connecting Indonesia to China and India, the islands imported Islam, Buddhism and Hinduism throughout the centuries. As parts of the archipelago traded hands between dynasties and kingdoms, rulers left their mark by constructing massive religious structures like the Buddhist monument at Borobudur.
Western influence arrived with the Portuguese in 1512, but it was the Dutch who eventually took control of Indonesia, turning it into a lucrative colony. Indonesians were allowed a greater role in governance during a period of Japanese occupation in World War II, and finally declared independence from the Dutch in 1945. Despite the islands' stunning diversity of landscape, culture, and language, they now form one, unified nation.
Indonesia Interactive Map
Click on map markers
below to view information about top Indonesia experiences
Click here to zoom in and out of this map
Most Popular Films
Films featuring Indonesia from international, independent filmmakers
The mellow side of Bali
Accompany some of Bali's locals to their favorite spots and listen as they explain why they find peace there.
Courtesy of CNN
Javan Rhino Expedition
Follow photographer Stephen Belcher into the jungles of Ujung Kulong in search of the endangered Javan rhino.
Produced by Kirsten Horne, Sarah Lustig, and Stephen Embleton
Religion in the Rainforest
See how rural Indonesian villagers get around strict rules governing religion.
Produced by Jonah M. Kessel and Go Eun Kim
©2015 The New York Times
Featured Reading
Immerse yourself in Indonesia with this selection of articles, recipes, and more
ARTICLE
Bali is making strides toward more modern ideals, including small victories for gender equality.
ARTICLE
Discover the many religions of Java and Bali—from Islam to Catholicism to Buddhism.
ARTICLE
In the sacred Monkey Forest of Ubud, the flora is full of history and the fauna is holy.
Indonesia: Month-by-Month
There are pros and cons to visiting a destination during any time of the year. Find out what you can expect during your ideal travel time, from weather and climate, to holidays, festivals, and more.
Indonesia in November-March
November marks the beginning of Indonesia's monsoon season, which produces excess amounts of rainfall that sometimes causes road and hiking trail closures. November through March also experience high humidity and temperatures averaging between 80-90 degrees. While these months are known for the rainy weather, periods of sunshine aren't uncommon. The farther north you travel, the more likely you are to see more sunshine this time of year.
If rainy weather doesn't bother you, this might be the best time to go when there are fewer tourists visiting Indonesia. The Christmas and New Year's holidays are the only exceptions when large crowds flock to the region to experience the local festivities.

Holidays & Events
Late January-Mid-February: Chinese New Year is celebrated throughout the region and is dedicated to deceased family members who are considered to have laid the foundation for generations to come. Locals celebrate family and new beginnings with colorful festivals, gift giving, traditional meals, and games, while others head to local temples to pray.
Mid-March: Hari Raya Nyepi is another New Year celebrated by local Hindus in Bali.
Must See
The Hindu New Year, Hari Raya Nyepi, has widespread celebrations in Bali. Festivities take place during the first new moon in March when locals create large effigies of evil spirits that are carried through town before being burned. After, locals honor Nyepi, or the "Day of Silence." Nyepi marks the beginning of spring and is also a day used to reflect on oneself. Typically, all locals, even those that don't celebrate this New Year, use this as a day of reflection. Therefore, the streets are empty, but the energy of daily life resumes the following day.
Indonesia in April-May
The weather in April-May is less predictable, but is typically sunny with a few showers that pop up. While temperatures still average in the 80s, light breezes plus lower humidity make the warmer weather comfortable.
If you want to avoid the crowds that descend on Indonesia during the dry season, you may want to plan your visit for April. The weather is pleasant in April and you can experience the region without the interruption of large crowds. Tourists start to head to Indonesia in May, which is considered to be one of the best months to visit the region, particularly Java and Bali. This is the best time to experience the region's beaches when the skies are clear and the weather is warm.

Holidays & Events
Mid-May: Waisak Day honors the birth, teachings, and death of Buddha.
Must See
Throughout Asia, Buddhists gather to celebrate Waisak Day. In Indonesia, the most prominent celebrations take place in Borobudur, Java where Buddhists flock to the temple, which UNESCO calls "one of the greatest Buddhist monuments in the world," to meditate and perform ritual ceremonies. Depending on where you are, some locals celebrating this day will cut out meat from their diets for the day, and others donate money to local charities.
Indonesia in June-August
With the onset of the dry season, the summer months with their warm weather and lower humidity are the ideal time to visit Indonesia, especially Bali. In June, the country's wildlife thrives following the rainy season, posing an excellent opportunity to trek through the forests in search of its creatures.
The entire country experiences hot, dry weather come July and August. But because the prime travel weather coincides with European school vacation, it ushers in the peak travel season when there will be crowds at the beaches and other sites.
Holidays & Events
Early June: Occurring twice a year at varying times according to the Balinese calendar, Galungan is a holiday of feasting when Indonesian Hindus celebrate the triumph of good over evil and welcome home ancestral spirits for a visit. It is marked by rituals and offerings, such as those hung on decorated bamboo poles along the roadside.
June: The Muslims of Indonesia celebrate Ramadan, though the specific dates vary according to the Islamic calendar, by fasting and using it as a time for contemplation and worship.
June/July: Better known as Eid al-Fitr to Muslims in other countries, Lebaran follows Ramadan during which Indonesian Muslims commemorate the end of the fast with mass prayer gatherings, gift giving, and feasting on traditional foods.
June/July: Running from the second Saturday of June through July, the Bali Arts Festival showcases the cultural achievements and arts of Indonesia as art troupes and artisans from neighboring islands congregate at the Denpasar Art Centre for the festival.
August 17: Indonesians celebrate gaining their independence from the Dutch government in 1945 on Hari Merdeka, or Independence Day, with military parades and flag ceremonies. Most unique, though, are the rowdy panjat pinang games—a relic of colonized life—in which teams try to climb up greased poles for prizes placed on top.
Must See
During the wet season, animals in Indonesia's habitats tend to be elusive, seeking shelter from the rain. But as the rains disperse, wildlife like monkeys emerge from their hiding places, making it the best season to witness the exotic species that live there.
Indonesia in September-October
September weather in Indonesia remains warm and dry like the late summer months, but the end of vacation season also means the crowds thin out, making the month a favorite time to visit.
But the rains begin to roll in over the region during October, bringing in six to seven months of wet weather. The rains can make travel through the country more cumbersome—but the country, with its tropical weather, maintains warm temperatures in the 80s year-round.
Holidays & Events
Mid-September-early October: The Islamic New Year marks the beginning of the Islamic calendar. In Indonesia, people from varying religious backgrounds may take part in the festivities, parades, and various celebrations across the country.
October: During the five-day Ubud Writers and Readers Festival, authors, thinkers, artists, and performers from around the globe gather together for cross-cultural dialogue and emotional live performances.
Average Monthly Temperatures
Get the Details On Our Indonesia Adventure
Find out more about the adventure, including activity level, pricing, traveler excellence rating, included meals, and more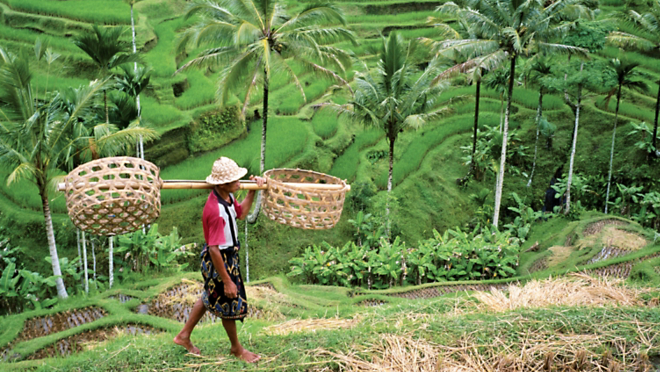 18 DAYS FROM $3,995 • $ 222 / DAY
Small Group Adventure
Java: Jakarta, Yogyakarta, Borobudur • Bali: Candidasa, Ubud, Lovina, Sanur
35 meals—daily breakfast, 11 lunches, and 9 dinners (including 1 Home-Hosted Meal)*
Explore colonial Jakarta
Climb the tiered temple of Borobudur
Wander through artistic Ubud
Enjoy coastal Sanur