Forgot Your Username
If you have forgotten your username, please provide your email address in the box below. We'll send you an email with your requested username. If you are having trouble, please call us toll-free at 1-800-221-0814.
Email Sent
You'll receive an email in a few minutes. Please check this email to find your requested username.
If you do not receive an email or you are having trouble logging into My Account, please call us at 1-800-221-0814.

INDIA
There is no single India—and with 1.2 billion citizens, how could there be? To experience this nation is to throw your arms open wide to diversity of landscapes, cultures, and sense impressions. India is the frozen Himalayas, the verdant backwaters of Kerala, the hedonist beach culture of Goa, and the tropical Ranthambore jungles where tigers roam. It is a land of Hindus, Buddhists, and Sikhs, as well as people who speak Hindi, English, and any of the other 120 official languages. It's equally the elegance of the Taj Mahal, the dusty throngs at a camel fair, and serene devotion at Ganges ghats.
Ruled in turn by Marathas, Pashtuns, and Mughals, India's eventual connection to the West was entrenched by the British East India Company's dominance of the region in the 18th century, which preceded British Colonial rule. In the Victorian era, Britons were captivated by Indian food, attire, and art. But Indians were less enamored with their colonial occupation and Mahatma Gandhi's nonviolent resistance movement in the 20th century culminated in independence for India in 1947.
Visiting India today requires willingness to go with the flow, embracing the sensory overload of so many people and so much activity. Openness to Indian culture, both ancient and ever-changing, rewards the traveler with experiences truly unlike anywhere else on earth.
India Interactive Map
Click on map markers
below to view information about top India experiences
Click here to zoom in and out of this map
Most Popular Films
Films featuring India from international, independent filmmakers
Sikkim - India's Paradise Upstairs
Sikkim's Himalayan beauty is even more captivating in black and white.
Produced by Sajid Ahmed
India at a Crossroads
Get a sneak peek into India's fascinating 2014 election, a time of deep division between classes and political identities in India.
Produced by Poh Si Teng and Malavika Vyawahare
©2014 The New York Times
India: Varanasi and Bangalore
Follow the Grannies on Safari through two of India's most fascinating cities.
Produced by Regina Fraser and Pat Johnson
A Brief Intermission
Enjoy a calming interlude of rainy-day scenes from the mountain villages of Sikkim, India.
Produced by Nihal Anand
India's Festival of Lights
See how Indian families prepare for and celebrate Diwali - the "Festival of Lights."
Produced by David Conover and Compass Light Productions
Featured Reading
Immerse yourself in India with this selection of articles, recipes, and more
ARTICLE
Follow along and witness a sacred Hindu tradition in the lively city of Varanasi.
ARTICLE
These festivities are nothing short of unique with a mustache competition and a turban tying contest.
RECIPE
Get a taste of Delhi's savory street food in your own home with this recipe for traditional chaat.
ARTICLE
Cardamom, cinnamon, cloves—the list of popular India spices goes on and on. Learn about their significance to Cochin.
RECIPE
Discover the sweet side of Southern India with this recipe for pineapple kesari.
RECIPE
Bring the flavors of India into your kitchen by trying this dal recipe with a refreshing twist.
India: Month-by-Month
There are pros and cons to visiting a destination during any time of the year. Find out what you can expect during your ideal travel time, from weather and climate, to holidays, festivals, and more.
India in February-March
In February and March, two climates influence weather on the Indian subcontinent—springtime in the north brings low humidity with slightly cooler temperatures, and the south experiences high moisture and higher humidity. These are popular months to travel, with mild temperatures and generally clear, sunny days.
Holidays & Events
March full moon: Holi, the Hindu "Festival of Color"&nbsp
Must See
Also known as the "Festival of Love," Holi is celebrated throughout India and Nepal—and in Hindu communities across the globe. Traditionally a thanksgiving festival for the spring harvest, Holi is at its most vibrant for two days in northern India. Participants cover each other in brightly-colored dye, and parade through the streets while traditional music provides a whirling soundtrack.
India in April-June
Between April and June, temperatures soar across India. As wild animals venture out in search of water, elephants and tigers can be spotted on early-morning excursions in places like Ranthambore National Park. Parts of the north experience the hottest temperatures of the year, although the Indian Himalayas remain mild. In the south, rainy season brings high humidity and frequent thunderstorms. Hill stations across India provide a respite from the heat, with comparatively mild temperatures and shady forests. And although less than three percent of the Indian population is Christian, Easter is widely celebrated with gift exchanges and festive carnivals.
Holidays & Events
First Sunday after the first full moon after the Vernal Equinox: Easter
India in July-September
July marks the beginning of monsoon season in India, with the rains hitting the southwest first. As the season progresses, monsoons make their way up the west coast through September, growing progressively weaker. By the time it reaches the north, the climate feels similar to European summers—with mild, more comfortable temperatures and passing showers. High water levels make this an ideal time to cruise the Ganges River in places like Varanasi, where sunrise and sunset bring pilgrims from around the country to the riverbanks for religious ceremonies.
Holidays & Events
August 25-September 6: Onam is a ten-day harvest festival celebrated in the Indian state of Kerala. It honors legendary King Mahabali, who is said to return home to Kerala once a year. He is welcomed with feasting, intricate floral artwork, and boisterous sporting events.
August 25-September 5: Hindu god Ganesh is honored in this ten-day festival called Ganesh Chaturthi, when special idols are built in his honor and then immersed in the sea. Their procession through the streets is accompanied by prayer, dancing, drumming, and fireworks.
India in October
Monsoon season begins in the northeast, which leaves the rest of northern India warm and sunny—prime season for tourism. Some of India's most iconic festivals, such as Diwali, are celebrated throughout the country.
Holidays & Events
October 2: Mahatma Ghandi's birthday
October 5: The Rajasthan International Folk Festival promotes folk music, art, and dancing in Jodhpur's hilltop Mehrangarh Fort.
October 19: Diwali, the Hindu "Festival of Lights"
Must See
India shines during the celebration of Diwali, the Hindu "Festival of Lights," which honors the victory of light over darkness, knowledge over ignorance, and success over failure. Along with prayers to the fertility god Lakshmi, Diwali inspires breathtaking fireworks displays, parades, and music throughout India.
India in November-January
India's Golden Triangle—Delhi, Agra, and Jaipur—experiences its most comfortable temperatures at this time of year, and sites like the Taj Mahal can be crowded, especially during the Christmas season. Nights are cool throughout the country, and downright cold in rural areas—layers are encouraged.
In November and December, northern India experiences pollution and poor air quality due to farmers burning their fields. Travelers with respiratory health issues are advised to wear a mask while exploring, especially in cities.
Holidays & Events
November 15: Camel traders gather for the Pushkar Camel Fair, one of Rajasthan's most vibrant celebrations.
January 14: The Kite Festival in Gujarat brings participants from around the world to participate in professional kite-flying.
January 26: Republic Day celebrates India's adoption of a democratic constitution in 1950.
January 31: Tamil people celebrate Thaipusum, when the star Pusam is highest in the sky.
Must See
The Pushkar Camel Fair in November is Rajasthan's most quirky—and most famous— festival. Farmers, villagers, traders, and tourists gather to do much more than trade livestock—this fair celebrates all things camel-related and beyond. Events include camel races, camel beauty pageants, camel dance recitals, a cricket match, and a mustache competition.
Average Monthly Temperatures
Compare Our Adventures
Click 'Select to Compare' to see a side-by-side comparison of up to adventures below—including
activity level, pricing, traveler excellence rating, trip highlights, and more
17 DAYS FROM $3,895 • $ 230 / DAY
Small Group Adventure
India: Delhi, Jaipur, Ranthambore, Agra, Khajuraho, Varanasi
39 meals—daily breakfast, 10 lunches, and 13 dinners (including 1 Home-Hosted Dinner)
Visit the Taj Mahal, the epic monument to love
Cruise on the Ganges, seeing the aarti ceremony by night and morning rituals at ghats
Ride a rickshaw through Old Delhi's Chandni Chowk bazaar
Witness wildlife during 2 game-viewing drives in Ranthambore National Park
17 DAYS FROM $3,795 • $ 224 / DAY
Small Group Adventure
India: Chennai, Mahabalipuram, Thanjavur, Madurai, Periyar, Kerala's backwaters, Cochin
34 meals—daily breakfast, 9 lunches, and 10 dinners (including 1 Home-Hosted Dinner)
Learn to catch and cook fish with locals in a fishing village
Cruise the backwaters of Kerala in a traditional houseboat
Take a walk in the jungle through Periyar Wildlife Sanctuary
Witness breathtaking religious sites like Thanjavur's Brihadishwara Temple and Madurai's Sri Meenakshi Temple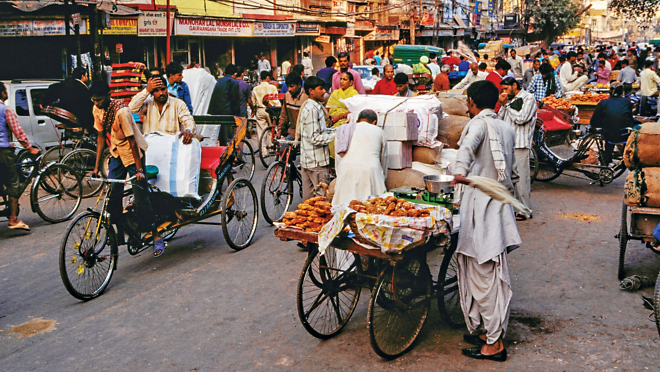 16 DAYS FROM $5,195 • $ 325 / DAY
Small Group Adventure
First Departure 3/22/2017
Days in India
3
India: Delhi • Bhutan: Thimphu, Gangtey, Punakha, Paro
35 meals—daily breakfast, 11 lunches, and 11 dinners (including 2 Home-Hosted meals)
Visit New Delhi's Qutab Minar, a UNESCO World Heritage Site
Explore historic Old Delhi, including Raj Ghat and Jama Masjik Mosque
Ride a rickshaw through Chandni Chowk, Old Delhi's 300-year-old bazaar