Forgot Your Username
If you have forgotten your username, please provide your email address in the box below. We'll send you an email with your requested username. If you are having trouble, please call us toll-free at 1-800-221-0814.
Email Sent
You'll receive an email in a few minutes. Please check this email to find your requested username.
If you do not receive an email or you are having trouble logging into My Account, please call us at 1-800-221-0814.

HUNGARY
Tucked in the corner of Eastern Europe, the oft-overlooked Hungary is a wellspring of unexpected grandeur and glorious contradictions. From the gently rolling hills and trickling rivers of the countryside to the stately bridges and boulevards of Budapest, Hungary enchants visitors with its fairytale architecture and vibrant folk traditions. This small but fiercely proud nation warms both the body and soul: take a dip in one of Hungary's rejuvenating thermal baths, or tuck into a piping hot plate of the country's famed national dish, goulash.
A glance at Hungary's recent history, however, proves more chilling: Large swaths of the country were decimated during World War II, and liberation by the Soviets from Nazi rule brought only a decades-long foray into communism. Countless bread lines and protests later, communism's grip upon this Bohemian country was relinquished, and in 1989 Hungary became an independent democracy, free to forge its own path into the future.
Hungary Interactive Map
Click on map markers
below to view information about top Hungary experiences
Click here to zoom in and out of this map
Most Popular Films
Films featuring Hungary from international, independent filmmakers
Budapest, Belvárosi, Nagyboldogasszony, Plébánia
Enjoy a stunning aerial view of Budapest, Hungary, as you fly past the towering spires of its many cathedrals.
Produced by Andras Deak
How to Make Hungarian Goulash
Watch this professional chef pepper up the perfect Hungarian goulash made from veal and mushrooms and more.
Produced by Epicurious
Prague and Budapest
Join travel expert Rudy Maxa to discover the Old World splendor on display in Prague and Budapest.
Produced by Small World Productions
Featured Reading
Immerse yourself in Hungary with this selection of articles, recipes, and more
RECIPE
Hungry for a Hungarian meal? Traditional goulash is the perfect main dish, followed by sweet Rigo Jansci for dessert.
ARTICLE
Let writer Albert C. Doyle guide you in navigating Prague's pristine streets—including where to find the best beer.
Hungary: Month-by-Month
There are pros and cons to visiting a destination during any time of the year. Find out what you can expect during your ideal travel time, from weather and climate, to holidays, festivals, and more.
Hungary in January-February
Hungary's core winter months, January and February are the coldest months of the year—and often the wettest, too. Luckily, traditional Hungarian cuisine, which leans toward heavy foods and strong drinks, is the perfect antidote to the season's chill: Sip traditional mulled wine and Pálinka, a Hungarian fruit brandy, to warm up, or dig into heartier fare like harcsa paprikás (a paprika fish stew) or hurka (a type of liver or blood sausage).
As this is the low season, many tourist attractions can be closed, and it's wise to call ahead. But the Hungarian theater season is in full swing during the winter months, making this the best time of year to see an opera or show.
Holidays & Events
January-Mid-February: From the last day of Christmas celebrations on January 6 through Ash Wednesday, Hungary enters a festive, colorful period known as Farsang. Similar to Carnival in other countries, Farsang features masquerade balls, lively parades, and lots of loud noise to scare off winter and welcome spring.
Must See
If you're in Budapest during the winter months, be sure to make a visit to the City Park Ice Rink. This massive open-air ice rink in front of the Vajdahunyad Castle is a popular spot for locals and visitors alike to take advantage of the season's activities.
Hungary in March-April
Spring is one of the best times to visit Hungary: the weather begins to warm up, flowers are in bloom, and many outdoor markets and tourist attractions reopen after the winter's inactivity. At the same time, fewer tourists mean less crowds, less expensive rates, and more room to explore.
Spring festivals, such as the Budapest Spring Festival, are common throughout the country during March and April and are a joyful way to greet the new season.
Holidays & Events
March 15: Hungary has three National Holidays each year, of which the March National Holiday commemorates the Hungarian Revolution of 1848. Celebrating Hungary's struggle for freedom and democracy, the holiday is marked by free entrance to Hungary's national museums, a ceremonial speech by the Prime Minister, and pins in the national colors that Hungarians proudly display.
March 20: Each year, Budapest dedicates a day to celebrating the art of French patisserie. On what's known as Macaron Day, bakeries throughout the city display their finest sugary creations, and visitors can learn to make the finicky pastry during an event in Elizabeth Square.
Late March-April: Hungary's largest cultural event, the Budapest Spring Festival celebrates the arrival of spring with a host of musical performances. Over three weeks, take in performances of opera, jazz, folk, and classical music in some of the city's most vaunted performance venues.
Must See
Hungary has a proud and storied tradition of folk art, and at no time is this more visible than at Easter. Colorfully dyed and intricately patterned, Hungarian Easter eggs make beautiful decorations for this spring holiday.
Hungary in May-June
Warm, mild weather continues in May, when many Hungarians can be found taking advantage of the season at outdoor cafes and bars. While June marks the start of summer, it is also the rainiest month of the year—pack a rain jacket and take in the country's lush vegetation and colorful blooms, which benefit from frequent seasonal showers.
Holidays & Events
Mid-June: The Danube Carnival is a two-week celebration of all things dance, taking place along the banks of Hungary's most famous river. The festival features an international dance competition, a Carnival Parade down the Danube promenade, and an elegant evening gala, as well as performances by contemporary and Hungarian folk dancers.
Late June-early July: Beer lovers won't want to miss this one: Sample the finest Czech (and Hungarian) brews at the Czech Beer Festival, which features both internationally known brands and craft beers from local microbreweries. Egészségére! (That's cheers in Hungarian.)
Hungary in July-August
The summer months bring plenty of sunshine—and crowds—to Hungary. To celebrate the good weather, many festivals and special events—like live music concerts at City Park and the Budapest Summer Festival on Margaret Island—take place throughout the country. This is also a great time of year to take advantage of Hungary's abundance of outdoor thermal baths and pools.
Holidays & Events
Early July-early August: Each summer, the Vajdahunyad Castle in Budapest hosts a summer music festival in its fairytale-like setting. Performances range from classical to Hungarian folk music.
Mid-August: The Sziget Festival is one of the hippest music festivals in Hungary today. Held on an island in the Danube, the week-long festival has become one of the biggest rock parties in Europe, featuring more than 1,000 performances and nightly firework displays.
August 20: The greatest public holiday of the year, St. Stephen's Day celebrates Hungary's founding with patriotic events and a spectacular fireworks show over the Danube.
Hungary in September-October
Fall is a pleasant time to visit Hungary: the days are still warm, but the crowds of summer are long gone. And Hungary is often the lucky recipient of "Indian summers," when the weather becomes summer-like again after a cool spell. This is an excellent time of year to explore the country's outdoor activities: Take a hike around Lake Balaton (central Europe's largest lake) or stop by a local plein-air market to sample the fall harvest's bounty.
Holidays & Events
Mid-September: For three days each year, Heroes' Square in Budapest is transformed into a giant racetrack for the National Gallop Festival, a celebration of Hungary's equestrian tradition and the famed Hussar culture.
Early October: Eat, drink, and be merry at one of Hungary's Oktoberfest beer festivals. While smaller than Munich's original Oktoberfest, these festivals have plenty of food, performances, and, of course, beer to keep festival-goers entertained. Events are held throughout the country, but the largest Oktoberfest is in Budapest.
October 23: This National Holiday commemorates the 1956 Hungarian Revolution, when Hungarians overthrew Stalin's oppressive communist regime and appointed Imre Nagy as a liberal prime minister in his place. All shops and public institutions are closed on this day.
Hungary in November-December
With shorter days and colder temperatures, November and December mark the beginning of the low season in Hungary. Snow and rain are frequent in these months, but the country's festive Christmas markets and seasonal good spirits make up for the gloomy weather.
Holidays & Events
November 1: Like many Catholic nations, Hungary celebrates All Saint's Day on the first of November. On this day, Hungarians visit the cemeteries where their deceased family members are buried, decorating their graves and lighting candles in their honor.
November 11: Known as St. Martin's Day, this traditional feast day is celebrated by drinking wine from the new harvest and dining on goose. Many restaurants offer goose specials throughout the month of November, and proudly display their new wines.
December 6: The Christmas season officially begins on December 6 in Hungary, when Mikulás (the Hungarian version of Santa Claus) leaves presents for children in their boots.
Must See
The highlight of the holiday season in Hungary is undoubtedly the nation's elaborate Christmas markets. Two of the best: Budapest Basilica's Christmas markets and the Christmas markets at Vörösmarty Square, which are both known for their elaborate market stalls and bright, cheerful string lights.
Average Monthly Temperatures
Get the Details On Our Hungary Adventure
Find out more about the adventure, including activity level, pricing, traveler excellence rating, included meals, and more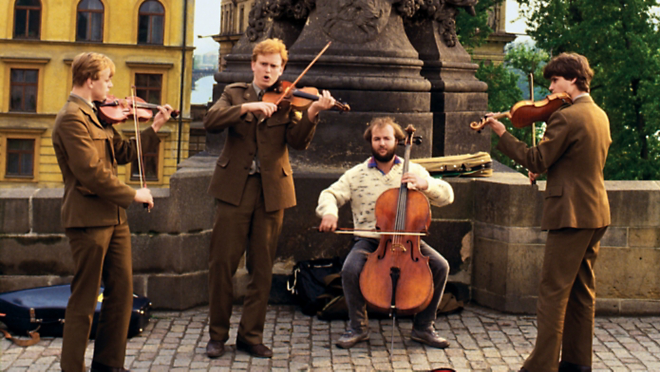 15 DAYS FROM $3,495 • $ 233 / DAY
Small Group Adventure
Czech Republic: Prague, Cesky Krumlov, Slavonice • Slovakia: Bratislava • Hungary: Budapest
30 meals—daily breakfast, 9 lunches, and 8 dinners (including 1 Home-Hosted Dinner)
Budapest City Tour
Evening cruise on the Danube River
Free time to explore Budapest
Admire the Baroque and neoclassical architecture in pedestrian-only Gyor