The Leader in Personalized Small Group Adventures on the Road Less Traveled
You're receiving this message because your web browser
is no longer supported
We recommend upgrading your browser—simply click the button below and follow the instructions that will appear. Updating will allow you to accept Terms and Conditions, make online payments, read our itineraries, and view Dates and Prices.
To get the best experience on our website, please consider using:
Safari (for Mac or iPad Devices)
Update Browser

honduras
Get the Details On Our Honduras Adventure
Find out more about the adventure, including activity level, pricing, traveler excellence rating, included meals, and more
View 2021 Itinerary Video
Chart your course through Central America—from the cities of El Salvador to the ruins of Belize.
Spend 2 days in Honduras on
O.A.T. Adventure by Land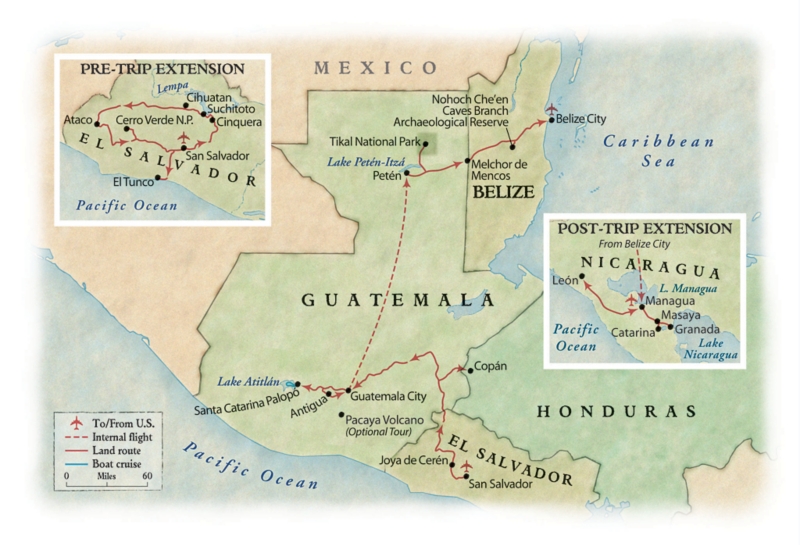 El Salvador: San Salvador | Honduras: Copán Ruinas | Guatemala: Guatemala City, Panajachel, Antigua, Petén | Belize: Belize City
33 meals—15 breakfasts, 12 lunches, and 6 dinners (including 1 Home-Hosted Lunch)
Experience world-renowned bird watching
Explore the charming colonial architecture of Copán Ruinas
Delve into Mayan history at the

Copán Archaeological Site
Adventure Details
Find the Adventure That's Right for You
Our Activity Level rating system ranks adventures on a scale of 1 to 5 to help you determine if a trip is right for you. See the descriptions below for more information about the physical requirements associated with each rating.
Travelers should be able to climb 25 stairs consecutively, plus walk at least 1-2 miles over some uneven surfaces without difficulty. Walks typically last at least 1-2 hours at a time. Altitude can range from zero to 5,000 feet.
Activity Level 2:
Moderately Easy
Travelers should be able to climb 40 stairs consecutively, plus walk at least 2-3 miles over some uneven surfaces without difficulty. Walks typically last for at least 2-3 hours at a time. Altitude can range from zero to 5,000 feet.
Activity Level 3:
Moderate
Travelers should be able to climb 60 stairs consecutively, plus walk at least 3 miles over some steep slopes and loose or uneven surfaces without difficulty. Walks typically last for 3 or more hours at a time. Altitude can range from 5,000 to 7,000 feet.
Activity Level 4:
Moderately Strenuous
Travelers should be able to climb 80 stairs consecutively, plus walk at least 4 miles over some steep slopes and loose or uneven surfaces without difficulty. Walks typically last for 4 or more hours at a time. Altitude can range from 7,000 to 9,000 feet.
Activity Level 5:
Strenuous
Travelers should be able to climb 100 or more stairs consecutively, plus walk at least 8 miles over some steep slopes and loose or uneven surfaces without difficulty. Walks typically last for 4 or more hours at a time. Altitude can range from 10,000 feet or more.
Hide Acivity Level
PRICE
including international airfare
HIGHLIGHTS & ACTIVITIES IN Honduras
*You must reserve the main trip to participate on this extension.
**This information is not currently available for this trip. Please check back soon.
Recommended Viewing
Watch this video showcasing what makes this country so unforgettable
Everything is Incredible
Produced by Tyler Bastian
Get inspired by this Honduran man's persistence as he strives to build his own helicopter.
Honduras: Month-By-Month
There are pros and cons to visiting a destination during any time of the year. Find out what you can expect during your ideal travel time, from weather and climate, to holidays, festivals, and more.
Honduras in January-March
Honduras has two main seasons: wet and dry. The dry season—which coincides with the winter months in North America—is the most popular time to visit Honduras. The sunny days are ideal for taking advantage of the wealth of outdoor activities here, like hiking, birdwatching, and visiting ruins (though you may have to share the trails and sites with other visitors).
Scuba divers will want to visit Honduras in February. While diving is a draw here year-round, you are more likely to spot sharks in February.
Holidays & Events
January 6: Three Wise Men Day—or Three Kings Day—commemorates when the magi presented Jesus with gifts of gold, frankincense, and myrrh. Communities celebrate with gift giving, traditional meals, and reenactments of biblical stories.
February 3: During the Feast of Our Lady of Suyapa, Hondurans honor their country's patron saint, the Virgin of Suyapa, by lighting candles, attending mass, and even pilgrimaging to the Basilica de Suyapa, located outside the capital city of Tegucigalpa. The day is named for a small statue of the Virgin Mary, which was said to perform miracles, originally found by a peasant in 1747 on his way to Suyapa.
Watch this film to discover more about Honduras
Everything is Incredible
Produced by Tyler Bastian
Get inspired by this Honduran man's persistence as he strives to build his own helicopter.
Honduras in April-June
Honduras's rainy season begins in May. Though rainfall is more common, it is not persistent: a short, heavy downpour will often be followed by hours of sunshine. Pack a rain jacket or plan indoor activities during the afternoon (when downpours are most common), and you can take advantage of the country's natural beauty without the hassle of peak dry season crowds.
The heavy rains come with advantages: the rain and cloud forests are at their healthiest, and elevated water levels make this time of year the best for white water rafting.
Holidays & Events
April 12: For the Punta Gorda Festival, people from across Honduras gather on the island of Roatan to celebrate the day the Garifuna people escaped slavery and arrived at the island in 1797. The festivities include a march by foot and boat along the bay, music and dance performances in traditional dress, and Garifuna food.
April 14: The Day of the Americas or Pan American Day, a holiday observed across the Americas to reflect on the region's spirit of unity is celebrated in Honduras with parades, pageants, and plays.
Must See
Coinciding with the first major rainfall of the season, the Rain of Fish Festival is celebrated in the small Honduran town of Yoro, where residents claim the sky rains fish once a year. While scientists say the phenomenon is likely the result of riverbanks flooding and then receding in quick succession, leaving small fish to flop in the streets, Yoro's inhabitants prefer a spiritual explanation, and celebrate the Rain of Fish each year with a carnival and parade.
Honduras in July-September
Heat and humidity are the hallmarks of summer in Honduras. This is a great time of year to explore the country's beautiful beaches, which range from tropical paradises of soft white sand to more rugged—though equally spectacular—dark sand beaches. Travelers in the know will enjoy Honduras's Caribbean coast, which offers excellent snorkeling and surfing, but is less explored than its more touristy neighbors.
Take note, however: Hurricane season begins in August, and has the potential to upend travel plans along the coast.
Holidays & Events
Early August: The annual Sunjam Festival is held each year during the first weekend of August on the tiny, uninhabited Honduran island of Utila. The festival hosts an all-night rave featuring techno-house music, DJs, and plenty of food and drink.
Late August: The Festival of Corn recognizes the role the crop plays in Honduran diet, heritage, and way of life. To celebrate, the country holds parades and local competitions, and Hondurans feast on corn-based dishes like tortillas and donuts.
September 15: Honduras—along with Guatemala, El Salvador, Nicaragua, and Costa Rica—celebrates its Independence Day on this day. Throughout the country, students and teachers in military garb march through the streets, pounding drums and bearing their national flag in a festive show of patriotism.
Honduras in October-December
Throughout October and into November, occasional hurricanes can occur, bringing mudslides and flooding to the rain forest. But the rainy season ends by mid-November, making December an ideal time to visit Honduras: the landscape is lush and green from the rain, and you can explore it without fear of getting caught in a rain Storm.
Average Monthly Temperatures
Honduras Interactive Map
Click on map markers
below to view information about top Honduras experiences
Click here to zoom in and out of this map
Copán Ruinas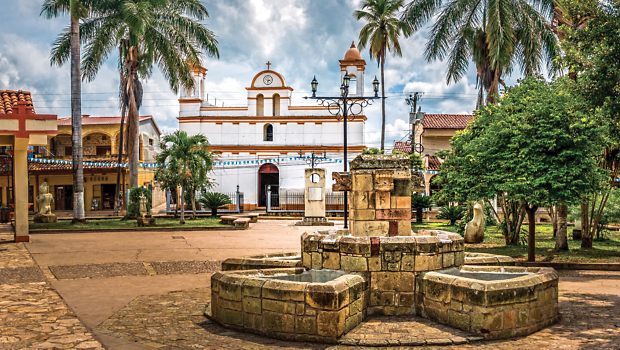 Copán Ruinas is above all else the gateway into Honduras from Guatemala, as well as to the heart of the country's Mayan heritage. A quaint and charming destination for travelers of all kinds, the people and places of Copán Ruinas welcome visitors with open arms.
The cobblestone streets of Copán Ruinas run through a town proud of its heritage with a nod to the present. Sun-baked adobe and red-tiled roofs make up the aesthetic character of Copán Ruinas, and its people are notoriously friendly. The various souvenir shops give travelers the chance to take a piece of their journey home with them, and the restaurants embrace both the local and the global.
The Copán Sculpture Museum holds one of the best-preserved collections of Mayan relics in the world. From a brilliantly-engraved, red-stone gateway to the stelae—stone sculptures carvings of past kings—the museum offers an intimate look into some of the most important artifacts left behind by the Maya.
Explore Copán Ruinas with O.A.T. on:
Mayan Ruins of Copán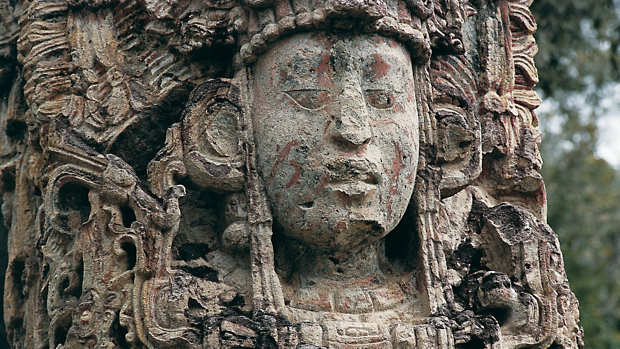 A UNESCO World Heritage Site, the Copán Archaeological Site contains the most studied Mayan ruins in the world. One of the grandest Mayan cities ever built, the site gives a particularly enriching look into the lives of the Mayan warrior kings of Copán.
Originally settled in the first century, the well-preserved plazas, complexes, and sports courts each have their own stories to tell about the life of the Maya. One of the greatest monuments at the site is the Hieroglyphic Stairway. The inscriptions on its 63 steps tell the story of the 16 warrior kings of Copán, from its founder Yax K'uk Moh to the mysteriously-named "16 Rabbits." The more than 2,000 glyphs depict births, deaths, and a detailed history of each king's rule.
Evidence from skeletons and historic inscriptions tell the story of a city that fell from grace. Once home to more than 25,000 people, drought and a lack of resources led to Copán's abandonment in around the ninth century. Yet, the fizzling of a city's spark cannot destroy its story: Copán's ruins, unlike many other Mayan sites, offer a near complete history of a people whose legacy has lived on for centuries.
Explore the Mayan Ruins of Copán with O.A.T. on:
Bird Watching
Nature lovers and scientists have long enjoyed Central America's astounding myriad of flora and fauna, yet Honduras takes it to another level. With more forest coverage than even Costa Rica or Belize, Honduras comprises more jungle territory than that of any other Central American country.
Yet, the complex mosaic of Honduras doesn't end in the forests. Huge swaths of savannas, mangroves, and coastal lagoons are also home to the country's nearly innumerable species of wildlife species.
It's no surprise some of the world's leading bird guides in the world treasure the Honduras experience. With more than 725 species calling the country home, it's not uncommon to behold some treasured species such as the Scarlet Macaw, Lovely Cotinga, Black-crested Coquette, or the iconic keel-billed Toucan. And if you are able to spot the brilliant yellows and reds of the rare Aracari, you'll have something to write home about.
Experience Honduras' Bird Watching with O.A.T. on:
Featured Reading
Immerse yourself in Honduras with this selection of articles, recipes, and more
ARTICLE
The Mayan empire fell centuries ago, but their legacy is still felt throughout Central America.
From Ancient Empire to Contemporary Culture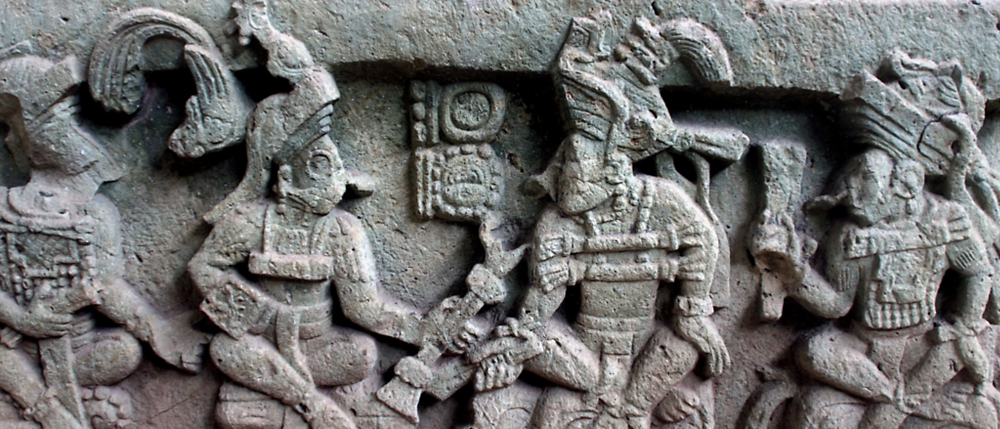 The Maya then and now
for O.A.T.
Although the Mayan Empire ended, the Maya continued to thrive in agricultural villages throughout the mountains of Central America ...
When Hammurabi ruled Babylonia and the ancient Egyptians were under Hyksos influence in the 13th Dynasty, another great empire was forming in the Americas. The ancient Maya began as farmers but went on to develop some of the most advanced forms of architecture, mathematics, language, and religion known to the Americas at the time. Even after the end of their 2,700-year reign of power in the region, the Maya continue to wield their influence on contemporary Central American culture, particularly in Guatemala, where modern Maya people comprise approximately 40% of the population.
Using glyphs to understand the past
It is through ancient Maya monuments, art, and architecture that scholars learned about the system of Maya writing, which many suspect is ancient Mesoamerica's first writing system and the only ancient language in this region to be comprehensively translated. One of the landmark examples of Maya writing is the Hieroglyphic Stairway, consisting of 1,800 ascending glyphs in Copán, an ancient Maya city in western Honduras. While ancient Maya scribes created glyphs both in stones and in paper texts, the Spanish conquistadors burned most of the paper texts in the 16th century while converting the Maya to Christianity, and discouraged the use of Maya script. After the last of the Maya scribes died out, the text remained untranslated until Western explorers in the 1880s renewed interest in the glyphs.
The glyphs themselves were not fully translated until the 1980s—and a world of dynastic succession and a society beset with violent conquest and gruesome religious sacrifice came to life. The texts and stone carvings also illustrate vivid mythologies, the most seminal of which involves mortal twin brothers fighting gods in the underworld, eventually going on to feed the Maya and then transforming into the sun and moon.
Uncovering the world of everyday Maya
While ancient cities like Copán and Tikal harken to a golden age of architecture, art, and ideology in Maya civilization, our understanding of ancient Maya life greatly improved with the 1976 discovery of the village of Cerén, located in western El Salvador. Called "the Pompeii of the New World" because it was enveloped in volcanic ash in AD 590, the site serves as a time capsule for daily life in a small village of that era. Though it appears the residents had time to escape the eruption, they left behind an impeccably preserved village. Excavations revealed that cassava was widely grown. Some archaeologists have posited that this hardy, nutritious tuber—which remains a staple to this day—may have enabled the Maya Empire to accommodate up to two million subjects at its peak.
Although the Maya Empire ended, the Maya continued to thrive in agricultural villages throughout the mountains of Central America—and their cultural heritage still lives on today. Throughout Spanish conquest, they maintained the spoken language of their ancestors, of which there are dozens of dialects spoken in Guatemala alone. Maximón, the ancient Maya god of the underworld, was reincarnated as San Simón after hundreds of years of forced conversion of the Maya people to Roman Catholicism. In addition to a name change, Maximón also got a bespoke makeover and is usually seen in 18th-century European clothes. Many handcrafts produced in the region today reflect the art of their ancient ancestors, such as jade carvings and intricate textiles. The historic and contemporary legacy of the Maya serves as a window to their civilization at its peak, a haunting reminder of the impermanence of great empires, and a reminder of how the roots of the past give shape to a vibrant modern existence.
The Maya Then and Now