Forgot Your Username
If you have forgotten your username, please provide your email address in the box below. We'll send you an email with your requested username. If you are having trouble, please call us toll-free at 1-800-221-0814.
Email Sent
You'll receive an email in a few minutes. Please check this email to find your requested username.
If you do not receive an email or you are having trouble logging into My Account, please call us at 1-800-221-0814.
GREECE
Playground of Zeus, Apollo, and Aphrodite … birthplace of the Olympic Games … academy of Socrates, Plato, and Aristotle … cradle of democracy and Western literature—although it's relatively small in size, Greece has had a legendary influence on world culture. From its classical capital of Athens, to a countryside speckled with grand amphitheaters and sacred temples, to the sun-soaked islands that dot its coast, it's no wonder mighty heroes and ancient thinkers found inspiration in this Mediterranean oasis.
In recent years, the country has fallen on harder times: A persistent economic crisis, frictions within the European Union, and immigration issues all present ongoing challenges. But in spite of it all, Greece's indomitable spirit lives on through its most valuable asset—its people. Warm, proud, and gregarious, Greeks cling fiercely to their long-held traditions—including a love of family and a passion for their famous cuisine—while focusing on shaping their future in a modern world.
Greece Interactive Map
Click on map markers
below to view information about top Greece experiences
Click here to zoom in and out of this map
Most Popular Films
Films featuring Greece from international, independent filmmakers
Greek Islands
Join travel expert Rudy Maxa to discover the sundrenched villages and natural wonders awaiting you along Greece's Cyclades islands.
Produced by Small World Productions
36 Hours in Athens
Discover two sides of Athens—our pre-trip extension destination—from ancient ruins to a vibrant youth culture.
Produced by Fritzie Andrade, Max Cantor, Chris Carmichael, Aaron Wolfe
©2015 The New York Times
Travelogue: Santorini & Delos, Greece 1954
See Greece in 1954 in this vintage 16mm film footage—from donkeys to hillside towns and ruins.
Produced by David Conover & Paul Villanova
Featured Reading
Immerse yourself in Greece with this selection of articles, recipes, and more
ARTICLE
Ancient myths and the Greek identity
RECIPE
Lemons have been used in Greek cooking since at least the first century. Try using them as you make Avgolemono.
ARTICLE
Discover the daring profession of sponge-diving in Symi.
Greece: Month-by-Month
There are pros and cons to visiting a destination during any time of the year. Find out what you can expect during your ideal travel time, from weather and climate, to holidays, festivals, and more.
Greece in January-February
Throughout most of Greece, January and February bear the hallmarks of classic Mediterranean winter weather: cooler temperatures and wet, overcast days. As you go further north into the mountains, the weather turns chillier and snow falls are frequent; the snow here will last until May.
Fewer crowds, especially in the big cities and on the islands, make for ideal exploring weather, though not all attractions will be open so it's best to call ahead.
Holidays & Events
January 1: New Year's Day in Greece coincides with the celebration of St. Basil's day, an important saint in the Orthodox Church. Traditionally, Greek families honor St. Basil with a vasilopita (literally, a "basil-pita;" it is actually more like a cake). Slices of cake are cut first for Christ, second for Mary, third for St. Basil, and then for all those present. Whoever finds the foulouri (or coin) in their piece is said to receive St. Basil's blessing.
January 8: This is the Feast of Agia Domniki, the patron saint of midwives. To honor this saint, men and women switch roles for the day.
Must See
The winter months are a particularly good time to visit Greece's many fascinating ruins: Minimal crowds allow for less hassle and more in-depth discoveries.
Greece in March-April
Greece begins to thaw in March, and April officially heralds the start of spring. This is an excellent time to visit: Temperatures are pleasant, the first of the season's vegetation is in bloom, and markets reopen after winter's gloom, but the crowds of summer have yet to arrive.
All of Greece comes to a spectacular stop around Easter. Depending on whether the holiday falls in March or April, you can expect to find shops and restaurants closed. But this shouldn't deter you from visiting Greece during Easter: The magnificent pageantry of the holiday is truly a sight to see.
Holidays & Events
March 25: Greek Independence Day commemorates the Greek victory in the Revolutionary War of 1821-1830 against the Ottoman Empire. This is also the Fest of the Annunciation, when the Orthodox Church celebrates the Archangel Gabriel telling the Virgin Mary that she would become the mother of Christ. The country marks this double holiday by eating crispy fried codfish with garlic sauce (Bakaliaros skordalia) and hosting a military parade.
April 8: In 2018, Greek Easter falls on this date, but as the Orthodox Church follows the Julian calendar (as opposed to the Gregorian calendar followed by Western Christianity), Orthodox Easter can fall anywhere between April 4 and May 8.
April 23: The Feast of St. George honors the life of the martyr Saint George, and is celebrated with religious ceremonies.
Must See
If your visit falls during the Easter celebrations, visit a local village or attend an Orthodox service—this all-important holiday provides a unique insight into contemporary life in Greece.
Greece in May-June
Greece begins to heat up in May and June: Crete, the Peloponnese, the Cyclades, and the Ionian islands are often warm enough for swimming. Wildflowers paint the countryside an array of vibrant hues, and sunny days make for excellent hiking and biking weather.
As locals are not yet on their summer holidays, visiting Greece in May or June will give provide the best of the summer months, without the crowds.
Holidays & Events
June-September: The Athens and Epidaurus Festival is a summer-long theater festival, highlighting classic Greek dramas and work from emerging artists. Performances are held in ancient amphitheaters in Athens and Epidaurus, a city about two hours southwest of the Greek capital; take in a show to witness the amphitheaters' impressive acoustics, and to participate in a cultural tradition dating back to the ancient Greeks.
Mid-May-Mid-June: Falling 50 days after the celebration of Orthodox Easter, the Day of the Holy Spirit honors the coming of the Holy Spirit, the third entity in the Holy Trinity who is believed to have come to the world in the form of flames. Orthodox Christians see this holiday as the birth of the church.
Greece in July-August
July and August mark Greece's high season, bringing with them sunnier days, higher temperatures—and plenty of crowds. Greece, and especially the islands' many white-sand beaches, are undeniably beautiful during the summer, but you will have to share the view with other visitors, locals and tourists alike. Many people flock to islands like Santorini and Mykonos to experience the famed nightlife scene there.
Athens can be stiflingly hot during the summer months, and August can be oppressive throughout the country. But the seas around the islands are at their calmest, and the crystal-clear waters of the Aegean make for a delightful reprieve from the heat.
Holidays & Events
August 15: One of the most important holidays in the Orthodox Church, the Assumption of the Virgin Mary celebrates Mary's ascendance into heaven following her death. From tiny villages to the big cities, Greeks across the country celebrate Mary's life with feasts, religious parades, and boisterous parties that go into the early hours.
Must See
It's said that God saved all his blue paint for the Aegean Sea, and after visiting the Greek Islands you'll be hard pressed to disagree. Though they may be crowded, the islands are at their best in the summer months; if you're visiting Greece this time of year, you won't want to miss your chance to soak up the beautiful beaches, sparkling seas, and sunny island life.
Greece in September-October
If you'd rather skip the crowded beaches and relentless heat, visit Greece in September or October. The days are still warm, there are fewer tourists, but most restaurants, shops, and sites still maintain their summer hours. This is also a great time of year to sample local foods and wine: The grape harvest begins in the fall, and Greek specialties like olives are in their prime.
In the more mountainous areas of northern Greece, fall can bring rain and storms. But in all other areas of the country this is a delightful time to visit.
Holidays & Events
October 28: Ohi Day is a public holiday commemorating the anniversary of the Greek defeat of the Italian army in 1940; Greeks celebrate my marching in patriotic parades and festively displaying the Greek flag from their homes.
Must See
September and October are generally considered the best time for whale watching in the Aegean Sea. Local sailing competitions add an extra thrill to visits to the coast and islands.
Greece in November-December
After the autumn leaves fall, November and December bring their characteristic shorter days and chillier temperatures. While the largest and most popular of the Greek Islands (like Santorini and Mykonos) operate year-round, the smaller, less touristy islands all but shut down for the winter months. And in the mountains, snow begins to fall, blanketing the northern regions in festive white.
Holidays & Events
December 25: Christougena, or Christmas, is celebrated in this predominantly Orthodox country from Christmas Day through the Epiphany on January 6. While the Greeks have their own version of Santa Claus, known here as Saint Vasilis, who brings small gifts to children on Christmas Eve, Christmas in Greece is largely focused on the spiritual aspects of the holiday, with much less emphasis on material gift-giving.
Average Monthly Temperatures
Compare Our Adventures
Click 'Select to Compare' to see a side-by-side comparison of up to adventures below—including
activity level, pricing, traveler excellence rating, trip highlights, and more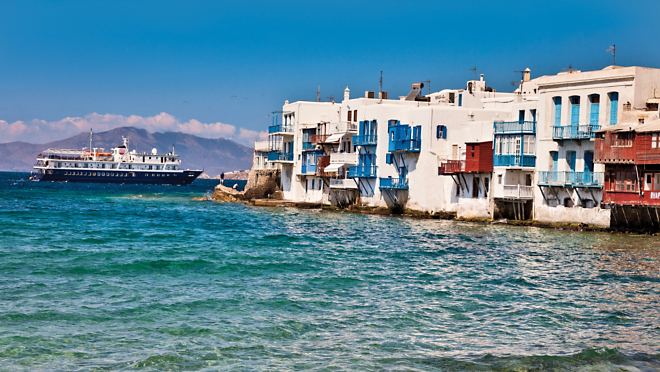 16 DAYS FROM $6,895 • $ 431 / DAY
Small Ship Adventure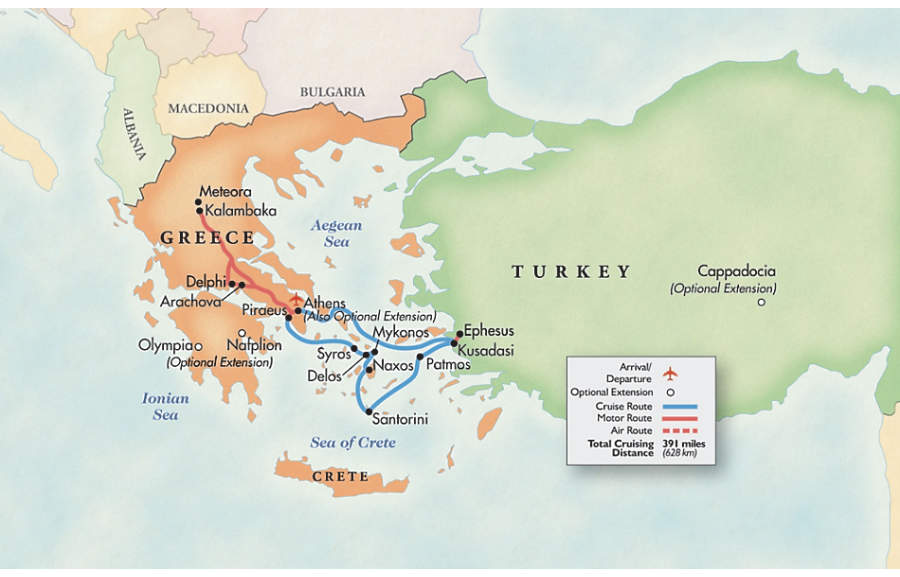 Greece: Athens, Arachova, Delphi, Kalambaka, Meteora • Greek Islands: Syros, Mykonos, Delos, Patmos, Santorini, Naxos • Turkey: Ephesus
31 meals—daily breakfasts, 6 lunches, and 11 dinners (plus all onboard house beer & wine, as well as soft drinks)
Visit the mountaintop monasteries of Meteora, and take in the views of the countryside below
Island hop aboard our private, 50-passenger small ship during a seven-night cruise
Spend two days discovering Athens—from the Acropolis to the lively Plaka neighborhood
Explore ancient Delphi, including the mythical Temple of Apollo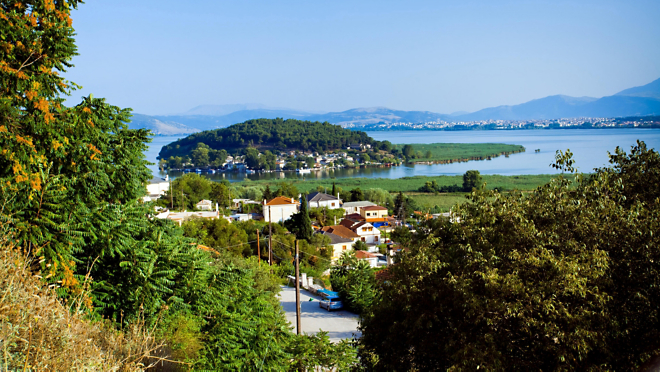 18 DAYS FROM $4,295 • $ 239 / DAY
Small Group Adventure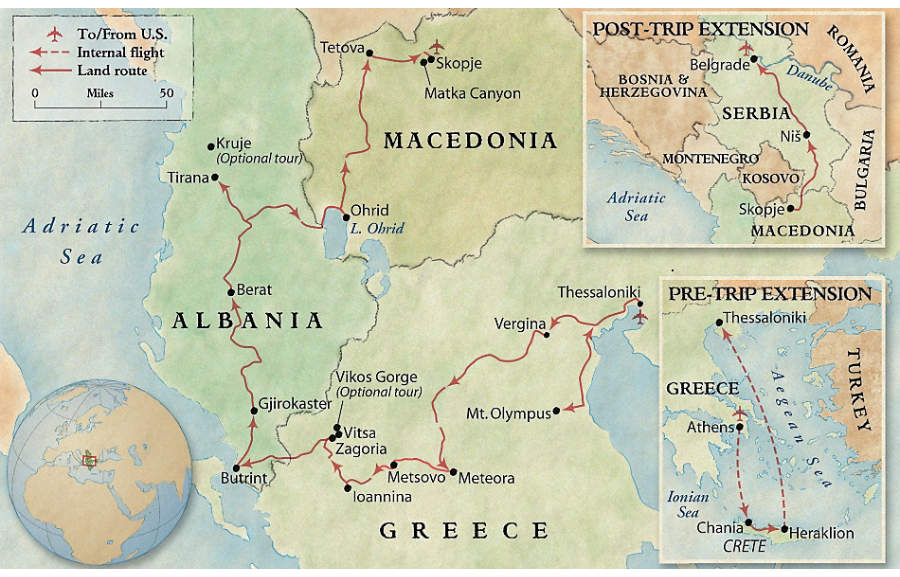 Greece: Thessaloniki, Meteora, Zagoria • Albania: Gjirokaster, Tirana • Macedonia: Ohrid, Skopje
36 meals—daily breakfast, 10 lunches, and 10 dinners (including 1 Home-Hosted Lunch)
Explore Thessaloniki, including its historic Ano Poli (Upper Town) and two bustling local markets
Visit the mountaintop monasteries of Meteora, and take in the views of the countryside below
Discover Mount Olympus, legendary home of the Greek gods
Experience Ioannina, a lakeside city famous for feta cheese and baklava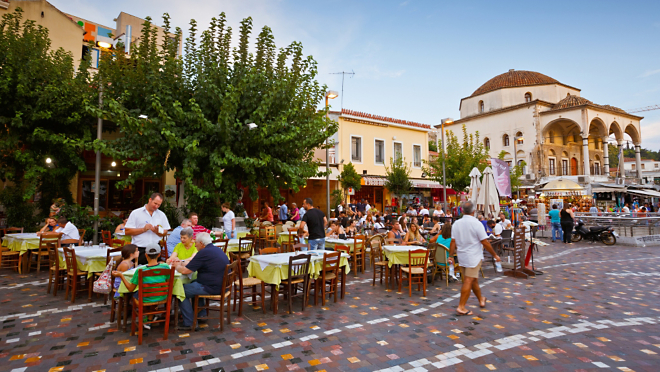 16 DAYS FROM $5,845 • $ 366 / DAY
Small Ship Adventure
Croatia: Zagreb, Plitvice Lakes, Split, Hvar, Korcula, Dubrovnik, Gromaca • Montenegro: Kotor, Perast • Albania: Butrint, Saranda • Greece: Corfu, Delphi, Athens
37 meals—daily breakfasts, 11 lunches, and 12 dinners (plus all onboard house beer & wine, as well as soft drinks)
Spend a day discovering Athens—from the Panathenean Stadium to the Parliament building
Explore ancient Delphi, including the mythical Temple of Apollo
Cruise through the Corinth Canal aboard our private, 50-passenger small ship
Visit Achilleion Palace, built by the 19th-century Empress of Austria and Queen of Hungary