Forgot Your Username
If you have forgotten your username, please provide your email address in the box below. We'll send you an email with your requested username. If you are having trouble, please call us toll-free at 1-800-221-0814.
Email Sent
You'll receive an email in a few minutes. Please check this email to find your requested username.
If you do not receive an email or you are having trouble logging into My Account, please call us at 1-800-221-0814.

FRANCE
No place on Earth captures travelers' imaginations quite like France. Perhaps it's the variety of experiences the country affords—from perusing museums in Paris, to strolling along the palm-tree-lined promenades of the Riviera, to driving through countryside straight out of an Impressionist painting. Or maybe, it's a fascination with France's flair for the finer things. (This is, after all, the land that birthed cultural icons like Claude Monet, Edith Piaf, and Coco Chanel.) Bold wine, lyrical chanson music, delicate crepes, lace-curtained cafés—these luxuries are the epitome of French art de vivre (art of living).
For all its chic sophistication, however, France is not without conflict: On July 14, 1789, bloody Bastille Day toppled a monarchy and launched a ten-year revolution that reverberated around the world. From 1804 to 1815, scheming Napoleon Bonaparte went toe to toe with the rest of Europe as he built his empire. And in 1940, the Nazis absorbed France into their axis, dooming some 160,000 civilians and thousands more soldiers. But through it all, France has endured, even thrived—reveling in the prosperity of the Belle Époque and helping to found NATO. In many ways, this interminable grace under pressure adds to the country's allure. Because at the end of the day, France will always be romantically, stylishly, undeniably French.
France Interactive Map
Click on map markers
below to view information about top France experiences
Click here to zoom in and out of this map
Most Popular Films
Films featuring France from international, independent filmmakers
Château de Versailles
Explore the Château de Versailles, from its gilded gates to its mesmerizing gardens.
Produced by Michael Gisselere
Intersection: Haut Marais, Paris
Travel to Haut Marais to get some tips from locals on how to master the effortless Parisian style.
Produced by Stefania Rousselle
©2014 The New York Times
Riverbanks
We've been working with independent international filmmakers to provide you with films that portray the people, culture, and lifestyles of the countries you're interested in visiting. We believe this film offers a unique perspective on Paris.
Produced by Emeric Livinec
Featured Reading
Immerse yourself in France with this selection of articles, recipes, and more
ARTICLE
Not quite French, not quite Italian, Corsica is difficult to categorize—as are its people. Learn why for yourself.
France: Month-by-Month
There are pros and cons to visiting a destination during any time of the year. Find out what you can expect during your ideal travel time, from weather and climate, to holidays, festivals, and more.
France in January-February
Lighter crowds during the winter months make is easy to linger a little longer at your favorite attraction, or enjoy a rich and warming cup of Chocolat Chaud at a café in the City of Lights. It can be rainy and wet this time of year, but the temperature hovers near the 50⁰F mark, making it easy to wear layers and adjust as you travel. While snow is a rare occurrence along the palm-lined Riviera, winter activities are within reach; the mountains are not far and French skiing is some of the greatest in the world.
Holidays & Events
February 14: St. Valentin Festival
February-March: Carnival de Nice
Must See
One of the oldest carnivals in the world, the annual Carnival de Nice is one of the biggest winter events on the Riviera. The city of Nice erupts with an extravaganza of parades, floats, and jubilation. The streets are bustling with food stalls and events, plus the world-famous Bataille de Fleurs showers crowds of revelers with colorful flowers.
Spend Valentine's Day in the charming village of Saint Valentine, France. For the weekend near February 14, this quaint hamlet experiences a high volume of visitors, the town is peppered with flowers and besieged with sweethearts looking to get married in the garden gazebo, or honor their silver, gold or diamond anniversaries. Pin your love notes on the Tree of Vows, get letters stamped from the St. Valentin post office, witness confection and chocolate makers in action, or visit the local market for a treat.
France in March-April
As the locals bid adieu to the cold winter months and the countryside begins to awaken, spring is the best time to visit this enchanting region. Tourists have not yet descended and with local markets opening for the season and the hillside starting to bloom, you'll have easy access to true local highlights. The increasing sunshine makes it a great time to hike the Pyrenees and you can benefit from longer days and mild temperatures for outdoor activities.
Holidays & Events
Must See
Easter is celebrated with ornately crafted white and dark chocolate displays in candy shops and bakeries across the country. Exquisite works of art, these chocolate eggs, rabbits, and even bells make their way into windows of the confiseries throughout the region, while church bells ring out, filling the air with their chime on Easter morning.
France in May-June
The azure waters of the Riviera are just heating up and the sun is gaining strength: summer kicks off on the Riviera in June. The locals aren't on holiday yet, making this the ideal time to take advantage of the lighter crowds and optimal weather for seeing highlights or enjoying the coast at your leisure. There are many celebrations and holidays to witness this time of year, as the countryside is alive and flourishing.
Holidays & Events
May 1: May Day; also known as Labor Day
May 8: Victory in Europe Day
Held Annually in May: Cannes Film Festival
Must See
Every two years, the city synonymous with wine hosts a festival at the end of June. This four-day celebration includes street art, various food and wine pairings, music, and fireworks. The Bordeaux Wine Festival is a celebration of wine, food, and culture.
Characterized by their geometric layout, the French-style gardens exemplify beauty and affluence, while the château of the Loire Valley each tell a story, steeped in opulence and masonry. Visit the Valley of the Kings to witness the verdant green tradition of these castles and their gardens.
Commemorating the D-Day landing, the French host various memorial ceremonies for the anniversary of the Allied Landings on June 6. Parades, reenactments, and remembrances mark the day.
France in July-August
Tourism is in full swing and with the temperatures at their warmest, summer is at its peak too. The lavender fields in Provence are in their full glory; as are the outdoor markets. Some establishments may close in August, as this is the time many locals take vacation—especially in Paris. The South of France swells with locals streaming to it for holiday.
Holidays & Events
July 14th: Bastille Day; the french celebrate the storming of the Bastille—a turning point of the French Revolution—with parades, outdoor celebrations and fireworks.
Month of July: Tour de France finishes
France in September-October
September may officially signal summer's end in the northern hemisphere, but in France, fair weather tends to linger through mid-October. Visitors can still enjoy relatively warm daytime temperatures of between 60° to 70° Fahrenheit and longer store hours—but without the crowds that summertime typically draws. While rain can be more common as the seasons change, sunshine is still plentiful in autumn, and the crisp blue skies provide a lovely contrast to the fiery leaves that appear as fall progresses.
Holidays & Events
First Sunday in October: Nuit Blanche (White Night) festival; Parisians party from dusk until dawn during this free all-night celebration of art, music, and theater.
Late September: Fashion Week; for one week perennially posh Paris becomes even more stylish when world-renowned clothing designers descend on the French capital to debut their collections for the upcoming spring/summer season. This bi-annual event is the last of the so-called "Big 4" fashion weeks to take place in the U.S. and Europe each year.
Must See
For French wine enthusiasts, Christmas comes in early September, when the grape harvest typically begins. From Bordeaux to Alsace, vineyards are flooded with grape pickers, and the streets teem with tractors transporting the fresh crop to the presses. While many châteaux close to visitors during this busy season, spirits are high, festivals abound, and the air is rich with the scent of grapes.
France in November-December
Cold weather begins to creep into France in November, days grow shorter, and rain and snow are common. As locals head indoors to escape the chill, many small-town shops and restaurants opt for shorter hours, or close for the season entirely. On the plus side, tourists rarely flock to France in the winter months, making it an ideal time to visit the country's more famous sites, which may be crowded during other seasons. Ski resorts open in the Alps and Pyrenees—a welcome change for winter sports enthusiasts. What's more, the dimmer days and falling snow create a beautiful backdrop for the festive decorations and glimmering lights that spring up during the holiday season.
Holidays & Events
November 11: Armistice Day
December 25: Christmas
Must See
Christmas in France is a decidedly elegant affair, and the merriment lasts for weeks leading up to the main event. The City of Lights shines even brighter during the holidays, when trees are festooned in lights and shimmering Christmas carousels pop up in nearly every neighborhood. And in the east, near neighboring Germany, stylish Christmas markets abound, full of artisan food and traditional toys. No matter where you are in France, you're sure to find a dazzling array of holiday pastries, including the most famous: decadent bûches de Noël (yule log), a rolled chocolate sponge cake filled with cream, frosted in buttercream, and adorned with sugar holly and meringue mushrooms.
Average Monthly Temperatures
Compare Our Adventures
Click 'Select to Compare' to see a side-by-side comparison of up to adventures below—including
activity level, pricing, traveler excellence rating, trip highlights, and more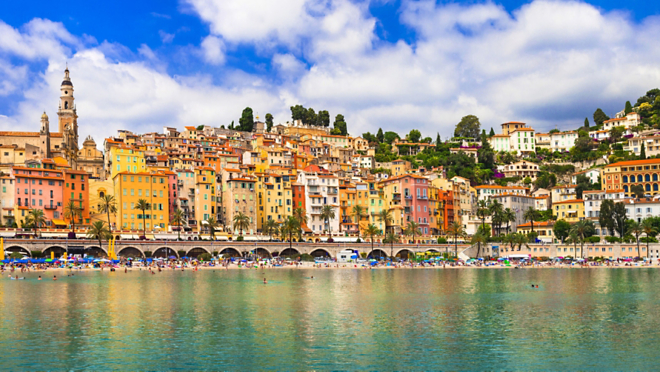 16 DAYS FROM $5,395 • $ 338 / DAY
Small Ship Adventure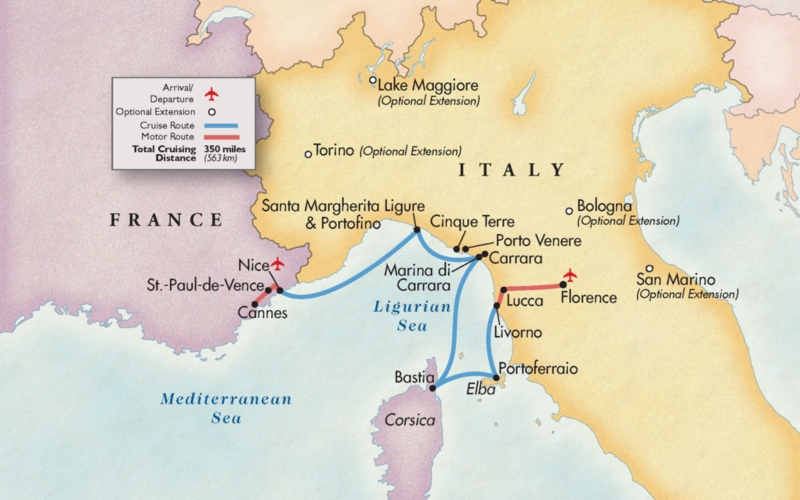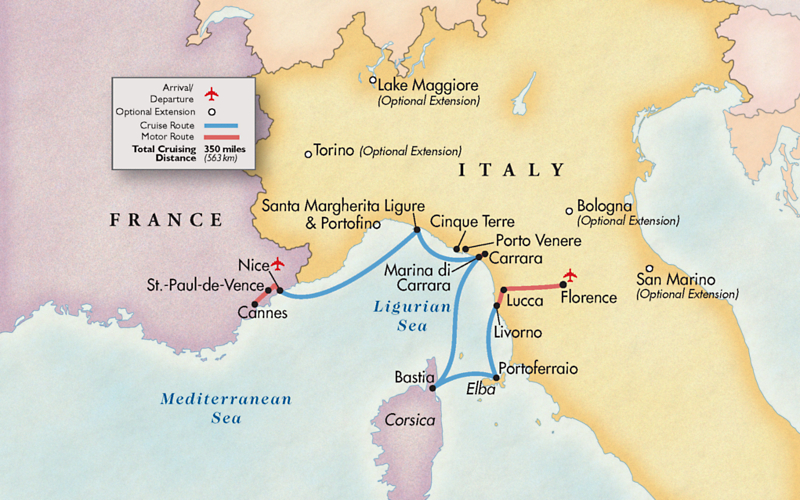 Italy: Florence, Lucca, Portoferraio • France: Bastia • Italy: Marina di Carrara, Porto Venere, Cinque Terre, Santa Margherita Ligure, Portofino • France: Nice, St. Paul de Vence, Cannes, Saint-Honorat Island
31 meals—14 breakfasts, 8 lunches, and 9 dinners (plus all onboard house beer & wine, as well as soft drinks)
Witness the highlights of seaside Nice during a panoramic tour
Stroll through Cannes during a guided tour, including the waterfront Promenade de la Croisette
Embark on a guided tour of Bastia, the largest port on the island of Corsica
Learn about Corsica's fight for independence during an insightful discussion with a local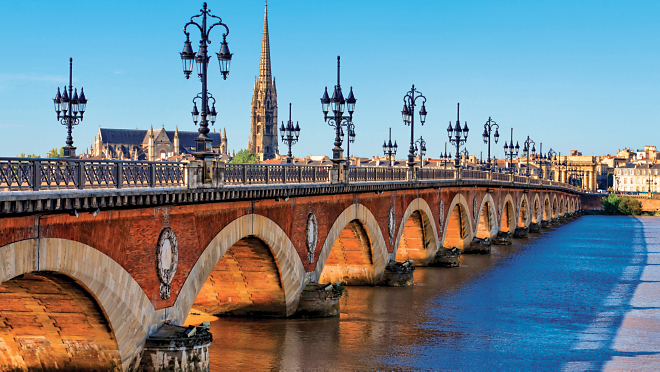 18 DAYS FROM $7,995 • $ 445 / DAY
Small Ship Adventure
England: London, Poole • France: Mont St. Michel, Saint-Malo, Locronan, La Rochelle, Bordeaux • Spain: La Coruna, Santiago de Compostela, Vigo • Portugal: Porto, Lisbon
40 meals—16 breakfasts, 12 lunches, and 12 dinners (plus all onboard house beer & wine, as well as soft drinks)
Explore historic Bordeaux during free time, or sip its signature wine on an optional tour
Visit the tiny island of Mont Saint-Michel and the iconic Romanesque abbey at its heart
Discover the charms of medieval Locronan and coastal La Rochelle, perched on the Bay of Biscay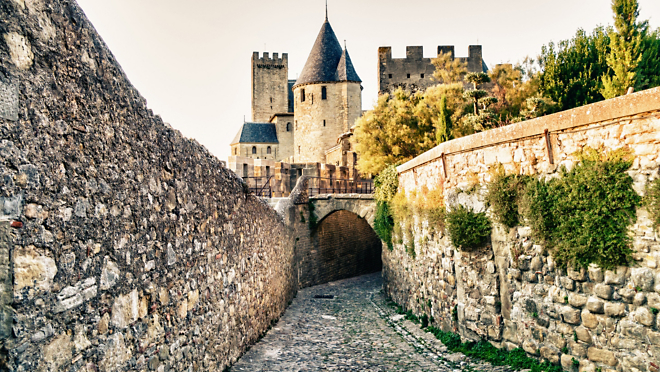 ;
5 NIGHTS FROM FROM $1,795
Step back in time during a walking tour of fortified Carcassonne
Experience the UNESCO World Heritage city of Albi during an optional tour
Indulge in the culture of Bayonne, home to renowned handmade chocolate
Enjoy an in-depth tour of the Basque country, including riverside Laressore and fiery Espelette, where red pepper is made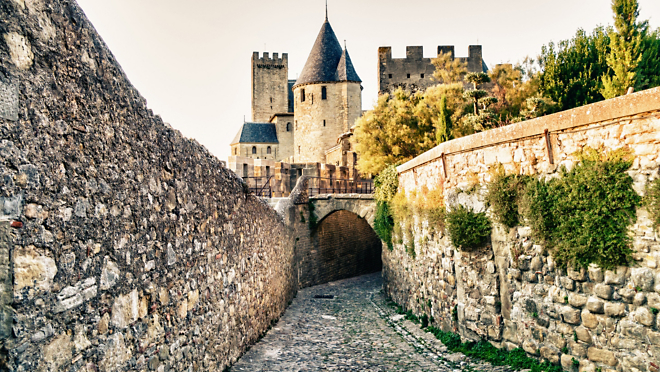 Not Applicable*
Not Applicable*
9 meals—daily breakfast, 3 lunches, and 1 dinner
Step back in time during a walking tour of fortified Carcassonne
Experience the UNESCO World Heritage city of Albi during an optional tour
Indulge in the culture of Bayonne, home to renowned handmade chocolate
Enjoy an in-depth tour of the Basque country, including riverside Laressore and fiery Espelette, where red pepper is made