The Leader in Personalized Small Group Adventures on the Road Less Traveled
You're receiving this message because your web browser
is no longer supported
We recommend upgrading your browser—simply click the button below and follow the instructions that will appear. Updating will allow you to accept Terms and Conditions, make online payments, read our itineraries, and view Dates and Prices.
To get the best experience on our website, please consider using:
Safari (for Mac or iPad Devices)
Update Browser

ethiopia
Compare Our Adventures
Click 'Select to Compare' to see a side-by-side comparison of up to adventures below—including
activity level, pricing, traveler excellence rating, trip highlights, and more
View 2021 Itinerary Video
See a detailed overview of this itinerary, including pre- and post-trip extensions and adventure highlights.
Spend 15 days in Ethiopia on
O.A.T. Adventure by Land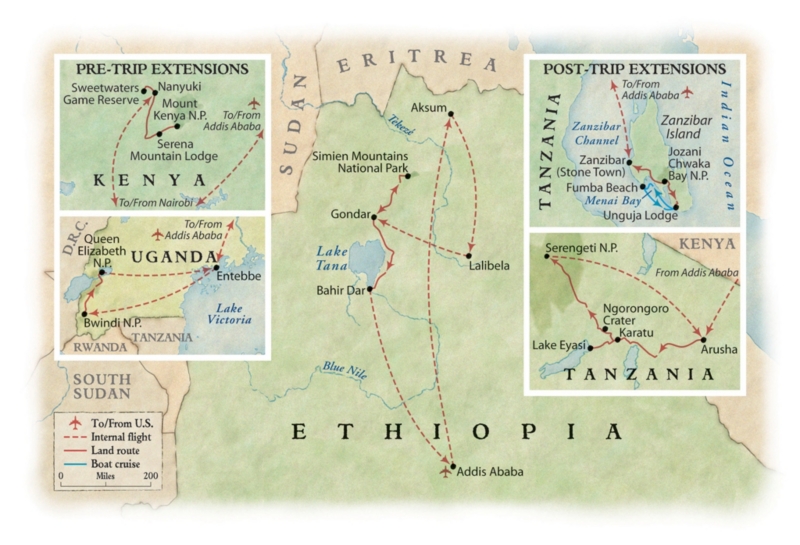 Ethiopia: Addis Ababa, Aksum, Lalibela, Simien Mountains National Park, Gondar, Bahir Dar
40 meals—14 breakfasts, 12 lunches, and 14 dinners
Explore ancient Lalibela, home to 900-year-old underground Christian churches carved from rock
Journey to Simien Mountains National Park, home to rare wildlife found nowhere else on Earth
Learn how to make tej, the traditional Ethiopian honey wine, in the home of four Ethiopian sisters in Gondar
View the fossilized remains of "Lucy," a 3.25-million-year-old hominin that changed our understanding of humanity forever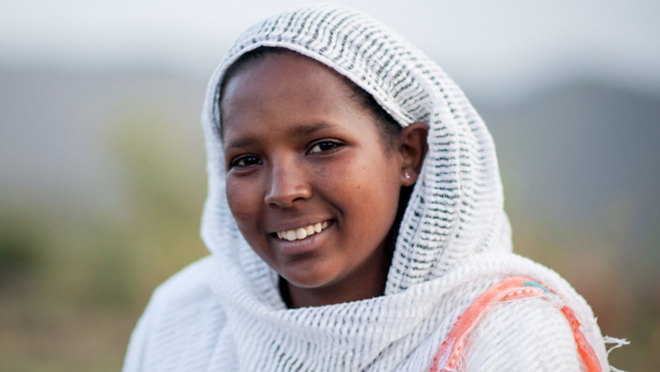 ;
Spend 6 days in Ethiopia on our
Post-trip Extension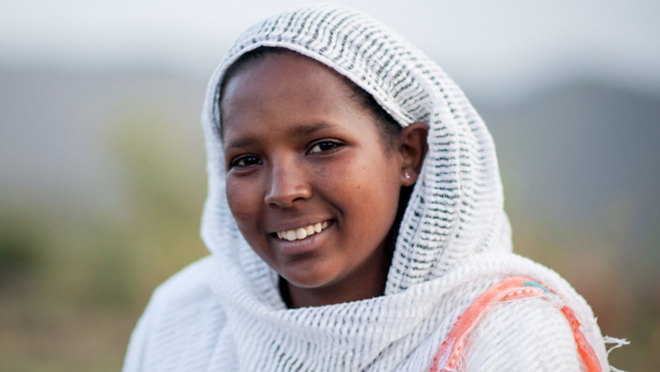 Not Applicable*
Not Applicable*
16 meals—5 breakfasts, 6 lunches, and 5 dinners
Explore the dynamic Ethiopian capital of Addis Ababa
View the fossilized remains of "Lucy," a 3.25-million-year-old hominin that changed our understanding of humanity forever
Explore ancient Lalibela, home to 900-year-old underground Christian churches carved from rock
Learn how to make injera, traditional fermented flat bread, in the home of local residents in Lalibela
Compare Adventures
Find the Adventure That's Right for You
Our Activity Level rating system ranks adventures on a scale of 1 to 5 to help you determine if a trip is right for you. See the descriptions below for more information about the physical requirements associated with each rating.
Travelers should be able to climb 25 stairs consecutively, plus walk at least 1-2 miles over some uneven surfaces without difficulty. Walks typically last at least 1-2 hours at a time. Altitude can range from zero to 5,000 feet.
Activity Level 2:
Moderately Easy
Travelers should be able to climb 40 stairs consecutively, plus walk at least 2-3 miles over some uneven surfaces without difficulty. Walks typically last for at least 2-3 hours at a time. Altitude can range from zero to 5,000 feet.
Activity Level 3:
Moderate
Travelers should be able to climb 60 stairs consecutively, plus walk at least 3 miles over some steep slopes and loose or uneven surfaces without difficulty. Walks typically last for 3 or more hours at a time. Altitude can range from 5,000 to 7,000 feet.
Activity Level 4:
Moderately Strenuous
Travelers should be able to climb 80 stairs consecutively, plus walk at least 4 miles over some steep slopes and loose or uneven surfaces without difficulty. Walks typically last for 4 or more hours at a time. Altitude can range from 7,000 to 9,000 feet.
Activity Level 5:
Strenuous
Travelers should be able to climb 100 or more stairs consecutively, plus walk at least 8 miles over some steep slopes and loose or uneven surfaces without difficulty. Walks typically last for 4 or more hours at a time. Altitude can range from 10,000 feet or more.
Hide Acivity Level
PRICE
including international airfare
HIGHLIGHTS & ACTIVITIES IN Ethiopia
*You must reserve the main trip to participate on this extension.
**This information is not currently available for this trip. Please check back soon.
Recommended Viewing
Watch this video showcasing what makes this country so unforgettable
ReelEarth: New Flower | Ethiopia
Produced by Beza Haiku Lemma
Follow Ethio-Somali fashion designer Gouled Ahmed as he challenges his country's highly religious and socially conservative beliefs, as well as the Western world's assumptions of Ethiopia, through his distinctive fashion designs.
Recommended Videos
Watch your fellow travelers' favorite films & videos
Trekking the Planet: Simien Mountains
Produced by Distant Journey Productions
Hear prayers echoing from remote village monasteries and get a glimpse of rare wildlife as you explore the many facets of life in Ethiopia's Simien Mountains.
Ethiopia Dances for Joy!
Produced by Tamalyn Dallal
Explore Ethiopia's myriad cultures as Tamalyn Dallal, a member of UNESCO's International Dance Council, travels from big cities to remote villages to uncover variations in regional dances and religious sects.
The Story of Coffee - Ancient Bean, Global Journey
Produced by Pilot Film & TV Productions
Discover the history behind one of America's favorite drinks, and see how an ancient Ethiopian bean birthed a booming global industry.
Ethiopia: Month-By-Month
There are pros and cons to visiting a destination during any time of the year. Find out what you can expect during your ideal travel time, from weather and climate, to holidays, festivals, and more.
Ethiopia in December-February
The driest months in Ethiopia are typically from December to February. During these months, the highlands become lush and green while sunny, clear skies beam above. These sunny days bring regular average temperatures of about 77 degrees Fahrenheit, making it an ideal time to visit. For wildlife enthusiasts, this is a prime time for birdwatching.
Although Ethiopia generally enjoys a mild climate, weather can vary greatly depending on elevation. Most of the country is highland, so many higher altitude locales feature considerably cooler temperatures, whereas the lowlands showcase a more hot and humid climate. Lying just north of the Equator, the country experiences little variation in temperature throughout the year.
Holidays & Events
January 7: Ganna, or Ethiopian Christmas, is celebrated in early January as Ethiopia follows the ancient Julian calendar.
January 19: Timkat, the Ethiopian Epiphany Day, is the celebration of the baptism of Jesus.
Must See
Timkat is the second largest festival in Ethiopia. Celebrated by Ethiopian Orthodox Christians, which have been part of Ethiopia's fabric since the first century AD and make up more than half of the country's population, this religious festival is a huge, colorful display of their culture and heritage through traditional costumes, song, and dance.
Ethiopia in March-May
March is a time of warm and dry weather in Ethiopia, or known locally as belg, and light, occasional rains accompany the mild climate. May is the hottest month out of the year in Ethiopia, especially in the lowlands, with temperatures around 77 degrees Fahrenheit.
Holidays & Events
March 2: Adwa Victory Day, honoring the victory of Emperor Menelik over an invading Italian army in 1896.
April: Fasika, or Orthodox Easter.
May 28: Derg Downfall Day is Ethiopia's national independence day and commemorates the downfall of the Derg regime in 1991.
Ethiopia in June-August
June to August brings Ethiopia's wet season, or known locally as kiremt. Rains come in short, intense bursts and rarely last all day. During this time of year, Lalibela is an ideal destination due to fewer tourists and the verdant landscape.
Holidays & Events
August: Ashenda Cultural Festival takes place late in August and marks the end of a two-week fasting period where women and girls of Ethiopian Orthodox faith dress in ornate, traditional dress to honor the Virgin Mary.
August 19: Buhe celebrates the transfiguration of Jesus on Mount Tabor.
Ethiopia in September-November
As the rainy season comes to a close, the harvest season unfolds in Ethiopia. Landscapes continue to flourish in verdant hues and wildflowers are in full blossom. Skies are typically blue and clear, which provides great opportunities to trek through the blooming peaks of the Simien Mountains. The national parks are brimming with wildlife, like the gelada baboon or the walia ibex, and migratory birds begin to arrive in large numbers following the substantial rains of the wet season.
Holidays & Events
September 11: Enkutatash, the Ethiopian New Year.
September 27: Meskel, a festival in Addis Ababa commemorating the discovery of the True Cross by the Roman Empress Helena.
November 30: Festival of Tsion Mariam in Aksum.
November: Great Ethiopian Run, the biggest running race in Africa.
Must See
After the summer rains, the landscape of the Simien Mountains is a lush, vivid green, the terrain far more dry, and the sweeping views undisturbed by haze. September to November is an optimal time to trek through this vast mountain range with October being particularly special as this is when the mountain wildflowers are in full bloom.
Average Monthly Temperatures
Ethiopia Interactive Map
Click on map markers
below to view information about top Ethiopia experiences
Click here to zoom in and out of this map
Addis Ababa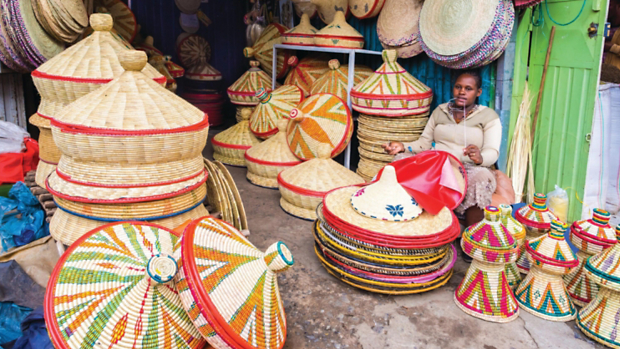 Ethiopia's capital, which translates as "New Flower" in the Amharic language, was founded in 1897 by the Ethiopian Emperor Menelik. Over the next hundred years, this city of tents set in the highlands bordering the Great Rift Valley grew into a vibrant, multi-cultural city of sprawling street markets and gleaming skyscrapers. While the official population of Ethiopia's commercial and cultural hub is about 3.5 million, the true head count is probably closer to seven million—but no one really knows.
Known by the locals simply as "Addis," the world's third highest capital offers visitors a cool year-round climate and a wealth of attractions that include palaces, copper-domed churches, Africa's largest open-air market, and a National Museum exhibiting all manner of Ethiopian arts and crafts, and the famous early hominid, "Lucy." With cafés and restaurants on every corner, Addis is also the best place to enjoy meals centered on Ethiopia's spongy injera bread; or to imbibe in glasses of tej, traditional honey wine; or to sip cups of its famously potent, high-quality coffee—whose beans are endemic to Ethiopia.
Explore Addis Ababa with O.A.T. on:
Aksum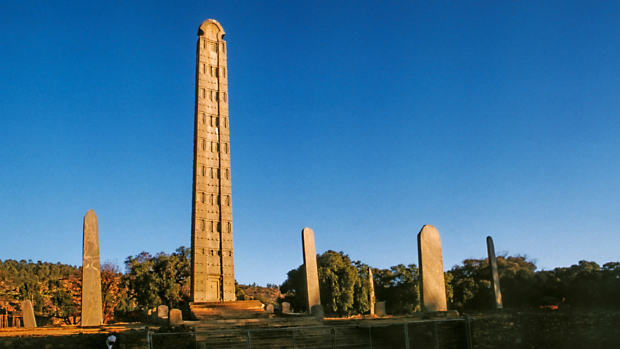 Legendary home of the Queen of Sheba and site of the first great civilization in Ethiopia, Aksum was once the capital of a mighty empire on par with ancient Greece and Rome. Vivid reminders of the mighty Aksumite Empire (which lasted from the first to the eighth centuries) remain scattered through the this ancient city set in the highlands of northern Ethiopia—including a 108-foot-high obelisk that is thought to be the largest stone object ever to have been worked by man.
During Aksum's pre-Christian days, huge granite pillars were erected to mark the tombs of kings, nobles, and important leaders. Aksum's Christian sites include the St. Mary of Zion Church, a religious complex whose roots go back to Ethiopia's earliest days of Christianity. Said to rest atop the foundations of a temple built between the fourth and sixth centuries, this could be the oldest Christian site in Africa. Long after its decline in the tenth century, Ethiopian emperors continued to be crowned in Aksum—one of Ethiopia's many UNESCO World Heritage Sites. With ongoing excavations, Aksum and its surroundings still have many secrets to reveal to the world.
Explore Aksum with O.A.T. on:
Bahir Dar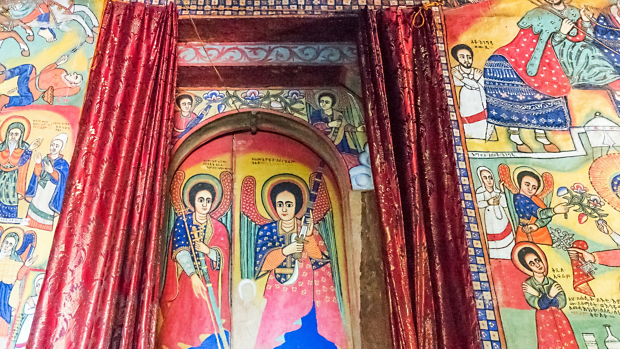 Ethiopia's third largest city, Bahir Dar, lies along the southern shore of Lake Tana, the country's biggest lake—and source of the Blue Nile. With a name that means "by the sea" in Amharic, Bahir Dar is also nicknamed the "Ethiopian Riviera" for the palm trees that line its wide streets and how it overlooks the shimmering blue waters of Lake Tana.
And just like at almost every Ethiopia destination, Bahir Dar is a gateway to some of Ethiopia's ancient wonders—for the islands of the lake are dotted with mystical, treasure-filled monastic churches that were hidden from the outside world for centuries. It's said that the Ark of the Covenant was kept hidden away at one of these island monasteries before being relocated to a church in Aksum.
Explore Bahir Dar with O.A.T. on:
Gondar
Nestled in the foothills of the Simien Mountains, Gondar was an obscure little village up until 1632, when King Fasilidas chose it as the site of the Empire's new capital. And for next 250 years, the kings of Ethiopia ruled from here, building a succession of royal palaces that still occupy the heart of modern-day Gondar. Known collectively as Fasil Ghebbi, or the "Royal Enclosure," the castles and palaces are (yet another) UNESCO World Heritage Site.
Often referred to as the "African Camelot," Gondar's remarkable collection of castles and other imperial buildings somehow survived the ravages of time to become one of Ethiopia's most treasured locales.
Explore Gondar with O.A.T. on:
Lalibela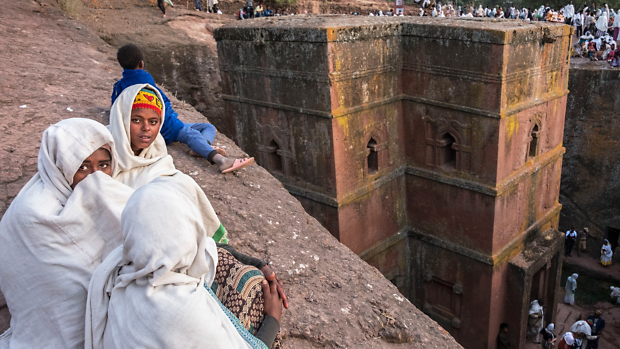 Situated in a mountainous region in the heart of Ethiopia, Lalibela is the epicenter of Ethiopian Christianity—and a UNESCO World Heritage Site. Home to one of the world's most astounding sacred sites, there are eleven churches in Lalibela, each carved out of a single block of granite with its roof at ground level. Legend has it that King Lalibela, who ruled Ethiopia at the end of the twelfth century, was summoned by angels to build these amazing houses of worship—and to create a "New Jerusalem" for those who couldn't make a pilgrimage to the Holy Land. Ethiopians believe that both men and angels worked together to construct the churches; with men working during the day, and the angels at night.
The eleven intertwined, underground churches that stand today in Lalibela are little changed from when they were first carved from the top down some 900 years ago. The most celebrated of the churches is Bete Giyorgis (the Church of St George). Cut some 40 feet down into the mountain, its roof is in the shape of a Greek cross. A place of pilgrimage and devotion to this very day, the churches of Lalibela remain sacred for almost 50 million Ethiopian Orthodox Christians throughout the world—just as they have been for almost a millennium.
Explore Lalibela with O.A.T. on:
Simien Mountains National Park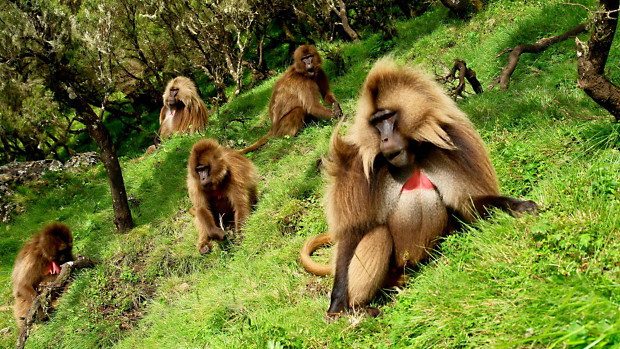 Set high on the Ethiopian plateau, Simien Mountains National Park is home to rare and unusual wildlife and some of the most spectacular landscapes in the world. Another of Ethiopia's UNESCO World Heritage Sites, the majestic peaks of Simien—some soaring to a height of 13,000 feet—were once described by Homer as "chess pieces of the gods." Surrounded by precipitous cliffs, plunging waterfalls, and terraced greenery, Simien Mountains host a plethora of birds and mammals—including the Simien fox and Gelada baboon. Geladas are gregarious grass-eating primates that are often called "bleeding heart baboons" for the distinctive red patches on their chest. Hanging out in large troops, geladas can often be seen playing or sitting calmly, their golden manes billowing in the wind.
These scenic mountains are also home to the Ethiopian wolf. The world's rarest canid, only about 400 of these shy creatures survive in the Ethiopian Highlands. Other unusual species include the lammergeier vulture, coasting along the thermals with its 10-foot wingspan; and the walia ibex, a giant mountain goat with scimitar-like horns that is found nowhere else in the world.
Explore the Simien Mountains with O.A.T. on:
Featured Reading
Immerse yourself in Ethiopia with this selection of articles, recipes, and more
ARTICLE
Get familiar with 5 popular dishes of this aromatic East African fare.
ARTICLE
Discover how Ethiopia is a unique destination that is very different than its African neighbors.
Eat like an Ethiopian: 5 Must-Try Dishes that Bring the Flavor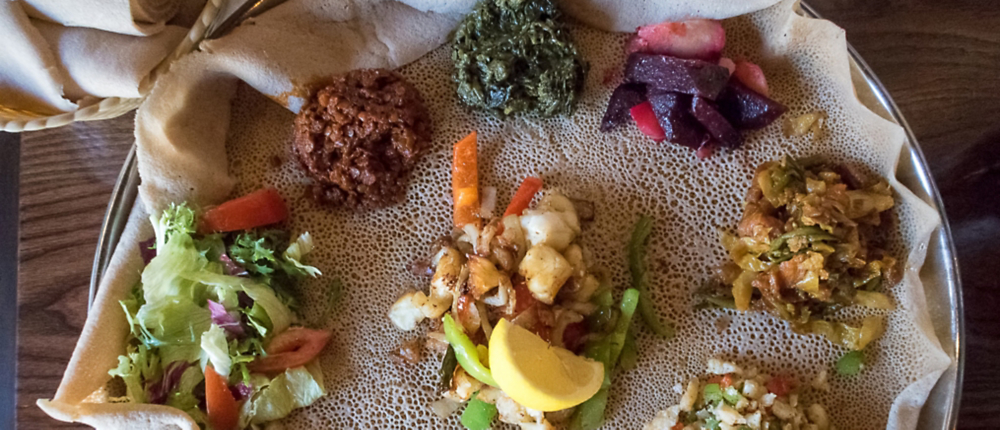 by Katina Ahling
Food is cultural identity on a plate—and Ethiopia's plate is laden with timeless flavors. Although this East African country has undergone transformation throughout the years, it's preserved a lot, too. Its enduring culinary traditions, in particular, have been enticing palates for centuries. After all, Ethiopia was the only African nation not colonized by European powers; therefore, unlike much of the continent, its culture has remained intact.
Eating in Ethiopia is a social affair, with food served in a circular presentation atop injera, an absorbent, pancake-like flatbread that accompanies everything from piquant stews to hearty curries and cubes of meat. The food is traditionally placed in a mesob, artfully woven baskets that come in a diversity of sizes, patterns, and hues. No one wastes time with such trivialities as cutlery; instead, locals scoop up piles of food with torn strips of injera using their right hands—this is an important distinction, as the left is frowned upon at mealtime.
To fully appreciate Ethiopian cuisine, one must recognize the complex interplay of the myriad spices in every dish. Perhaps the most frequent to appear in Ethiopian cooking is berbere, a fragrant symphony of chili powder, fenugreek, ginger, garlic, cardamom, and cinnamon, among other flavors. You can find it in signature dishes like kitfo, raw meat warmed in butter and spices, and wot, curried meat stew with vegetables and spices. Regardless of which delicacy you try, though, this cuisine packs a punch on the flavor scale.
Another fact to savor about this spice-happy fare is that it's a vegan food paradise. Being predominantly Ethiopian Orthodox, this devout nation requires fasting from animal products on Wednesdays, Fridays, and during the entire Lenten season. Therefore, Ethiopians have had ample practice perfecting the art of meatless cooking.
Below, find five Ethiopian dishes that will inspire you to stock your spice cabinet:
Tibs
This dish is proof that simplicity rules. A standard preparation of tibs is sliced beef or lamb, pan-fried in butter, garlic, and onion. That said, it comes in numerous variations, depending on the cut of the meat or whether vegetables are added. Historically, this dish was used to honor or compliment someone. Today, it's eaten on celebratory occasions, as well as in daily life. Tibs is all about the freshness and spot-on preparation of the meat, so carnivores—come hungry.
Ful
You won't find any added sugars in this breakfast superfood. Although ful is not exclusive to Ethiopia (in fact, it's consumed throughout East Africa and the Middle East), we'd be remiss not to include it, as it's delicious and commonly enjoyed by locals. Ful consists of stewed and berbere-spiced fava beans, ground down to a paste and usually accompanied by bread. It's often served with sides such as green onion, tomato, yogurt, and feta cheese. Jam-packed with equal parts protein and flavor, don't be ful-ed into skipping this breakfast staple.
Beyainatu
Sometimes you just want options. The name of this dish appropriately translates to "a bit of every type," which is precisely how to describe beyainatu, a smorgasbord of aromatic lentil and vegetable curries served atop a round, spongy slab of injera. This dish is a go-to for locals during fasting, but it's also widely enjoyed by vegetarians and meat-eaters alike throughout the year.
Doro Wot
Move over boring, baked—and let's be honest, probably dry—chicken. Doro wot is an onion-based chicken stew drenched in a sizzling sauce of butter, chili, cardamom, and berbere. It's traditionally accompanied by a boiled egg and injera. Though typically reserved for celebratory occasions or religious holidays, doro wot is a consistent crowd-pleaser.
Shiro
Legumes don't typically command the spotlight in Western dishes—and shiro proves why they should. Commonly consumed on fasting days, shiro is a lightly spiced chickpea or bean purée often paired with minced onions and garlic, among other flavor-boosting ingredients. Although it doesn't resemble much, this dish adds a creamy layer of complexity to any meal, whether it's enjoyed with injera or combined with other stews and sauces.
Ten Fascinating Facts about Ethiopia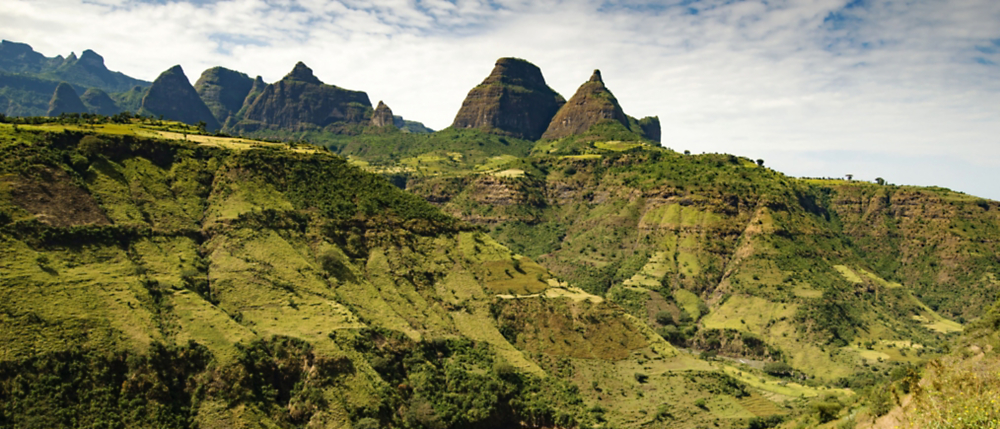 by John Bregoli
Ethiopia's unique blend of ancient history, natural wonders, and rare wildlife make it one of the most intriguing places on Earth. And as you'll see from the following, it's also a destination that is very different from its African neighbors … 
1. Ethiopian Calendars Have 13 Months
Many cultures have their own calendars, but almost all of them adhere to one aspect of the Western Gregorian calendar—a rather unspoken rule that there should be "12 months to a year." Not Ethiopia. They continue to follow the ancient Coptic calendar (a form of the Julian calendar), which has 13 months and is seven to eight years behind the calendar we're all familiar with. So, while it's 2019 in the rest of the world, it's still 2012 in Ethiopia. It's all rather confusing, but there's a nice upside to it all: Just by getting off the plane in Ethiopia, you'll be about seven years younger than you were when you left the United States.
2. Ethiopian Clocks Have 12 Hours
Ethiopians say that the day should begin at dawn—so they use a 12-hour clock. If you request a cab at 8:30pm in Addis Ababa, don't be surprised if the driver picks you up at "two o'clock, 30 minutes." So when you're purchasing bus tickets or checking out train schedules, it's always safest to ask whether those departures are in Ethiopian or Western time.
3. The Rastafarian Movement Was Named For an Ethiopian Emperor
When you think about Jamaica's Rasta movement, you'll probably conjure up an image of Bob Marley belting out a reggae tune with a headful of swirling dreadlocks—and Marley is certainly a Rastafari icon. But the man at the heart of Rastafarianism lived continents away from the Caribbean island of Jamaica—Haile Selassie. In fact, the entire movement was named for the man that Rastafarians consider their messiah. When Ethiopia's 225th and last emperor was crowned in 1930, he took on the regal name of Haile Selassie. But his birth name was Ras Tafari.
4. Thank an Ethiopian Goat for Your Morning Coffee
One of the oldest countries in existence, Ethiopia lays claim to a lot of firsts—including the discovery of coffee. And goats had a lot to do with it—or at least an Ethiopian goatherd named Khalid. Legend has it that sometime in the eighth century, Khalid noticed that his goats began bleating and acting strangely after they ate the berries of a nearby bush. So Khalid decided to pop a few into his own mouth. Feeling a pleasant euphoria, the young goatherd ran to a nearby monastery to share his discovery. Pretty soon, the monks began chewing coffee beans to help them get through their lengthy prayer sessions. The custom then spread throughout Christian Ethiopia. And after spice trade routes took it to Yemen, Turkey, and Europe, a global obsession was born.
5. The Cradle of Humanity—Is Ethiopia Where It All Began?
While the jury is still out on the actual birthplace of mankind, Ethiopia is certainly a strong contender. Just a few years ago, scientists unearthed the jawbone of what they claim is one of the very first humans. The 2.8-million-year-old specimen was found in Ethiopia, in the very same area that another specimen was found a few decades earlier—that of the famous "Lucy." At 3.2-million-years-old, Lucy wasn't really human—she was a hominin, a human-like primate. And scientists believe that this new discovery fills in the missing gap and represents a clear link from Lucy to the very first primitive humans.
6. Ethiopia Made UNESCO's Original List of 12 World Heritage Sites
When UNESCO first established its list of World Heritage Sites in 1978, there were just a dozen sites around the world chosen for this special honor. And Ethiopia had two of them on the original list of twelve—the rock-hewn churches of Lalibela and Simien Mountains National Park. Since then, seven more have been added and Ethiopia currently has nine sites on UNESCO's coveted list. No country in Africa has more UNESCO sites than Ethiopia—including Egypt.
7. Ethiopia is the Only African Country That Was Never Colonized
Perhaps we should say Ethiopia was never "formally" colonized, since Italian forces under Mussolini did manage to invade and occupy the country in 1935—although Emperor Haile Selassie regained control at the end of World War II. But it's still quite a feat, because there are few countries on the entire planet that managed to escape the influence of European colonizers at one time or another. Between the years 1880 and 1914, when various European powers competed to invade and colonize Africa, they succeeded in colonizing roughly 90% of the African continent—but not Ethiopia. Side note: While Liberia can technically be classified as "never colonized," this African nation founded by freed American slaves in the early 1800s escaped European domination only because it was backed by the United States.
8. Ethiopia is Home to Animals Found Nowhere Else on Earth
While Ethiopia is home to many wildlife species found elsewhere in East Africa—elephants, giraffes, hippos, zebras, and others—there are several unique animals that can only be found here. These include the world's rarest canid, the Ethiopian wolf. Fewer than 500 of Africa's most threatened carnivore now roam the wilds of the Ethiopian Highlands. Gelada baboons are also unique to Ethiopia. Actually monkeys, these friendly and furry vegetarians can be found foraging in large troops throughout the Simien Mountains. Another magnificent beast found only in Ethiopia is the black-maned lion. Once thought to be extinct, about 50 black-maned lions were spotted in the mountains of Ethiopia in 2016.
9. The First African Olympic Gold-Medalist Was an Ethiopian
Ethiopian distance runner Abebe Bikila was the first native-born African to win the gold medal in an Olympics. He won his medal in the marathon at the Summer Olympics in Rome in 1960—and he ran it barefoot. He wasn't planning on running it barefoot, but the new shoes he bought for himself in Rome gave him blisters so he figured he'd do better without them. Even more impressive, Bikila would go on to win the marathon again in Tokyo four years later, becoming the first person to win the race twice—setting a new world record each time.
10. Ethiopia Has the Most Mountains in Africa
Northeast Africa usually conjures up images of vast deserts. But Ethiopia is home to a remarkably lush landscape of rich green highlands and breathtakingly beautiful mountain ranges. In fact, 70% of the mountains in the entire continent of Africa are in Ethiopia. The mountains of Ethiopia are part of a massive fracture in the crust of the Earth known as the Great Rift Valley—the only physical feature of Africa than can be seen from space.