The Leader in Personalized Small Group Adventures on the Road Less Traveled
You're receiving this message because your web browser
is no longer supported
We recommend upgrading your browser—simply click the button below and follow the instructions that will appear. Updating will allow you to accept Terms and Conditions, make online payments, read our itineraries, and view Dates and Prices.
To get the best experience on our website, please consider using:
Safari (for Mac or iPad Devices)
Update Browser

estonia
Compare Our Adventures
Click 'Select to Compare' to see a side-by-side comparison of up to adventures below—including
activity level, pricing, traveler excellence rating, trip highlights, and more
View 2021 Itinerary Video
See a detailed overview of this itinerary, including pre- and post-trip extensions and adventure highlights.
Spend 4 days in Estonia on
O.A.T. Adventure by Land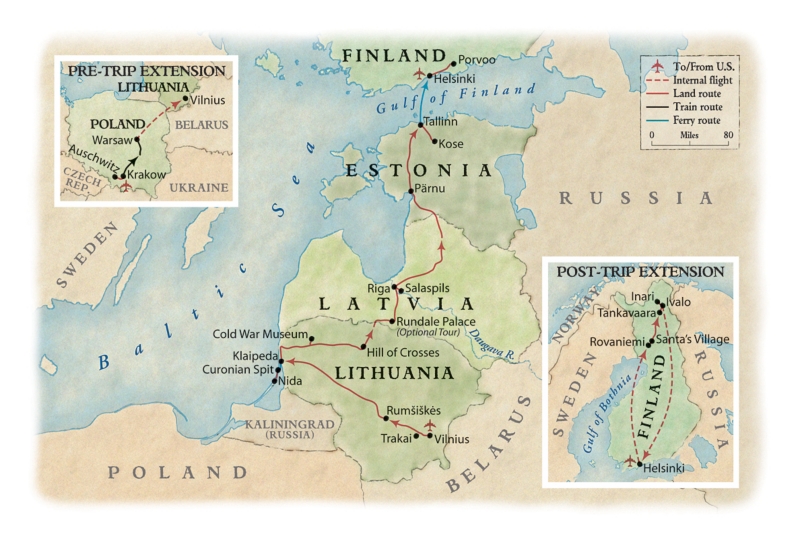 Lithuania: Vilnius, Klaipeda • Latvia: Riga • Estonia: Tallinn • Russia: St. Petersburg
32 meals—14 breakfasts, 10 lunches, and 8 dinners (including 1 Home-Hosted Lunch)
Enjoy city tour of Tallinn, including the UNESCO World Heritage Site Old Town and the Song Festival
Visit Kadriorg Park, the resplendent gift of Peter the Great to his wife
Experience the famous beach town of Pärnu for the best seaside views
Savor a small town lunch in leisurely Narva
View 2021 Itinerary Video
See a detailed overview of this itinerary, including optional pre- and post-trip extensions and highlights of this adventure—like learning about Latvia's history of Soviet oppression from locals who lived through it.
Spend 1 days in Estonia on
O.A.T. Adventure by Small Ship
Denmark: Copenhagen, Bornholm • Poland: Gdansk • Sweden: Visby, Stockholm • Latvia: Riga • Estonia: Tallinn • Russia: St. Petersburg • Finland: Helsinki
34 meals: 12 breakfasts, 10 lunches, 12 dinners—including 1 Home-Hosted Dinner—plus all onboard house beer, wine, and soft drinks
Visit Tallinn, including its UNESCO World Heritage Site Old Town, and the Song Festival, the public performance grounds that launched a revolution
Compare Adventures
Find the Adventure That's Right for You
Our Activity Level rating system ranks adventures on a scale of 1 to 5 to help you determine if a trip is right for you. See the descriptions below for more information about the physical requirements associated with each rating.
Travelers should be able to climb 25 stairs consecutively, plus walk at least 1-2 miles over some uneven surfaces without difficulty. Walks typically last at least 1-2 hours at a time. Altitude can range from zero to 5,000 feet.
Activity Level 2:
Moderately Easy
Travelers should be able to climb 40 stairs consecutively, plus walk at least 2-3 miles over some uneven surfaces without difficulty. Walks typically last for at least 2-3 hours at a time. Altitude can range from zero to 5,000 feet.
Activity Level 3:
Moderate
Travelers should be able to climb 60 stairs consecutively, plus walk at least 3 miles over some steep slopes and loose or uneven surfaces without difficulty. Walks typically last for 3 or more hours at a time. Altitude can range from 5,000 to 7,000 feet.
Activity Level 4:
Moderately Strenuous
Travelers should be able to climb 80 stairs consecutively, plus walk at least 4 miles over some steep slopes and loose or uneven surfaces without difficulty. Walks typically last for 4 or more hours at a time. Altitude can range from 7,000 to 9,000 feet.
Activity Level 5:
Strenuous
Travelers should be able to climb 100 or more stairs consecutively, plus walk at least 8 miles over some steep slopes and loose or uneven surfaces without difficulty. Walks typically last for 4 or more hours at a time. Altitude can range from 10,000 feet or more.
Hide Acivity Level
PRICE
including international airfare
HIGHLIGHTS & ACTIVITIES IN Estonia
*You must reserve the main trip to participate on this extension.
**This information is not currently available for this trip. Please check back soon.
Recommended Viewing
Watch this video showcasing what makes this country so unforgettable
ReelEarth: The Estonian Smoke Sauna Collector
Produced by Aleksander Heifets
Visit a traditional Estonian smoke sauna with a local photographer to see how this time-honored practice heals the body and cleanses the soul.
Estonia: Month-By-Month
There are pros and cons to visiting a destination during any time of the year. Find out what you can expect during your ideal travel time, from weather and climate, to holidays, festivals, and more.
Estonia in December-February
Estonia in winter is an idyllic setting with its classic architecture, somber forests, and frozen lakes and rivers. Though often reaching negative single digits in temperature—which can last into March—cities like Tallinn are blanketed both in powdery snow and warm holiday lights. Tourists typically do not visit Estonia during the winter, except for winter sports enthusiasts.
With its stunning outdoor environments, it's no wonder Estonia has several popular winter sports resorts. Kiviõli, meaning "stone oil" for the shale mining industry that dominates the town, is home to the Adventure Center, a massive snowboard and ski park. Alternately, some rural areas of the country could be off-limits, as the highways generally are the only snowplowed roads. Packing warm clothes is essential to enjoying Estonia's winter.
By December, the sun begins to set in mid-afternoon, meaning outdoor excursions should take place early in the day. Spending time in Estonia's charming medieval cities, especially in the glow of night lights, makes for especially picturesque and romantic walking tours.
Holidays & Events
December 24-25: In Estonia, Christmas Eve is the most important part of the holiday season. National traditions include sauna baths after preparing the house on Christmas Eve, creating stuffed animals out of straw, and having a popular Estonian dish of pig ears and sauerkraut.
December 31: New Year's Eve in Estonia is best celebrated in the capital, Tallinn. Thousands come together to see the fireworks shed a luminous glow on frozen Lake Ülemiste, creating a dream-like display of color.
December to the first week of January: The Christmas Music Festival brings musicians who play Christmas songs from hundreds of years ago to today for crowds of thousands.
Early January: The Tallinn Bach Music Festival, otherwise known as "BachFest," largely takes places at St. Nicholas' Church in Tallinn. Orchestras from around the world perform, while experts in the music of J.S. Bach come and give scholarly lectures.
Mid-February: The Tallinn Winter Festival is a classical music celebration which brings top performers from all around the continent to the nation's capital.
Must See
The Christmas markets in Tallinn, which run from November 18 to January 7, light up the historically rich capital. The whole of Town Hall Square, from cobblestone to steeple top, are awash in the warm lights of Christmas. Local craftsmen selling delicate wooden dolls—and all kinds of other Christmas-themed decorations and toys—can be found at the markets.
The centerpiece of the Christmas market in Tallinn is the 60-foot spruce tree which, according to legend, is erected annually at the site where the first public Christmas tree was displayed almost 600 years ago.
Another event to experience is the Christmas Music Festival. Musicians from all over the world come together to perform music from as far back as the medieval era, in hopes of showing spectators how people hundreds of years ago would have heard it.
Related Video:
Tallinn
Produced by www.skycam.ee
Experience the magic of the city of Tallinn as you glide over red-roofed neighborhoods and sprawling parks.
Estonia in March-May
The freezing temperatures of December to February in Estonia begin to wane, though snow is known to cover the ground until at least mid-March. After the overcast grayness of March, wide expanses of countryside fields bloom with the golden yellows of dandelions and soft purple tones of anemones in April.
Cities bounce back to life amid warmer temperatures as Estonians come out to enjoy the energy—and each other's company—in street-side cafés. Peak tourism season has not yet arrived, so traveling to Estonia at this time bears the opportunity to experience the country's urban beauty without distracting crowds.
Holidays & Events
April: Easter in Estonia, and much of the week prior, is calm and subdued. Much like in the U.S., most businesses are closed and the streets will typically be almost empty of people.
Mid-April: The Estonia Music Days festival features fresh new classical music from modern Estonian composers.
Late April: For the International Choir Festival, over 1,000 singers from several countries come together to perform both classical and modern pieces of choral music.
May 15: In 1248, the Danish king Erik IV bestowed the rights of Lübeck Law—giving the city the right of independent rule—to Tallinn. Estonians celebrate the city's independent cultural spirit with musical performances, speeches, and fine art shows.
Must See
One of the biggest modern and post-modern classical festivals in the world, Estonia Music Days is a week-long celebration of contemporary classical compositions and abstract pieces.
You'll have an equal chance to walk into a hall with a full orchestra as you will an intimate performance of one or two musicians in a back-alley pub. Performance permeates many of Tallinn's open spaces, so take this opportunity to experience Estonia's rich musical culture.
Related Video:
Tallinn
Produced by www.skycam.ee
Experience the magic of the city of Tallinn as you glide over red-roofed neighborhoods and sprawling parks.
Estonia in June-August
Starting in mid-June, Estonia's short summer brings warmer temperatures and many hours of sunlight. Similar to Scandinavian summers, some parts of Estonia will experience up to 19 hours of sun. Though only about a month and a half long, tourists pour in to take advantage of the pleasant climate and numerous festivals.
With the bigger crowds in Tallinn and other cities, your travel dollar will not go as far. Prices for lodging, restaurants, and souvenirs will go up.
Holidays & Events
First Week of June: Tallinn celebrates its "Old Town Days" festival, a one-week commemoration of the city's folk culture. Music, food, dancing, and a specific theme—in past years being such concepts as "versatility"—fill the streets.
June 23: Midsummer's Eve, a national holiday, brings many Estonians outdoors to enjoy the almost continuous sunlight.
First Week in July: Õllesummer is Estonia's largest beer festival. A massive half-shell stage is set up, and modern musical acts from around the world perform to crowds of thousands.
Last Week of August: The Tallinn Chamber Music Festival brings musicians and composers from Estonia and around the world to several stages and venues, presenting old favorites and fresh modern compositions in classical music.
Must See
Midsummer's Eve is a time when many Estonians take to the countryside. Sunlight almost never ceases—children stay up until dawn, and people all over hold bonfires and barbeques as they enjoy the subtle transition from dusk to dawn.
In many villages, bonfire parties are the stage for music that lasts through the night. These small public gatherings are a great time to experience true Estonian cooking, much of it focused around pork, sauerkraut, and beer.
Related Video:
Tallinn
Produced by www.skycam.ee
Experience the magic of the city of Tallinn as you glide over red-roofed neighborhoods and sprawling parks.
Estonia in September-November
Autumn in Estonia is one of the best times to visit—peak tourism season has died down, and the country is flooded in the stunning colors of fall's red and orange hues.
More than 50 percent of the country is covered in woodlands. Many small towns exist harmoniously with the surrounding forests, so small hamlets like Viljandi become idyllic landscapes flush in brilliant color.
Fall is largely dry in Estonia, with most of the season's sparse rain showers in September. Before mid-November's snowfall, take advantage of the country's outdoor splendor while taking crisp breaths of what experts consider some of the cleanest air in the world.
Holidays & Events
Mid-November: St. Martin's Day Fair brings the crafty side of Estonia to the fore. At Saku Suurhall in Tallinn, artisans from around the country—as well as dozens of food vendors—sell offerings that touch on many cultural elements of the country.
Mid-November to early December: The Tallinn Black Nights Film Festival delivers hundreds of film submissions—from short animations to full-length independent cinema—to over 80,000 people across a span of two weeks.
Must See
September is a foodie's dream in Estonia. Culinarians from all over the country come together to offer the methods and tastes of Estonian cooking for Estonia Food Month. Local farms are engaged in the biggest harvest season of the year, so ingredients are especially fresh.
Related Video:
Tallinn
Produced by www.skycam.ee
Experience the magic of the city of Tallinn as you glide over red-roofed neighborhoods and sprawling parks.
Average Monthly Temperatures
Estonia Interactive Map
Click on map markers
below to view information about top Estonia experiences
Click here to zoom in and out of this map
Tallinn
Tallinn is more than Estonia's capital—it's the nation's heart. It is here that, after decades of Soviet rule, the seeds of revolution were not so much planted as sung out loud. The Song Festival grounds were the site of a truly epic peaceful protest, when 300,000 Estonians (one in every four of their countrymen) joined hands and sang banned music together. Today, it's the nation's praises that are being sung. It offers architectural wonders for every taste, from Scandinavian minimalism to Russian Orthodox grandeur, with shiny glass high rises overlooking elegant Baroque mansions. Whether you seek some of the most cutting edge restaurants in the Baltics or the well-preserved history of the Old Town (a UNESCO World Heritage Site), Tallinn delivers.
Explore Tallinn with O.A.T. on:
Kadriorg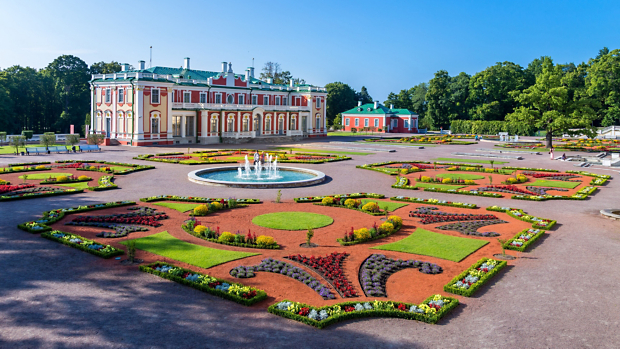 When you're Tsar, not just any gift will do: Peter the Great made sure he dazzled his wife Catherine with a Baroque summer palace that took 18 years to build. When it was unveiled, it boasted gorgeous parquet floors, crystal chandeliers, and grand chambers with soaring ceilings, as well as a 170-acre park with a gazebo, two fountains, and lovely flower beds. Behind its yellow-and-red stucco façade waits Estonia's only museum of foreign arts. Its 9,000-piece collection spans five centuries, with an emphasis on European and Russian work. Dutch, German, and Italian paintings are especially well-represented, while Russian pieces span sculpture, applied arts, graphic art, and formal paintings. If visitors can tear themselves away from the museum, the garden beckons with swan-filled ponds and manicured paths perfect for a stroll.
Explore Kadriorg Art Museum with O.A.T. on:
Pärnu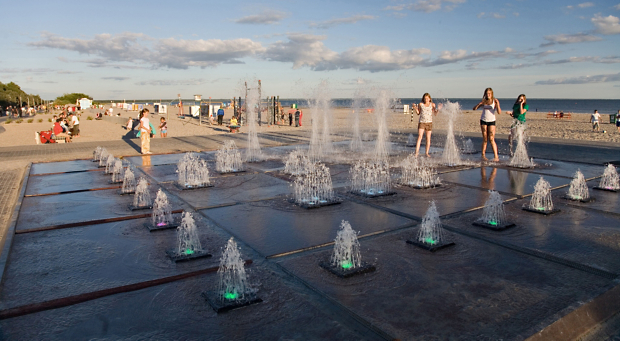 In a country that's already a leisure destination, Pärnu stands out as the most relaxing setting of all. Best known for its coastal setting, the city is Estonia's premier beach town, where a wave-shaped promenade outlines pale blue shallows that soon give way to the sea. Everything about Pärnu is laid-back, from the restaurant scene to the nightlife—even the climate is temperate. Whether passing by one of the verdant public parks, witnessing the Baroque beauty of the city's cathedrals, or just lingering at a café table on a leafy boulevard, it's easy for visitors to understand why so many Europeans craving rejuvenation have fallen under Pärnu's spell.
Explore Pärnu with O.A.T. on:
Narva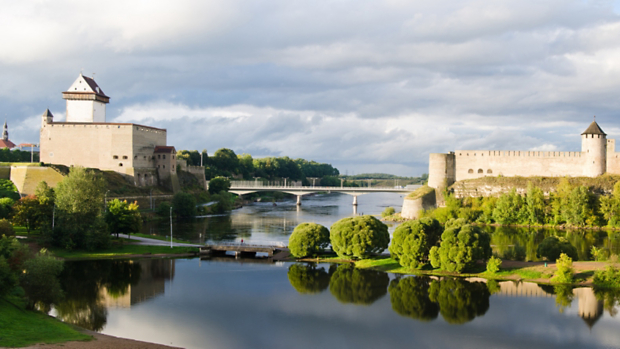 Physically, the divide between Russia and Estonia seems clear in Narva: they face off across the river of the same name, opposing fortresses seemingly staring each other down. But this is a case where close proximity overcame natural division, and the Russian influence on Narva is abundantly clear. This is true in the architecture, where Soviet rebuilding helped raise the city from the ashes of World War II destruction. It's clear on the menus in local restaurants, where Russian staples dominate the fare. And it is clearest of all on the tongues of the townspeople, for whom Russian is spoken more commonly than Estonian—which makes sense, as 8 out of 10 Narvans are of Russian descent.
Explore Narva with O.A.T. on:
Featured Reading
Immerse yourself in Estonia with this selection of articles, recipes, and more
ARTICLE
Learn how Estonia, Latvia, and Lithuania came together to achieve independence from each other.
Three Nations, One Spirit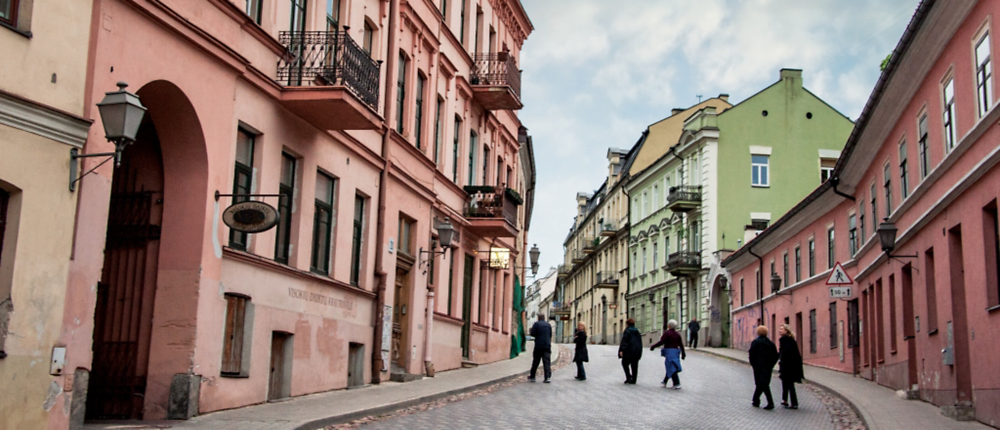 The seeds of protest and the Baltic Capitals' resurgence
for O.A.T.
An estimated two million Baltic people all joined hands to physically and symbolically link their three capital cities of Vilnius, Riga, and Tallinn.
Eastern Europe may still seem closed off to many—after all, most of what Americans know about Estonia, Latvia, and Lithuania was associated with the Eastern Bloc. But while the Soviet shadow still lingers in the architecture and monuments, the flags raised in their capitals have changed to reflect national and ethnic identities. Regardless of the political affiliation of the countries, one fact remains steadfast: The Baltic people love their homeland, and they aren't afraid to fight—or, in some cases sing—to protect their unique cultural and ethnic identities.
The "Singing Revolution:" Tallin's peaceful protest
Between the years of 1987 and 1991, yearning to shake off the yoke of Soviet rule, the Baltic people began to engage in a series of public singing demonstrations—often chanting national anthems and cherished folk songs. Soviet officials discouraged these patriotic sing-alongs, wanting to unify disparate populations under the USSR umbrella. As these once-localized musical outbursts became larger and more fervent, the voices of the Baltic people echoed all the way to the highest offices of the Soviets.
On September 11, 1988, approximately 300,000 people gathered at the Tallin Song Festival Arena to sing national songs and hymns, while rock musicians supported and encouraged them onstage. More than a quarter of the entire Estonian population was in attendance—how's that for unity? Song festivals continue to be popular across all three Baltic countries, beloved as a way to champion national identity and help preserve the past.
Chain of Freedom: peaceful protest or "nationalist hysteria"?
As it turned out, the Singing Revolution was only the beginning of a march towards democracy. On August 23, 1989, an estimated two million Baltic people all joined hands to physically and symbolically link their three capital cities of Vilnius, Lithuania; Riga, Latvia; and Tallinn, Estonia. This human chain—referred to as the "Baltic Way" or, more locally, "Chain of Freedom"—extended over a length that exceeded 400 miles. While this may sound like a feat straight out of the Guinness Book of World Records, the message was serious: It was an expression of joint solidarity against decades of Soviet rule. The year of the chain marked the 50th anniversary of the Molotov-Ribbentrop pact that annexed the Baltic States to the USSR. A growing number of activists, eager to bring the issue of illegal Soviet occupation to the world stage, organized the human chain.
Each state had its own pro-independence movement to help coordinate the effort: the Popular Front of Estonia (Rahvarinne), the Popular Front of Latvia (Latvijas Tautas Fronte), and the Reform Movement in Lithuania (Sajudis). Local support was encouraging; thousands of signatures had been gathered in multiple petitions, and organizers provided free bus transportation to ensure an unbroken chain in rural areas. Estonia declared the day to be a public holiday, and many businesses closed to allow employee participation. Aided by radio broadcasts to help organize the massive demonstration, the participants joined hands for 15 minutes.
Although it would take an additional two years of diplomatic and political victories, the Chain of Freedom was ultimately successful: Lithuania, Latvia, and Estonia were recognized as independent states by the end of 1991. Though freedom from Soviet control took over 50 years to attain, the citizens of these three nations adapted quickly to their hard-won liberties. The transformation of the neighborhood of Užupis in Vilnius demonstrates how the creativity and revolutionary spirit of the pro-national movements lives on in their current democratic states.
Užupis: The bohemian utopia
Located just one mile east of Vilnius University (the oldest in Lithuania), Užupis is an eccentric neighborhood that makes for a perfect detour during a free afternoon in Vilnius. In the native Lithuanian tongue, Užupis literally means "on the other side of the river." In this case, the river in question is the Vilnia River. But a more familiar moniker could just as easily be "on the wrong side of the tracks." Užupis was nearly deserted during World War II, when Nazi forces drove out the mostly Jewish population. For years, the empty buildings and abandoned storefronts became a haven for criminals, prostitutes, the homeless, and others that lived—some intentionally and others by circumstance—on the fringes of society.
Over the past several centuries, the population has shifted from medieval craftsmen to Jewish communities, but the bohemian spirit of the neighborhood is forever sealed in the DNA of the colorful, dilapidated buildings. Nowadays, Užupis is populated by a new mix of lifestyles: students living cheaply, artists seeking inspiration, and the free spirits who balk at the idea of living in the more "respectable" capital city of Vilnius. The muses of art, craftsmanship, and self-reliance still seem to haunt these streets.
In the place where a former statue of Lenin once stood watch over the town, a new icon has emerged, one that is far more fitting for the artistic and eclectic population: Frank Zappa, the American musician, composer, and kindred free spirit.
The Baltic Capitals' Resurgence