The Leader in Personalized Small Group Adventures on the Road Less Traveled
You're receiving this message because your web browser
is no longer supported
We recommend upgrading your browser—simply click the button below and follow the instructions that will appear. Updating will allow you to accept Terms and Conditions, make online payments, read our itineraries, and view Dates and Prices.
To get the best experience on our website, please consider using:
Safari (for Mac or iPad Devices)
Update Browser
england
Compare Our Adventures
Click 'Select to Compare' to see a side-by-side comparison of up to adventures below—including
activity level, pricing, traveler excellence rating, trip highlights, and more
Compare Adventures
Find the Adventure That's Right for You
Our Activity Level rating system ranks adventures on a scale of 1 to 5 to help you determine if a trip is right for you. See the descriptions below for more information about the physical requirements associated with each rating.
Travelers should be able to climb 25 stairs consecutively, plus walk at least 1-2 miles over some uneven surfaces without difficulty. Walks typically last at least 1-2 hours at a time. Altitude can range from zero to 5,000 feet.
Activity Level 2:
Moderately Easy
Travelers should be able to climb 40 stairs consecutively, plus walk at least 2-3 miles over some uneven surfaces without difficulty. Walks typically last for at least 2-3 hours at a time. Altitude can range from zero to 5,000 feet.
Activity Level 3:
Moderate
Travelers should be able to climb 60 stairs consecutively, plus walk at least 3 miles over some steep slopes and loose or uneven surfaces without difficulty. Walks typically last for 3 or more hours at a time. Altitude can range from 5,000 to 7,000 feet.
Activity Level 4:
Moderately Strenuous
Travelers should be able to climb 80 stairs consecutively, plus walk at least 4 miles over some steep slopes and loose or uneven surfaces without difficulty. Walks typically last for 4 or more hours at a time. Altitude can range from 7,000 to 9,000 feet.
Activity Level 5:
Strenuous
Travelers should be able to climb 100 or more stairs consecutively, plus walk at least 8 miles over some steep slopes and loose or uneven surfaces without difficulty. Walks typically last for 4 or more hours at a time. Altitude can range from 10,000 feet or more.
Hide Acivity Level
PRICE
including international airfare
HIGHLIGHTS & ACTIVITIES IN England
*You must reserve the main trip to participate on this extension.
**This information is not currently available for this trip. Please check back soon.
Recommended Viewing
Watch this video showcasing what makes this country so unforgettable
Traveler's Perspective: the British Isles
Submitted by Phil Zimmerman, 14-time traveler from Chesterfield, Missouri
Witness an unforgettable journey through the British Isles captured by traveler Phil Z.
Recommended Videos
Watch your fellow travelers' favorite films & videos
ReelEarth: Marc Mulholland: A Belfast Basketball Story
Produced by Marty Stalker
Follow Marc Mulholland's journey as he overcomes health issues and transforms basketball culture in Northern Ireland with an NCAA tournament held in Belfast.
Curious About ... London
Produced by Curious Traveler
Discover London's historical gems—from St. Paul's Cathedral's detailed dome to the Temple Church's stone effigies.
Smart Travels with Rudy Maxa: London
Produced by Small World Productions
Experience quintessential London when you follow Emmy Award winner Rudy Maxa around the iconic city.
England: Month-By-Month
There are pros and cons to visiting a destination during any time of the year. Find out what you can expect during your ideal travel time, from weather and climate, to holidays, festivals, and more.
England in January-February
Shorter days, overcast skies, and cold temperatures are the hallmark of winter in England. Snow falls in the northern and more mountainous regions, while cities like London see slightly milder temps, with lows of 37⁰F and highs of 44⁰F. The British are no strangers to blustery weather, however, and make the most of this chilly season by enjoying its outdoor skating rinks, visiting one of the country's many museums or art galleries, or simply staying cozy at a local pub. Winter is also a great time for travelers, as there will be fewer crowds and better prices—from theater tickets to "out-of-season" rates on many attractions.
Holidays & Events
January 1: New Year's Day
Mid-February: Style mavens and runway models flock to the capital to strut their stuff during London's Fashion Week, which hosts some of the biggest names in the industry.
February 13, 2018: Also known as Pancake Tuesday, Shrove Tuesday is celebrated the Tuesday immediately preceding the Catholic observance of Ash Wednesday with a feast of, what else? Pancakes.
Must See
During the month of February, all of England turns its attention to the rough-and-tumble sport of rugby. The Six Nations Championship—an international competition between England, France, Ireland, Italy, Scotland, and Wales—is held during this month each year, and is widely thought to be among the world's greatest rugby tournaments. If you happen to be visiting England during these matches, let yourself get swept up in the nationwide fervor and passion as the British cheer their team on to victory.
Watch this film to discover more about England
Bazaar: London - Design City
Produced by Ria Murphy and Ian Cross
Preview what awaits when you journey to the vibrant city of London, where arts, architecture, and design thrive.
England in March-April
Spring officially arrives in England during March and April, and with it comes warmer temperatures, sunny skies, and flower-filled landscapes. Daffodils make their appearance in March while fruit trees blossom and bluebells bloom in late April. Not only is the weather pleasant this time of year, but places like the Isle of Scilly are still off-season, so you can enjoy the first flowers of spring without the crowds.
Holidays & Events
Early March: Bath Literature Festival; an annual festival held this time of year which hosts a variety of novelists, poets, journalists, and more.
April 1, 2018: Easter Sunday is a Christian holiday recognized nationwide by the largely Christian population—nearly all non-essential businesses will be closed on this day.
Watch this film to discover more about England
Bazaar: London - Design City
Produced by Ria Murphy and Ian Cross
Preview what awaits when you journey to the vibrant city of London, where arts, architecture, and design thrive.
England in May-June
The warm and sunny weather continues in May and June, and with it comes the start of peak season. Both literally and figuratively, England bursts into life during these months: Public parks and manicured gardens revel in their colorful bounty, and rooftop bars and beer gardens attract thirsty Londoners for a cold pint.
Holidays & Events
May 1: England's May Day celebration marks the unofficial start of summer. Thought to originate thousands of years ago in a pagan Roman ritual, May Day today is celebrated throughout the country with colorfully festooned Maypoles and Morris dancing, a traditional folk dance typically performed by a group of male dancers sporting leg bells and sticks.
Late May: The Chelsea Flower Show—sponsored by the Royal Horticultural Society—is a mesmerizing display of rare blooms and avant-garde gardening designs that are sure to inspire seasoned gardeners and hobbyists alike.
Late June-Early July: Each June, tennis fans from around the globe descend on a London suburb for the world's oldest—and to many, most prestigious—tennis tournament: Wimbledon. Watch famed players strive for glory on the grass courts, and keep an eye out for members of the Royal family, who are known to frequent their box during high profile matches.
Must See
While Her Majesty was technically born in April, her birthday is officially celebrated on the second Sunday of June with the Trooping the Colour. During this spectacular military parade, uniformed guards on foot and on horseback march down The Mall to Buckingham Palace, the Royal Air Force participates in a fly-by above the palace, and a 41-gun salute is fired in adjacent Green Park to mark the occasion. If you happen to be in London for the Trooping the Colour, you won't want to miss this sumptuous display.
Watch this film to discover more about England
Bazaar: London - Design City
Produced by Ria Murphy and Ian Cross
Preview what awaits when you journey to the vibrant city of London, where arts, architecture, and design thrive.
England in July-August
With the heat of the summer months comes a spike in tourism, both from European countries as well as the United States and elsewhere. The seas may be at their calmest at this time of year, but the streets, pubs, and tourist sites are not; July and August are some of England's busiest months. The weather is hot, but it's also humid and may rain from time to time. It's advisable to pack shorts and umbrellas.
Holidays & Events
Late August: London's biggest street festival dances its way through the streets of Notting Hill each year for the Notting Hill Carnival, a celebration of the city's strong Caribbean and Afro-Caribbean community. The raucous festivities feature colorfully-costumed dancers, street performers, and large crowds of tourists and Londoners ready to make merry.
Watch this film to discover more about England
Bazaar: London - Design City
Produced by Ria Murphy and Ian Cross
Preview what awaits when you journey to the vibrant city of London, where arts, architecture, and design thrive.
England in September-October
As September rolls around, with it comes what is typically the year's first bout of cooler weather, with temperatures dipping down to 60-70 degrees. Also around this time, the fall foliage begins to show its colors, casting an air of idyllic, autumnal bliss over residents and visitors alike. With the mild-to-cool weather, and the postcard-ready scenery, many birdwatchers and hikers consider this the most favorable time of year to venture outside the cities and explore England's great outdoors.
Holidays & Events
Mid-September: Each year, the 10-day Jane Austen Festival is held in celebration of the famous author. Book-signings, celebrations, performances, and more bring people together in honor of the famous novelist.
Watch this film to discover more about England
Bazaar: London - Design City
Produced by Ria Murphy and Ian Cross
Preview what awaits when you journey to the vibrant city of London, where arts, architecture, and design thrive.
England in November-December
Widely considered the off season, the winter months turn England a cold, dreary gray. Though, for some, this is the most magical time to visit. November snows blanket the far-less-crowded streets and decorate homes much like the icing atop gingerbread houses. Though the exact timing varies each year, by the end of the month, the famed Oxford Street is usually ablaze in festive lighting displays in honor of the Christmas season. By December, a dizzying array of Christmas markets has sprung to life, filling people's hearts with fond memories, cups with mulled wine, and stomachs with bratwurst and other delicious treats. And because of the decrease in both tourism and temperature during these months, it is an ideal time to explore the museums and theater productions that make up England's world-renowned arts scene in your free time.
Holidays & Events
November 5: Guy Fawkes Night is an annual celebration of the failure of the 1605 Gunpowder Plot, an unsuccessful attempt to assassinate England's King James I and Ireland's King James VI.
November 11: This marks the annual memorial day for troops who lost their lives in the line of duty.
Must See
Every year since 1947, the city of Oslo, Norway donates a Christmas tree to Britain, which is in turn put on display in Trafalgar Square. A symbol of appreciation for their support during World War II, the tree transforms the square into a festive winter wonderland where carolers sing, people gather in delight, and twinkling lights help to ring in the Christmas season. Around this time, the Geffrye Museum also welcomes visitors to its annual Christmas Past exhibition, a set of eleven rooms decorated to represent Christmas traditions throughout various historical periods.
Watch this film to discover more about England
Bazaar: London - Design City
Produced by Ria Murphy and Ian Cross
Preview what awaits when you journey to the vibrant city of London, where arts, architecture, and design thrive.
Average Monthly Temperatures
England Interactive Map
Click on map markers
below to view information about top England experiences
Click here to zoom in and out of this map
City of Westminster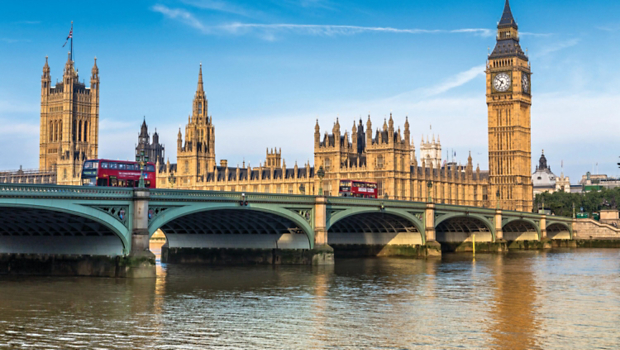 The history and power of the United Kingdom is concentrated in the one-mile area of Westminster, whose photogenic skyline is dominated by the iconic clock tower Big Ben and the gothic spires of the Houses of Parliament. Set along the winding River Thames, Parliament—known interchangeably as the Palace of Westminster—is the seat of British democracy and is open to all visitors who would like to attend debates in the House of Commons or House of Lords and admire the vaulted architecture.
Step across Parliament square to discover British history entombed in Westminster Abbey. From Mary Queen of Scots to Charles Darwin, Chaucer to Dickens, many of the great heavyweights in British history, politics, and arts are buried here. Every British monarch since 1066 has had their coronation in the Abbey, and it continues to play a major role in royal affairs: in 2011, it was the setting for Will and Kate's wedding.
A short walk across the lovely gardens and pond of St James's Park is Buckingham Palace, home to the British monarchy since 1837. Get there early to witness the pomp and pageantry of the Changing of the Guards, and maybe even catch a glimpse of the Queen herself—a raised flag above the palace will let you know she's home.
Explore Westminster with O.A.T. on:
London Museums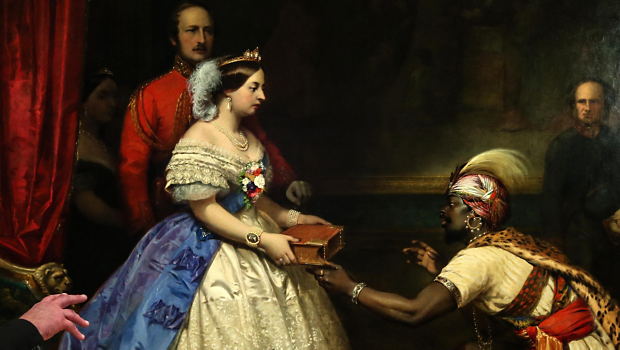 London is home to an astonishing array of world-class museums that offer something for everyone. Whether you're a history buff or transportation enthusiast, a visit to one of the city's museums is the perfect way to spend a free afternoon—and as an added bonus, most are free.
Art lovers should go to the National Gallery in Trafalgar Square; guarded by magnificent stone lions, this museum houses one of the largest collections of European art in the world. Stop by the East Wing to take in the 18th-century English greats—Gainsborough, Turner, and Constable all have pieces here.
Or step back in time in the British Museum. This imposing Bloomsbury fixture is dedicated to history, art, and culture, and contains century-spanning artifacts from around the globe. Under the museum's iconic glass roof, you can see the Rosetta Stone up close, mingle with Egyptian mummies, or gaze upon the controversial Elgin marbles.
For a more experimental dose of art, take a stroll along the South Bank to one of London's newest and most popular museums, the Tate Modern. Housed in the former Bankside Power Station, the Tate is a darling of industrial design and is visited annually by more than five million people. Inside, you'll find an expertly-curated collection of modern art, including pieces by Matisse, Rothko, Warhol, and Pollock.
Visit London's museums during your free time on:
Hampton Court Palace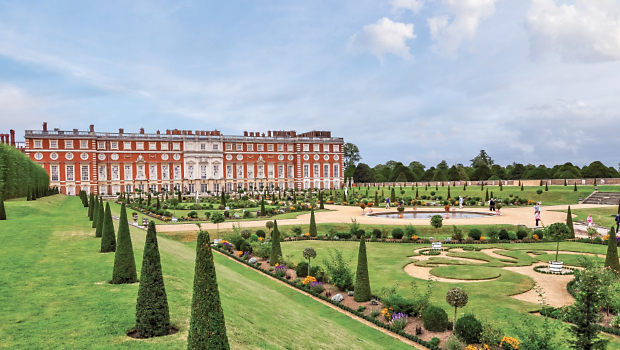 A fusion of Tudor, Baroque, and Gothic architectural styles, Hampton Court Palace is one of the biggest royal residences in Europe. Built in the early 16th century, Cardinal Wolsey wanted to create a palace that matched the splendor of its counterparts at The Vatican. Encompassing over 60 acres of gardens, six acres of grounds, and one of the largest collections of work from the Renaissance masters, Hampton Court allows modern-day visitors to step into the grandeur that was 16th-century English royal life.
Often the most important room in a palace, the Great Hall is where Henry VIII would have meals and company. Deeper in the heart of the palace, the Chapel Royal features breathtakingly intricate golden-trim woodwork, often called one of the most magnificent chapels in Britain. The Chapel was a destination for the greatest English composers of the time, and now anybody may attend religious services there. Since its construction, the Chapel has housed one of the longest-running all-male choral music traditions.
Visit Hampton Court Palace during an optional tour on:
Windsor Castle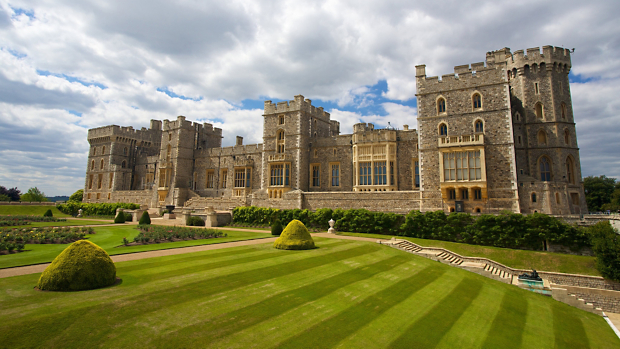 If the Flag of the Queen is flying, the Royal Family is currently at Windsor Castle, known to be Queen Elizabeth's favorite residence. Built by William the Conqueror in 1078, it's considered the largest and longest-inhabited castle in the world.
St. George's Chapel, where ten sovereigns, including King Henry VIII and Charles I, are buried, is a shining example of Gothic-style architecture. Religious services still take place at the chapel on a daily basis.
Of particular interest is Queen Mary's Dollhouse, completed in 1924. Created by the most revered architects and artisans in England at the time, the three-foot-tall house has a working plumbing system, exact replicas of many items at Windsor Castle, and working light fixtures.
A visit to Windsor Castle wouldn't be complete without seeing the State Apartments. Their golden halls and expansive ceilings were meant to prove a point; Charles II, who inhabited the apartments between 1660 and 1685, wanted to create a residence to rival his contemporary Louis XIV in Versailles.
Visit Windsor Castle during an optional tour on:
Featured Reading
Immerse yourself in England with this selection of articles, recipes, and more
ARTICLE
The castles of the British Isles each have a story to tell. Read about some of the best here.
Written in Stone
Castles of the British Isles each have a story to tell
by David Valdes Greenwood, for Grand Circle
William the Conqueror. Richard the Lionheart. Henry VIII. It's hard to imagine these iconic rulers commanding their kingdoms from any other setting than a castle. Yet these fortifications didn't come into being until 1066, when William first began constructing them as military bulwarks. The first castles were mixed use, equal part military stronghold and living quarters. Soon, they became the homes from which royals and nobles ruled.
Over time, castles came to contain all the elements of feudal life in one setting: the ruling class, the servant class, and soldiers who defended them all. With medieval standards of living, castles were cold and dark much of the time, but became ever more elaborately decorated over the years, and the scene of the grandest pageantry of the day. With groundskeepers, stable hands, kitchen staff, and servants living in or near the castles, in addition to the lords and the military, these strongholds were like miniature cities unto themselves, often long before cities appeared.
The castles of England, Scotland, Ireland, and Wales have since become iconic symbols of history and culture, and each has a story of its own. With no one-size-fits-all approach to feudal architecture, these seats of power are as varied and colorful as the nations in which they rise.
Shoring up the Isles of Scilly
Like any island, Tresco was vulnerable to attack from the sea, and, with a central location among the Isles of Scilly, being captured provided its holders with access to other islands. Despite the first castle being named for King Charles, it was actually young King Edward VI who determined that Tresco was at risk of falling into the hands of the covetous French, and he ordered construction of a worthy fortress in the mid-16th century.
Built in the shape of a semi-hexagon, King Charles's Castle boasted a massive central chamber with openings that gave its crew the ability to fire on vessels below in five directions simultaneously. This would have been more impressive had the architects considered their design a little more carefully. Because the edifice rose a full 130 feet over the harbor, the only way to fire its weapons was to aim them dramatically downward; but in this position, cannonballs simply rolled out before they could be fired. Only interlopers who came ashore were in actual danger, as soldiers above were well-armed with bows and arrows. No wonder then, that in 1651 during the English Civil War, the anti-royalist forces led by Robert Blake simply sailed past the harbor and went ashore elsewhere, to take not only Tresco but St. Mary's, the next island.
To embellish his point, Blake sent a team to partially blow up King Charles's Castle, then used some of the rubble as stone for a new castle. Named for Oliver Cromwell, this castle was closer to the harbor and was thus actually useful. With its six gun ports on a two-story façade, it was definitely the bigger, badder brother to the first castle. Showing more foresight than Edward VI, Blake got it right: No one could gain control of the island without passing in the line of fire from the castle. Meanwhile, its shape and size made it unlikely that the castle could be destroyed from sea—and, in fact, it still stands.
In for a pretty penny, out for a pound
Although some castles changed hands due to political shifts or as the spoils of war, 15th-century Kisimul Castle off the Isle of Barra in Scotland has been strongly associated with the fortunes of a single family for nearly 600 years. For most of that time, this castle—which covers an islet but seems from a distance to float on the water—was the property of Clan MacNeil, which traces its roots back to a legendary High King of Ireland, Niall of the Nine Hostages. The head of the MacNeil family was called the chief and 20 consecutive chiefs oversaw Kisimul as their own.
In 1838, however, with the family fortunes falling, the 40th chief sold the island (and with it, the castle), and much of the clan moved to America, Canada, and other English-speaking lands. With no clan to maintain the castle, it fell into disrepair, some of its masonry being hauled away for paving stone. But 100 years later, Robert Lister MacNeil, an America-born clan descendant, determined to set things right. Using all of the money he'd earned as an architect in the States, as well as most of his wife's inheritance, he bought back the island and set to work restoring the castle, which became one of Scotland's treasures as the only remaining significant medieval castle in the Hebrides.
In 2011, 46th clan chief Roderick MacNeil, trying to avoid letting the island fall into disrepair ever again, made an unusual offer: The family would lease the castle to Historic Scotland, a National Trust organization, for 999 years. The terms? Rent of one British pound per year—and a bottle of Scotch whisky. It was an offer Scotland could not refuse.
Haunted house
At Dublin's Malahide Castle, many families and political factions have walked the halls—and some, it is said, still do. Built in the 12th century by King Henry II of England and given as home to the family of his knight Sir Richard Talbot, the stone manse was expanded in the 18th century to include more imposing towers, and boasts a 22-acre garden with 5,000 species of plants. But what makes Malahide Castle stand out in the Irish imagination is its legendary ghosts, an array of colorful figures from 800 years of history.
There's Miles Corbet, who sided with Oliver Cromwell against King Charles I in the English Civil War, and briefly claimed the castle. After Cromwell's overthrow, Corbet was hung, drawn, and quartered, to set a grisly example for future anti-monarchists. His was the first ghost said to haunt the castle, often in full armor. As if it is not enough to encounter a ghost to begin with, his specter might fall apart, separating into quarters before your eyes.
Corbet was followed by Walter Hussey, who was murdered by a spear-throwing rival on his way to his own wedding. Adding to insult to (fatal) injury, his bride-to-be later married the rival, so Hussey's ghost is said to wander the halls clutching his side asking if anyone has seen his former sweetheart. One Malahide couple, Maud Plunkett and her husband the Lord Chief Justice, never parted at all—it's said that she can be seen chasing him through the castle at night, hounding him in the afterlife the way she is said to have done in their mortal years.
Puck, the four-foot-tall jester, haunts Malahide in a different fashion. He provided amusements for the ruling family and fell in love with Lady Elenora Fitzgerald, who had been detained at the castle under suspicion of plotting against King Henry VIII. Puck was found murdered, likely by pro-Henry forces, but his death was attributed to suicide. Legend says his ghost promised never to hurt anyone, and that remains true. But he also refuses to be forgotten and is said to show up unwanted in photographs taken inside the castle.
The original dream home
One of the oldest Welsh tales is that of Macsen Wledig, emperor of the Western Roman Empire in Britain, who dreamed of sailing a ship and crossing the sea to a land that was home to the world's greatest castle and most beautiful maiden. After leaving Britain for Rome, the emperor found no such castle or maiden, and sank into despair. He sailed back to Britain—but when he ventured ashore in Wales, he found a castle at Caernarfon as great as he imagined, and a maiden beyond his hopes. He settled there, refusing to ever return to Rome. Macsen Wledig was a real person but the story was a myth, created long after his passing, which somehow caught the Welsh fancy. By the time Edward I ruled the British Empire in the 13th century, the story was part of local lore, and Edward was determined to build a castle as impressive as the one of legend. Replacing a smaller castle (which itself had replaced a smaller Roman fort that bore no resemblance to Macsen's grand dream), mighty Caernarfon Castle rose in less than five years, with massive polygonal towers, multicolored stone meant to invoke the glories of Constantinople, and a stone enclosure wall that encompassed all of the original town as well.
Impressed with his own handiwork, Edward determined to make this castle a formal part of British royal tradition. He achieved this by insisting that his wife be moved to Caernafon for the birth of their first child, so that the Prince of Wales would be, in fact, English. To this day, Caernafon is the site of investiture for the Prince of Wales, including His Royal Highness Prince Charles in 1969.
It is likely that Prince William will follow suit, should his father Charles assume the throne in the coming years.
Last queen standing
Not every royal family is as close as the current House of Windsor. Mary, Queen of Scots, maintained a running battle with cousin Queen Elizabeth I that can only be called epic.
Mary's seat of power seemed secure enough: Edinburgh Castle sits atop a chunk of 350-million year-old volcanic rock 390 feet above sea level, a truly immutable base. But even before she arrived in the 16th century, the castle had evolved multiple times over the years. First built in 1093 as the Castle of the Maidens, it had been damaged often in the continual battles with the English, requiring a steady stream of repairs. In 1360, King David II added 90-foot towers, and a century later, King James III brought the rest of the castle into line with more elegant furnishings and elaborate royal apartments.
Mary was by far the most famous of its residents, but when Elizabeth forced Mary to abdicate, a cadre of Mary's supporters barricaded themselves in the castle to support their queen and sustain local rule. That turned out to be a bad idea, because Elizabeth, at her boiling point, simply gave orders to retake the castle. Her forces did considerable damage—including felling David's mighty towers—in the process. The nobles lost, Mary was later executed, and the castle itself never recovered its height. Nonetheless, like all great castles, its value to the culture, and the history written in its stonework, endures to this day.
Castles of the British Isles each have a story to tell