Forgot Your Username
If you have forgotten your username, please provide your email address in the box below. We'll send you an email with your requested username. If you are having trouble, please call us toll-free at 1-800-221-0814.
Email Sent
You'll receive an email in a few minutes. Please check this email to find your requested username.
If you do not receive an email or you are having trouble logging into My Account, please call us at 1-800-221-0814.
ENGLAND
The nation that brought us both Shakespeare and the Beatles, England is a country of dazzling contradiction, where the traditions of the past help to shape a vibrant present. As the largest and most populous country within the United Kingdom, England is home to the oft-glamorized royal family and beloved reigning monarch, Queen Elizabeth. While Her Majesty no longer holds any official political power, as a figurehead she is as English a symbol as afternoon tea and double-decker buses.
But England today isn't all stiff upper lips and fish and chips. This island nation has transformed itself into a dynamic and multicultural melting pot: one out of every three Londoners is foreign-born, and their influence can be felt on everything from fashion and music to the proliferation of curry (England's national dish). With stately manors dotting the rolling green hills and swanky art galleries turning heads in cosmopolitan London, England offers an unparalleled breadth of experience.
England Interactive Map
Click on map markers
below to view information about top England experiences
Click here to zoom in and out of this map
Most Popular Films
Films featuring England from international, independent filmmakers
Bazaar: London - Design City
We've been working with independent international filmmakers to provide you with videos that portray the people, culture, and lifestyles of the countries you're interested in visiting. We believe this video offers a unique perspective on London.
Produced by Ria Murphy and Ian Cross
The Morris Men
With bells, bowler hats, and a playful spirit, England's Morris Men dance their way into your heart.
Produced by Ross Harrison
Curious About... London
Discover London's historical gems—from St. Paul's Cathedral's detailed dome to the Temple Church's stone effigies.
Produced by Christine van Blockland and David Zelski
Featured Reading
Immerse yourself in England with this selection of articles, recipes, and more
ARTICLE
The castles of the British Isles each have a story to tell. Read about some of the best here.
England: Month-by-Month
There are pros and cons to visiting a destination during any time of the year. Find out what you can expect during your ideal travel time, from weather and climate, to holidays, festivals, and more.
England in January-February
Shorter days, overcast skies, and cold temperatures are the hallmark of winter in England. Snow falls in the northern and more mountainous regions, while cities like London see slightly milder temps, with lows of 37⁰F and highs of 44⁰F. The British are no strangers to blustery weather, however, and make the most of this chilly season by enjoying its outdoor skating rinks, visiting one of the country's many museums or art galleries, or simply staying cozy at a local pub. Winter is also a great time for travelers, as there will be fewer crowds and better prices—from theater tickets to "out-of-season" rates on many attractions.
Holidays & Events
January 1: New Year's Day
Mid-February: Style mavens and runway models flock to the capital to strut their stuff during London's Fashion Week, which hosts some of the biggest names in the industry.
February 13, 2018: Also known as Pancake Tuesday, Shrove Tuesday is celebrated the Tuesday immediately preceding the Catholic observance of Ash Wednesday with a feast of, what else? Pancakes.
Must See
During the month of February, all of England turns its attention to the rough-and-tumble sport of rugby. The Six Nations Championship—an international competition between England, France, Ireland, Italy, Scotland, and Wales—is held during this month each year, and is widely thought to be among the world's greatest rugby tournaments. If you happen to be visiting England during these matches, let yourself get swept up in the nationwide fervor and passion as the British cheer their team on to victory.
England in March-April
Spring officially arrives in England during March and April, and with it comes warmer temperatures, sunny skies, and flower-filled landscapes. Daffodils make their appearance in March while fruit trees blossom and bluebells bloom in late April. Not only is the weather pleasant this time of year, but places like the Isle of Scilly are still off-season, so you can enjoy the first flowers of spring without the crowds.
Holidays & Events
Early March: Bath Literature Festival; an annual festival held this time of year which hosts a variety of novelists, poets, journalists, and more.
April 1, 2018: Easter Sunday is a Christian holiday recognized nationwide by the largely Christian population—nearly all non-essential businesses will be closed on this day.
England in May-June
The warm and sunny weather continues in May and June, and with it comes the start of peak season. Both literally and figuratively, England bursts into life during these months: Public parks and manicured gardens revel in their colorful bounty, and rooftop bars and beer gardens attract thirsty Londoners for a cold pint.
Holidays & Events
May 1: England's May Day celebration marks the unofficial start of summer. Thought to originate thousands of years ago in a pagan Roman ritual, May Day today is celebrated throughout the country with colorfully festooned Maypoles and Morris dancing, a traditional folk dance typically performed by a group of male dancers sporting leg bells and sticks.
Late May: The Chelsea Flower Show—sponsored by the Royal Horticultural Society—is a mesmerizing display of rare blooms and avant-garde gardening designs that are sure to inspire seasoned gardeners and hobbyists alike.
Late June-Early July: Each June, tennis fans from around the globe descend on a London suburb for the world's oldest—and to many, most prestigious—tennis tournament: Wimbledon. Watch famed players strive for glory on the grass courts, and keep an eye out for members of the Royal family, who are known to frequent their box during high profile matches.
Must See
While Her Majesty was technically born in April, her birthday is officially celebrated on the second Sunday of June with the Trooping the Colour. During this spectacular military parade, uniformed guards on foot and on horseback march down The Mall to Buckingham Palace, the Royal Air Force participates in a fly-by above the palace, and a 41-gun salute is fired in adjacent Green Park to mark the occasion. If you happen to be in London for the Trooping the Colour, you won't want to miss this sumptuous display.
England in July-August
With the heat of the summer months comes a spike in tourism, both from European countries as well as the United States and elsewhere. The seas may be at their calmest at this time of year, but the streets, pubs, and tourist sites are not; July and August are some of England's busiest months. The weather is hot, but it's also humid and may rain from time to time. It's advisable to pack shorts and umbrellas.
Holidays & Events
Late August: London's biggest street festival dances its way through the streets of Notting Hill each year for the Notting Hill Carnival, a celebration of the city's strong Caribbean and Afro-Caribbean community. The raucous festivities feature colorfully-costumed dancers, street performers, and large crowds of tourists and Londoners ready to make merry.
England in September-October
As September rolls around, with it comes what is typically the year's first bout of cooler weather, with temperatures dipping down to 60-70 degrees. Also around this time, the fall foliage begins to show its colors, casting an air of idyllic, autumnal bliss over residents and visitors alike. With the mild-to-cool weather, and the postcard-ready scenery, many birdwatchers and hikers consider this the most favorable time of year to venture outside the cities and explore England's great outdoors.
Holidays & Events
Mid-September: Each year, the 10-day Jane Austen Festival is held in celebration of the famous author. Book-signings, celebrations, performances, and more bring people together in honor of the famous novelist.
England in November-December
Widely considered the off season, the winter months turn England a cold, dreary gray. Though, for some, this is the most magical time to visit. November snows blanket the far-less-crowded streets and decorate homes much like the icing atop gingerbread houses. Though the exact timing varies each year, by the end of the month, the famed Oxford Street is usually ablaze in festive lighting displays in honor of the Christmas season. By December, a dizzying array of Christmas markets has sprung to life, filling people's hearts with fond memories, cups with mulled wine, and stomachs with bratwurst and other delicious treats. And because of the decrease in both tourism and temperature during these months, it is an ideal time to explore the museums and theater productions that make up England's world-renowned arts scene in your free time.
Holidays & Events
November 5: Guy Fawkes Night is an annual celebration of the failure of the 1605 Gunpowder Plot, an unsuccessful attempt to assassinate England's King James I and Ireland's King James VI.
November 11: This marks the annual memorial day for troops who lost their lives in the line of duty.
Must See
Every year since 1947, the city of Oslo, Norway donates a Christmas tree to Britain, which is in turn put on display in Trafalgar Square. A symbol of appreciation for their support during World War II, the tree transforms the square into a festive winter wonderland where carolers sing, people gather in delight, and twinkling lights help to ring in the Christmas season. Around this time, the Geffrye Museum also welcomes visitors to its annual Christmas Past exhibition, a set of eleven rooms decorated to represent Christmas traditions throughout various historical periods.
Average Monthly Temperatures
Compare Our Adventures
Click 'Select to Compare' to see a side-by-side comparison of up to adventures below—including
activity level, pricing, traveler excellence rating, trip highlights, and more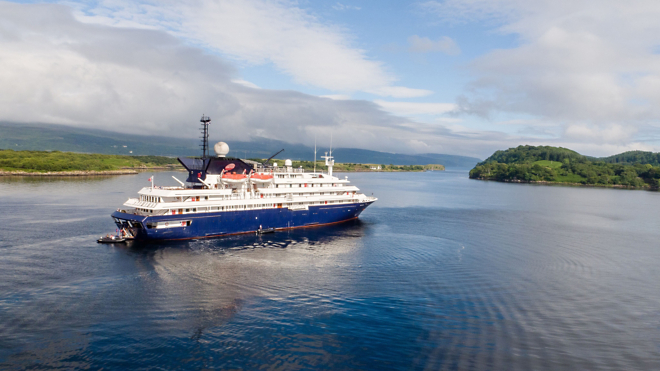 15 DAYS FROM $7,795 • $ 520 / DAY
Small Ship Adventure
England: London, Tresco • Wales: Fishguard, Caernarfon • Ireland: Dublin • Northern Ireland: Belfast • Scotland: Barra, Stornoway, Stromness, Aberdeen, Edinburgh
36 meals—daily breakfasts, 11 lunches, and 12 dinners (plus all onboard house beer & wine, as well as soft drinks)
Explore the city of London on a panoramic tour
Stroll through the gardens of Tresco in the Isles of Scilly
Join an optional tour to Hampton Court Palace during London extension
Join an optional tour to Windsor Castle during London extension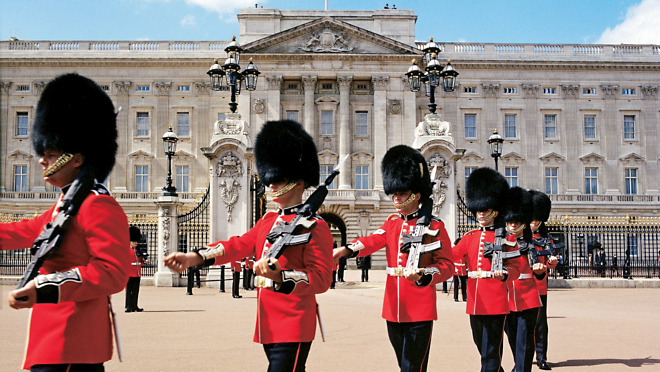 18 DAYS FROM $7,995 • $ 445 / DAY
Small Ship Adventure
England: London, Poole • France: Mont St. Michel, Saint-Malo, Locronan, La Rochelle, Bordeaux • Spain: La Coruna, Santiago de Compostela, Vigo • Portugal: Porto, Lisbon
40 meals—16 breakfasts, 12 lunches, and 12 dinners (plus all onboard house beer & wine, as well as soft drinks)
Explore the city of London on a panoramic tour
Join an Optional Tour to Hampton Court Palace and its gardens
Join an Optional Tour to Windsor Castle
Spend time exploring London at your own pace