Forgot Your Username
If you have forgotten your username, please provide your email address in the box below. We'll send you an email with your requested username. If you are having trouble, please call us toll-free at 1-800-221-0814.
Email Sent
You'll receive an email in a few minutes. Please check this email to find your requested username.
If you do not receive an email or you are having trouble logging into My Account, please call us at 1-800-221-0814.

EL SALVADOR
El Salvador, home to rugged mountain settings, rich coastal lands, and 23 active volcanoes, is the smallest Central American country—covering 8,000 square miles. Despite being labelled as the "Land of Volcanoes" and having a small land mass, El Salvador is home to around six million people, which is 18 times the size of Belize's population.
The country's turbulent history stretches back to 2000 BC when the Olmecs inhabited the land, followed by the Mayans, then the Toltec Empire, and finally the Pipil (descendants of the Aztecs). The Pipil people enjoyed a brief period of peace until Spanish conquistadors invaded the land in the early 16th century. The Spanish used the land to grow their wealth by cultivating crops like cotton and indigo. After a revolt against Spain in 1821, Central America gained its independence and El Salvador gained full independence in 1841.
But, the country's complicated history didn't end there. Throughout the 20th century, El Salvador suffered from political and economic unrest, which led to a forceful military government, coups, and a civil war. Today, El Salvador has a democratic government in place, but the economy is still recovering. The people of El Salvador utilize the fertile soil to grow coffee, sugar, corn, and rice—the country's main economic contributors.
El Salvador is still a small country of immense beauty. The country is famous for its long Pacific Ocean coastline which offers renowned surfing beaches and picturesque ocean-swept mountains. The Ruta de las Flores, one of the best ways to see the multi-faceted landscape of El Salvador, passes by coffee fields, markets in several small towns, and the rustic blend of colonial and indigenous architecture.
El Salvador, with its complicated past and stunning natural and developed beauty, is a rich destination off the beaten path. Its history, people, and landscapes give the traveler a panoramic view of all Central America has to offer.
El Salvador Interactive Map
Click on map markers
below to view information about top El Salvador experiences
Click here to zoom in and out of this map
Most Popular Films
Films featuring Guatemala from international, independent filmmakers
Poco a Poco
Meet Guatemalan women who are using traditional weaving to better their lives "little by little."
Produced by Actuality Media
Travelogue: Guatemala 1947
Get a glimpse of the bustle of daily life in Guatemala in 1947 with these rare, candid films.
Produced by David Conover & Paul Villanova
Earth Diaries - Semana Santa
See how entire communities work together to celebrate Semana Santa (holy week) in Guatemala.
Produced by Cynthia Younker
Featured Reading
Immerse yourself in El Salvador with this selection of articles, recipes, and more
ARTICLE
The Mayan empire fell centuries ago, but their legacy is still felt throughout Central America.
ARTICLE
The ancient group painted human sacrifices head to toe in "Mayan blue." Discover more about the Mayans.
Get the Details On Our El Salvador Adventure
Find out more about the adventure, including activity level, pricing, traveler excellence rating, included meals, and more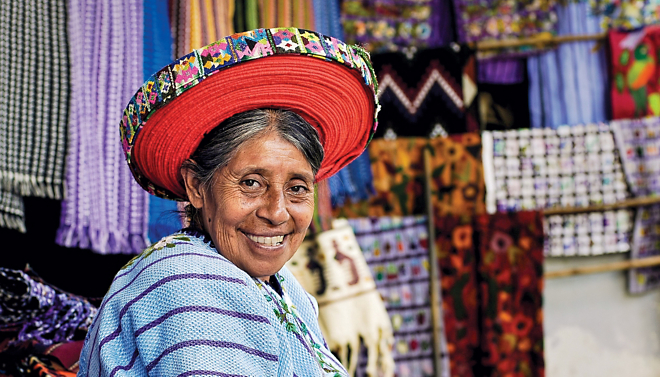 16 DAYS FROM $3,395 • $ 213 / DAY
Small Group Adventure
El Salvador: San Salvador • Honduras: Copán Ruinas • Guatemala: Guatemala City, Panajachel, Antigua • Belize: Belize City
35 meals—daily breakfast, 11 lunches, and 9 dinners (including 1 Home-Hosted Lunch)
Explore the charming colonial city of San Salvador
Take in the breathtaking San Salvador Cathedral and Boquerón Park
Investigate the everyday life of ancient natives at Joya de Cerén