Forgot Your Username
If you have forgotten your username, please provide your email address in the box below. We'll send you an email with your requested username. If you are having trouble, please call us toll-free at 1-800-221-0814.
Email Sent
You'll receive an email in a few minutes. Please check this email to find your requested username.
If you do not receive an email or you are having trouble logging into My Account, please call us at 1-800-221-0814.
DENMARK
How did a land once associated with marauding Vikings transform into a place regularly ranked as the world's happiest country? There are several reasons, but the first one that springs to mind is hygge (hue-guh). Hygge is a uniquely Danish word—it cannot be literally translated into English, but in essence it means cultivating feelings of coziness and contentment. The Danes came up with the idea of hygge initially to infuse the long, dark days of winter with warmth and charm. Now it is part of the national identity, just as much as Denmark's progressive social policies, commitment to environmental responsibility, and embracing the average; modesty is a key Danish virtue as well.
While today's Danes are indeed a far cry from their Viking ancestors, they take immense pride in this legendary heritage. Well-preserved longships are displayed in museums, a recreated Viking village promotes living history, and ancient burial mounds can be found all over the country.
From its wind-swept beaches and historic harbors, to the upbeat energy of its capital city of Copenhagen, Denmark offers visitors much to discover—and a warm hygge welcome wherever you go.
Denmark Interactive Map
Click on map markers
below to view information about top Denmark experiences
Click here to zoom in and out of this map
Most Popular Films
Films featuring Denmark from international, independent filmmakers
36 Hours in Copenhagen
Get a true sense of the Danish spirit as you take a virtual tour of scenic Copenhagen.
Produced by Fritzie Andrade, Max Cantor, Chris Carmichael and Aaron Wolfe
©2014 The New York Times
Copenhagen and Denmark
Explore the many charms of Copenhagen, Denmark—our post-trip extension—with travel expert Rudy Maxa.
Produced by Small World Productions
Travelogue: Scandinavia 1967
See the bustling cities of Stockholm and Copenhagen, where familiar icons stand out against a 1960s back-drop.
Produced by David Conover & Paul Villanova
Denmark: Month-by-Month
There are pros and cons to visiting a destination during any time of the year. Find out what you can expect during your ideal travel time, from weather and climate, to holidays, festivals, and more.
Denmark in January-March
There's a reason Danes invented the concept of hygge, meaning (roughly) "cozy contentment": They rely on the warm feelings it engenders to get them through the long, dark winter. The season is characterized by average temperatures of around 32 degrees, whipping winds, snow, and rain. Natural light is a rare sight this time of year—in some locations, the hazy sun only peeks out for seven hours a day. Shops and other tourist destinations often close during this time of year due to low demand. Even locals prefer to stay indoors, ensconced in warm sweaters, surrounded by flickering candles, and cultivating hygge.
Holidays & Events
February: Fastelavn (Carnival); Danes across the country mark the start of the Lenten season with family-friendly celebrations.
February: Vinterjazz; locals emerge from hibernation for a weeklong, countrywide jazz festival featuring performers from around the world.
Must See
Unlike many Roman Catholic countries, whose Carnival celebrations are marked by opulent floats and raucous parties, Lutheran Denmark opts for a more more child-friendly approach known as Fastelavn. When morning arrives on the day of the event, children participate in fastelavnsris—ritually flogging their parents to wake them up. The entire family will then head into town for the festivities, including the perennially popular slå katten af tønden (literally, "hit the cat out of the barrel"), during which children beat a wooden barrel decorated with a cat to access the candy inside. Cream-filled sweet buns known as fastelavnsbolle are also traditionally enjoyed on the day.
Denmark in April-June
The days begin to grow longer as spring arrives, and rising temperatures begin coaxing both plants and people from their winter hideaways. In April, cherry blossom trees canopy the country in vast swaths of pink blooms. By May, Denmark is in full bloom—and with characteristically clear skies and average highs around 61 degrees, it's comfortable enough to spend a day outdoors. It's an ideal time to visit, before the high travel season begins in warm and sunny June.
Holidays & Events
May: Ascension Day; this public holiday, celebrated 40 days after Easter, marks Christ's ascension into heaven.
May/June: Whit Monday; on the seventh Monday after Easter, this public holiday honors the Christian holiday of Pentecost, when the Holy Spirit is believed to have descended upon Christ's disciples.
June 5: Constitution Day; marks the day the Danish constitution was signed in 1849. Some locals celebrate by attending political speeches and rallies.
Late June: Midsummer Festival; this summer solstice celebration is marked by bonfires, picnics, and beach visits.
Must See
Though not as renowned for springtime blooms as Japan, Copenhagen's cherry blossom season is not to be missed. The flowers tend to emerge in late April, and the most popular spot to see them is Bispebjerg Cemetery. While seemingly an odd choice for such a romantic botanical display, Danish cemeteries are well-tended and are considered important horticultural sites.
Denmark in July-September
Summer is in full swing, and with up to 17 hours of sunshine each day, there's plenty time for outdoor exploration and open-air celebrations. Many festivals occur during the summer months, and while tourism is at its peak, the locals swarm to the islands rather than city attractions. September brings mild, lower temperatures, along with lighter crowds, making it an ideal time to hike or dip your toes in the shimmering sea.
Holidays & Events
Late July: Roskilde Festival; featuring a progressive music program and including events, food and activities, it is one of the largest cultural festivals in Europe.
Early August: Skanderborg Festival; nestled in the woodlands, it covers many styles of music and is held during the first weekend of August.
Late August: Hans Christian Andersen Festival; celebrating Copenhagen's native son with concerts, parades, dancing and performances, this week-long festival offers wonder and revelry for all ages.
Must See
Created by two high-school-aged hippies in 1971 as an answer to Woodstock, the Roskilde Festival has grown into one of the largest mainstream musical extravaganzas in Europe, featuring famous artists and up-and-comers in a variety of genres—from rock to hip hop to electronica. Up to 125,000 spectators flock to the city of Roskilde for the concert each year, with most opting to camp in the 200-acre festival site for the one-week duration of the event.
For the most committed music lovers, another concert-series awaits just a few days later: Skanderborg. Located in a verdant beech forest, the week-long event has been dubbed "Denmark's Most Beautiful Festival." Though its only about a third of the size of Roskilde, Skanderborg still attracts big-name talent. It even has its own mascot—a guitar-wielding, mustachioed troll named FestiWalther.
Denmark in October-December
The landscape is painted a ravishing mix of gold, red and orange in early autumn, and with October's pleasant temperatures and the lighter crowds, this is an ideal time to visit Denmark. November ushers in the start of Scandinavian winter, and with that comes shorter days and colder temperatures, but come December, it also turns the region into a winter wonderland, filling city squares with seasonal celebrations and welcoming markets.
Holidays & Events
October: Culture Night
December 25: Christmas Day
Must See
Copenhagen comes alive during Culture Night in October. With hundreds of activities and free public transportation in the city, you can access museums, art galleries, exhibition spaces, churches, performances, and more. This one-night-only event features activities of all kinds for all ages, with the entire city working together for its success.
Enchanted with the spirit of the season, the Christmas Markets of Denmark fill the country with joy and wonder. Savor seasonal delicacies like freshly baked cookies, behold the stalls brimming with authentic handmade crafts, and revel in the festive decorations and music. Stroll through the markets and immerse yourself in the storybook atmosphere.
Average Monthly Temperatures
Compare Our Adventures
Click 'Select to Compare' to see a side-by-side comparison of up to adventures below—including
activity level, pricing, traveler excellence rating, trip highlights, and more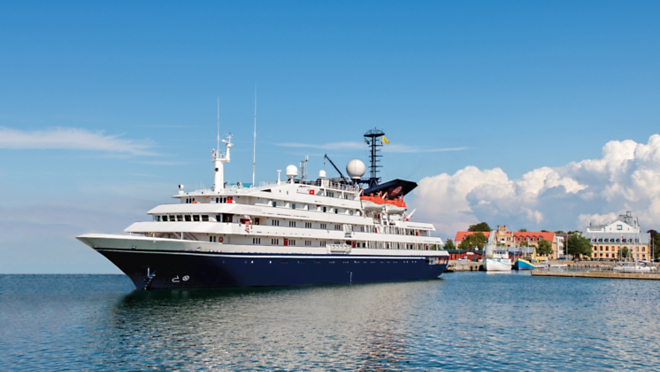 14 DAYS FROM $7,295 • $ 522 / DAY
Small Ship Adventure
Denmark: Copenhagen, Ronne • Poland: Gdansk • Sweden: Visby, Stockholm • Latvia: Riga • Estonia: Tallinn • Russia: St. Petersburg • Finland: Helsinki
34 meals—12 breakfasts, 10 lunches, and 12 dinners (plus all onboard house beer & wine, as well as soft drinks)
Take in the sights of Copenhagen—from its picturesque canals to iconic landmarks like The Little Mermaid statue
Discover the island of Ronne including a visit to Hjorths Fabrik, a ceramic museum
Explore the charming fishing port of Dragør on an Optional Tour
Uncover even more of Copenhagen during free time on the trip extension
;
4 NIGHTS FROM FROM $1,695
Take in the sights of Copenhagen—from its picturesque canals to iconic landmarks like The Little Mermaid statue
Explore independently with an included public transportation pass
Uncover even more of Copenhagen during free time
Not Applicable*
Not Applicable*
7 meals—daily breakfasts, 1 lunch, and 2 dinners
Take in the sights of Copenhagen—from its picturesque canals to iconic landmarks like The Little Mermaid statue
Explore independently with an included public transportation pass
Uncover even more of Copenhagen during free time