The Leader in Personalized Small Group Adventures on the Road Less Traveled
You're receiving this message because your web browser
is no longer supported
We recommend upgrading your browser—simply click the button below and follow the instructions that will appear. Updating will allow you to accept Terms and Conditions, make online payments, read our itineraries, and view Dates and Prices.
To get the best experience on our website, please consider using:
Safari (for Mac or iPad Devices)
Update Browser

czech republic
Get the Details On Our Czech Republic Adventure
Find out more about the adventure, including activity level, pricing, traveler excellence rating, included meals, and more
View 2021 Itinerary Video
See a detailed overview of this itinerary, including pre- and post-trip extensions and adventure highlights.
15 DAYS FROM $3,195 • $ 213 / DAY
O.A.T. Adventure by Land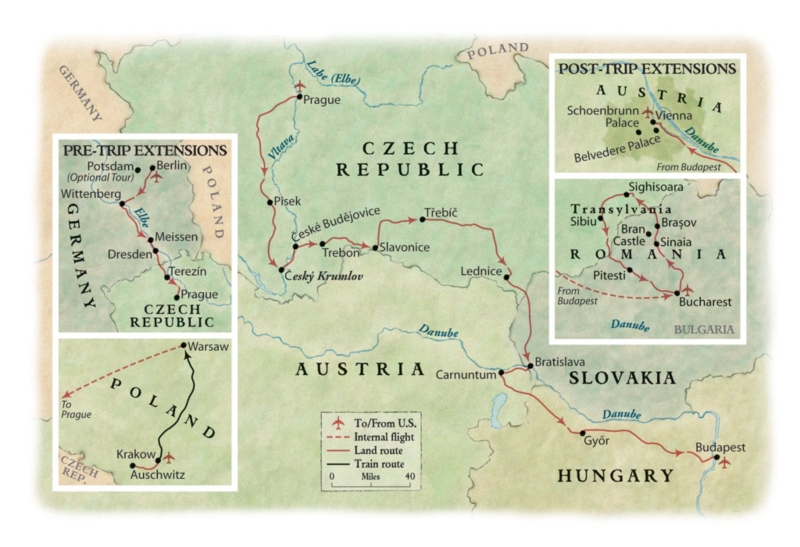 Czech Republic: Prague, Cesky Krumlov, Slavonice • Slovakia: Bratislava • Hungary: Budapest
30 meals—13 breakfasts, 9 lunches, and 8 dinners (including 1 Home-Hosted Dinner)
Tour the historic beauty of Prague
Travel through time to quaint Český Krumlov
Learn the 16th-century secrets of Ceske Budejovice Budweiser Budvar Brewery
Live life through the eyes of a rural Czech farming family in Slavonice
Adventure Details
Find the Adventure That's Right for You
Our Activity Level rating system ranks adventures on a scale of 1 to 5 to help you determine if a trip is right for you. See the descriptions below for more information about the physical requirements associated with each rating.
Travelers should be able to climb 25 stairs consecutively, plus walk at least 1-2 miles over some uneven surfaces without difficulty. Walks typically last at least 1-2 hours at a time. Altitude can range from zero to 5,000 feet.
Activity Level 2:
Moderately Easy
Travelers should be able to climb 40 stairs consecutively, plus walk at least 2-3 miles over some uneven surfaces without difficulty. Walks typically last for at least 2-3 hours at a time. Altitude can range from zero to 5,000 feet.
Activity Level 3:
Moderate
Travelers should be able to climb 60 stairs consecutively, plus walk at least 3 miles over some steep slopes and loose or uneven surfaces without difficulty. Walks typically last for 3 or more hours at a time. Altitude can range from 5,000 to 7,000 feet.
Activity Level 4:
Moderately Strenuous
Travelers should be able to climb 80 stairs consecutively, plus walk at least 4 miles over some steep slopes and loose or uneven surfaces without difficulty. Walks typically last for 4 or more hours at a time. Altitude can range from 7,000 to 9,000 feet.
Activity Level 5:
Strenuous
Travelers should be able to climb 100 or more stairs consecutively, plus walk at least 8 miles over some steep slopes and loose or uneven surfaces without difficulty. Walks typically last for 4 or more hours at a time. Altitude can range from 10,000 feet or more.
Hide Acivity Level
PRICE
including international airfare
HIGHLIGHTS & ACTIVITIES IN CZECH REPUBLIC
*This information is not available for our trip extensions. You must reserve the main trip to participate on this extension.
**This information is not currently available for this trip. Please check back soon.
Recommended Viewing
Watch this video showcasing what makes this country so unforgettable
ReelEarth: An American Composer in the Czech Republic
Directed by Marian Svejda
Sway to the music as you get to know Tony, an American composer and jazz guitarist who lives in the Czech Republic's countryside and uses melody to bring the community together.
Czech Republic: Month-by-Month
There are pros and cons to visiting a destination during any time of the year. Find out what you can expect during your ideal travel time, from weather and climate, to holidays, festivals, and more.
Czech Republic in December-February
With fewer crowds to contend with in Prague and other locales, winter in the Czech Republic can be a quiet time to visit. Winter months are moderately cold throughout the country, with average lows in the 30s (ºF) in December and January—although it is colder in Prague, where temperatures fall below freezing most of the time. And few scenes are more captivating than the snow-covered spires of Prague.
Holidays & Events
December 5: Saint Nicholas Day is a strange local tradition in Prague where groups of three dress up as St. Nicholas, a devil, and an angel. The trio then sets out into the night to decide which children have been naughty or nice. The good ones get candy and the bad ones are thrown into a devil's sack.
January 5: The Three Kings Procession in Prague features Biblical characters in period dress, camels, and a live nativity scene.
Must See
Christmas in Prague—Visit Prague when the tree in Old Town Square is beautifully lit and decorated, and take the chill off by sampling the wide variety of treats from street vendors, including spit-roast pork, pastries, hot chestnuts, and mulled wine.
Watch this film to discover more about Czech Republic
Jewels of Bohemia: The Czech Republic
Submitted by Penny Parker, 21-time traveler from St. Louis, Missouri
Join traveler Penny P. and discover Gothic Roman architecture at Prague's St. Vitus Cathedral, explore the 13th-century Cesky Krumlov castle, and visit the small bohemian village of Vyssi Brod.
Czech Republic in March-May
The start of spring brings warmer weather and beautiful blossoming flowers to the Czech Republic—but it also starts bringing in tourists, especially during April and May when temperatures average in the 60s and 70s (ºF). Cooler weather than in the upcoming summer months also make these ideal times for hiking and biking in the countryside.
Holidays & Events
April 30: Witches Night is a celebration of the end of winter that takes place in Prague and other cities. Rooted in pagan rituals, witches are burned in effigy and costumed festivities take place in many parks.
April 30-May 1: Beltine Festival of Celtic Culture is a 16-hour event featuring Celtic music, dance, and food that takes place in various castles and historic buildings in West Bohemia.
Mid-May: Prague Spring International Music Festival runs for three weeks with international musical performances held in venues throughout the city.
Must See
The Prague Easter markets are a sight to see in March and April. Brightly decorated wooden huts line the streets, with vendors doling out homemade food and drinks, and artisans selling handcrafted goods. Traditionally, local artists will hand-paint custom Easter eggs for visitors to take home as souvenirs. Depending on what mood you're in, ice-cold Czech beer and hot mulled wine are said to compliment a stroll through the markets quite well.
Watch this film to discover more about Czech Republic
Jewels of Bohemia: The Czech Republic
Submitted by Penny Parker, 21-time traveler from St. Louis, Missouri
Join traveler Penny P. and discover Gothic Roman architecture at Prague's St. Vitus Cathedral, explore the 13th-century Cesky Krumlov castle, and visit the small bohemian village of Vyssi Brod.
Czech Republic in June-August
This is the peak tourist season in the Czech Republic, and cities like Prague can be extremely crowded. Temperatures average in the 70s (or warmer). With daylight stretching until 9 or 10 pm, these months are also ideal for mountain hiking and visiting historic sites. In a country teeming with year-round music, beer, and wine festivals, most of them take place during these summer months.
Holidays & Events
August: Highland Games. One of Europe's biggest celebrations of Scottish Highland Games take place at Prague's Sychrov Castle, a social gathering featuring Scottish dancing and drumming, Scottish and Irish music, bagpipe performances, and more.
Watch this film to discover more about Czech Republic
Jewels of Bohemia: The Czech Republic
Submitted by Penny Parker, 21-time traveler from St. Louis, Missouri
Join traveler Penny P. and discover Gothic Roman architecture at Prague's St. Vitus Cathedral, explore the 13th-century Cesky Krumlov castle, and visit the small bohemian village of Vyssi Brod.
Czech Republic in September-November
Fall in the Czech Republic is marked by cooler temperatures (in the 60s°F and then dipping into the 40s at night) and Czech town squares, castles, and national parks are bathed in colorful autumn leaves. This is also the start of the grape harvest and wine-making.
Holidays & Events
September: The Prague Autumn International Music Festival is an annual event that draws the world's best conductors playing classical compositions.
November 17: Freedom and Democracy Day is celebrated in Prague and throughout the Czech Republic featuring ceremonial rituals, flying of the Czech flag, and music associated with the 1989 Velvet Revolution.
Related Video:
Jewels of Bohemia: The Czech Republic
Submitted by Penny Parker, 21-time traveler from St. Louis, Missouri
Join traveler Penny P. and discover Gothic Roman architecture at Prague's St. Vitus Cathedral, explore the 13th-century Cesky Krumlov castle, and visit the small bohemian village of Vyssi Brod.
Average Monthly Temperatures
Czech Republic Interactive Map
Click on map markers
below to view information about top Czech Republic experiences
Click here to zoom in and out of this map
Prague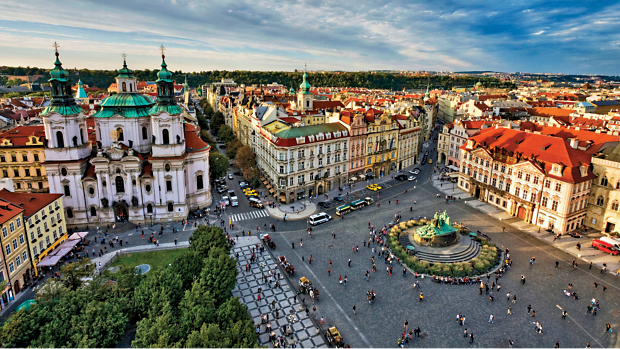 It's easy to understand why Prague is known as the "city of a thousand spires." Castles, chateaus, and many towers harken back to previous centuries where such structures were monuments to the majesty of ruling families and the church. Prague's churches and castles comprise the cornerstone of its architectural heritage. Prague Castle is the world's largest castle complex, traditionally and today the seat of power. Cathedrals and chapels, opulent basilicas, and large synagogues give Prague a richly diverse architectural heritage.
Petřín Lookout Tower—a miniature Eiffel Tower and as such a popular visitor destination—stands at just over 60 meters high. One of the most prominent landmarks of the city, standing atop Petřín Tower on a clear day allows you to see nearly the whole of Bohemia. From Petřín Tower, one can also take in a breathtaking view of Charles Square and the Charles Bridge which runs over the Vltava River running through Prague.
The monastery in the Břevnov district of Prague is where beer was first brewed in Bohemia in AD 993. After a 120-year hiatus, the monastery is brewing beer again.
Explore Prague with O.A.T. on:
Český Krumlov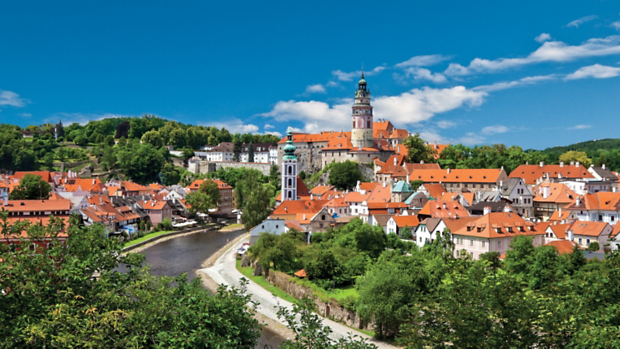 "Medieval charm" is one of a few ways to describe the small town of Český Krumlov. Nestled along the Vltava River and surrounded by a moat, much of the town's architecture, from Český Krumlov Castle to the bright red-roofed homes, was built between the 13th and 17th centuries.
Now a museum, Český Krumlov Castle was constructed in about 1240 by the Witigonen family. At night, the glow of the main tower illuminates much of Český Krumlov. Having fallen in disrepair during the Soviet era, the new parliamentary government of 1989 worked to restore the castle into a major tourism destination. Inside the castle walls are also dozens of buildings, gardens, a brewery, and expansive courtyards.
The castle—and the entire town—are a UNESCO World Heritage Site. Centuries-old cobblestone roads, bright red pitched roofs, and elegant bridges all lend to an iconic fairy tale scene.
Explore Český Krumlov with O.A.T. on:
Slavonice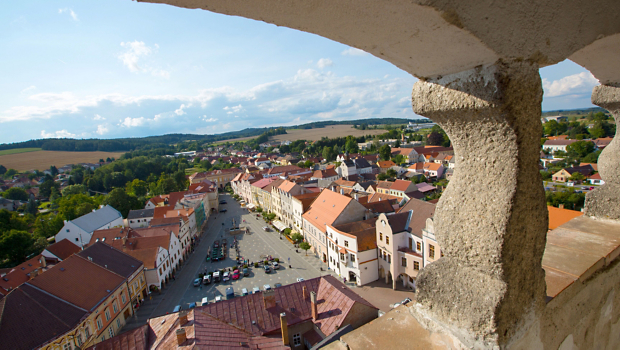 Slavonice is a place where, walking through the quaint shops and markets, one can truly experience the everyday life of modern Czechs. A small town of about 2,700 residents, Slavonice has a vibrant art scene. After the fall of Communism in 1989, hundreds of artists came to the town opening up workshops and galleries throughout the largely-preserved historic town.
Slavonice's Renaissance feel comes from a period of extreme wealth between the 14th and 16th centuries. Slavonice was an important stop on trade routes between Prague and Vienna. Once mainly populated by German speakers—Slavonice is right on the border with German-speaking Austria to the south—most all were expelled in 1945 after World War II. In the area surrounding the town, small fortifications were erected to defend against the Nazi Regime, but were never used as the area was surrendered to the Third Reich under terms of the Munich Agreement.
While the town very much breaths the spirit of artistic endeavor, a walk through the town's quaint center will prove beauty speckles its DNA. Sgraffito—a style of wall decoration encompassing scratching layers of plaster away to reveal detailed images—depicts murals reminiscent of their Renaissance-era origin.
Explore Slavonice with O.A.T. on:
Třebíč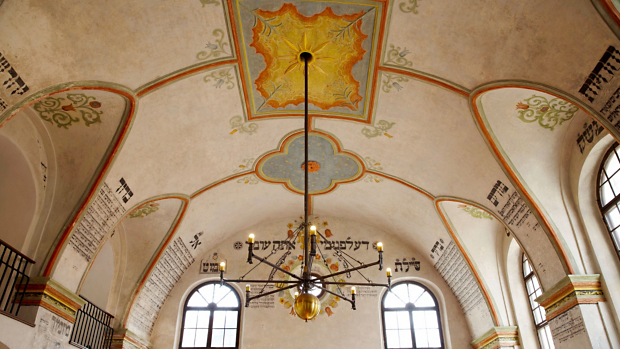 In the center of the Vysočina region of the Czech Republic, Třebíč is a city of rich religious history and festivals. Along the eastern bank of the Jihlava River, the town's Jewish Quarter is one of the best preserved ghettos in Europe, part of a UNESCO World Heritage Site along with the Jewish Cemetery and the Basilica of St. Procopius. It is the first Jewish monument to be honored in this way outside of Israel.
Třebíč is one of the ecologically cleanest areas in the Czech Republic. This makes Třebíč a popular destination for biking, walking, and running, as well as an attractive nature getaway.
Discover Třebíč with O.A.T. on:
Featured Reading
Immerse yourself in the Czech Republic with this article
ARTICLE
Let writer Albert C. Doyle, our expert on Czech Republic travel, guide you in navigating Prague's pristine streets—including where to find the best beer.
Prague: The Preservation of Perfection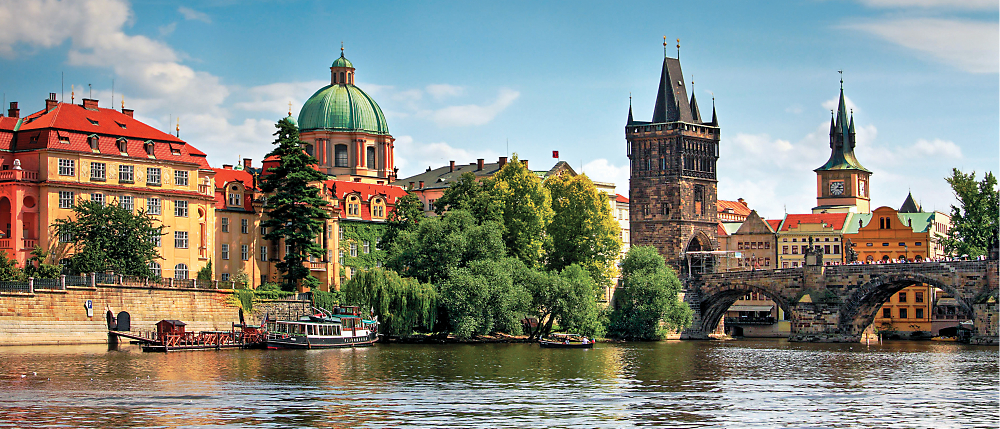 by Albert C. Doyle, from Insider
The citizens of Prague didn't feel very lucky on the morning of March 16, 1939. In prior months, Britain and France had agreed to Hitler's demands to cede the Sudetenland, southern Slovakia, and several northern Czech towns. The Czechs had strong fortifications along these frontiers, a well-equipped army primed to fight, and no taste for rolling over. But the Munich accords gave away the very lands where their fortifications stood; they'd been abandoned by the West and were left defenseless. By March 15th, with the Luftwaffe poised to launch an all-out aerial assault on Prague, the Czech army capitulated. Hitler flew to Prague the next day and announced the annexation of Czecho-Slovakia from the top of Prague Castle.
While it was surely as dark a day as any country should suffer, luckily, it did provide posterity with one bright silver lining: namely, the exquisite old city of Prague was never touched by a single bullet or bomb throughout the war, and is now the best preserved of all the great European capitals. We can count it as an unqualified blessing that this lovely wedding cake confection of a metropolis has been conferred down to us with such care.
Today, Prague impresses on a grand scale, not with the granite pomp of Hapsburg cities, but with a Gothic fairy-tale élan. The visitor is constantly charmed by twisty little cobblestoned alleys, crumbling ancient arches, and dusky medieval windows. And unlike many old towns that seem more theme park than genuine, Prague has integrated its centuries with the greatest of ease—its modern incarnation thrives with tremendous verve, arm-in-arm with its evocative timeworn ghosts.
Not many countries can boast a playwright/president (Vaclav Havel) whose best known work is an autobiographical satire of his years working in a communist brewery. Which reminds me: It's a very strictly enforced law—so I'm told—that all visitors to Prague must drink a pint of pilsner within ten minutes of arrival. So before we start our virtual tour, let's quickly set about finding ourselves a pivovar, or beer cellar.
I'm not a beer drinker, but I'm not an idiot, either. With respect to the heady sweet suds of the Belgian abbeys, the best beer in the world is Czech—a must-try. Pilsner Urquell is ubiquitous, and deserving of its international fame. But Staropramen, Budvar, Kumburak, and a variety of other ancient logos beckon to the weary-footed traveler from signs above the doorways to many old pivovars that have served beer for the better part of a millenium. A few, such as the endearing U Fleku, are theatrically engaging, but heavily touristed. Try U Sudu, well up into the Nove Mesto (New Town). It is an unforgettable journey into a smoky, subterranean honeycomb of interlocking hobbit holes which cannot possibly have changed much since the city's most renowned bum's rush, The Defenestration of Prague.
With beer comes students, and Prague never lacked for them. It was Europe's greatest city in the late Middle Ages and early Renaissance, the most populous city on the continent, with as many citizens then as it has today. At its heart was the finest university mankind had ever developed, but later intrigues between schismatic popes and the Holy Roman Empire signaled its demise as a burgeoning academic center. In a power play, 25,000 foreign scholars were recalled, and sent instead to the newly formed University of Leipzig. Prague University never recovered its standing, but its relative obscurity may ironically have saved it from being enlarged, rebuilt, redeveloped, and otherwise swallowed up.
Begin your exploration of Prague by stepping out onto the Carolus (Charles) Bridge, connecting the Stare Mesto to Hrdcany (Castle District) and Mala Stana (The Little Town). The castle looming into the dark skies, the movie set detail of the Stare Mesto, the neoclassical grandeur of the great palaces stretching along the Vltava, the quirky monastic feel of the low-slung medina riverfront of Mala Strana hugging the far bank—perfection!
Prague is called the "City of 100 Spires," and you can visit a substantial number of them during daylight hours, and quite frequently, in the evening, when string quartets and other classical ensembles will perform works by Chopin, Liszt, Czerny, and Dvorak as well as Mozart, Vivaldi, Brahms, and Beethoven. The modest fees to see the very talented ensembles play in medieval settings are directly responsible for the quite remarkable facelift that the city has undergone over the last 15 years.
I've taken you from a pint of pilsner in a subterranean pivovar out to one of the greatest bridges in Europe, and now we have five choices of which way to go. The first impulse might be to turn right back around, admire a few more of the dozens of statues lining the bridge, pass the glorious old Bridge tower, and re-enter the Stare Mesto. The former marketplace now sparkles as the Starometske Namesti, or town square. It is dominated by the extraordinary twin Gothic spires of Our Lady Before Tyn. They, too, are particularly vivid and haunting at night. The Church of St. Nicholas, flanking the square's north side, also impresses, inside and out. The Town Hall boasts a magnificent belltower with its famous Orloj (Astronomical Clock) on it. Nearby, the Powder Gate, the Municipal House, and the Church of St. James are all worldclass attractions.
Whichever path you take, you'll see all of these, and more. You can't miss them. You'll also see the Castle District of Hrdcany, with the single most prominent feature of the Prague skyline, St.Vitus's Cathedral, soaring over an impressive suite of palaces and museums. Just across a cobblestoned square, the Loreto Palace is an obvious side visit, with its medieval art and its truly bizarre house of the Virgin Mary (they claim it to be her house, imported from Palestine). The Strahov Monastery and St. George's Convent are both worth a look as well. And the stroll back down to Mala Strana is unforgettable.
At this point, most tours might conclude. The Old Town, the Bridge, the Castle—we're done! Unless you slow down—say, wait, not so fast … Aren't there three other riverside districts? Do yourself a favor and don't rush back to the bridge too quickly. Instead, perhaps after refreshing yourself with another pilsner, continue wandering up into Mala Strana, Prague's least explored delight. Peek in a tiny church or two. Meander through some gardens, grab a bite to eat, see the city's other St. Nicholas church, very nearly as fine as the one on Starometske Namesti. Most importantly, stroll the riverbank a bit. Any New Yorker can tell you that the only way to see Manhattan is from the Brooklyn Promenade—similarly, the finest views of Old Town are from the banks of Mala Strana.
You can then cross the Legli Bridge into the Nove Mesto. The influx of western capital these past 15 years has really burnished the New Town's former reputation for seediness. For a dozen or more blocks in from the river, the neighborhoods have become quite fashionable, with a great many of the fine Art Nouveau buildings lovingly restored. The dealers and prostitutes have moved elsewhere, and the high-end Hermes-Cartier-Chanel boutiques have found their home. You must also turn to the Nove Mesto for Wenceslas Square, the National Museum, the National Theatre, and the State Opera.
"Some people say a man is made outta mud," sang Tennessee Ernie Ford. So it is for the infamous nightstalker of the Josefov district, the Golem. According to Jewish legends, the Golem—was made of mud and clay in 1580 by Rabbi Judah Loeb a supernatural (but hard to control) protector against anti-Semitic violence—The Golem's body is said to lie hidden in an attic of the Old-New Synagogue, though some say it still roams. So behave yourself 'round there at night. And in the daytime see the Old-New Synagogue, Europe's oldest, and its excellent Judaica museum. Then you must also visit the disturbing and memorable Jewish cemetery, which was never allowed by either Catholic or Protestant rulers to expand, and which thus shoehorned 12,000 graves into an area the size of a suburban living room, under which well over 100,000 Jews are buried, going down many levels, across many centuries.
There's still so much more to see … You can admire the gracious Belle Epoque boulevards radiating out from the Synagogue, in a sweeping arc between Starometske Namesti and the river. Ponder the odd sway of the modern Dancing House office building (also called "Fred and Ginger"). If the Orloj (Astronomical Clock) has got you ticking, get your rhythm right at the Metronome, a giant functional metronome occupying a plinth where a statue of Josef Stalin once stood. The views are as dizzying as the young daredevils skateboarding off ramps in the adjoining park. Secret discoveries beckon form every corner of the city, so what's next? We could go back to where we started, and—aw, geez, look at the hour! Time for another pilsner. Na zdravi!