The Leader in Personalized Small Group Adventures on the Road Less Traveled
You're receiving this message because your web browser
is no longer supported
We recommend upgrading your browser—simply click the button below and follow the instructions that will appear. Updating will allow you to accept Terms and Conditions, make online payments, read our itineraries, and view Dates and Prices.
To get the best experience on our website, please consider using:
Safari (for Mac or iPad Devices)
Update Browser
colombia
Compare Our Adventures
Find out more about the adventure, including activity level, pricing, traveler excellence rating, included meals, and more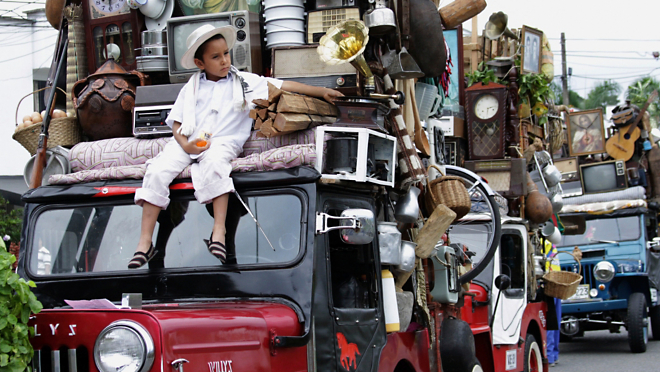 Spend 11 days in Colombia on
O.A.T. Adventure by Land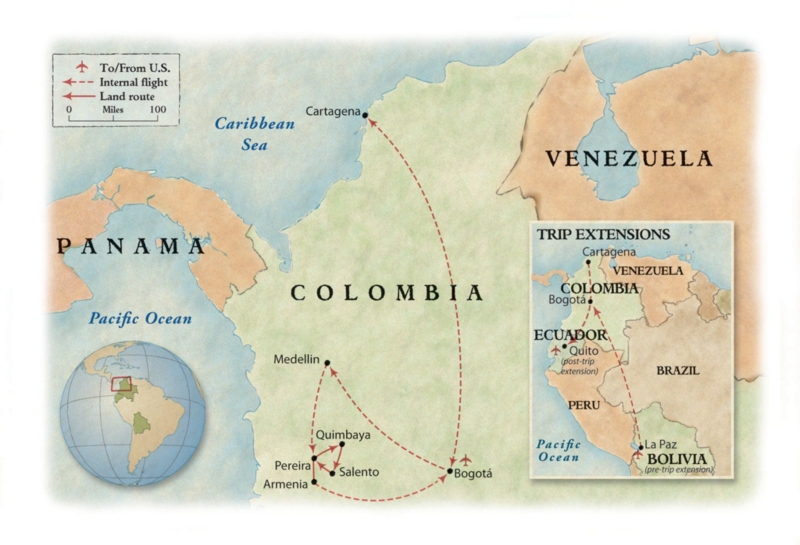 Colombia: Bogotá, Medellín, Coffee Triangle, Cartagena
24 meals—11 breakfasts, 7 lunches, and 6 dinners (including 1 Home-Hosted Lunch)
Discover Medellín's innovative art scene
Explore Bogotá's bountiful markets and beautiful mountain setting
Soak up Cartagena's colonial charm
Visit Castillo San Felipe de Barajas, an impressive Spanish fortress
Learn about coffee roasting in Salento
Adventure Details
Find the Adventure That's Right for You
Our Activity Level rating system ranks adventures on a scale of 1 to 5 to help you determine if a trip is right for you. See the descriptions below for more information about the physical requirements associated with each rating.
Travelers should be able to climb 25 stairs consecutively, plus walk at least 1-2 miles over some uneven surfaces without difficulty. Walks typically last at least 1-2 hours at a time. Altitude can range from zero to 5,000 feet.
Activity Level 2:
Moderately Easy
Travelers should be able to climb 40 stairs consecutively, plus walk at least 2-3 miles over some uneven surfaces without difficulty. Walks typically last for at least 2-3 hours at a time. Altitude can range from zero to 5,000 feet.
Activity Level 3:
Moderate
Travelers should be able to climb 60 stairs consecutively, plus walk at least 3 miles over some steep slopes and loose or uneven surfaces without difficulty. Walks typically last for 3 or more hours at a time. Altitude can range from 5,000 to 7,000 feet.
Activity Level 4:
Moderately Strenuous
Travelers should be able to climb 80 stairs consecutively, plus walk at least 4 miles over some steep slopes and loose or uneven surfaces without difficulty. Walks typically last for 4 or more hours at a time. Altitude can range from 7,000 to 9,000 feet.
Activity Level 5:
Strenuous
Travelers should be able to climb 100 or more stairs consecutively, plus walk at least 8 miles over some steep slopes and loose or uneven surfaces without difficulty. Walks typically last for 4 or more hours at a time. Altitude can range from 10,000 feet or more.
Hide Acivity Level
PRICE
including international airfare
HIGHLIGHTS & ACTIVITIES IN Colombia
*You must reserve the main trip to participate on this extension.
**This information is not currently available for this trip. Please check back soon.
Recommended Viewing
Watch this video showcasing what makes this country so unforgettable
ReelEarth: City Slums United
Produced by Didac Perez and Kuba Sobieski
Venture into the Egipto neighborhood of Bogotá to find out how the Univivir Foundation, founded by a local woman, is working to improve life for the families of Colombia's most dangerous districts.
Recommended Videos
Watch your fellow travelers' favorite films & videos
My City: Bogotá
This film was first published on BBC.com Travel. Produced by Jonathan Wells
Catch a glimpse of contemporary Bogotá, where centuries-old tradition meets modern flair.
La Ciudad Vieja
Produced by Darrell Hartman
Let locals help you uncover the spirit of colonial Cartagena as you discover its history and explore its charming streets.
Chasing the Legend of El Dorado
This film was first published on BBC.com Travel. Produced by Aric S. Queen
Set off on a treasure hunt for the gold of legendary El Dorado.
Colombia: Month-By-Month
There are pros and cons to visiting a destination during any time of the year. Find out what you can expect during your ideal travel time, from weather and climate, to holidays, festivals, and more.
Colombia in December-February
This close to the equator, seasonal changes are minimal—however, the winter months are the most dry and sunny, and international tourists have caught on. This is Colombia's high season, and prices reflect that. Savvy travelers plan ahead for travel to Colombia during these months.
The one exception to Colombia's dry season is the Amazon region; showers are frequent here throughout the year. Elsewhere, sunshine and warmth reign, with temperatures in the 60-70 degrees Fahrenheit range. The highlands, including Bogotá, are slightly cooler than the coast, but still comfortable.
Holidays & Events
December 8: Day of the Immaculate Conception
January 2-7: The Carnival of Blacks and Whites is one of Colombia's biggest festivals and celebrates the town of Pasto's many cultural influences, from indigenous groups to Spanish colonizers to slaves from Africa.
Late January/early February: Carnival celebrations in Barranquilla
Must See
In cities and towns across Colombia, the night of December 7 glitters with millions of tiny flames for La Noche de las Velitas, or the Night of the Little Candles. On the eve of the Immaculate Conception, Colombians leave their homes to socialize with family, friends, and neighbors, bringing snacks and drinks out into the streets and making a wish for each candle that they light.
A month later, travelers in search of an unforgettable celebration head to the small town of Pasto for the Carnival of Blacks and Whites. Tens of thousands of people gather and mark each day of the festival with a different festivity. These involve throwing talcum powder and white foam on passersby, painting each other with black paint, and watching an elaborate parade. The festival has earned a UNESCO designation for being a Masterpiece of Oral and Intangible Heritage of Humanity.
On odd years, the city of Riosucio comes alive around the same time with the Devil's Carnival, or el Carnaval del Diablo. Preparations start six months in advance for a six-day party that includes bull-running and processions of revelers dressed as the devil. This is one of Colombia's most traditional celebrations, dating back to 1819.
Colombia in March-May
Colombia's dry season ends in March, but the wet season's rain showers are usually short-lived each day. On the coast, the wet season doesn't begin until late April, and the weather remains dry until then. A mini-spike in tourism surrounds Easter and Semana Santa, or Holy Week, as it is a popular time for locals to travel.
Holidays & Events
Late March: St. Joseph's Day celebrates the father of Jesus Christ and men in general—it's also known as Día del Hombre, or Day of the Man
The week before Easter (40 days after Mardi Gras): Semana Santa or "Holy Week", including Maundy Thursday and Good Friday, commemorates the Passion and Death of Jesus Christ
Must See
For four days leading up to Ash Wednesday, the small Caribbean port town of Barranquilla is home to the world's second-largest Carnival, attracting over a million revelers with daily parades and street parties.
As Lent comes to a close, Colombians celebrate Easter for an entire week, known as "Semana Santa" across the Spanish-speaking world. Many universities and offices close completely for the week, and at the very least, workers are given Maundy Thursday and Good Friday as holidays. Devout Catholics attend mass during the week, while the rest of the country uses the time off to visit family or travel abroad.
Colombia in June-August
Parts of Colombia experience a secondary dry season during the summer months, making this a good time to explore Colombia's outdoor attractions including the beaches, jungles, and coffee region. While the lowlands continue to benefit from tropical warmth, the highlands can get chilly at night even at this time of year.
In a country that celebrates as many holidays as possible, June is particularly packed with them. Most businesses remain open.
Holidays & Events
Early June: Ascension is the first of June's many Catholic holidays, which are primarily celebrated with a day off work. Most of the religious ritual of these holidays has faded in recent decades.
Late June: Corpus Christi
Late June/early July: St. Peter and Paul's Day
Late June/early July: Sacred Heart of Jesus
July 20: Independence Day
August 7: The Day of the Battle of Boyacá commemorates Colombia's fight for independence from Spain, which culminated on August 7, 1819.
Must See
Each year for a week in early August, Medellin hosts La Feria de las Flores, or the Flower Festival. Celebrations include a parade on horseback through the city, flower-laden processions, orchid competitions, concerts, and fireworks. The festival is deeply tied to the city's identity.
Colombia in September-November
During Colombia's low season, much of the country experiences wet weather. Flash floods wash out roads in the Andes, and the Caribbean coast is rainier than usual. However, long dry spells are equally likely. Greenery thrives and lush flowers can be enjoyed, especially in the area surrounding Medellín. Temperatures are mild and range from 50 degrees Fahrenheit up to 66 degrees Fahrenheit.
Holidays & Events
October 12: Columbus Day
November 1: All Saint's Day
The Monday following November 11: Cartagena's Independence Day marks the city's independence from Spain after ten years of rebellion.
Must See
Every year, the towns of Colombia's coffee region celebrate their yipaos or Jeeps, which they use to move produce around the hilly region with ease. After World War II, the United States sold off their surplus Jeeps in developing countries, and thousands of them ended up in western Colombia where they are still functioning, many with their original parts. The towns organize their own Jeep parades, when each farmer loads his yipao with as much cargo as possible and drives it through town. The most heavily-loaded Jeeps win a prize.
Average Monthly Temperatures
Colombia Interactive Map
Click on map markers
below to view information about top Colombia experiences
Click here to zoom in and out of this map
Castillo San Felipe de Barajas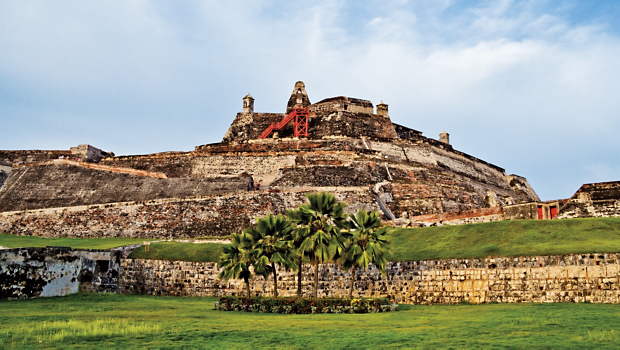 In its colonial heyday, Cartagena was a bustling port and crucial stop along the trade route from Europe to the New World—making it an attractive target for pirates and invading armies. In 1536, the Spanish solved this problem by building the Castillo San Felipe de Barajas, a mammoth stone fortress that sits atop the San Lázaro Hill; from this strategic vantage point, the Castillo and its cannons could ward off attacks from both the land and sea.
The fortress's design was a modern-day feat of engineering. An intricate system of tunnels in the Castillo's underbelly linked key points, allowing weapons and provisions to be easily transported within. These tunnels also boast impressive acoustics: The slightest sound travels far, alerting the Castillo's guardsmen to the footsteps of an approaching enemy. With its architectural ingenuity and impregnable ramparts, the Castillo is considered the greatest fortress ever built by the Spaniards in any of their colonies.
Explore Castillo San Felipe de Barajas with O.A.T. on:
Medellín
Surrounded on all sides by forested mountains, Medellín is nestled like a precious jewel into the Aburrá Valley. Colombia's second city—once decried as the most dangerous on Earth—is in the midst of a sweeping cultural and economic rebirth: Hailed as a nucleus of creativity and innovation, Medellín has in recent years even begun to rack up awards for its architecture and eco-friendly design.
Medellín natives, known locally as paisas, are fiercely proud of their city, and they know how to make the most of it. Thanks to its year-round temperate climate, "The City of Eternal Spring" has a wealth of public parks and outdoor art installations that are packed with paisas from morning until night. In the well-heeled El Poblado neighborhood, visit the Parque Lleras to watch a fútbol game on open-air big screens amidst cheering crowds, then wander the Milla de Oro ("Golden Mile") to hear the mesmerizing beat of reggaeton spilling out of the nightclubs.
A recent focus on development has improved Medellín's infrastructure, to the benefit of locals and visitors alike. A ride on the city's new cable car system takes you from the historic center to the hillside shantytowns in 10 minutes, a journey that used to take two hours, and affords spectacular views of the entire valley.
Explore Medellín with O.A.T. on:
Bogotá
Bogotá is Colombia's capital in the clouds: At 8,660 feet above sea level, it is the world's third highest capital city. Situated on a high plateau known as the Bogotá Savannah, the city was originally settled by the indigenous peoples who dwelled in the surrounding Andes Mountains; by 1550, Bogotá was a fully-fledged Spanish colonial outpost.
Vestiges of this colonial legacy can be seen and felt throughout the capital city, from the graceful balconied homes that line the cobblestoned streets of the historic La Candelaria district to the neoclassical Catedral Primada in the popular Plaza de Bolívar. In Bogotá's east, high atop the Monserrate Mountain perches a red-roofed white church dating from the mid-17th century; this conspicuous symbol of the Spaniards' presence here has become a helpful point of reference and is a popular site for pilgrims—some of whom ascend the winding path to the top on their knees.
Just outside Bogotá is another impressive, if quirky, religious site: a church made entirely of salt. The Zipaquirá Salt Cathedral was built by carving more than 250,000 tons of salt out of the mountainside and is now a unique house of worship. Descend 650 feet below the earth's surface to explore this fascinating creation.
My City: Bogotá
This film was first published on BBC.com Travel. Produced by Jonathan Wells
Catch a glimpse of contemporary Bogotá, where centuries-old tradition meets modern flair.
Explore Bogotá with O.A.T. on:
Salento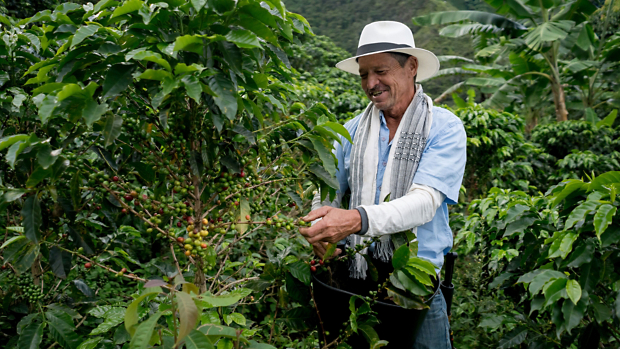 In the heart of Colombian coffee country, high above the Quindío River and surrounded by foggy verdant mountains, sits Salento, a 19th-century village nestled deep in the Andes.
Coffee roasting is a major industry in Salento, and the village is known as a mecca for latte art. Stop into one of the many coffee shops along the Caller Real to sample a latte; don't be surprised if your order comes complete with astrological symbols, faces, or animals in the light, creamy foam which sits on top.
Unlike the rest of Colombia, there is little colonial influence to be seen in Salento. In fact, it is one of the few places in Colombia in which the indigenous building technique bahareque—a process of stacking wooden canes and packing them with mud—still dominates. While walking past these brightly-colored homes and storefronts, you will probably smell a dish beloved by locals: fried trout on top of patacones, or fried plantains.
Explore Salento with O.A.T. on:
Guatape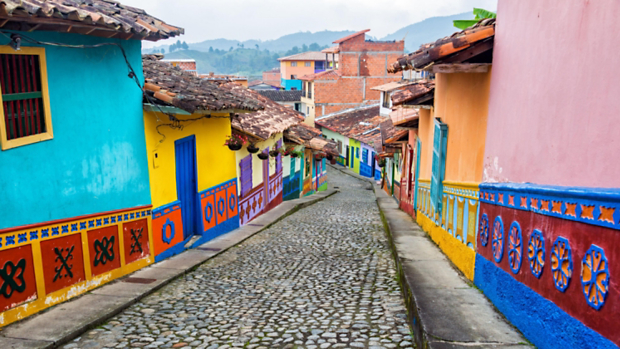 Only two hours from bustling Medellín, the small village of Guatape feels worlds away. Perched on the shores of a sprawling man-made lake and presided over by the looming figure of El Peñol—a 650-foot tall jutting granite monolith—laidback Guatape hums with a creative spirit that can be felt as you meander along its brightly-colored lanes and plazas.
The town is home to a thriving community of artists, who have put their stamp on Guatape with their signature zócalos, colorful bas-relief mosaics that adorn houses and the town's church. Take a walking tour of Guatape to see these intricate fresco-like creations up close, or whizz through the town's narrow streets on the back of a moto taxi to see small-town Colombia like a local.
Explore Guatape with O.A.T. on:
Featured Reading
Immerse yourself in Colombia with this selection of articles, recipes, and more
ARTICLE
Expand your palette with Colombia's unique culinary landscape, which includes native ingredients like guasca.
ARTICLE
Get your caffeine fix with this in-depth look at Colombian coffee.
Bounty in a Bowl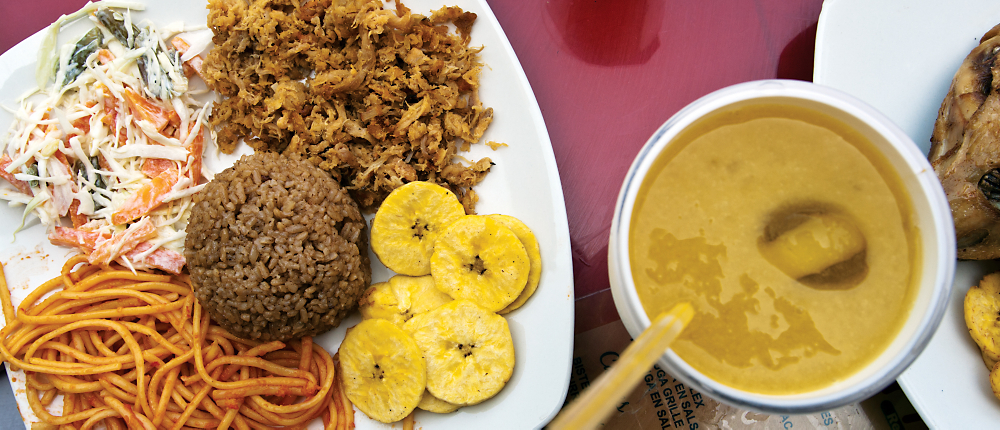 Colombia's beloved national dish
by Max Krafft, for O.A.T.
The most famous dish of this region as a whole is its eponymous chicken, corn, and potato soup, ajiaco bogotano ...
The cuisine of Colombia is as varied as its landscape. On the Caribbean Coast—in cities like Cartagena—the local people have long thrived off the bounty of the sea, as well as tropical fruits like bananas and coconuts that flourish in their warm climate. Farther inland, in the fertile and mountainous region around Colombia's capital, Bogotá, meat, corn, and potatoes are the culinary staples, and the latter come in a variety of species, some of which are found only in Colombia's Andean plains.
The most famous dish of Bogotá—and perhaps of Colombian cuisine as a whole—is its eponymous chicken, corn, and potato soup, ajiaco bogotano (also known as ajiaco santafereño). Commonly called ajiaco, this stew-like soup features three kinds of potatoes—red, yellow, and white—one of which, papas criollas, is a variety of yellow potato found only in the Andes Mountains. These tiny potatoes—around one inch in diameter—have a thin skin and buttery interior, and when cooked to make ajiaco, they dissolve into the broth, helping to give the soup its signature creamy texture.
The second most important ingredient in ajiaco—and the one that's said to really give the soup its distinctive flavor—is guasca. This aromatic herb—indigenous to Colombia—now grows throughout the Americas, but it is still commonly used only in South American cooking, as it's generally considered to be an invasive weed in other parts of the world.
The third notable feature of this soup is the large chunks of corn on the cob that are left whole in the broth. The variety of corn (more properly called maize) used in Colombia is slightly tougher than the sweet corn that is common in the U.S.
Finally, the name ajiaco itself is thought to come from the native Taino people's word for "hot pepper," ají, which today is the generic word for spicy peppers in South America (similar to chile in Mexico). While peppers are notably absent from the soup, it is almost always served with aji picante (a Colombian hot sauce) on the side, as well as crema (Latin American table cream), capers, and slices of avocado—all of which should be added to suit the diner's individual tastes. White rice sometimes accompanies the soup on the side, as well.
While other soups are served alongside an entrée as part of a normal Colombian lunch (the biggest meal of the day), ajiaco is such a filling dish that it is usually served as a meal in its own right. Rich enough for celebrations but delicious enough to eat any day, whatever the setting, ajiaco bogotano earns its place as the national dish of Colombia.
Colombia's beloved national dish
Home of the Cafeteros: Colombia's Coffee Triangle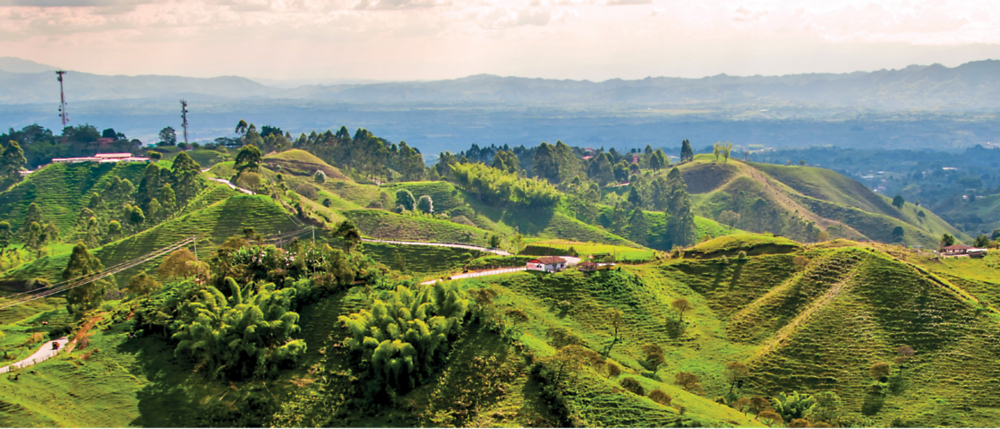 by Tom Lepisto, for Dispatches
Far removed from the big-city bustle of Bogotá and Medellin, a serene landscape of lush green hills rolls across Colombia's rural highlands. Here, the air is refreshingly clean and the elevation of 4,000 to 7,000 feet above sea level moderates the heat and humidity of the tropics. Commonly called the "Coffee Triangle," the special character of this pastoral region led to its recognition as a UNESCO World Heritage Site—the "Coffee Cultural Landscape of Colombia"—in 2011. But perhaps it is best described by its Spanish name: Eje Cafetero, meaning the "coffee-growers' axis."
It is an agricultural expanse that includes the Colombian departments of Caldas, Risaralda, and Quindío in the west-central part of the country, surrounding their respective capitals of Manizales, Pereira, and Armenia. Since these cities form more of a north-to-south line than a true triangle, the Spanish name is apt, and doubly so since this area is home to tens of thousands of cafeteros (coffee growers).
A land of family fincas
To the east of the Eje Cafetero rise volcanic mountains topped by the snow-capped 17,457-foot peak of Nevado del Ruiz. Although those Andean heights are not visible from the valleys where the coffee is grown, the fertile soil created by ash from their past eruptions has made this one of the best places in the world for cultivating coffee. So if you have even the slightest appreciation for a great cup of joe, this is the place to see where it originates. And while this part of Colombia offers beautiful vistas, a look into the heart of the country's coffee-growing industry, and colorful expressions of rural culture, very few American travelers have yet ventured here—so that local people still get excited at the unusual sight of an American visitor.
Many of these local people are members of families that have been cultivating coffee for generations. They live in the countryside on fincas (farms or plantations) that average about five acres in area, with some 95% of Colombia's coffee farms being less than twelve acres in size. There are about 500,000 of these small operations in the country as a whole, and their relatively modest scale has made it possible for coffee growing to remain a family-centered activity here.
On a typical finca, carefully tended rows of coffee trees snake across the hillsides from a hacienda—the main house—that is a focal point of the plantation. Traditionally the residence of the family that owns the finca, many historic haciendas have Spanish Colonial architectural features, from their tile roofs to their central courtyards. The facilities where coffee tree seedlings are raised and where harvested beans are brought in for hulling, washing, drying, and packing are usually located within a short walk from the hacienda.
Why you need a Jeep to make Colombian coffee
On many fincas in the Eje Cafetero, one common sight is a small fleet of World War II-style Willys Jeeps. Although the icon of Colombian coffee is Juan Valdez transporting sacks of coffee beans on his donkey Conchita, the use of pack animals represents the practices of an earlier time. In the post-WWII era, the Coffee Triangle's cafeteros found that 4x4 vehicles gave them more rapid access to the rugged terrain where the coffee grows.
Jeeps were originally brought to Colombia by the military, but it didn't take the farmers long to notice their usefulness. So the typical coffee-picker today heads out on a bumpy ride along rough, hilly roads in a vehicle he calls a yipao—the local term for Jeeps that have been adapted for use on coffee fincas.
With a dash of Latin American verve, some residents of the Coffee Triangle's Quindío department celebrate the role that their yipaos play in their lives with periodic parades. These feature vehicles painted in bright colors and festooned with decorative small statues, with some competing to see which yipao can carry the biggest load—whether it be sacks of coffee, bunches of plantains, or a precariously tall stack of wooden furniture. A record-setting parade in the town of Calarcá, in Quindío outside of Armenia, featured some 370 of these vehicles.
Back at work, the yipaos make many trips from the hacienda to every corner of the plantation as the cafeteros plant, tend, and harvest the coffee trees that produce the approximately 2,600 pounds of beans per year that come from a typical small plantation—an output that requires picking more than five million "cherries" (as ripe red coffee beans are called). Like any form of agriculture, coffee cultivation requires regular attention to fertilization, weeds, pests, and diseases, so the farmers are always keeping an eye on the trees. And the harvest is particularly demanding, because all the beans on a coffee tree do not ripen at the same time. On many of the Coffee Triangle's small plantations, the owners are committed to producing coffee of the best quality by ensuring that only beans at the ideal stage of ripeness are picked, which can require more than a dozen visits per year to the same tree. Multiply that by thousands of trees—and you can see that these cafeteros have their work cut out for them. And in the Coffee Triangle, it is the local people who work in the fields doing the harvesting, not migrant workers from other countries.
Keeping it "100% Colombian"
To ensure that the economic benefits of all this effort remain with the Colombians who perform it, in 1927 the country's coffee farmers formed the Colombian Coffee Grower's Federation (Federación Nacional de Cafeteros de Colombia, FNC for short). This nationwide community of cafeteros has branches in each of the country's coffee-growing departments—including the Coffee Triangle's Caldas, Risaralda, and Quindío—and blends a family-centered, Latin American sensibility with the business needs of a modern agricultural industry, such as branding, marketing, research, and quality control.
Most Americans recognize Juan Valdez, who, though fictional, is the international face of the FNC and whose image is a logo used to mark the authenticity of coffee from Colombia. Portrayed in advertising for many years by actor Carlos Sánchez, a real cafetero from just west of the Coffee Triangle, the Valdez icon has helped Colombia's coffee farmers by maintaining the distinction between their product and coffee grown in other parts of the world. Live actors continue to play Juan Valdez at various coffee-related locations in Colombia today, including the Colombian National Coffee Park near Armenia, although somewhat ironically, "Valdez" is not a particularly common name in Colombia.
The FNC's accomplishments go far beyond making Juan Valdez famous, however. Its success at supporting its members in areas from scientific agricultural research to establishing consistent size and quality standards for coffee beans has become a model for other coffee-growing countries around the world. Most of all, the FNC has given Colombia's coffee growers the strength of working together—extending the community spirit of a rural Colombian village to a national scale and helping local farmers compete in a global marketplace. And that is something that the hard-working cafeteros of the Coffee Triangle appreciate as they pick each ripe "cherry."
A tale of three cities
While coffee-growing has become the defining activity in the Eje Cafetero since the late 19th century, the region's history goes back to pre-colonial times, when this area was inhabited by the indigenous Quimbaya people. Their culture reached a peak between the fourth and seventh centuries AD, a period when they created impressive gold artifacts, some of which are on display in the Gold Museum in Bogotá. They were also skilled workers of guadua, a South American type of bamboo that is still used for crafts and construction.
Spanish settlement of the region began in 1540 with the establishment of the town of Cartago, near present-day Pereira. The three cities that define the "triangle" today originated in the 19th century. Pereira was founded in 1863, but its name harkens back to earlier in the century when Simón Bolivar was leading campaigns for independence in Spain's South American colonies. Two brothers, Manuel and José Francisco Pereira, had fought for Bolivar, but had to take refuge in the Colombian hills following a defeat in an 1816 battle. In Pereira's central plaza today, Bolivar is also remembered with a statue that combines historical reverence with a bit of Latin American sensuality—the Bolívar desnudo, which portrays the great liberator nude, riding on horseback.
Manizales, founded in 1849, is the highest—at 7,000 feet—and hilliest of the "triangle's" three points. It is home to six colleges and universities, including the National University of Colombia and the University of Manizales, and includes some 30,000 students in its total population of about 440,000. The city's hilly topography gives it a remarkable range of microclimates, where it's frequently possible to go from warm, sunny weather to cooler, rainier conditions within a short distance.
Armenia, established in 1889, is the southernmost point of the "triangle" and the smallest of the three cities, with a population of about 330,000. Like many Colombians, Armenia's residents have a passion for beauty pageants, and they have put a regional spin on one they hold each October which is well-known across the country: The Chapoleras Festival. This celebration, which commemorates the founding of the city, includes a competition in which contestants wear traditional dresses and carry baskets of local crops including coffee and orchids.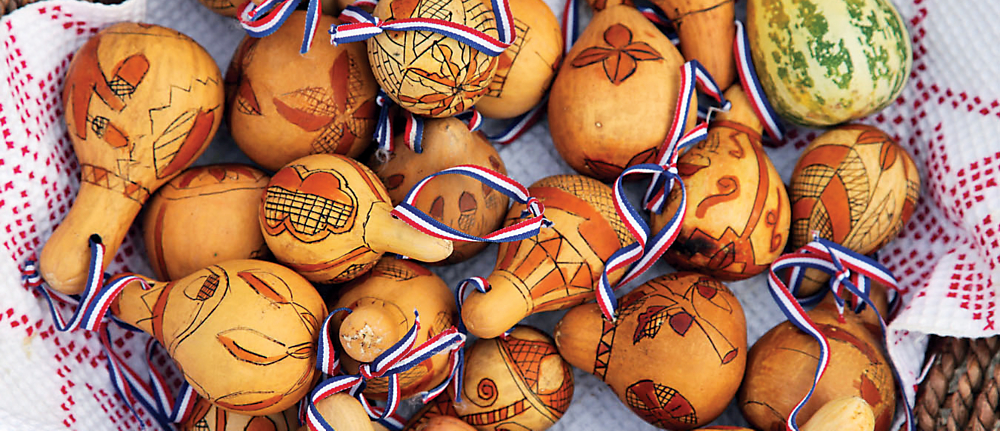 The best is in the countryside
Although each of the principal cities of the Coffee Triangle contributes to the region's history and culture, many travelers find that the essence of the Eje Cafetero lies in the rural countryside and the small villages nestled in the hills. Outside of Armenia, Salento is one such place, a town of tile-roofed buildings where children play volleyball between the houses and verdant hillsides rise at the end of many local streets. In the town center, artisans sell totumos—dried, hollowed gourds colorfully painted and made into maracas or decorative objects. And as you might expect, it is easy to find a coffee shop here, where you'll often encounter skilled practitioners of "latte art." This is the technique of turning the milk foam atop a cup of fine Colombian coffee into designs that range from intricate abstract curves to an amazingly realistic dog or even a human face.
Salento is also the starting point for excursions into the Corcora Valley to experience the natural side of Quindío's tropical landscape. A ride in an open-topped yipao, allowing for unobstructed views of the many shades of green that carpet the hilly terrain, brings visitors to a part of the valley that is protected as a national park. Here, high in the watershed of the Quindío River, a short hike will bring you to the tallest palm trees in the world: wax palms, Colombia's national tree. They can grow to be 200 feet tall, and are being conserved here after having nearly been rendered extinct by being cut down in times past for use on Palm Sunday.
From its natural endowments to the distinctive way of life of its cafeteros, the Coffee Triangle is a truly remarkable part of Colombia. And beyond the geographic Eje Cafetero, there is another kind of "coffee triangle" in the form of three commitments made by the Colombians who live in this verdant region: To sustain the family values of the coffee-farming tradition, to maintain the high quality of the coffee crop itself, and to participate in the national community represented by the FCN for the advancement of their country's well-being. And at a time when the people of Colombia are looking toward their future with both humility and hope, that might just give them a solid three-legged foundation for achieving their dreams.