Forgot Your Username
If you have forgotten your username, please provide your email address in the box below. We'll send you an email with your requested username. If you are having trouble, please call us toll-free at 1-800-221-0814.
Email Sent
You'll receive an email in a few minutes. Please check this email to find your requested username.
If you do not receive an email or you are having trouble logging into My Account, please call us at 1-800-221-0814.

CAMBODIA
Compare Our Adventures
Click 'Select to Compare' to see a side-by-side comparison of up to adventures below—including
activity level, pricing, traveler excellence rating, trip highlights, and more
Compare Adventures
Find the Adventure That's Right for You
Our Activity Level rating system ranks adventures on a scale of 1 to 5 to help you determine if a trip is right for you. See the descriptions below for more information about the physical requirements associated with each rating.
Travelers should be able to climb 25 stairs consecutively, plus walk at least 1-2 miles over some uneven surfaces without difficulty. Walks typically last at least 1-2 hours at a time. Altitude can range from zero to 5,000 feet.
Activity Level 2:
Moderately Easy
Travelers should be able to climb 40 stairs consecutively, plus walk at least 2-3 miles over some uneven surfaces without difficulty. Walks typically last for at least 2-3 hours at a time. Altitude can range from zero to 5,000 feet.
Activity Level 3:
Moderate
Travelers should be able to climb 60 stairs consecutively, plus walk at least 3 miles over some steep slopes and loose or uneven surfaces without difficulty. Walks typically last for 3 or more hours at a time. Altitude can range from 5,000 to 7,000 feet.
Activity Level 4:
Moderately Strenuous
Travelers should be able to climb 80 stairs consecutively, plus walk at least 4 miles over some steep slopes and loose or uneven surfaces without difficulty. Walks typically last for 4 or more hours at a time. Altitude can range from 7,000 to 9,000 feet.
Activity Level 5:
Strenuous
Travelers should be able to climb 100 or more stairs consecutively, plus walk at least 8 miles over some steep slopes and loose or uneven surfaces without difficulty. Walks typically last for 4 or more hours at a time. Altitude can range from 10,000 feet or more.
Hide Acivity Level
PRICE
including international airfare
HIGHLIGHTS & ACTIVITIES IN CAMBODIA
*This information is not available for our trip extensions. You must reserve the main trip to participate on this extension.
**This information is not currently available for this trip. Please check back soon.
Recommended Viewing
Watch this video showcasing what makes this country so unforgettable
Earth Diaries - Angkor Wat
Discover the history, religion and myth carved into the walls of the ancient temple complex of Angkor Wat.
Recommended Videos
Watch your fellow travelers' favorite films & videos
ReelEarth: Cambodia's Secret Architect
Learn about the life of a Cambodian architect who dedicates his time to creating scaled-down models of Angkor's temples, and let him show you the replicas he has created—from the Bayon Temple to ancient Banteay Srei.
Born Sweet
In the Cambodian village of Phumi Prek Russei—located just outside of Phnom Penh—15-year-old Vinh suffers from arsenic poisoning, but uses his love of karaoke to help others.
Earth Diaries - Angkor Cambodia
Untangle the myths surrounding Angkor, including why it was abandoned, and where its original inhabitants went.
Angkor Wat in Cambodia
Submitted by John Ripper, 7-time traveler from Northville, Michigan
Discover Cambodia's twelfth-century Angkor Wat temples with traveler John R., walking among the ancient ruins and taking in the elaborate complex at sunrise.
How to Make Cambodian Green Papaya Salad
Learn to make green papaya salad, a Cambodian dish served with lettuce wraps and a dash of heat.
Cambodia: Month-by-Month
There are pros and cons to visiting a destination during any time of the year. Find out what you can expect during your ideal travel time, from weather and climate, to holidays, festivals, and more.
Cambodia in January-February
January and February offer a respite from the humidity Cambodia is known for—this is the driest time of year. Sunning on the southern beaches is particularly comfortable as temperatures have not yet risen to their highs later in the year.
Peak tourism season began ramping up in November with lower temperatures and humidity. Popular destinations such as Angkor Wat will be crowded. Bustling Phnom Penh—year-around an energetic hub of commerce and culture—will be even more crowded with tourists from around the world.
With high water levels, this is the best time to visit Tonle Sap Lake and the Mekong River. Even lower temperatures near bodies of water means sailing by paddle boat or river cruise lend to a more adventurous experience.
Holidays & Events
February: Chinese and Vietnamese New Year
Must See
Chinese and Vietnamese New Year is arguably the largest celebrations in Eastern Asia with ornate parades, music, and breathtaking fireworks displays.
Watch this film to discover more about Cambodia
Travelogue: Angkor Wat, Cambodia 1945
Step back in time to 1945 and witness local women perform a traditional Cambodian Apsara dance in front of Angkor Wat.
Cambodia in March-April
Temperatures in March are quickly on the rise, and by April they have hit average highs of 93 degrees. Tourism season starts to wane, so exploring Phnom Penh and other urban areas will be a more authentic and less expensive experience. Navigating the city's frenetic streets, you'll see more traditional food, less souvenir stands, and less crowding. Take advantage of the value of your tourism dollars and delve into a city which at this time becomes quintessentially Cambodian.
Holidays & Events
Must See
Khmer New Year is celebrated both in Cambodia and throughout the world among the Cambodian diaspora. With ornate traditional costumes, games, and even street parties and gatherings, this is one of the most exciting times for the Khmer culture.
Watch this film to discover more about Cambodia
Travelogue: Angkor Wat, Cambodia 1945
Step back in time to 1945 and witness local women perform a traditional Cambodian Apsara dance in front of Angkor Wat.
Cambodia in May-June
The humidity of the previous couple of months breaks in May and June with the wet season's heavy downpours. Robust excursions into the Cambodian countryside are more manageable with lower temperatures—on clear days, the wide expanses of bright green rice paddies under stunning blue skies come together like a beautiful painting.
As peak season has ended, this is a great time to explore the breathtaking scale of Angkor Wat and Banteay Srei's ornate sculptures honoring women. These popular sites, as well as the urban areas, are not crowded with tourists.
Holidays & Events
May: The Royal Ploughing Ceremony
Must See
The Royal Ploughing Ceremony is celebrated all over Southeast Asia, marking the beginning of the rice-growing season. Traditionally, the country's monarch will drive a plow in ceremonial land, followed by priests planting seeds to ensure a bountiful harvest.
Watch this film to discover more about Cambodia
Travelogue: Angkor Wat, Cambodia 1945
Step back in time to 1945 and witness local women perform a traditional Cambodian Apsara dance in front of Angkor Wat.
Cambodia in July-September
Monsoons cover southwestern Cambodia in quick bursts of torrential rains. Road closures are common as many are simple mud paths, and mosquitoes are more prevalent.
The countryside is particularly striking, with the previous season's steady rains fostering lush green vegetation. The thunderstorms are famous at this time of year, especially in rural Cambodia. The rivers are also best at their peak—Tonle Sap Lake begins to fill up again, making for great cruising opportunities.
As this is low season, prices for goods and tours are lower.
Holidays & Events
Late September-early October: Pchum Ben is a 15-day festival in which families honor deceased relatives, sometimes from up to seven generations past. Food offerings for Buddhist monks and ancestor spirits are made in hopes of generating merit for passed relatives.
Must See
Rains have refreshed the waters around Angkor Wat, making the temple's reflection—a site in itself—clear and stunning.
Watch this film to discover more about Cambodia
Travelogue: Angkor Wat, Cambodia 1945
Step back in time to 1945 and witness local women perform a traditional Cambodian Apsara dance in front of Angkor Wat.
Cambodia in October-December
From October to the end of the year, Cambodia enters a calm and comfortable season. The rains have subsided, and temperatures stay within a range of 70-80 degrees. Blue skies dotted with clouds make for incredible views in the countryside. This is the time for hiking the rugged northern highlights and going off the beaten path.
Many people spend Christmas in Cambodia because of cooler temperatures and exotic adventures. Peak tourism season begins ramping up in November, so slowly crowds will build in popular destinations such as Phnom Penh and Angkor Wat.
Holidays & Events
Mid-late November: Bon Om Touk, otherwise known as the Water Festival, marks the end of the rainy season. People in Cambodia and diaspora communities across the world celebrate with boat races and water games. Steaming street food, water fights, and joviality fill the streets of cities and towns. The festival marks the reversal of the Tonle Sap River's flow, draining into the Mekong River.
Must See
Tonle Sap Lake is at its highest level. With the flow reversal of the Tonle Sap River from the lake, the water levels of the Mekong River increase slowly. Fishing in the Tonle Sap is illegal at this time to avoid disruption of the breeding season. This means boating on the lake is a more pleasant and serene experience.
Watch this film to discover more about Cambodia
Travelogue: Angkor Wat, Cambodia 1945
Step back in time to 1945 and witness local women perform a traditional Cambodian Apsara dance in front of Angkor Wat.
Average Monthly Temperatures
Cambodia Interactive Map
Click on map markers
below to view information about top Cambodia experiences
Click here to zoom in and out of this map
Tuol Sleng Prison Museum/Killing Fields of Choeung Ek
The Khmer Rouge era may have lasted only four years, but it was without question the deadliest time in Cambodia's history. Paranoia about suspected "enemies" led to the capture, torture, and murder of nearly one in five Cambodians alive at the time. (Starvation claimed so many more, that nearly 25% of the population did not survive the regime.) In Phnom Penh, a high school became the most notorious of execution centers, Security Prison 21. (Now, it serves as the Tuol Sleng Genocide Museum.) Citizens were brought here, photographed, made recount their biographies, stripped, and then imprisoned and tortured until they named other friends or loved ones who should also be jailed. In this one site, 20,000 prisoners were executed (an average of one every 90 minutes for the entire reign of the Khmer Rouge). "Killing fields," scenes of mass execution, were common all across the country, and so far, 20,000 mass burial graves have been uncovered. The legacy of that time is still profound; as everyone in their mid-forties and older lived through the era, its lessons will not soon be forgotten.
Experience Tuol Song Prison Museum and the Killing Fields with O.A.T. on:
Siem Reap
As the leaping-off point for visits to the temples of Angkor Wat, Siem Reap could be just a pass-through town, not a destination in itself. But Siem Reap has its own charms and offerings for those who would pause here. There are evidences of eras past in Old French Quarter, where tuk-tuks roll by colonnaded buildings with elegant balconies. In the Psah Chas (Old Market) at the heart of the city, navigating the jumble of lanes might seem intimidating at first, but it offers a true taste of Cambodian life, with vendors displaying everything from silken fabrics to fresh slabs of bacon. At night, closer to the river, the traditional Angkor Night Market comes alive as a glittering beehive of activity. But more contemporary delights are on offer as well: Siem Reap has become a hot spot for dining, shopping, and spa services, and is now the epicenter of Cambodian arts as well.
Experience Siem Reap with O.A.T. on:
Angkor Thom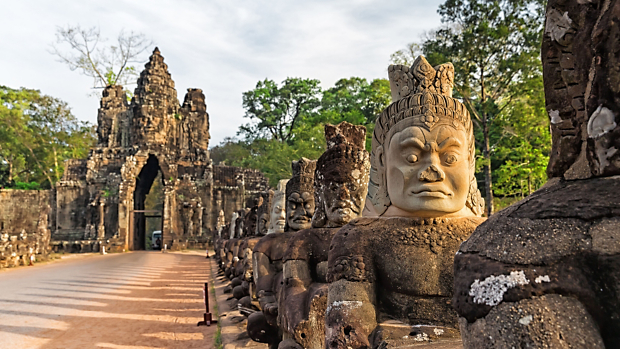 The final capital of the Khmer Empire brags a little right in its name: Angkor Thom means "The Great City." For those who wished to see the proof of its claim, a 300-foot moat had to be crossed, and even then, one had to get pass 25-foot-high walls. Once inside the 12th-century walls, treasures range from Bayon, the state temple of King Jayavarman VII, to the Terrace of Elephants, a viewing platform that appears to be upheld by tusks. So enamored with his royal city was the king that one of the public inscriptions read, "Jayavarman is the groom and the city is his bride." As with its sister site, Angkor Wat, the walls are covered in intricate bas-reliefs depicting the lives of the gods, beginning with Hindu deities and later including Buddhist tales. But Angkor Thom also reflects the king's love of wildlife, its surfaces adorned with an endless menagerie of real-world creatures: monkeys, snakes, fish, elephants, and more. It's a reminder that the kingdom might be inspired by the gods, but its ruler lived on Earth.
Visit Angkor Thom with O.A.T. on:
Tonlé Sap Lake
Despite its misleading name—which means big freshwater river—Tonlé Sap is actually the largest freshwater lake of Southeast Asia. It flows into the river of the same name and, in turn, that flows into the Mekong, creating a floodplain that is millions of years old. Tonlé Sap is a trickster: during the dry season it is only 965 square miles, but when the monsoon season it at its peak, the lake swells to a massive 6,178 square miles. It was crucial to the Angkor Empire, providing irrigation for crops and water for the cities, and to this day supports the livelihood of the rural population, for whom farming is still the number one industry. The lake region is so rich with biodiversity that UNESCO officially designated it as Biosphere Reserve. Both a magnet for nature-lovers and integral to local economies, Tonlé Sap is sure to remain Cambodia's lifeblood for years to come.
Experience Tonlé Sap Lake with O.A.T. on:
Angkor Wat Temple Complex
There is perhaps no more iconic temple than the 12th-century Angkor Wat. Sprawling across 500 acres, it is the single largest religious monument on earth. The handiwork of Suryavarman II was dedicated to Vishnu and meant to invoke Mount Meru, the holiest of places in Hindu mythology. Approached by crossing a vast moat, the complex is a masterwork of balance, detail, and sculptural ingenuity. Among its well-known features are a series of more than 3,000 carved female figures, no two alike. By the 12th century, as Buddhism became the dominant faith, Buddhist details were added, and the temple has been Buddhist ever since. Angkor Wat is now not only part of a UNESCO World Heritage Site, but the undisputed heart of Cambodia, appearing both on the nation's flag and on its official seal. Two million visitors a year make the pilgrimage to see the temple complex, earning it Lonely Planet's designation as the #1 Ultimate Travel Destination on Earth.
Earth Diaries - Angkor Wat
Discover the history, religion and myth carved into the walls of the ancient temple complex of Angkor Wat.
Explore Angkor Wat with O.A.T. on:
Phnom Penh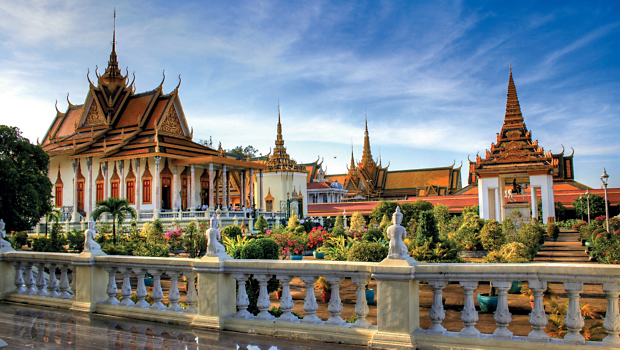 Cambodia's most populous city, and also its capital, Phnom Penh comes with 800 years of history and yet a decidedly forward-looking personality. Sprawling along both Tonlé Sap and the Mekong River, the city's story begins in the 13th century around a single temple, during a time when Angkor was still the capital. By the 15th century it was thriving enough to nab the title away from its rival, but that lasted less than a century. It wasn't till the 19th century that its crown was restored, and the lovely Royal Palace built as its linchpin. In the ensuring French era, the city's size and grandeur increased, until it was known as the Pearl of Asia. Today, one in ten Cambodians live here, enjoying the mixture of a thriving business scene, world-class dining, and older pleasures like outdoor markets and traditional arts.
Experience Phnom Penh with O.A.T. on:
Featured Reading
Immerse yourself in Cambodia with this selection of articles, recipes, and more
RECIPE
Learn how to make traditional bobor sach moan (rice porridge with chicken).
ARTICLE
Modern day technology is helping to unravel the mysteries of the Angkor temple complex, shedding new light on old secrets.
ARTICLE
Discover the significance of Buddhist acts and ideas—like karma—that determine your fate in this life and the next.
ARTICLE
Not sure what to do when visiting a Buddhist temple? Here are seven disrespectful acts you should avoid.
Khmer Cuisine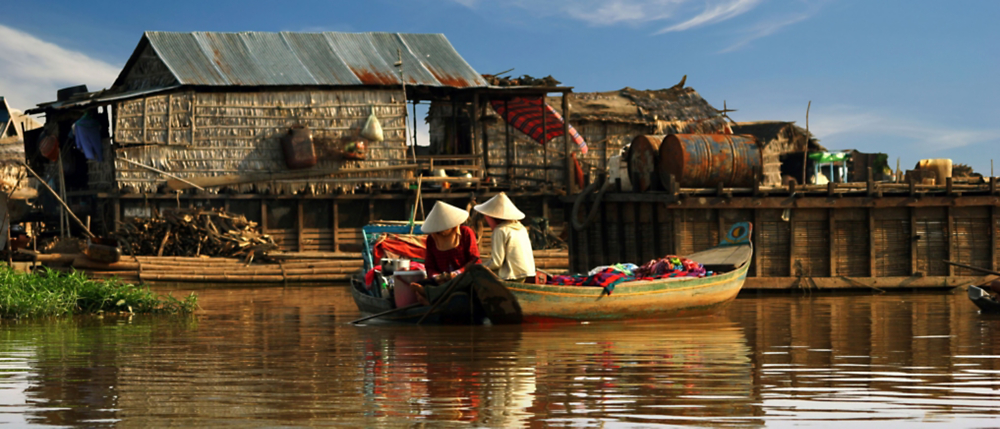 Cambodia's culinary revival
Laura Chavanne, from Dispatches
To understand Cambodian cuisine is to journey through the country's tumultuous history. Today, at about the size of Oklahoma, Cambodia has the smallest land mass in Southeast Asia—but in the twelfth century, the mighty Khmer Empire encompassed swathes of modern-day Cambodia, Vietnam, Thailand, and Laos. Masters of water management, the Khmers engineered a system of canals and reservoirs that enabled them to harvest rice three times per year. Fish was another abundant staple, pulled from the waters of the Mekong River and Tonle Sap Lake. During this golden age, Indian traders brought curry, turmeric, and coconut milk; Chinese traders introduced noodles.
Between the 15th and 19th centuries, however, Cambodia endured a period of decline known as "the Dark Ages." Neighboring Thailand and Vietnam overtook more and more of the Khmer's former lands. While the people worried about cultural extinction, they welcomed new influence into their cuisine—primarily from Thailand, which remains the most similar to Cambodian to this day. Jasmine rice, galangal, lemongrass, and kaffir leaves crept into the Cambodian palate, though the intense heat of Thai chilies never quite caught on.
In the mid-19th century, exhausted by continuous Thai and Vietnamese invasions, Cambodia appealed to France for protection. It joined Laos and Southern Vietnam as part of French Indochina in 1864, and remained there for almost a century. The French introduced baguettes and paté to Cambodia, which became a popular breakfast. They also brought coffee, resorting to drinking it with sweetened, condensed milk because fresh milk was rarely available. This is still a common practice throughout Southeast Asia today.
It could be said that the most important French lesson was simply to enjoy and appreciate food—but this became impossible in the 1970s during the horrors of the Khmer Rouge era. Between 1974 and 1979, more than 1.5 million Cambodians were killed— and their culture, including Khmer cuisine, nearly died along with them. Some two million people were relocated from urban areas to collective farms in the country, where they were forced into agricultural labor. Despite the regime's goal of tripling Cambodia's rice harvest, the people saw precious little. Starvation and malnutrition were rampant.
Even decades after the fall of the Khmer Rouge, as Cambodia slowly began to rebuild and rediscover its culture, few chefs remained who recalled the traditional Khmer recipes. Most restaurants served only watered down versions of Thai and Vietnamese specialties. Thanks
to a new wave of determined chefs at the turn of the 21st century, however, Cambodian cuisine has made a comeback. Restaurants dedicated to "the old food" began cropping up in Phnom Penh and Siem Reap. Forgotten ingredients like snake, frog, and pungent prahok fish paste found their way back into recipes—and even Cambodians were surprised.
Whenever you have the opportunity to enjoy Cambodian cuisine—in your own kitchen, at a restaurant here in the U.S. (there aren't many, but we think there soon will be), or (best of all) in Cambodia—remember that you're enjoying more than a delicious meal. It's also part of a cultural revival.
Bobor Sach Moan (Rice Porridge with Chicken)
Ingredients:
1 tablespoon vegetable oil
2 cloves garlic, minced
1 tablespoons fresh ginger root, grated or finely minced
1 cup uncooked long-grain rice
6 cups reduced-sodium chicken stock
3 tablespoons fish sauce
1 teaspoon sugar
2 tablespoons soy sauce
1 teaspoon sesame oil
1 store-bought rotisserie chicken, shredded, skin removed
salt, to taste
Optional garnishes:
Lime wedges
Chopped scallions
Chopped cilantro
Chili and garlic sauce (such as sambal oelek or sriracha)
Mung bean sprouts
Preparation:
In a large pot or dutch oven, heat oil over medium heat. Stir-fry garlic until just toasted and golden brown (but not burned), about 1 minute. Add ginger and rice, stirring until rice is evenly coated and translucent.
Add chicken stock and bring to a boil. Reduce to a simmer, and cook rice, covered, for approximately 90 minutes, or until the porridge has a thick, gelatinous consistency. Check periodically to ensure there is more liquid than rice, adding water or additional stock if needed.
Add fish sauce, sugar, soy sauce, sesame oil, and chicken. Adjust seasonings or salt to taste.
Serve plain, allowing diners to add garnishes to their liking.
Serves: 6
Cambodia's culinary revival
Technology Comes to the Temple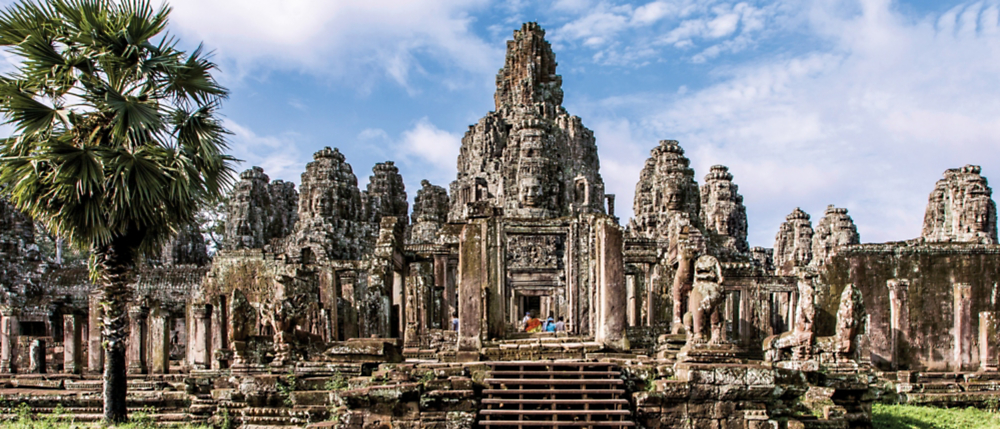 Mysteries of Angkor Revealed
David Valdes Greenwood, from Dispatches
How on earth did the Khmers of 12th-century Cambodia build a temple complex of ten million heavy boulders 25 miles from the nearest source of stone? After creating such a wonder, how did the largest populated city on earth become a ghost town in just a few decades? And who are the 1800 women—no two alike—whose likenesses adorn its abandoned walls even now? These are just some of the questions that have long gone unanswered in ancient Angkor, Cambodia, and the Wat (temple) which is its crown jewel. But modern day technology is helping to unravel these mysteries, shedding new light on old secrets.
If you build it, they will come
From the ninth century until the early 15th, the Khmer Empire of Cambodia was a united kingdom spanning all of what is modern Cambodia. It's might—and wealth— was unsurpassed in Southeast Asia, and each successive king in the first 200 years seemed determined to prove his own grandeur by rebuilding the capital, moving the location, and adding ever more impressive monuments. On a lush, tropical plain, reservoirs were built along with man-made islands, hills were re-shaped and re-carved, and an extensive irrigation system was installed by re-routing rivers, so that the landscape itself changed with each dynasty. By the dawn of the twelfth century, Angkor was twice the size of Paris, and home to half a million people.
But it had not yet seen its glory days. Those were ushered in by the coronation of Suryavarman II. Suryavarman was already an experienced soldier at this time, and also a diplomat who had led a successful mission as envoy to the Chola dynasty of India. But his greatest passion was Hinduism: He studied the sacred texts, celebrated all the important festivals, and showered the priests with gifts. The new king had plans for the greatest temple in history to be dedicated to Lord Vishnu.
The temple's towers were designed to resemble Mount Meru, home of the gods, and its walls were decorated with cumulative miles of bas relief carvings, some heavenly and others earthly. (In one, the king himself is shown attended by courtiers and advisors, fanned by servants, as a procession passes nearby with princesses borne on palanquins as musicians play—a stunning glimpse of what court life was like at the time.) Lotusshaped towers rise above elegant courtyards linking galleries and fanning out to libraries. The temple alone occupies 1/3 of a mile in area and required an estimated 5 million tons of sandstone, equivalent to the materials used in the Great Pyramids.
The first Westerner to see it, a Portuguese monk, wrote in 1586 that Angkor Wat "is of such extraordinary construction that it is not possible to describe it with a pen, particularly since it is like no other building in the world. It has towers and decoration and all the refinements which the human genius can conceive of." And, in the 19th century, Frenchman Henri Mouhot, added, "At the sight of the temple, one's spirit feels crushed, one's imagination surpassed. You look, admire, and respect. Where are the words to praise a work of art that has no equal anywhere in the world?"
To pull off such an epic feat was no small thing. Mount Kulen, the source of the stone, was only 25 miles away, but it was not connected by water to Angkor. The original estimates were that each stone was sent along the canals which flowed the 22 miles from Kulen to Tonle Sap Lake, where they were carried by raft another 22 miles to the mouth of the Siem Reap River, and then rowed upstream a final ten miles or so to Angkor—an indirect route that would take multiple vessels many days to accomplish. At that rate, architects estimate that it should have taken 200 years to finish. So how did Suryavarman's crew pull it off in 37 years?
A team of Japanese researchers asked just that question in 2007 and set about to answer it using satellite visual imaging. Refining the images and using sophisticated analytical techniques, the team discovered what looked like a subtle ribbon of variation in foliage in the landscape running directly from Mount Kulen to Angkor, something not visible at ground level. Following up their remote analysis with field work and excavation over the next five years, they discovered that the Khmer had indeed created a canal running directly through oncedry land all the way from the mountain to the work site. Requiring fewer vessels and less time per shipment of stone, this meant that the highest percentage of time was spent actually building.
Fascinatingly, the discovery of the canal not only solved the mystery of how so much could be accomplished in such a short time; it also opened a window into what made the mighty empire collapse.
Nature wins out
For years, scholars have assumed that Angkor must have faded due to lost battles and changing regimes. But recent studies have painted a different picture. Using NASA's satellite images as maps, investigators uncovered evidence of incredibly extensive waterways and irrigation systems that exceed what was previously known, but which also tell a sobering tale.
Angkor could support so many people at its peak because of its careful management of man-made reservoirs, and its use of canals for trading supplies, meant it virtually never lacked for resources. Engineers harnessed the might of local rivers during monsoon season both to keep the reservoir full and to keep the irrigation channels open. But the ruling regime also began to deforest the land for the raw materials needed to further build up their majestic capital and its holdings, which sprawled a total of 150 square miles.
As the land was stripped bare, more earth ended up in the waters of the canals through erosion, and soon the canals were silting up. Eventually, the process of over-silting chokes rivers and canals, and that's what happened here. The timing couldn't have been worse: just as the canals began to die, the Little Ice Age of the 14th century, which had such dramatic environmental effects on Europe, reached Southeast Asia. Two droughts—lasting 55 years in a span of 80—dried up reservoirs and slowed rivers, decimating the agricultural economy, then slowly forced out settlers as the water in the primary canals (once the lifeblood of Angkor) became non-potable. Though there were always some monks and local villagers who remained in small numbers, the city emptied out into a giant ghost town larger than Manhattan.
Ladies of a thousand—or more—faces
Not every mystery of Angkor has been completely solved. One that is just starting to unravel involves the myriad women of Angkor Wat. One of the most distinctive features of the great temple is its collection of full-body stone carvings of nearly 1,800 women, no two of them alike. Some scholars assumed them to be devatas, female deities, but the fact that they varied so much—some with similar features but dissimilar attire, others with costumes or features not specifically recognizable as Khmer—made their purpose unclear. Their carvings, taken together, neither tell a specific story nor represent a single era, so most experts have failed at drawing any conclusions about them, though the common myth was that these were imaginary wives for the gods.
It was a young woman, just 23 years old, who first noted that there seemed to be patterns in the vast trove. In 1927, Sappho Marchal, the daughter of the French curator of the site, took pencil to paper and began cataloguing the women, recording the variations in hairstyles, ornamentation, and costuming. Her line drawings were published in Paris, attracting attention for their clarity and detail, but researchers did little with her work for eight decades.
That changed at the dawn of the new century, as researchers spurred on by Marchal's drawings attempted to do a quantitative analysis of the sculptures. Leading the charge was Kent Davis, a scholar of Cambodian and Indochinese studies, who added hand and foot positions, plant imagery, and clothing patterns to Marchal's analysis, and then created a computer mapping tool that would analyze whole faces, and use the varying proportions to chart landmarks. He was determined, in his words, to restore these figures to their humanity instead of just treating them as ornaments. As he puts it, "Despite 150 years of intense study, the Khmer pundits who surveyed every temple and measured every stone, thought only to consider these women as decorations, rather than as people."
After feeding all these results into a database, Davis was able to discover that Marchal was right—there was a clear pattern. When the computer sorted the facial profiles, they each fell into one of eight specific clusters. Though individual faces were unique, they were also all recognizable as belonging to one of the groups.
The task today is to delineate each group. Ethnologists who've examined the facial clusters see clear representations of women of different regions, not just of Cambodia, but of Laos, Thailand, Vietnam, and China. That discovery rang bells with Chinese scholars who have studied the account of life in the temple written by Zhou Daguan (see inset box below), who said that Angkor Wat employed 200 foreign women at a time as court dancers for festivals and royal events. The link between the dancers and the carvings has not yet been proven, but if that is indeed the case, then it suggests the dancers were true celebrities in Angkor. Their portraits may be the equivalent of earning a star on the Hollywood walk of fame—and having it last for a millennium.
A second theory is that these women were royal caretakers. But why would the rulers of Angkor bring in women from other countries and kingdoms to tend the temple? According to Daguan, Angkor was much like a Manhattan or London today: a cosmopolitan kingdom where the wealthy surrounded themselves with beautiful things—and beautiful people. Only the loveliest women were allowed to either socialize with or serve the king's family, so perhaps the women lining the walls represent the most attractive women from all the surrounding kingdoms, gathered here for court pleasure. In that case, the line-up is more like a Miss Universe pageant of epic proportions.
Davis isn't sure whether either of those theories is correct, but he's made his database searchable for mathematicians, ethnologists, art historians, and textile experts, in hopes that together they can finish solving the mystery that young Sappho Marchal began to unravel 80 years ago.
For now, Angkor Wat will keep some of its secrets, which only adds to the allure of this stunning complex that French explorer Mouhot described as "grander than anything left to us by Greece or Rome." Travelers and scholars will continue to seek out the jewel of the Khmer, making more discoveries and seeing it anew for generations to come.
Mysteries of Angkor Revealed
Making Merit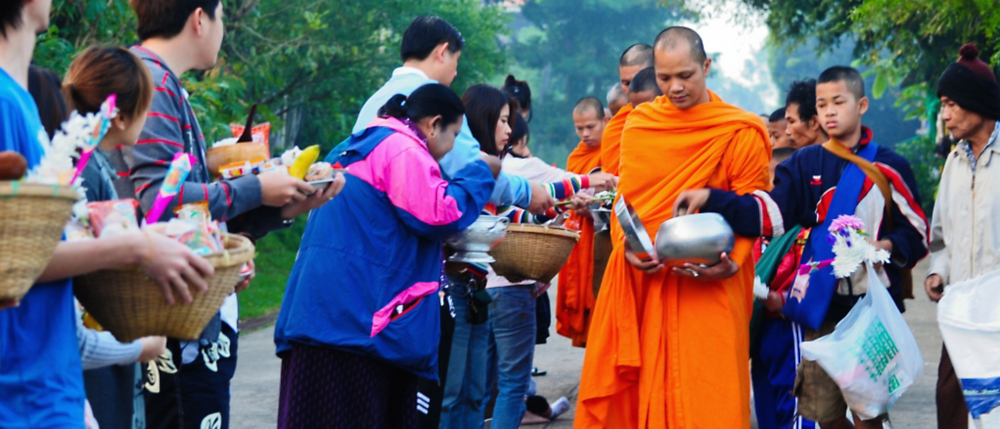 How the meaning of karma influences Buddhists in Southeast Asia
Lyette Mercier, for O.A.T.
If you do good you will receive good; if you do evil you will receive evil.
— Thai proverb
Making merit—doing good—is a vital part of Buddhist life in Southeast Asia, and the proverb above elegantly illustrates why. In Buddhist teaching, you accumulate merit throughout your life to bring future happiness, strength, and peace—and to carry it into your next life.
Making merit, giving alms
In Thailand, Laos, and Cambodia, where the majority of the population is Buddhist, the most common form of merit-making is giving alms to Buddhist monks, who take to the streets each morning in their bright saffron robes holding "begging bowls" into which people can place goods. The most common gift is food, but flowers, money, soap, and other goods useful to the monastery are also accepted. The amount of merit a giver receives is determined by many variables. First, the giver must have pure intentions, a clear mind, and not give anything that is not theirs to give. The quality of the gift also contributes to the merit received. Home-cooked foods are more merit-worthy than ones bought pre-prepared, and giving your leftovers to the monks is considered both rude and unworthy of merit. Finally, the more observant the monk being given alms (with the most observant perfectly obeying all 227 precepts of Buddhism), the more merit granted the giver.
In daily life, people can also gain merit through honoring others, offering help and service, involving others in good deeds, and being thankful for others' good deeds. This focus on aiding and appreciating the people around you shows in the friendliness and spirit of fellowship among the people of Southeast Asia. After all, when you can bring a bit of good into your current or future life simply by smiling at a stranger or acknowledging a kindness, why not make a habit of it?
Candles for good eyesight
Of course, Buddhists understand that they may not see the results of their merit in this life and generally do not expect immediate results from their good deeds. But certain types of gifts are sometimes thought to accumulate specific kinds of merit for a giver's next life. For example, giving textbooks to children is said to ensure that you will be intelligent in your next life, and offering candles or lights will give you bright eyes and good eyesight. Merit can also be "transferred" to the person of the giver's choosing (often a deceased loved one) to lessen that person's suffering in their next life.
Holidays and festivals provide opportunities for celebratory merit-making. The birthday of Thailand's king, for example, is celebrated annually with ceremonies in which citizens give alms to monks on behalf of the king, donating the accumulated merit to the monarch as a birthday gift. Another common form of birthday merit-making is to release fish. The tradition stems from saving creatures stranded in rice paddies by receding floods. In the coastal province of Samut Prakan, one million shrimp were released into the river for the king's birthday in 2011.
Karma
The practice of gaining merit stems from the Buddhist concept of karma, which means "doing." Everything a person does, says, and thinks is a karma, and the accumulation of good and bad karma influences both this life and the next. Two stories from the Buddha's life form the basis of the tradition. In the first tale, two merchants came upon the newly-enlightened Buddha and were so impressed by his virtue that they spontaneously gave him their provisions. The second story tells of the Buddha carrying a begging bowl as he traveled, with those who passed giving him food and goods so that he could continue to spread his teachings.
Almost 2,500 years later, the Buddha's lessons of kindness, giving, and gaining merit continue to have a profound influence on the actions and culture of people throughout Southeast Asia.
How the meaning of karma influences Buddhists in Southeast Asia
7 Things You Should Never Do in a Buddhist Temple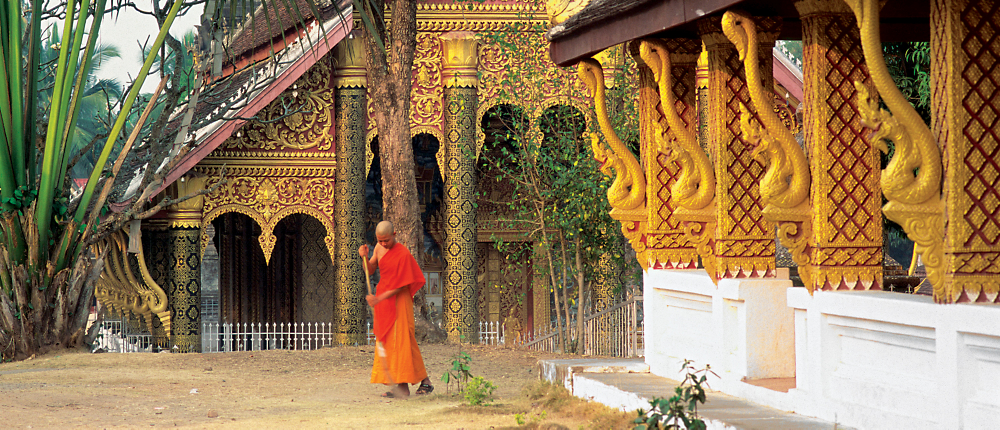 by Maryclaire Dugre
From Bangkok's glittering Grand Palace to the stone spires of Angkor Wat, Southeast Asia's temples are stunning in scale and complexity. But even more intricate than the bejeweled stupas is the unique code of conduct for temple-goers. Here's what not to do at a Buddhist place of worship:
1. Wear shoes or a hat
Always remove your shoes and hat before entering the main worship area—look where others have dropped theirs, and add yours to the pile.
Temple tip: Wear slip-on flats or no-fuss sandals for easy removal.
2. Show too much skin
Even in sweltering Southeast Asia, Buddhists dress conservatively, especially at religious sites. Avoid shorts, sleeveless tops, and dresses or skirts that fall above the knee. If you forget, many temples will lend you a cover-up, sometimes for a small fee.
Wardrobe win: For women, a scarf or shawl is a versatile travel essential. In a bind, it can be draped over your shoulders or tied as a long skirt.
3. Touch the Buddha
Buddha statues can be dazzling, alluring works of art, but be sure to appreciate them with your eyes, not your hands. Getting too close or leaning on the platform is also a sign of disrespect.
Buddha boundaries: Unsure of how close you can get? Take your cue from the monks or worshippers around you—never walk in front of them while they're praying.
4. Point
Pointing at people or things is considered rude in many Asian cultures. In a temple, it's an even graver offense when the subject is a monk, nun, elder, or the Buddha statue itself.
The proper point: To gesture at something, extend your right hand with the palm facing upwards. When sitting, tuck your feet under you or angle them away from the Buddha.
5. Touch or hand something to a monk (women)
Women should never touch, get too close, or pass something to a monk. At the slightest brush against their robes, a monk must perform a cleansing ritual (even if the woman is his mother).
Monk manners: If you'd like to make an offering to a monk, pass it first to a man or set it down before him.
6. Kill an insect
For a Buddhist, purposely destroying a living being—even a creepy crawler—promises bad karma. Try to wave away (rather than kill) any that buzz by you in a temple.
Brush away the bugs: When you see a monk sweeping the entrance stairs, chances are he's not tidying the temple—he's brushing away—and protecting—any insects that may be trampled by visitors.
7. Snap a photo without permission
Many temples do allow photography—but always confirm before using your camera. Never take a photo of the Buddha statue during worship, and as a general rule, turn your flash off.
A thoughtful thank you: After taking your photos, making a small donation is always appreciated (but not mandatory).