Forgot Your Username
If you have forgotten your username, please provide your email address in the box below. We'll send you an email with your requested username. If you are having trouble, please call us toll-free at 1-800-221-0814.
Email Sent
You'll receive an email in a few minutes. Please check this email to find your requested username.
If you do not receive an email or you are having trouble logging into My Account, please call us at 1-800-221-0814.
BRAZIL
Spanning an impressive three million square miles, Brazil shares borders with every South American country except, Chile and Ecuador, making it one of the world's largest nations. Natural splendors abound in this massive country where more than 60% of the Amazon Rain Forest is. The world's largest rain forest is home to the world's largest number of plant and animal species, making this a wonderland of biodiversity. On a much smaller scale in comparison to the Amazon is Iguassu Falls, another staple of Brazil's natural wonders. Witness the rushing falls that are twice as high as Niagara Falls as they cascade down forested steps.
Brazil is also home to over 200 million people of all different backgrounds including Italian, Japanese, and German cultures. The multicultural nation is dominated by Portuguese influence due to settlement of the land in the 16th century by Portuguese explorers—Portuguese is still Brazil's main language. Before the Portuguese conquest of the land, Brazil was inhabited by indigenous groups, but once the European settlers began to claim the land, Brazil's indigenous groups dwindled. For around 300 years, the Portuguese were very aggressive about maintaining their authority over Brazil, waging wars and dividing the nation, but in 1822, Brazil gained its independence.
Now, the locals have managed to establish their own distinct culture, while holding onto important traditions—from the passionate music of choro, samba, and bossa nova, which all have roots in Brazil, to the beloved national dish, feijoada, a savory bean and meat stew, and the title as top coffee producer in the world, which Brazil has held for 150 years.
Brazil Interactive Map
Click on map markers
below to view information about top Brazil experiences
Click here to zoom in and out of this map
Most Popular Films
Films featuring Brazil from international, independent filmmakers
Discover the real Rio
Experience Rio de Janeiro through a local's eyes by following a host who is up for anything.
Courtesy of CNN
Going Local: Rio de Janeiro
Experience Rio de Janeiro as a local by following a host who is up for anything.
This film was first published on BBC.com Travel. Produced by BBC Travel
Earth Diaries - Salgueiro Samba School
Discover the lively spirit of the Salgueiro Samba School where locals celebrate and dance to the rhythm of the festive music.
Produced by Cynthia Younker
Featured Reading
Immerse yourself in Brazil with this selection of articles, recipes, and more
ARTICLE
Which European capital was located 5,000 miles away from its home nation 200 years ago?
ARTICLE
From otters playing in the water to anteaters surveying the land for food, the Pantanal is teeming with wildlife.
Brazil: Month-by-Month
There are pros and cons to visiting a destination during any time of the year. Find out what you can expect during your ideal travel time, from weather and climate, to holidays, festivals, and more.
December-March in Brazil
Vast Brazil stretches across half of South America's landmass, with regional climates varying from equatorial in the north to a true southern hemisphere climate (hot summers and cooler winters) in the south.
Summery weather combined with the trinity of seasonal holidays—Christmas, New Year, and Carnival—draws visitors to Brazil during December, February, and March. This is also the most popular time of year for Brazilians to travel within their home country, and as such, you can expect crowded beaches and peak season prices. But the longer daylight hours and festive atmosphere make this a great time of year to visit Brazil.
Those seeking adventures in nature will also enjoy traveling in Brazil's summer months: Heavy rainfalls across southern Brazil and the rain forest swell the Amazon River, creating the perfect conditions to explore the rain forest by boat, and make Iguassu particularly lush.
Holidays & Events
December 31: New Year's Eve in Brazil is known as Reveillon, a night of dancing on the beach to ring in the new year. Brazilians dress in all white and wear flower garlands for the Reveillon celebrations, which last until dawn and feature live music performances and firework displays at the stroke of midnight.
Mid-January: Lavagem do Bonfim is a popular festival in Salvador, the capital city of Brazil's northeastern Bahia state, and is held on the Thursday after Three Kings Day each year. It is a festival of cleansing after the holiday period, when baianas, or women dressed in traditional full skirts, wash the steps of the Church of Senhor do Bonfim.
Must See
Known throughout the world for its extravagant street parades, glittering performers, and wild partying, Rio de Janeiro's Carnival sets the bar for all other carnivals. More than two million people take to the streets of Rio each day to witness the spectacle, which keeps the city up all night for five days before the start of the Lenten season.
April-May in Brazil
April and May mark the beginning of Brazil's low season, when the heat and humidity of summer are replaced by warmer, more pleasant weather, and Brazilians' summer holidays draw to a close. Water levels are still high in the Amazon, bringing you closer to the canopy wildlife, while roaring Iguassu remains verdant from its bountiful mist.
Holidays & Events
Late March-mid April: Semana Santa, or Holy Week, is celebrated with aplomb in this Catholic nation. Brazilians throughout the country celebrate the week leading up to Easter with elaborate religious processions, featuring costumed penitents and heavy floats.
June-July in Brazil
Winter comes to Brazil in June and July, though its equatorial position means temperatures remain mild throughout much of the country. Head south for more traditional signs of the season: Snow can be spotted in the southern mountain ranges.
Winter is also the start of Brazil's dry season, making it a great time of year to enjoy outdoor activities like hiking. While the Amazon rain forest is hot and steamy with the possibility of rain showers year-round, visitors during the dry season will experience significantly less rainfall; for this reason, June through November are considered the best months to visit. And at Iguassu, water levels lower throughout the season, offering a different view of this natural wonder.
Holidays & Events
June 24: Celebrated throughout Brazil, Festa Junina blends Catholic celebrations with seasonal traditions. The festival marks the harvest time and the transition into winter, and also honors the feast days of St. Anthony, St. John the Baptist, and St. Peter with street parades and music performances.
Late June: Boi Bumpá, also known as the Parintins Folklore Festival, is a lively festival held each year on the island of Paratins in the Brazilian Amazon. Rival teams don colorful costumes and tails, and compete in live performances of traditional folk stories, complete with musical interludes, dancing, and puppetry.
Brazil in August-November
For many, Brazil's springtime offers ideal weather conditions: clear blue skies, rising—but still pleasant—temperatures, and little rain. Temperatures increase throughout October, and summer begins to settle in by November, but it is not yet too hot or humid. This is generally considered the best time to visit Rio and the tropical beaches of the north, and tourists from the Northern Hemisphere take full advantage; expect lots of international visitors, especially during August.
Holidays & Events
Mid-August: The Festa do Peao, or Festival of the Cowboy, is a 10-day celebration of all things rodeo. Held each year in the city of Barretos, located in the state of São Paulo, this annual event features rodeo competitions, open-air concerts, typical "cowboy food" like braised meats and beans, and a larger-than-life metal cowboy statue.
October 12: Dia das Criancas, or Children's Day, is an annual highlight for many Brazilian children. On this day, children receive gifts and candy from their parents. Children's Day also coincides with the feast day of Our Lady of Aparecida, the patron saint of Brazil.
Late November-early January: Natal Luz, which means "Christmas of Lights" is an annual Christmastime festival featuring elaborate light displays. It is celebrated in the southern Brazil mountain town of Gramado, whose alpine-style architecture offers a festive backdrop for the holiday decorations.
Must See
Perhaps surprisingly, the world's second largest Oktoberfest is held each year in the southern Brazilian city of Blumenau. Founded by German settlers who brought with them their love of beer and alpine architecture, Blumenau is best known in Brazil for its raucous beer-drinking extravaganza. In fact, Blumenau's Oktoberfest is one of Brazil's largest street party, second only to Rio's Carnival.
Average Monthly Temperatures
Compare Our Adventures
Click 'Select to Compare' to see a side-by-side comparison of up to adventures below—including
activity level, pricing, traveler excellence rating, trip highlights, and more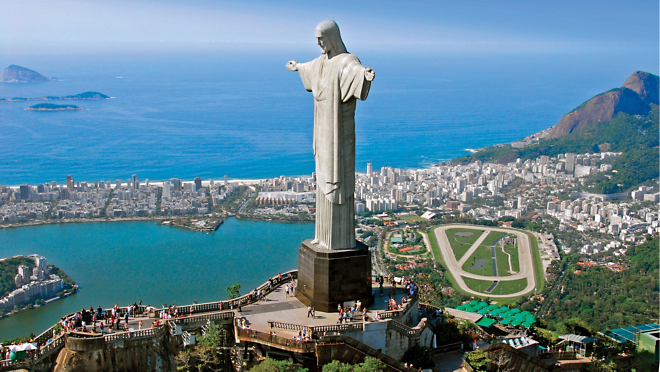 19 DAYS FROM $6,895 • $ 363 / DAY
Small Ship Adventure
First Departure 10/20/2018
Days in Brazil
4
Brazil: Rio de Janeiro, Iguassu Falls • Argentina: Buenos Aires, El Calafate • Chile: Santiago, Torres del Paine National Park, Chilean Fjords
38 meals—daily breakfast, 10 lunches, and 11 dinners (including 2 Home-Hosted Meals)
Witness the famous Christ the Redeemer statue atop Corcovado Mountain
Savor Brazil's national dish, feijoada—a traditional meal of meat and beans
Behold the rushing and roaring water of Iguassu Falls
Snake through the rain forest on an Amazon boat cruise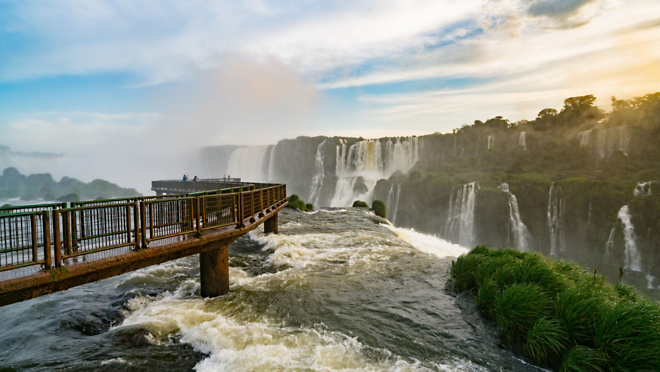 ;
3 NIGHTS FROM FROM $1,395
Discover the majestic nature of the Brazilian and Argentinian sides of Iguassu Falls
Get a glimpse of the tropical flora and fauna in the rain forest surrounding Iguassu Falls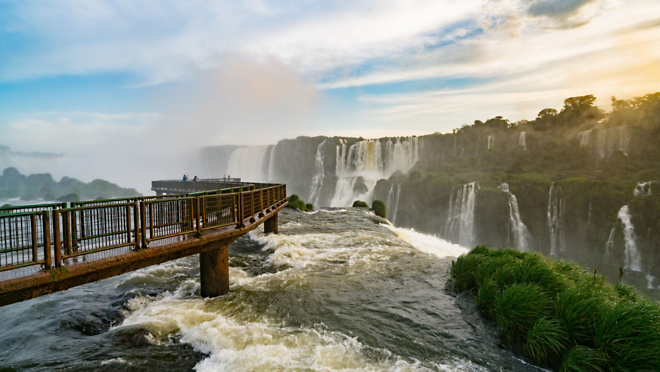 Not Applicable*
Not Applicable*
5 meals—3 breakfasts and 2 dinners
Discover the majestic nature of the Brazilian and Argentinian sides of Iguassu Falls
Get a glimpse of the tropical flora and fauna in the rain forest surrounding Iguassu Falls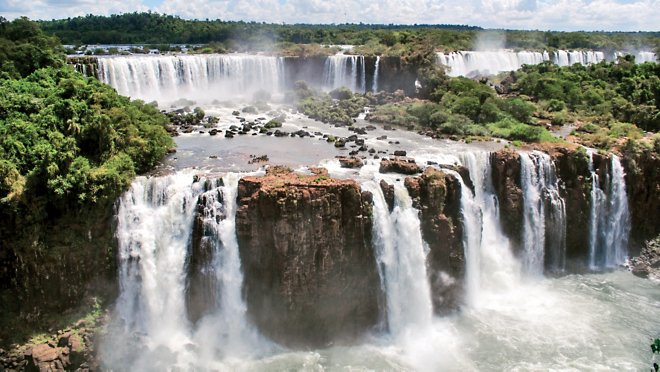 ;
3 NIGHTS FROM FROM $1,145
Discover the majestic nature of the Brazilian and Argentinian sides of Iguassu Falls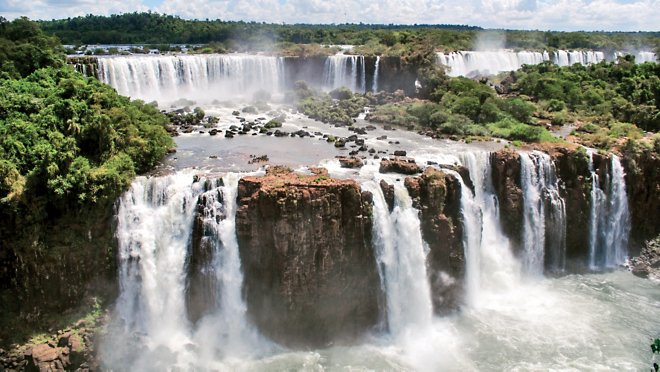 Not Applicable*
Not Applicable*
5 meals—3 breakfasts and 2 dinners
Discover the majestic nature of the Brazilian and Argentinian sides of Iguassu Falls