Forgot Your Username
If you have forgotten your username, please provide your email address in the box below. We'll send you an email with your requested username. If you are having trouble, please call us toll-free at 1-800-221-0814.
Email Sent
You'll receive an email in a few minutes. Please check this email to find your requested username.
If you do not receive an email or you are having trouble logging into My Account, please call us at 1-800-221-0814.

BHUTAN
Called everything from "the last Shangri-La" to "paradise on Earth," Bhutan is a tiny Buddhist kingdom nestled in the Himalayas between India and China. Fiercely protective of its monarchy, culture, and ancient traditions, Bhutan remained almost completely cut off from the outside world for many centuries. It wasn't until the 1970s that the country began to let in a trickle of foreign visitors. Roads, currency, and electricity soon followed. When television arrived in 1999, it was the last country in the world to receive it. Reflecting a longstanding belief in deriving happiness from life's simple pleasures, Bhutan's King Jigme Singye Wangchuk then established a set of principles known as Gross National Happiness, an approach to development that seeks a balance between economic growth and the spiritual wellbeing of its citizens and the natural environment.
This cautious path to modernization has paid off for Bhutan, for it remains an isolated land of virgin forests, devout Buddhist monks, pastoral villages, ancient clifftop monasteries, and fluttering prayer flags. Exotic wildlife such as snow leopards, golden langurs, barking deer, and the goat-like takin still roam its enchanting mountainous landscapes. And lest they "disturb the spirits," Bhutan still does not allow anyone to scale sacred Gangkhar Puensum—the world's highest unclimbed peak.
Barely touched by modern civilization, Bhutan offers adventure travelers an authentic glimpse of an unspoiled land and harmonious society that is extremely rare in today's world.
Bhutan Interactive Map
Click on map markers
below to view information about top Bhutan experiences
Click here to zoom in and out of this map
Most Popular Films
Films featuring Bhutan from international, independent filmmakers
Bhutan
Meet the stylish locals and cheeky wildlife of Bhutan as you steal a glimpse at its temples, landscapes, and villages.
Produced by Clemens Purner
Measuring Happiness
Wellness in body, mind, and spirit is a national imperative in Bhutan.
Produced by Mariko Takayasu and Christopher Flavelle
2009 The New York Times
Incredible Bhutan - Paro Tsechu
Become a fly on the wall at Bhutan's Paro Tshechu Festival, where gazing at a colorful mural is said to cleanse one of sin.
Produced by Dave Fanner
Featured Reading
Immerse yourself in Bhutan with this selection of articles, recipes, and more
ARTICLE
Forty-four years ago, a tiny nation in the Himalayas made waves by announcing a seemingly radical new policy.
Bhutan: Month-by-Month
There are pros and cons to visiting a destination during any time of the year. Find out what you can expect during your ideal travel time, from weather and climate, to holidays, festivals, and more.
Bhutan in December-February
The winter months are the coldest season in Bhutan—but they are also generally dry with clear, sunny skies. The drop in temperature does keep most tourists away, so you can avoid crowds if you visit during this time. You'll be rewarded with spectacular views across the Himalayas and potential sightings of black-necked cranes in the valley.
The higher you get, the stormier it will become, however. Heavy snowfall can lead to avalanches and icy roads, while high peaks and mountain passes can see gale force winds and thunderstorms from northeast winter monsoons. These wild storms earned Bhutan the name Drukyul, which means "Land of the Thunder Dragon."
Holidays & Events
February & March: Chorten Kora Festivals; centered around the Chorten, or Stupa, of Trashiyangtse, these festivals offer an alternative place for pilgrims to congregate, instead of making the longer pilgrimage to Nepal. Built in 1740, the Chorten itself is considered one of the most important historical Buddhist structures. Dates of these festivals vary by year.
February: Punakha Tshechu Festival; this three-day long celebration honors Padmasambhawa, the yogi and saint who is credited with introducing Tantric Buddhism to the Himalayas with traditional dances and music by monks, culminating with the unveiling of huge painted silk Buddhist thangkas. Dates vary by year and this festival may fall in late February or early March.
Must See
Take advantage of winter's clear skies to garner spectacular views of the Himalayas. Whether you're gazing up at its snow-covered peaks from the valley or looking out at the vast mountains from a higher perch—such as Tiger's Nest Monastery—you're sure to enjoy an impressive sight you won't soon forget.
Bhutan in March-May
Springtime in Bhutan brings moderate temperatures and a generally dry climate. The valleys burst into bloom this time of year, and the rhododendrons are especially vibrant. All of Bhutan's wildly diverse flora and fauna species awake during this season, making it ideal for outdoor activities such as hiking. May can see some rainfall, however, and rolling clouds could limit views of the mountains.
Holidays & Events
Early April: Paro Tshechu; Bhutan's largest festival, this five-day celebration features performances by masked dancers, Tibetan musicians, and sacred clowns (atsaras).
Must See
Visit Bhutan in the spring, and you will be treated to the country's famous rhododendrons—which paint the valleys and carpet the hillsides with their vibrant colors.
Bhutan in June-August
Summer marks the beginning of Bhutan's monsoon season. Expect heavy rains, especially at night, and highs in the mid-80⁰s. Views of the Himalayas will be obscured with clouds, and mountain roads can be dangerous due to sudden landslides. This unpredictable weather keeps tourists away, so iconic sites will be free from crowds.
Holidays & Events
Early July: Haa Summer Festival; a celebration showcasing the nomadic lifestyle of the Bhutanese.
Late August: Matsutake Mushroom Festival; held in both Bumthang and Thimphu, this annual festival celebrates the start of mushroom season with songs, dances, and traditional meals featuring the local mushrooms.
Bhutan in September-November
Fall's mild weather and sunny skies make it a popular season to visit Bhutan. Hikers will be treated to a comfortable climate and fantastic views of the Himalayas—especially by November. Autumn is also chock-full of festivals this time of year, which attracts locals as well as tourists.
Holidays & Events
Late September/Early October: Thimphu Tshechu; this festival honoring Buddhist saint Padma Sambhawa features masked dances performed by monks, chants, and the unfolding of the thangka, or sacred scroll.
October 14-15: Jomolhari Mountain Festival; a 2-day event held at the base of Mount Jomolhari, celebrating the communities coexistence with the natural world—in particular the region's elusive snow leopard.
November 11: Black-necked Crane Festival; an annual event to celebrate the return of the black-necked cranes to the valley.
Must See
In early November, the highly-anticipated Black-necked Crane Festival takes place in the Phobjikha Valley to celebrate the return of the black-necked cranes. Locals hold these birds in high regard and believe they represent the three sacred jewels of Buddhism.
Average Monthly Temperatures
Compare Our Adventures
Click 'Select to Compare' to see a side-by-side comparison of up to adventures below—including
activity level, pricing, traveler excellence rating, trip highlights, and more
16 DAYS FROM $5,195 • $ 325 / DAY
Small Group Adventure
India: Delhi • Bhutan: Thimphu, Gangtey, Punakha, Paro
35 meals—daily breakfast, 11 lunches, and 11 dinners (including 2 Home-Hosted meals)
Hike to world-renowned Tiger's Nest Monastery
Experience a traditional Bhutanese hot stone bath
Learn about local customs at a Bhutanese cultural performance
Meet with Buddhist monks at a remote monastery overlooking Phobjikha Valley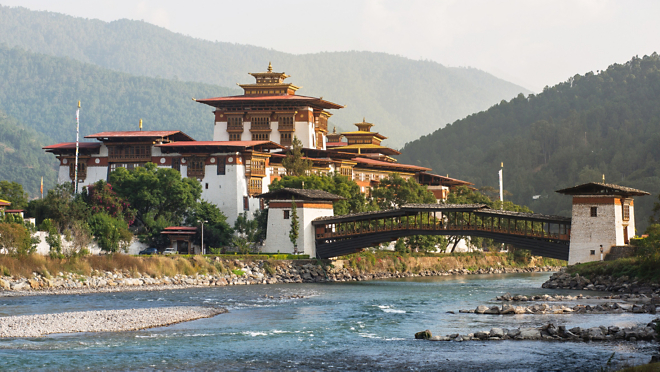 ;
7 NIGHTS FROM FROM $2,695
Hike to world-renowned Tiger's Nest Monastery
Explore the impressive Punakha Dzong
View Bhutan's unusual national animal at the Takin Reserve
Spend time at a nunnery in the Punakha Valley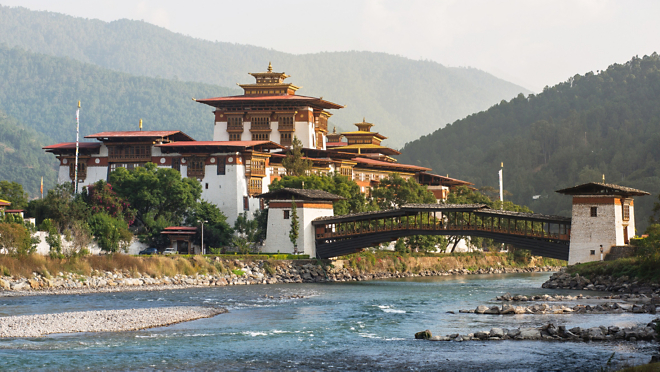 Not Applicable*
Not Applicable*
18 meals—6 breakfasts, 6 lunches, and 6 dinners
Hike to world-renowned Tiger's Nest Monastery
Explore the impressive Punakha Dzong
View Bhutan's unusual national animal at the Takin Reserve
Spend time at a nunnery in the Punakha Valley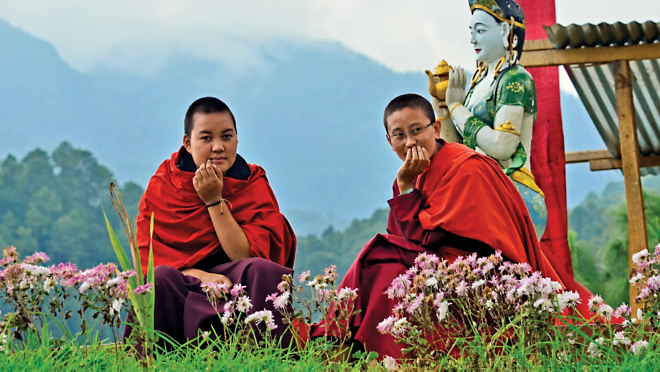 ;
8 NIGHTS FROM FROM $2,595
Hike to world-renowned Tiger's Nest Monastery
Explore the impressive Punakha Dzong
View Bhutan's unusual national animal at the Takin Reserve
Spend time at a nunnery in the Punakha Valley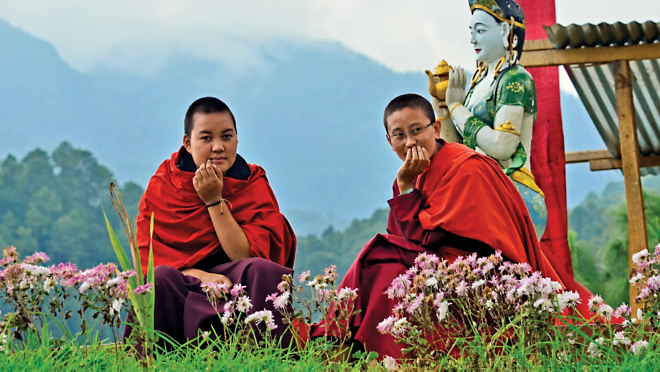 Not Applicable*
Not Applicable*
20 meals—8 breakfasts, 6 lunches, and 6 dinners
Hike to world-renowned Tiger's Nest Monastery
Explore the impressive Punakha Dzong
View Bhutan's unusual national animal at the Takin Reserve
Spend time at a nunnery in the Punakha Valley