The Leader in Small Groups on the Road Less Traveled in Over 85 Countries
You're receiving this message because your web browser
is no longer supported
We recommend upgrading your browser—simply click the button below and follow the instructions that will appear. Updating will allow you to accept Terms and Conditions, make online payments, read our itineraries, and view Dates and Prices.
To get the best experience on our website, please consider using:
Safari (for Mac or iPad Devices)
Update Browser

BELIZE
Get the Details On Our Belize Adventure
Find out more about the adventure, including activity level, pricing, traveler excellence rating, included meals, and more
Trip Itinerary
Chart your course through Central America—from the cities of El Salvador to the ruins of Belize.
16 DAYS FROM $2,695 • $ 169 / DAY
O.A.T. Adventure by Land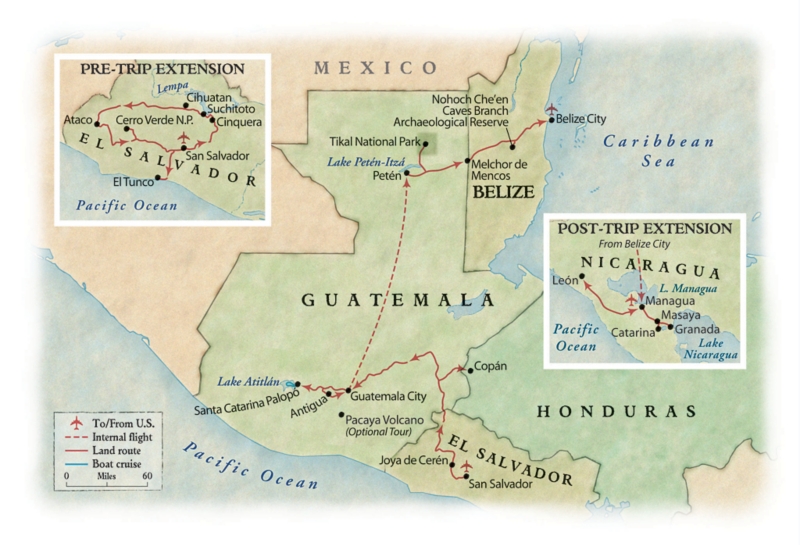 El Salvador: San Salvador | Honduras: Copán Ruinas | Guatemala: Guatemala City, Panajachel, Antigua, Petén | Belize: Belize City
33 meals—15 breakfasts, 12 lunches, and 6 dinners (including 1 Home-Hosted Lunch)
Explore Belize City, a tropical metropolis that combines grit with colonial charm
Discover the archaeological wonders of the ruins at Cahal Pech
New feature: Discover the azure waters and rich traditions on the small island of Caye Caulker
Adventure Details
Find the Adventure That's Right for You
Our Activity Level rating system ranks adventures on a scale of 1 to 5 to help you determine if a trip is right for you. See the descriptions below for more information about the physical requirements associated with each rating.
Travelers should be able to climb 25 stairs consecutively, plus walk at least 1-2 miles over some uneven surfaces without difficulty. Walks typically last at least 1-2 hours at a time. Altitude can range from zero to 5,000 feet.
Activity Level 2:
Moderately Easy
Travelers should be able to climb 40 stairs consecutively, plus walk at least 2-3 miles over some uneven surfaces without difficulty. Walks typically last for at least 2-3 hours at a time. Altitude can range from zero to 5,000 feet.
Activity Level 3:
Moderate
Travelers should be able to climb 60 stairs consecutively, plus walk at least 3 miles over some steep slopes and loose or uneven surfaces without difficulty. Walks typically last for 3 or more hours at a time. Altitude can range from 5,000 to 7,000 feet.
Activity Level 4:
Moderately Strenuous
Travelers should be able to climb 80 stairs consecutively, plus walk at least 4 miles over some steep slopes and loose or uneven surfaces without difficulty. Walks typically last for 4 or more hours at a time. Altitude can range from 7,000 to 9,000 feet.
Activity Level 5:
Strenuous
Travelers should be able to climb 100 or more stairs consecutively, plus walk at least 8 miles over some steep slopes and loose or uneven surfaces without difficulty. Walks typically last for 4 or more hours at a time. Altitude can range from 10,000 feet or more.
Hide Acivity Level
PRICE
including international airfare
HIGHLIGHTS & ACTIVITIES IN BELIZE
*This information is not available for our trip extensions. You must reserve the main trip to participate on this extension.
**This information is not currently available for this trip. Please check back soon.
Recommended Viewing
Watch this video showcasing what makes this country so unforgettable
Equitrekking: Belize
Discover the splendors hidden within Belize's jungle, including waterfalls and caves, and dive into the history of the region's ancient Maya ruins.
Belize: Month-by-Month
There are pros and cons to visiting a destination during any time of the year. Find out what you can expect during your ideal travel time, from weather and climate, to holidays, festivals, and more.
Belize in January-March
Occurring in the middle of the high season, January to March is the driest time in Belize when temperatures hover around 75 degrees, humidity remains low and comfortable, and the sun shines brightly. There is a chance of a cold front sweeping through, bringing chilly weather by tropical standards.
The clear weather results in the ideal time to explore the jungles, national parks, and Mayan ruins while March proves the best time to dive at the Barrier Reef. However it also means these months are the busiest with crowds gathering at the popular sites.
Holidays & Events
February: Spanning the week before Lent begins, Fiesta de Carnaval is a boisterous display of music, dancing, costumes, and culture.
March: The Ruta Maya Belize River Challenge is a four-day canoe race from Hawkesworth Bridge to the old capital that tests endurance and is open to anyone. Spectators follow along to camp out and party at the race's checkpoints.
March 9: Named for British-born traveler Baron Bliss who willed $2 million Belize dollars to benefit the Belizean people, Baron Bliss Day is celebrated on his date of death. The highlight of the celebration is an annual boat regatta.
Must See
Similar to Mardi Gras in meaning, Carnaval runs the week before Lent begins and is a time for people to indulge in the pleasures they'll be giving up. The beach town of San Pedro on Ambergris Caye organizes a festival full of food, dancing, and fun. Comparsas, or street dancing groups, dressed in costumes and a men's group in women's clothing dance through the streets while revelers cover each other in paint and raw eggs.
Watch this film to discover more about Belize
Equitrekking: Belize
Discover the splendors hidden within Belize's jungle, including waterfalls and caves, and dive into the history of the region's ancient Maya ruins.
Belize in April-May
Temperatures and humidity increase going into April and May as the dry season winds down to a close, though the coastal winds in the north can bring in some cool air. With the conclusion of high season, crowds will thin except around Easter when tourists arrive to witness the festivals associated with the holiday.
Weather in the Cayo district and Cayes remains dry in late spring, making for an ideal opportunity to enjoy the region's cerulean beaches with smaller crowds. The water becomes calmer moving into the summer, allowing for good visibility while diving at the Great Blue Hole.
Holidays & Events
April: Held in the remote village of San Jose Succotz, the three-day San Jose Succotz Festival celebrates the patron saint of the town with marimba music, dance, and food.
Late March or April: Easter is celebrated with processions depicting the crucifixion of Jesus, which pass along colorful sawdust carpet art made by locals. At each station of the procession, participants act out a different scene.
May: Taking place in Punta Gorda in the Toledo District, CacaoFest—or the Chocolate Festival of Belize—celebrates the cacao bean with local crafts and chocolate making and eating.
May: During the Cashew Festival held in the Crooked Tree Wildlife Reserve, the national park's Creole village demonstrates the many ways to use the cashew.
Must See
During these months, whale sharks—the largest animal in the ocean at 40 feet long—migrate to the warm waters of Belize, namely near the Gladden Spit and Silk Cayes Marine Reserve in Belize's Barrier Reef, allowing divers to swim alongside these gentle giants.
Belize in June-July
June is considered one of the warmest months in Belize, though the tropical weather remains hot and humid through the next few months. The Caribbean summer makes the white sandy beaches particularly inviting where visitors can soak up some sun, take a dip in the ocean, or scuba dive in the calm waters.
Along with the summer comes the wet season as sudden, but short thunderstorms arrive in the afternoon or evening. Southern Belize tends to see more rain than the north. In July, the climate also begins to cool with the beginning of the low tourist season.
Holidays & Events
June: In early summer, Belize kicks off lobster season with Lobsterfests in various cities by eating lobster dishes from grilled or baked into fritters to lobster ceviche or stew.
Must See
Lobsterfests across Belize launch the country's lobster season, which runs June 15 through February 15, with alcohol, concerts, beach parties, outdoor food booths serving lobster dishes, and even beauty pageants with contestants in lobster costumes. But most notable are the events in San Pedro, which hosts the largest Lobsterfest at a week-long on its white sand beaches, and Placencia, which features games and eating contests.
Belize in August-October
Beginning in August, the hurricane season continues through October with tropical storms ripping across the Caribbean country. The season is marked by high humidity as well as regular torrential downpours that usually only last an hour or two.
During hurricane season, many businesses stay closed and some outdoor activities like snorkeling or cave exploring may be canceled. However, August can experience a short break from the rain and wind in the form of a dry period called the mauger.
Holidays & Events
August: The Costa Maya festival in San Pedro encapsulates the local soul of Belize and the Mundo Maya countries in Central America with live performances, pool and beach parties, dining, and the beauty pageant for Miss Costa Maya.
September 10: St. George's Caye Day marks the anniversary of the only major armed conflict to occur on the island with most locals partaking in patriotic parades.
September 21: To celebrate Independence Day, Belizeans join in float parades and festivals. The two largest celebrations are the Belize City Carnival Parade and the Orange Walk Carnival Parade, which are marked by rowdy, colorful displays of loud music and costumed dancers. Other carnivals take place in the preceding days around the country.
October 9: PanAmerican Day features parties, music and dancing, parades, and horse races to celebrate the mestizo culture of Belize.
Must See
As one of the country's largest festivals, the Costa Maya Festival in San Pedro on Ambergris Caye overwhelms the senses with the vibration of music, the noise of all-night dance parties, and colorful costumes and flashing lights. Cultural groups and musicians from the surrounding countries perform for dancing crowds while beauty queens vie for the title of Miss Costa Maya International. While listening to music, comedians, and other performers, visitors also enjoy cookouts, games, and the town's beautiful beaches.
Belize in November-December
During the winter, Belize's temperatures cool off, creating balmy days for visitors to enjoy exploring outdoors—though there is still a chance of afternoon rain during these months. Mid-November ushers in the dry season, as well as the high season, with more tourists coming into the country.
The peak tourism season takes its full effect in late December when visitors come to experience the parties, festivals, and traditions around Christmas, New Year, and other winter holidays.
Holidays & Events
November 19: Each year, the country celebrates National Garifuna Day, the day the Garifuna people came to live in Belize, with parades and festivities featuring the group's traditional clothing, drumming, dancing, and food.
Average Monthly Temperatures
Belize Interactive Map
Click on map markers
below to view information about top Belize experiences
Click here to zoom in and out of this map
Belize City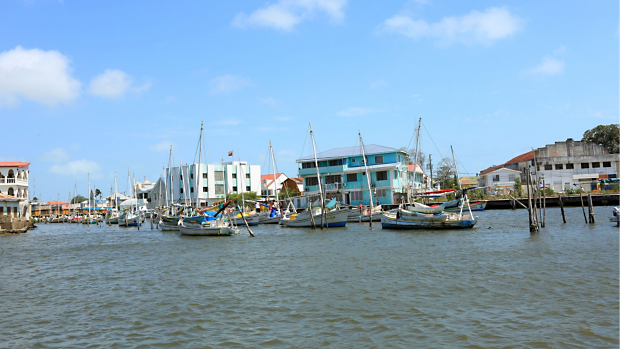 While many major cities in Central America try to cater to the desires of tourists, Belize City is proud of the wide economic and cultural spectrum of its people. From charming bright colonial houses to the ramshackle refuges of the poor, the city is unapologetically itself.
Nearly destroyed by a hurricane in 1961, much of the city is either newly-built or refurbished. Yet, the city's idiosyncratic identity was never lost—amid palm trees and beating sun, the almost 200-year-old St. John's Anglican Cathedral could have been lifted from colonial New England.
While many paths have crossed in Belize over the centuries, a harmonious relationship with nature is paramount to its identity. The Eco-Museum provides an intimate exploration of this relationship, constructed from recycled natural materials. Delicate orchids, Belize's world-famous mahogany, and an exotic butterfly exhibit provide curious travelers with a smorgasbord of the country's naturalistic offerings.
Belize City is not visited by many tourists, in part because its people have nothing to hide. When it comes to understanding the life of a country's people, you have to walk among them. The only question left to ask is "Are you ready?"
Explore Belize City with O.A.T. on:
Caye Caulker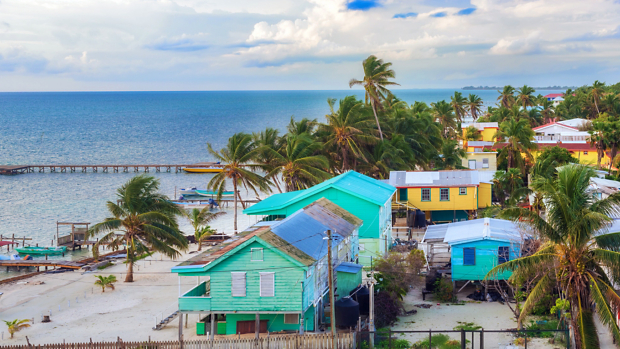 Located approximately 21 miles off the coast of Belize City, the charming island of Caye Caulker offers tropical breezes, cerulean waters, and a shallow lagoon that surrenders to the Belize Barrier Reef.
Refugees from the War of the Castes on Mexico's Yucatan Peninsula began settling the island in the mid-19th century and established sustainable coconut and fishing industries. Today, its quiet, unhurried atmosphere—due in part to the complete absence of cars—makes Caye Caulker a true island getaway for visitors.
For an island of only 5 square miles, Caye Caulker has so much to offer. Ocean breezes carry the smell of traditional savory Belizean meals from small, locally-owned restaurants. The bright pastels of the bungalow-style beach houses and pristine, white-sand beaches are the perfect contrast as you soak in the Caribbean sun. The crystal blue waters of the impressive Belize Barrier Reef, the largest in the Northern Hemisphere, is a haven for turtles, manatees, and a myriad of colorful fish species, giving it a UNESCO World Heritage designation.
This laid-back Caribbean island is the picture of paradise—truly offering its visitors a sense of their motto "Go Slow.""
Explore Caye Caulker with O.A.T. on:
Featured Reading
Immerse yourself in Guatemala with this selection of articles, recipes, and more
RECIPE
Bring Latin American flair into your kitchen with this easy and delicious empanada recipe.
Empanadas Offer Savory & Sweet Meats and Treats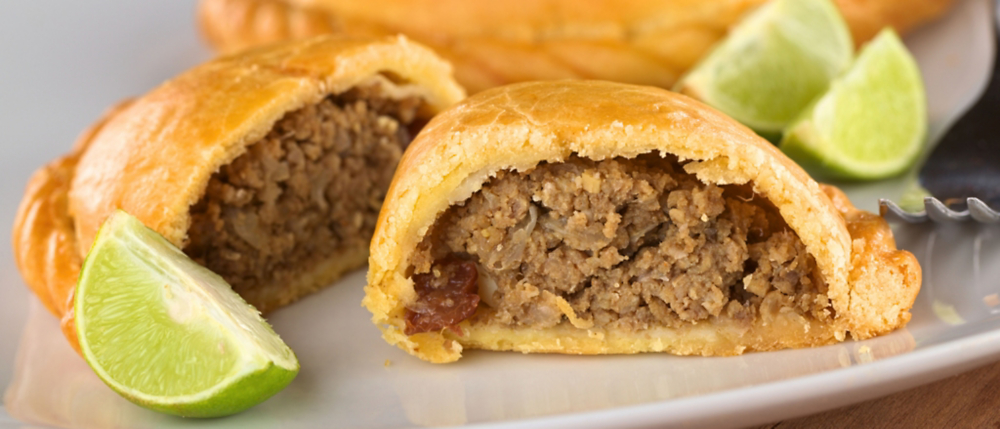 from Harriet's Corner
Delicious and satisfying empanadas are a portable meal unto themselves—which is why they've become ubiquitous throughout Latin America. Derived from the Spanish empanar, meaning "to coat with bread," there are myriad versions, both savory and sweet. Using raisins, allspice, and beef, this empanada recipe features the best of both savory and sweet. Because they include pre-made pie crust, they're relatively easy to make—the hardest part of cooking empanadas is waiting for them to cool down so you enjoy them! Try your hand at cooking them soon for a taste of Latin America.
Ingredients:
½ lb. ground beef
1 Tbsp. olive oil
1 large onion, diced
½ green bell pepper, diced
2 Tbsp. garlic, minced
¼ c. black olives, finely chopped
1 Tbsp. flour
1 Tbsp. allspice
1 tsp. cumin
1/4 tsp. cayenne pepper
2 hard-boiled eggs, finely chopped
1/3 c. raisins
1 (15 oz.) package refrigerated pie crust
1 egg, beaten
salt and pepper to taste
flour (for rolling surface)
Preparation:
Preheat oven to 400°F. Heat olive oil over medium heat, and add onion, bell pepper, and garlic. Cook until the vegetables have softened (about 5 minutes).
Add ground beef, and cook until just browned.
Add olives, flour, allspice, cumin, and cayenne. Cook, stirring occasionally, until mixture has begun to thicken (5 or 6 minutes). Season with salt and pepper.
On a lightly floured board, roll out pie crust and cut into circles about 3 inches in diameter (you can use a drinking glass as a "frame").
On one half of each circle, place one level tablespoon of cooked filling. Sprinkle with a few raisins and chopped egg.
Brush the other half of the circle with egg wash (the beaten egg). Fold over and press to seal. Crimp edges with a fork.
Brush top with egg wash and place on a large baking sheet. Repeat until filling is depleted.
Bake until golden brown, about 12 minutes.
Serves: Makes 20 empanadas