The Leader in Personalized Small Group Adventures on the Road Less Traveled
You're receiving this message because your web browser
is no longer supported
We recommend upgrading your browser—simply click the button below and follow the instructions that will appear. Updating will allow you to accept Terms and Conditions, make online payments, read our itineraries, and view Dates and Prices.
To get the best experience on our website, please consider using:
Safari (for Mac or iPad Devices)
Update Browser

austria
Compare Our Adventures
Click 'Select to Compare' to see a side-by-side comparison of up to adventures below—including
activity level, pricing, traveler excellence rating, trip highlights, and more
View 2021 Itinerary Video
See a detailed overview of this itinerary, including pre- and post-trip extensions and adventure highlights.
15 DAYS FROM $3,195 • $ 213 / DAY
O.A.T. Adventure by Land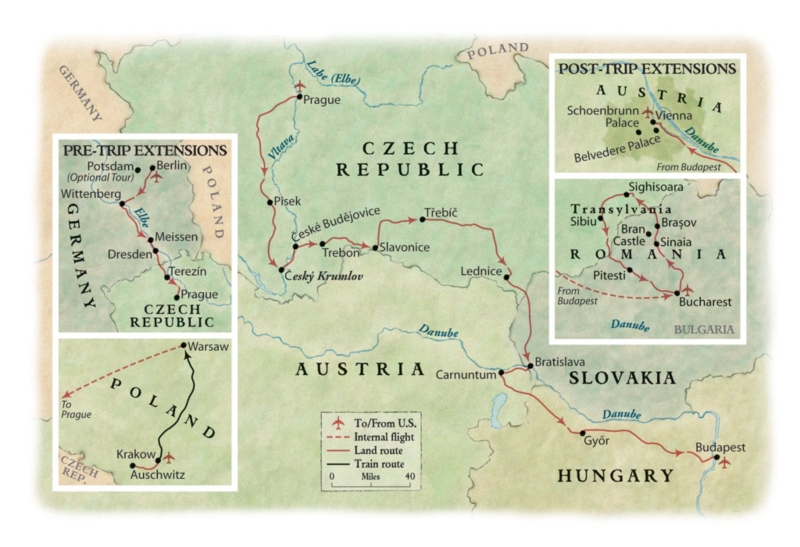 Czech Republic: Prague, Cesky Krumlov, Slavonice • Slovakia: Bratislava • Hungary: Budapest
30 meals—13 breakfasts, 9 lunches, and 8 dinners (including 1 Home-Hosted Dinner)
Trace Austrian history during a visit to the Carnuntum Archaeological Park
Trip Extension—Vienna: Palaces, Music, Architecture & Sachertorte
Let locals guide you through the coffee houses, horse stables, and more on our trip extension to Vienna.
5 NIGHTS FROM $1,595
Explore the magnificent galleries and gardens of Belvedere Palace
Tour Schoenbrunn Palace—the Habsurg's summer estate and a UNESCO World Heritage Site
Stroll through Vienna's beloved boulevard, the Ringstrasse
Walk in the footsteps of Austria's legendary composers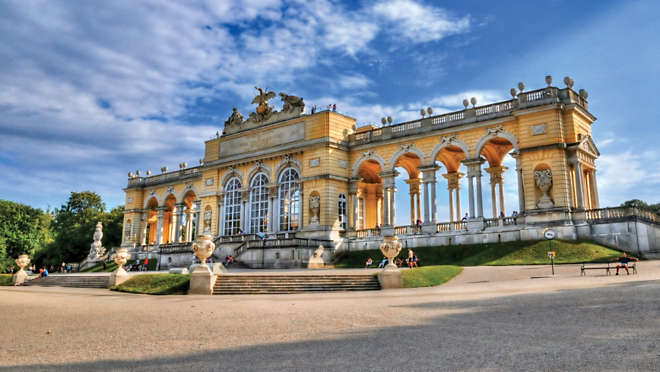 Not Applicable*
Not Applicable*
10 meals—5 breakfasts, 2 lunches, and 3 dinners
Explore the magnificent galleries and gardens of Belvedere Palace
Tour Schoenbrunn Palace—the Habsurg's summer estate and a UNESCO World Heritage Site
Stroll through Vienna's beloved boulevard, the Ringstrasse
Walk in the footsteps of Austria's legendary composers
Compare Adventures
Find the Adventure That's Right for You
Our Activity Level rating system ranks adventures on a scale of 1 to 5 to help you determine if a trip is right for you. See the descriptions below for more information about the physical requirements associated with each rating.
Travelers should be able to climb 25 stairs consecutively, plus walk at least 1-2 miles over some uneven surfaces without difficulty. Walks typically last at least 1-2 hours at a time. Altitude can range from zero to 5,000 feet.
Activity Level 2:
Moderately Easy
Travelers should be able to climb 40 stairs consecutively, plus walk at least 2-3 miles over some uneven surfaces without difficulty. Walks typically last for at least 2-3 hours at a time. Altitude can range from zero to 5,000 feet.
Activity Level 3:
Moderate
Travelers should be able to climb 60 stairs consecutively, plus walk at least 3 miles over some steep slopes and loose or uneven surfaces without difficulty. Walks typically last for 3 or more hours at a time. Altitude can range from 5,000 to 7,000 feet.
Activity Level 4:
Moderately Strenuous
Travelers should be able to climb 80 stairs consecutively, plus walk at least 4 miles over some steep slopes and loose or uneven surfaces without difficulty. Walks typically last for 4 or more hours at a time. Altitude can range from 7,000 to 9,000 feet.
Activity Level 5:
Strenuous
Travelers should be able to climb 100 or more stairs consecutively, plus walk at least 8 miles over some steep slopes and loose or uneven surfaces without difficulty. Walks typically last for 4 or more hours at a time. Altitude can range from 10,000 feet or more.
Hide Acivity Level
PRICE
including international airfare
HIGHLIGHTS & ACTIVITIES IN AUSTRIA
*This information is not available for our trip extensions. You must reserve the main trip to participate on this extension.
**This information is not currently available for this trip. Please check back soon.
Recommended Viewing
Watch this video showcasing what makes this country so unforgettable
Trip Extension—Vienna: Palaces, Music, Architecture & Sachertorte
Let locals guide you through the coffee houses, horse stables, and more on our trip extension to Vienna.
06:35
Recommended Videos
Watch your fellow travelers' favorite films & videos
Wandering in Vienna
Produced by Emeric Visuals
Take a virtual stroll through today's Vienna—and discover its seamless blend of modern style and Old-World allure.
Verruckt: The Snail Farmer of Vienna
Produced by Kevin Longa
Learn why a successful Viennese businessman chose to become a snail farmer in this 5-minute film.
Austria: Month-by-Month
There are pros and cons to visiting a destination during any time of the year. Find out what you can expect during your ideal travel time, from weather and climate, to holidays, festivals, and more.
Austria in December-February
Usually beginning in December, heavy snowfall colors the Alpine region a Christmassy white. During the night, temperatures may hover around zero degrees—perfect weather for hot chocolates and mulled wines (which you may pick up at the Christmas markets that begin lining the enchanting streets this time of year). January and February are typically the coldest months of the year in Austria, and with the Alps shrouded in fresh powder from recent snow, the country transforms into a skier's paradise.
Holidays & Events
December 25: Christmas Day
January 1: New Year's Day
Late January: Dating back to 1924, the yearly Philharmoniker Ball is a highlight of Austria's carnival season (or ball season).
February: On the Thursday before Ash Wednesday, the Vienna Opera House hosts the annual Viennese Opernball, a primarily upper class ball that is another main event of carnival season.
Must See
During the holiday season, delightful Christmas markets begin sprouting up throughout the streets of Austria. Offering anything from handmade garments and crafts to festive holiday treats, including pastries and mulled wines, these markets add just the right amount of holiday spirit and flare to an Austrian adventure. Gigantic Christmas trees are often on display in town squares, and as in the U.S., the glimmer of decorative ornaments shines through many of the windows you'll pass by. Rounding out the festivities as the new year rolls around, NeuJahrsKonzert is a celebratory concert put on by the Vienna Philharmonic each New Year's Day.
Watch this film to discover more about Austria
Bare Feet: Waltzing in Vienna
Produced by Sauce & Liver Productions, LLC
Watch this dancer make her way from Vienna to rural Austrian villages to learn everything from a regal waltz to a knee-slapping folk dance.
Austria in March-May
March sees Austria's temperatures beginning to warm up, with an average high of 48 degrees. April and May are even hotter, with average highs of 57 and 68 respectively. The warm, sunny spring days are typically punctuated by bouts of cold rains, making it critical to dress in layers this time of year. May is perhaps the best time of year for outdoor activities, with the warmer weather drawing visitors to national parks, and to the mountains for scenic hikes.
Holidays & Events
March & April: The annual OsterKlang Wien Easter music festival takes place.
March or April: Easter Sunday & Monday.
May: Beginning in May and lasting five to six weeks, the Viennese Wiener Festwochen draws nearly 200,000 visitors each year to the square in front of Vienna's City Hall. At this cultural festival, attendees are entertained by theater performances, orchestral productions, and more.
Mid-May: The Vienna International Festival brings together artists from across the globe to share their talents. Expect to see drama performances, musical theater, and a variety of dance styles.
Late May: Salzburg's Whitsun Festival concert series celebrates and showcases the best of Baroque music.
Watch this film to discover more about Austria
Bare Feet: Waltzing in Vienna
Produced by Sauce & Liver Productions, LLC
Watch this dancer make her way from Vienna to rural Austrian villages to learn everything from a regal waltz to a knee-slapping folk dance.
Austria in June-August
Summer ushers in pleasant weather, longer daylight hours, and more sunshine. Throughout Austria, the daytime temperatures average in the 60s and 70s, with highs sometimes reaching into the 90s. The further south you go in Austria, the more likely you are to experience warmer weather that evokes the climate of the Mediterranean. You can expect the warmest temperatures in July, but be sure to pack accordingly as temperatures can drop into the 50s at night. Also be prepared for more precipitation in June and July when thunderstorms are common throughout the country.
Take advantage of more daylight during the summer that can last for up to 15 hours. Delight in the combination of the long daylight hours and the warm weather during a stroll through Austria's picturesque gardens and parks. But, be prepared for more crowds during the summer as large groups of tourists flock to Austria to soak up the summer weather.
Holidays & Events
June 21: The Midsummer solstice is celebrated on the longest day of the year. Festivities include ship processions that make their way down the Danube and colorful firework shows.
Late July: The annual Salzburg Festival is a celebration of opera, theater, and other musical genres. This popular event draws large crowds in July and August.
Must See
The Vienna Film Festival is a popular event that brings together Austrian culture and gastronomy. A large screen is set up at Rathausplatz square in Vienna where recordings of orchestra performances, operas, concerts, ballets, and more are shown through September. Important sporting events that fall around the same time of the festival are also broadcasted. For example, fans crowded into the square when the women's national team's semifinal game was broadcasted at the film festival. International cuisine is also a highlight of the festival as chefs from around the world come to Austria to showcase their culinary talents.
Watch this film to discover more about Austria
Bare Feet: Waltzing in Vienna
Produced by Sauce & Liver Productions, LLC
Watch this dancer make her way from Vienna to rural Austrian villages to learn everything from a regal waltz to a knee-slapping folk dance.
Austria in September-November
The hills are alive with the colors of autumn, as the changing leaves paint Austria's slopes a majestic patchwork of yellow, orange, and red. Hiking is a perfect pastime during the fall months, and with fewer tourists, you'll have more opportunity to enjoy the scenery. As we head into November, light flurries of snow hint at what's to come in December.
Holidays & Events
Late September-Early October: During Vienna's Wine Hiking Days, vineyards open up for public wine samplings.
Early October: Almabtrieb processions
Mid-October: A series of affordable concerts known as Salzburger Kulturtage takes place.
October 26: On Austrian National Day, the country's flag is proudly displayed, memorial ceremonies take place, many museums offer free admission, and around 100,000 people embark on fitness marches (organized hikes) each year.
November 11: On St. Martin's Day, children engage in trick-or-treating-like activities, similar to Halloween celebrations in the United States.
Must See
In early October, during what are referred to as Almabtrieb processions, farmers relocate their cows from the mountains to better grazing in the valleys. As part of the celebration, the cows are dressed in ornately decorated hats and other finery.
Watch this film to discover more about Austria
Bare Feet: Waltzing in Vienna
Produced by Sauce & Liver Productions, LLC
Watch this dancer make her way from Vienna to rural Austrian villages to learn everything from a regal waltz to a knee-slapping folk dance.
Average Monthly Temperatures
Austria Interactive Map
Click on map markers
below to view information about top Austria experiences
Click here to zoom in and out of this map
Schoenbrunn Palace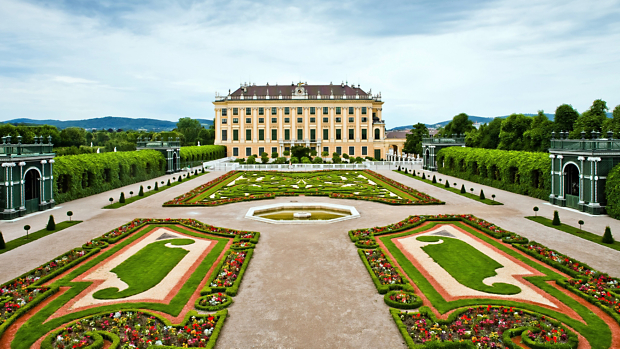 The strikingly yellow and sprawling 460-acre Schoenbrunn Palace and gardens date back to the 15th century. The property, a fraction of the current palace on display, was owned by the Klosterneuburg Monastery and was known as the Katterburg.
By 1569, the Hapsburg family came into possession of the property—with whom it would remain for the majority of its history. Members of the Hapsburgs used Katterburg as a hunting lodge and by 1642 they officially renamed the estate Schoenbrunn—a name that was inspired by Emperor Matthias who, while hunting on the property, came across a Schöner Brunnen, which roughly translates to a beautiful spring.
After the estate fell to Turkish invaders who destroyed the structure completely in the late 17th century, the Hapsburg family reacquired the land and transformed it into a royal residence, more specifically a summer home. The new palace and gardens were named a UNESCO World Heritage Site in 1996 due to the preservation of the Baroque architecture and display of Hapsburg style.
Upon exploring the property, you'll find much more than a magnificent palace and garden. The land is also home to an impressive greenhouse called The Palm House which hosts multiple climates and a variety of plant species. Another majestic structure at Schoenbrunn is the Gloriette Arcade. Built in 1775, this neoclassical gem boasts panoramic views of the gardens, palace, and Vienna.
Explore Schoenbrunn Palace with O.A.T. on:
Belvedere Palace
Belvedere Palace is actually a complex of two Baroque palaces, grand stables, and a stunning Orangery. Prince Eugene of Savoy purchased the land at the edge of Vienna in 1697, during the Habsburg glory days, to be his summer residence. His plan set in motion decades of building, first the Lower Palace, and then (starting in 1717) the Upper. Archduke Franz Ferdinand lived here for the last 20 years of his life at the dawn of the 20th century, and it was from Belvedere that he made his last journey to Sarajevo, before his assassination set off World War I. Belvedere Palace has a happier World War II connotation: the Austria State Treaty, restoring the nation's independence, was signed in the Marble Chamber here by the major world powers. Today the complex is beloved as home to a stunning collection of Austrian art from the medieval and Baroque periods, as well as 19th-and 20th-century masters.
Explore Belvedere Palace with O.A.T. on:
Ringstrasse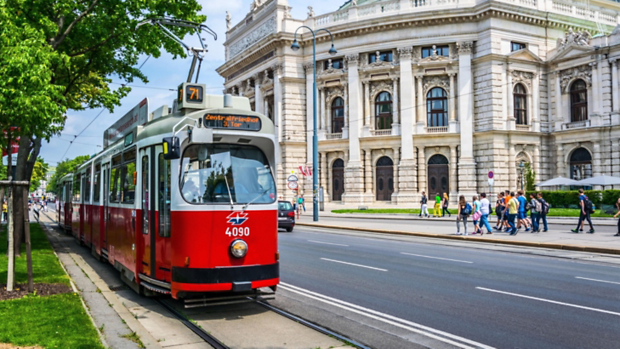 Emperor Franz Joseph had a vision for a boulevard to eclipse all other boulevards. The Emperor announced the building of the Ringstrasse in 1857 in a decree that famously announced, "It is my will." Joseph reclaimed space where city walls and military structures once stood in order, he said, to "beautify my residence, the imperial capital." The wealthiest families rushed to build their palaces along the route, with private homes interspersed among the most important cultural buildings in the nation. Instead of uniformity, the major buildings were designed using architecture to match their purposes. The State Opera and university were built in Renaissance style, while the theater was Baroque, and the Vienna Stock Exchange was Gothic. The Parliament was the lone building erected in Greek classic style as a nod to democracy. Officially inaugurated in 1865, the stunning Ringstrasse remains unparalleled and has become the definitive heart of Vienna.
Explore the Ringstrasse with O.A.T. on:
Carnuntum Archaeological Park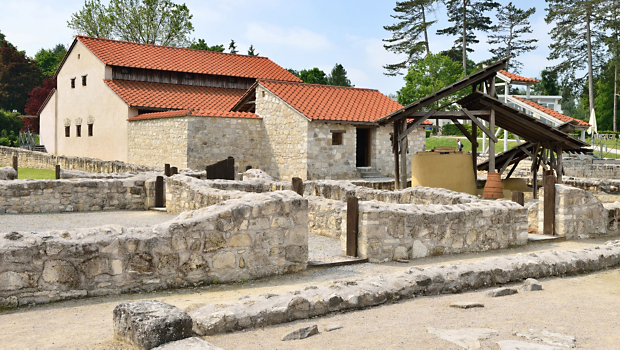 In the first century, when this region was known as the Roman province of Pannonia, Emperor Claudius ordered that a naval fortress be built on the Danube so that a fleet could be ready at all times to protect the region. Over time, as the province grew in size and population, Carnuntum became the capital of Pannonia. At its peak, the city was home to 50,000 people, including Marcus Aurelias. For 200 years, it was at the heart of the "Amber Road," the trading route along which amber was sold, until German invaders burnt the town down in the fourth century. Visitors to Carnuntum today find ample evidence of the Roman era in an open-air museum of palace ruins, the old amphitheater, and the remnants of the Heidentor, a massive arch that still speaks of ancient glory.
Explore Carnuntum Archaeological Park with O.A.T. on:
Spanish Riding School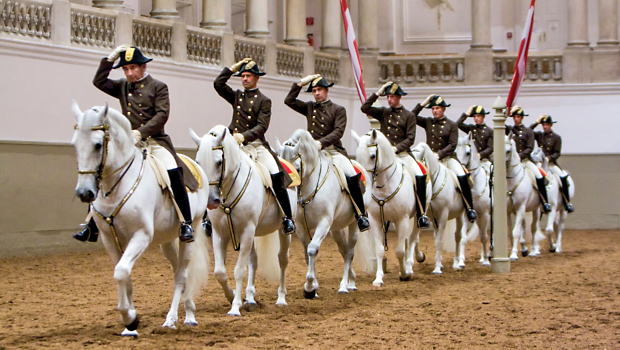 The Spanish Riding School holds a timeless tradition that has been part of Viennese culture for more than 450 years. This age-old practice was even placed on UNESCO's Intangible Cultural Heritage of Humanity list in 2015.
The first documentation of a riding school in Vienna is from 1565—this school influenced the modern Spanish Riding School that is currently in place. In 1580, Archduke Charles II introduced Spanish horses to an arena he founded in Lipizza—these stallions came to be known as "Lipizzaners." The Lipizzaner horse breed is still widely valued by the Spanish Riding School today.
Up until World War I, the equestrian shows these stallions put on were reserved for royalty and guests of congress, but after the end of the war, the school opened up to the public. During your free time in Vienna, you may reserve tickets to see these graceful horses perform, or you may choose a guided tour to get a glimpse behind the scenes of the Spanish Riding School.
Explore the Spanish Riding School with O.A.T. on:
Footsteps of Great Composers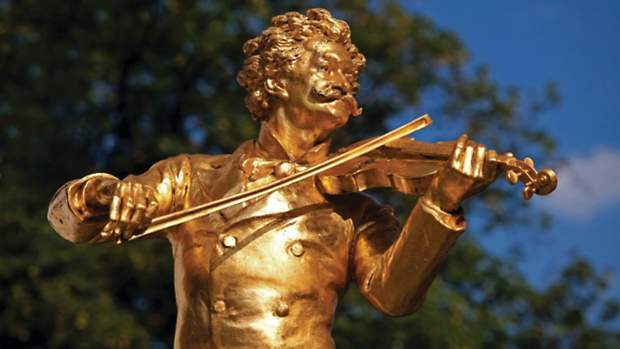 During an exploration of Vienna, you can almost hear the classical music of legends like Ludwig van Beethoven and Wolfgang Amadeus ringing through the streets. Austria's capital is steeped in musical history as this is where some of the world's greatest composers found inspiration.
Franz Joseph Haydn lived, worked, and taught in Vienna where he established himself as the "Father of the Symphony." During his time in Vienna, Haydn worked alongside and befriended Mozart and served as a mentor to Beethoven. Follow in the footsteps of Mozart at the Mozart House Museum where the famous composer lived and worked in the late 18th century, then learn more about his fascinating life in Vienna and beyond at the House of Music. This museum also dives into the history of Beethoven's time in Vienna and the work he accomplished here. In fact, the House of Music museum has a whole floor dedicated to Vienna's great composers—from Franz Schubert, who was born and lived in Vienna his entire life, to Johann Strauss I, who established a classical music dynasty and inspired the establishment of the Johann Strauss Orchestra.
Walk in the footsteps of great composers with O.A.T. on:
Featured Reading
Immerse yourself in Austria with this selection of articles, recipes, and more
ARTICLE
Vienna's turn-of-the-century artists find freedom
Counter Culture
Of imperfect castles and perfect strolls
by Gigi Ongun, Program Director, Germany
The term "fin de siecle" most often conjures up images of Paris, where artists reacted against a supposedly decadent, morally bankrupt society created by industrialization, Art Nouveau thrived, and the seeds of modernism were sown. But the Austrian capital of Vienna had its own turn-of-the-century renaissance, too.
It was there where a population boom and the rise of the middle class fueled an economy of ideas and art that included contributions from such luminaries as Sigmund Freud, Gustov Klimt, and composer Arnold Schoenberg. The city's monetary and intellectual wealth led to the rise of an artistic epoch reflected in all aspects of society, from architecture to fashion.
In 1900, Vienna was the European capital of the Austro-Hungarian Empire, in which the House of Hapsburg ruled over the remains of the ancient Holy Roman Empire, with 51 million subjects spread over a geographical area stretching roughly from the Balkans to Ukraine. Between 1870 and 1910, Vienna's population more than doubled—reaching 2 million as citizens from all over the Empire moved to the thriving capital. They were drawn by opportunities for employment created during the massive civic-building program instituted by Emperor Franz-Joseph in the 1860s.
The Ringstrasse
This building boom resulted in the dozens of impressive neoclassical buildings that today line Vienna's Ringstrasse, a circular boulevard built to replace the capital's crumbling medieval walls and pay tribute to the Hapsburg family's power and wealth. The ornate and immense buildings created during this project include the Austrian Parliament Building, the Rathaus (Town Hall), and the University of Vienna, which visitors may still admire during a stroll along this 3.3-mile loop.
Almost all of the Ringstrasse buildings and their interior artwork harken back to historical eras—ancient Rome and Renaissance Italy, for example. But the classical, academic, and (given the scale of the Ringstrasse project) monolithic nature of the works being produced led the city's prominent artists to chafe against what they saw as an old-fashioned, unimaginative mind-set.
A new school
In 1897, dissatisfied with the conservative views of the Association of Austrian Artists and the private Künstlerhaus Genessenschaft exhibition society, a group of painters, sculptors, and architects resigned their memberships and created the Vienna Secession. At the time, the Academy and Künstlerhaus controlled Vienna's two main exhibition halls and was responsible for choosing the vast majority of art displayed in the city. Artists went before artistically traditional committees that often rejected impressionist and modernist works in favor of naturalism. The frustrated artists were left with no way to exhibit their contemporary works.
The Secessionists saw the beginnings of the Modernist movement taking hold elsewhere in Europe and worried that Austria's presumed preference for classical art was leaving their country behind the curve. So they organized and dedicated themselves to creating and exhibiting innovative art and design. The group built an exhibition house that became known simply as The Secession. They stated their desire to push boundaries and break from historical styles in the motto emblazoned above the door: "To every age its art, to every art its freedom."
The Secession building, with its starkwhite, windowless exterior topped by an oversized round cupola of golden metal-work, could not have broken more strongly from the Ringstrasse style. It was equal parts admired and ridiculed, with the cupola providing its most popular nickname: "The golden cabbage." Mocked or not, the new exhibition space was much needed. The Secessionists' first exhibition, for which they rented out the Horticultural Society building, drew 57,000 visitors, including the Emperor himself.
But for all of their new ideas, the Secessionists were not out to dismantle the art establishment. Almost all of them were already well-established in their fields, with painter Gustov Klimt the best known for his work as decorator of many Ringstrasse buildings. They were employed artists, interested in making a living from their craft as well as following the avant-garde, so they didn't so much rage against the machine as build their own, slightly edgier machine.
The buyers for their work came from Vienna's burgeoning bourgeoisie, merchants and traders who thrived in the prosperous city. This new middle-class embraced the avant-garde aesthetic as an outlet for expressing their individuality and flaunting their newfound wealth and social status. The market became quite competitive, with collectors vying to have the newest, most progressive pieces.
Life as art
The public embrace of the new aesthetic and the artists' concept of creating works that touched every aspect of daily life, from architecture to kitchen utensils, produced the philosophy of "Gesamtkunstwerk" or the "total work of art." The idea behind Gesamtkunstwerk is that a person's entire life should be lived in alignment with the Art Nouveau aesthetic—their art, their house, their furniture, and even the clothes they wore would be designed by artists. Their life itself would be lived as a work of art.
Gesamtkunstwerk resulted in the establishment of the Wiener Werkstatte (Vienna Workshop) in 1903. Its founders, Josef Hoffmann and Koloman Moser, applied their designs to everyday objects from picture frames to trash cans. They took a page from the arts and crafts movement in England, which rejected industrialization and focused on the value of handmade objects and extolled individual craftsmanship and effort, with the workshop's motto "Better to work 10 days on one product than to manufacture 10 products in one day.
The Workshop maintained separate facilities for metalwork, leatherwork, bookbinding, woodworking and a paint shop, and employed 100 artists in its heyday. With such diverse artisans available, the Workshop was able to take on projects that involved designing every aspect of a place like the Cabaret Fledermaus theater, from the floors to the menus.
The success of a concept as philosophical and involved as Gesamtkunstwerk seems less outlandish when viewed together with the constant, open public discourse that thrived in fin de sciele Vienna. The artists who formed the Secession didn't meet in private homes or salons, but in public cafes that were the heart and soul of intellectual debate and new ideas.
Coffeehouse culture
They gathered in the Café Zum Blauen Freihaus and the Café Sperl (which today still serves coffee in Ringstrasse-style opulence), which functioned more as open clubs than places of commerce—the purchase of a single cup of coffee entitled you to as much time in the cafe as you wanted. Some establishments even allowed patrons to store a change of clothes on the premises.
Part of the cafes' allure was their large collection of international newspapers, bringing in new ideas for artists to debate daily from across the continent. The flow of international information was a key part of the Secessionist movement. Klimt, for example, was influenced by the flat planes, strong colors and patterned surfaces of Japanese woodblock prints as well as the intricate patterns of Byzantine mosaics. These influences can be seen in many of Klimt's most iconic works, including The Kiss.
Another aspect of the cafes' wide popularity was their willing embrace of art and artists. Musical performances and literary events were held in the evenings. Writers who spent their days composing in the cafes were affectionately nicknamed "coffeehouse poets." One writer, Peter Altenberg, spent so much time at the iconic Cafe Central that he had his mail delivered there.
The cafes were also favored by future leaders and revolutionaries, drawn, perhaps, by their open exchange of new ideas. Cafe Central was visited by Vladimir Lenin, Leon Trotsky, and Josip Broz Tito. In designating "Viennese Coffee House Culture" as a recognized part of Austria's Intangible Cultural Heritage, UNESCO noted poetically that cafes were places "where time and space are consumed, but only the coffee is found on the bill."
Musicians of note
The city's avant-garde spirit extended to musicians and composers, as well. Reflecting the same sort of break from classical modes of expression that the Secessionists embraced, Viennese composer Arnold Schoenberg developed a new system for composition. The "twelve-tone technique" for composing atonal pieces became widely used throughout Europe and America.
Also known as dodecaphony or twelvetone serialism, Schoenberg's technique provided composers of atonal pieces with an alternative structure to the traditional strictures of tonal harmony. The twelve-tone technique holds that each of the twelve tones of the chromatic scale must be used equally often in a piece of music, thus preventing an emphasis on any one note.
The technique replaced the classical structural tonal harmony with the new structure of thematic oneness—in other words, parts of the piece don't have to sound the same, they simply have to be structured the same. Schoenberg's method influenced composers throughout the first half of the 20th century, including masters like Igor Stravinsky.
Sudden change
Vienna's golden age was brought to an abrupt and violent end with the assassination of Archduke Franz Ferdinand, heir to the Austro-Hungarian throne, and the advent of World War I. The wealth that financed and encouraged Vienna's artists was drained by the war and the dissolution of the Empire. Klimt perished in a flu pandemic that swept Europe in 1918, and the Vienna Workshop was forced into bankruptcy and closure in 1932.
Thankfully, much of the fine art produced during Vienna's creative heyday remains. The Secession Building continues to exhibit contemporary art, as well as being the permanent home of Klimt's stunning Beethoven Frieze. Prints of posters designed by the Vienna Workshop can be found throughout the city. And for the price of a single cup of coffee, visitors may still linger in the same cafes that inspired talented young artists at the turn of the century.
Vienna's turn-of-the-century artists find freedom