Forgot Your Username
If you have forgotten your username, please provide your email address in the box below. We'll send you an email with your requested username. If you are having trouble, please call us toll-free at 1-800-221-0814.
Email Sent
You'll receive an email in a few minutes. Please check this email to find your requested username.
If you do not receive an email or you are having trouble logging into My Account, please call us at 1-800-221-0814.
ALBANIA
Rugged Albania has been invaded and conquered by one army after another—with two long periods of isolation in between. The first was the four-century rule of the Ottoman Turks, which ended in 1912; the second was the communist rule of Enver Hoxha during the second half of the twentieth century. When Albania emerged into freedom in 1991, it began a whirlwind of reinvention that still continues today.
Albania is now an official candidate for the European Union, and while it is still one of Europe's poorest countries, foreign investment is pouring in. Thriving capital city Tirana embodies the word vibrant, and the Adriatic and Ionian coastline is one of Europe's new Rivieras. However, there are plentiful reminders of the past—whether it's the windswept ruins of Butrint, the Ottoman mansions of Gjirokaster, or the Communist bunkers that sprout like mushrooms across the entire country. The craggy Albanian Alps loom over it all, and a turquoise sea laps at the edges of this fascinating Balkan outpost.
Albania Interactive Map
Click on map markers
below to view information about top Albania experiences
Click here to zoom in and out of this map
Most Popular Films
Films featuring Albania from international, independent filmmakers
Mushrooms of Concrete
Discover Albania's concrete bunkers—sites that, though built for potential warfare, have more creative uses today.
Produced by Martijn Payens
Out of Sight
Meet four children from Albania and discover their big dreams for the future.
Produced by Paul Kurti
Gjirokaster and Libohove, Albania
Soar above Gjirokaster for a unique perspective on the Albanian hillside town's Ottoman-era historic structures.
Produced by Ervin Habazaj
Featured Reading
Immerse yourself in Albania with this selection of articles, recipes, and more
ARTICLE
Travel back to antiquity to discover the legendary history of the Albanian city of Butrint.
ARTICLE
Can you guess what country is sprinkled with about 750,000 unused military bunkers—some decorated and some untouched?
Albania: Month-by-Month
There are pros and cons to visiting a destination during any time of the year. Find out what you can expect during your ideal travel time, from weather and climate, to holidays, festivals, and more.
Albania in December-February
The winter months in Albania are mild and rainy, especially on the coast. Toward the interior of the country, the climate varies notably from north to south. Temperatures in the day average near 44°F and the evenings may get colder. In the mountainous regions, snowfall may occur through March. Crowds are light in the winter months, with lower rates on hotels and activities as well.
Holidays & Events
December 25: Christmas Day; known as Krishtlindjet, Christmas is is not a universally observed holiday in Albania, but some celebrate by attending midnight mass on Christmas Eve, or by giving gifts on Christmas Day.
January 1: New Year's Day
Must See
Experience the warm hospitality of an Albanian welcome in Tirana or Berat during the winter months when you can rub elbows with locals rather than large groups of tourists.
Called Krishtlindjet, Christmas Day is a public holiday and Tirana's main square boasts a large Christmas tree, decorated annually. Locals indulge in decadent holiday meals of stuffed Turkey accompanied by lavish desserts.
Albania in March-May
The springtime offers a moderate climate, with high temperatures near 77°F. Rain is common early on in the season, eventually giving way to drier weather. The landscape becomes blanketed in flowers and April makes for a great time to visit and hike throughout the countryside.
Holidays & Events
March/April: Easter; dates vary by year and many celebrate Holy Week from Palm Sunday to Easter Sunday with prayer services as well as by dyeing Easter eggs and feasting with friends and family.
March 22: Nevruz Day; the first day of spring is celebrated with food and revelry throughout the region.
Must See
Llogara Pass is a high mountain road overlooking the Ionian coast. Nestled in the Cika Mountain range, this winding road is part of the Llogara National Park and this time of year is the best time to visit, due to the blooms.
Celebrating the end of winter on March 14, the Pagan summer Festival rejuvenates the spirit of the locals and visitors alike. Featuring street parties and artisan fairs, this festival welcomes the rebirth of nature with joy and revelry.
Albania in June-August
Summer ushers in high temperatures and the sunny days make swimming and beach visits enjoyable on the coast. Meanwhile, it is still comfortable enough for hikes and to see various outdoor highlights throughout the region. Tourism is at its peak and crowds may be heavy during the summer months.
Holidays & Events
June 25: Eid Al Fitr; this holiday marks the end of Ramadan with many Muslims attending communal prayers and preparing festive meals with relatives. Children are given presents or candy and cards are sometimes sent to loved ones.
Must See
The Albanian Riviera features isolated bays, unspoiled beaches and turquoise waters. The rugged coastline and rolling hills are punctuated by inlets that give way to sandy shores.
Hiking is enjoyable this time of year and trips to Grunas Waterfall, the Albanian Alps and the peaks of Thethi and Boga provide picturesque views.
The summer months are the best time to explore the historic towns of Berat and Kruja. Idyllic locale, Ottoman architecture, and medieval castles make these destinations picturesque and significant.
Albania in September-November
Precipitation is abundant starting in October and September is a dry month. Temperatures are mild in the beginning of fall, offering warm breezes on the coast and mild temperatures inland. The Adriatic is warm in September, making it a wonderful time to experience the beaches, while mountain valleys are in full autumn display this time of year.
Holidays & Events
November 2: Liberation Day; Liberation Day commemorates the day Albania was liberated from Nazi Germany forces after the Albanian resistance during World War II.
Average Monthly Temperatures
Compare Our Adventures
Click 'Select to Compare' to see a side-by-side comparison of up to adventures below—including
activity level, pricing, traveler excellence rating, trip highlights, and more
18 DAYS FROM $4,295 • $ 239 / DAY
Small Group Adventure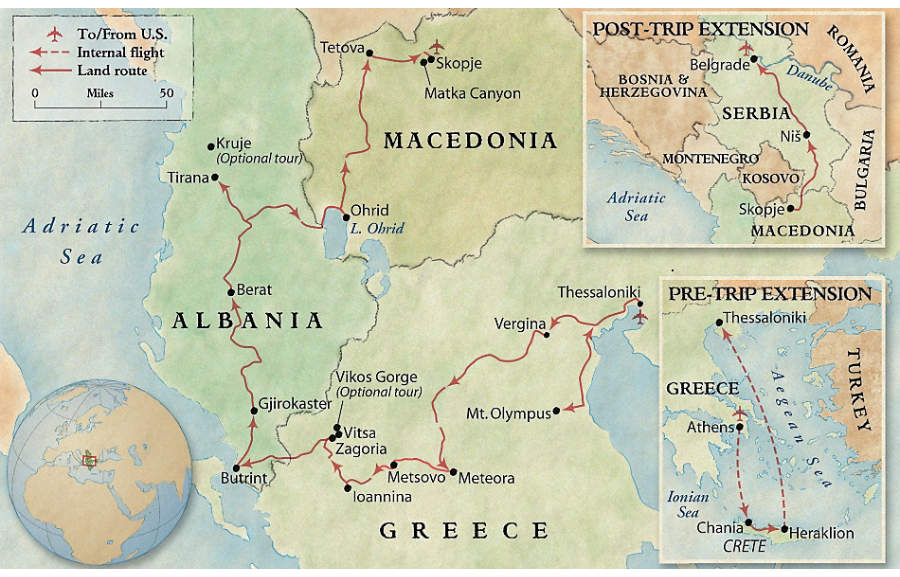 Greece: Thessaloniki, Meteora, Zagoria • Albania: Gjirokaster, Tirana • Macedonia: Ohrid, Skopje
36 meals—daily breakfast, 10 lunches, and 10 dinners (including 1 Home-Hosted Lunch)
Peruse the ancient Greek, Roman, and Venetian ruins of Butrint, a UNESCO World Heritage Site
Stroll the cobblestone streets of Gjirokaster and enjoy a community lunch
Wander through Old Town Berat and its hilltop castle
Explore colorful Tirana and its excellent National History Museum
16 DAYS FROM $5,845 • $ 366 / DAY
Small Ship Adventure
Croatia: Zagreb, Plitvice Lakes, Split, Hvar, Korcula, Dubrovnik, Gromaca • Montenegro: Kotor, Perast • Albania: Butrint, Saranda • Greece: Corfu, Delphi, Athens
37 meals—daily breakfasts, 11 lunches, and 12 dinners (plus all onboard house beer & wine, as well as soft drinks)
Explore the ancient Greek, Roman, and Venetian ruins of Butrint, a UNESCO World Heritage Site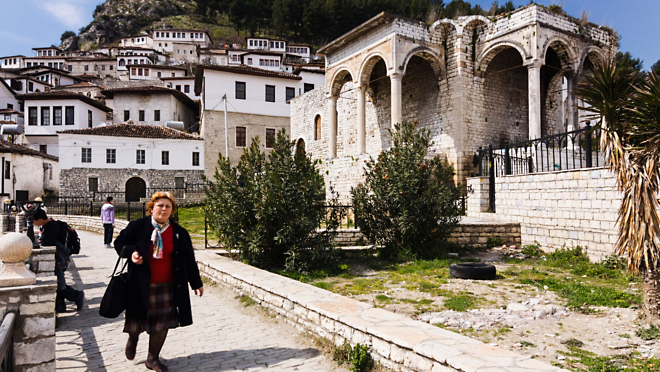 ;
4 NIGHTS FROM FROM $945
Stand in the heart of Tirana, Skanderbeg Square
Wander through Old Town Berat and its hilltop castle
Enjoy views over all of Tirana on a cable car ride into the mountains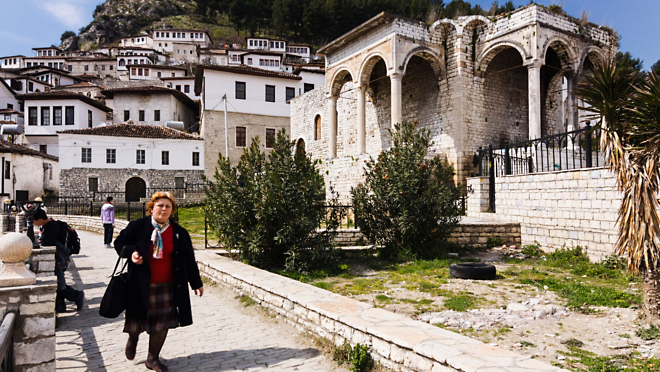 Not Applicable*
Not Applicable*
8 meals—4 breakfasts, 3 lunches, and 1 dinner
Stand in the heart of Tirana, Skanderbeg Square
Wander through Old Town Berat and its hilltop castle
Enjoy views over all of Tirana on a cable car ride into the mountains