The Leader in Personalized Small Group Adventures on the Road Less Traveled
You're receiving this message because your web browser
is no longer supported
We recommend upgrading your browser—simply click the button below and follow the instructions that will appear. Updating will allow you to accept Terms and Conditions, make online payments, read our itineraries, and view Dates and Prices.
To get the best experience on our website, please consider using:
Safari (for Mac or iPad Devices)
Update Browser
albania
Compare Our Adventures
Click 'Select to Compare' to see a side-by-side comparison of up to adventures below—including
activity level, pricing, traveler excellence rating, trip highlights, and more
View 2021 Itinerary Video
See a detailed overview of this itinerary, including optional pre- and post-trip extensions and highlights of this adventure—like visiting the ancient clifftop monasteries in Meteora.
18 DAYS FROM $3,895 • $ 217 / DAY
O.A.T. Adventure by Land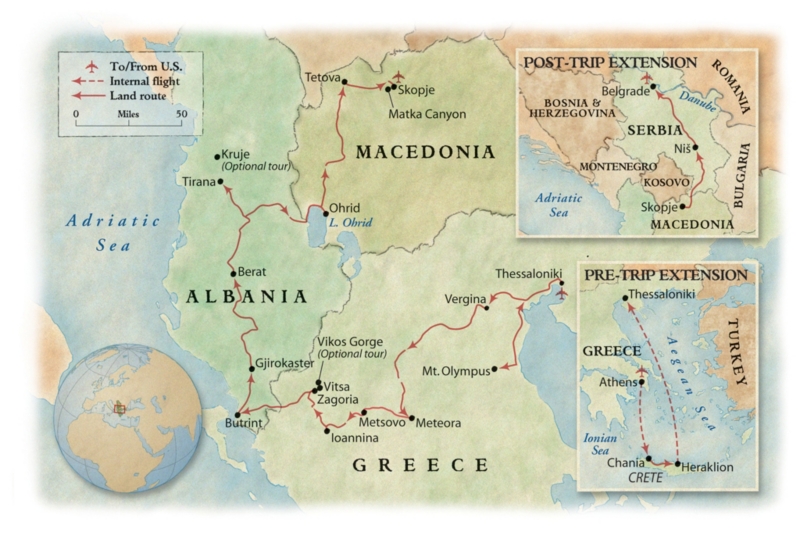 Greece: Thessaloniki, Meteora, Zagoria | Albania: Gjirokaster, Tirana | Macedonia: Ohrid, Skopje
36 meals—daily breakfast, 10 lunches, and 10 dinners (including 1 Home-Hosted Lunch)
Peruse the ancient Greek, Roman, and Venetian ruins of Butrint, a UNESCO World Heritage Site
Stroll the cobblestone streets of Gjirokaster and enjoy a community lunch
Wander through Old Town Berat and its hilltop castle
Explore colorful Tirana and its excellent National History Museum
View 2021 Itinerary Video
Come along on a journey to the picturesque ports of the Dalmatian Coast and historic Greek islands and cities.
16 DAYS FROM $6,595 • $ 413 / DAY
O.A.T. Adventure by Small Ship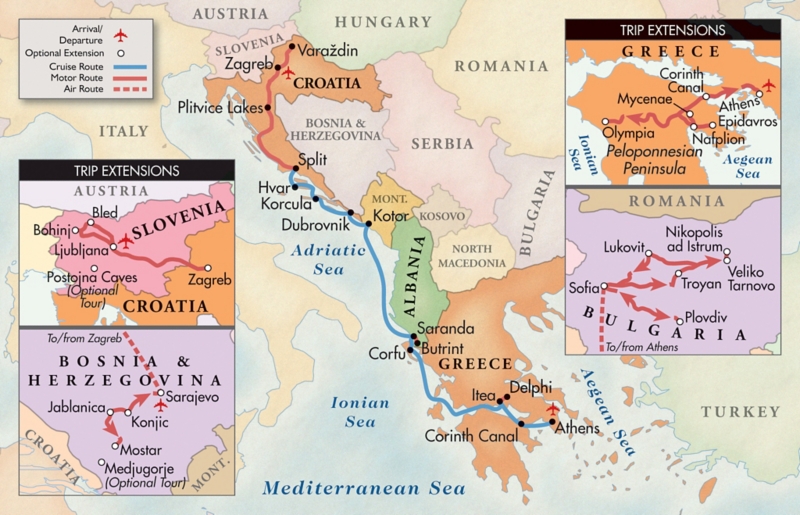 Croatia: Zagreb, Varazdin, Plitvice Lakes, Split, Hvar, Korcula, Dubrovnik, Gromaca | Montenegro: Kotor | Albania: Butrint, Saranda | Greece: Corfu, Delphi, Corinth Canal Crossing, Athens
38 meals: 14 breakfasts, 12 lunches, 12 dinners—including 1 Home-Hosted Dinner—plus all onboard house beer, wine, and soft drinks
Explore the ancient Greek, Roman, and Venetian ruins of Butrint, a UNESCO World Heritage Site
Compare Adventures
Find the Adventure That's Right for You
Our Activity Level rating system ranks adventures on a scale of 1 to 5 to help you determine if a trip is right for you. See the descriptions below for more information about the physical requirements associated with each rating.
Travelers should be able to climb 25 stairs consecutively, plus walk at least 1-2 miles over some uneven surfaces without difficulty. Walks typically last at least 1-2 hours at a time. Altitude can range from zero to 5,000 feet.
Activity Level 2:
Moderately Easy
Travelers should be able to climb 40 stairs consecutively, plus walk at least 2-3 miles over some uneven surfaces without difficulty. Walks typically last for at least 2-3 hours at a time. Altitude can range from zero to 5,000 feet.
Activity Level 3:
Moderate
Travelers should be able to climb 60 stairs consecutively, plus walk at least 3 miles over some steep slopes and loose or uneven surfaces without difficulty. Walks typically last for 3 or more hours at a time. Altitude can range from 5,000 to 7,000 feet.
Activity Level 4:
Moderately Strenuous
Travelers should be able to climb 80 stairs consecutively, plus walk at least 4 miles over some steep slopes and loose or uneven surfaces without difficulty. Walks typically last for 4 or more hours at a time. Altitude can range from 7,000 to 9,000 feet.
Activity Level 5:
Strenuous
Travelers should be able to climb 100 or more stairs consecutively, plus walk at least 8 miles over some steep slopes and loose or uneven surfaces without difficulty. Walks typically last for 4 or more hours at a time. Altitude can range from 10,000 feet or more.
Hide Acivity Level
PRICE
including international airfare
HIGHLIGHTS & ACTIVITIES IN ALBANIA
*This information is not available for our trip extensions. You must reserve the main trip to participate on this extension.
**This information is not currently available for this trip. Please check back soon.
Recommended Viewing
Watch this video showcasing what makes this country so unforgettable
Out of Sight
Produced by Paul Kurti
Meet four children from Albania and discover their big dreams for the future.
Albania: Month-by-Month
There are pros and cons to visiting a destination during any time of the year. Find out what you can expect during your ideal travel time, from weather and climate, to holidays, festivals, and more.
Albania in December-February
The winter months in Albania are mild and rainy, especially on the coast. Toward the interior of the country, the climate varies notably from north to south. Temperatures in the day average near 44°F and the evenings may get colder. In the mountainous regions, snowfall may occur through March. Crowds are light in the winter months, with lower rates on hotels and activities as well.
Holidays & Events
December 25: Christmas Day; known as Krishtlindjet, Christmas is is not a universally observed holiday in Albania, but some celebrate by attending midnight mass on Christmas Eve, or by giving gifts on Christmas Day.
January 1: New Year's Day
Must See
Experience the warm hospitality of an Albanian welcome in Tirana or Berat during the winter months when you can rub elbows with locals rather than large groups of tourists.
Called Krishtlindjet, Christmas Day is a public holiday and Tirana's main square boasts a large Christmas tree, decorated annually. Locals indulge in decadent holiday meals of stuffed Turkey accompanied by lavish desserts.
Watch this film to discover more about Albania
Mushrooms of Concrete
Produced by Martijn Payens
Discover Albania's concrete bunkers—sites that, though built for potential warfare, have more creative uses today.
Albania in March-May
The springtime offers a moderate climate, with high temperatures near 77°F. Rain is common early on in the season, eventually giving way to drier weather. The landscape becomes blanketed in flowers and April makes for a great time to visit and hike throughout the countryside.
Holidays & Events
March/April: Easter; dates vary by year and many celebrate Holy Week from Palm Sunday to Easter Sunday with prayer services as well as by dyeing Easter eggs and feasting with friends and family.
March 22: Nevruz Day; the first day of spring is celebrated with food and revelry throughout the region.
Must See
Llogara Pass is a high mountain road overlooking the Ionian coast. Nestled in the Cika Mountain range, this winding road is part of the Llogara National Park and this time of year is the best time to visit, due to the blooms.
Celebrating the end of winter on March 14, the Pagan summer Festival rejuvenates the spirit of the locals and visitors alike. Featuring street parties and artisan fairs, this festival welcomes the rebirth of nature with joy and revelry.
Watch this film to discover more about Albania
Mushrooms of Concrete
Produced by Martijn Payens
Discover Albania's concrete bunkers—sites that, though built for potential warfare, have more creative uses today.
Albania in June-August
Summer ushers in high temperatures and the sunny days make swimming and beach visits enjoyable on the coast. Meanwhile, it is still comfortable enough for hikes and to see various outdoor highlights throughout the region. Tourism is at its peak and crowds may be heavy during the summer months.
Holidays & Events
June 25: Eid Al Fitr; this holiday marks the end of Ramadan with many Muslims attending communal prayers and preparing festive meals with relatives. Children are given presents or candy and cards are sometimes sent to loved ones.
Must See
The Albanian Riviera features isolated bays, unspoiled beaches and turquoise waters. The rugged coastline and rolling hills are punctuated by inlets that give way to sandy shores.
Hiking is enjoyable this time of year and trips to Grunas Waterfall, the Albanian Alps and the peaks of Thethi and Boga provide picturesque views.
The summer months are the best time to explore the historic towns of Berat and Kruja. Idyllic locale, Ottoman architecture, and medieval castles make these destinations picturesque and significant.
Watch this film to discover more about Albania
Mushrooms of Concrete
Produced by Martijn Payens
Discover Albania's concrete bunkers—sites that, though built for potential warfare, have more creative uses today.
Albania in September-November
Precipitation is abundant starting in October and September is a dry month. Temperatures are mild in the beginning of fall, offering warm breezes on the coast and mild temperatures inland. The Adriatic is warm in September, making it a wonderful time to experience the beaches, while mountain valleys are in full autumn display this time of year.
Holidays & Events
November 2: Liberation Day; Liberation Day commemorates the day Albania was liberated from Nazi Germany forces after the Albanian resistance during World War II.
Watch this film to discover more about Albania
Mushrooms of Concrete
Produced by Martijn Payens
Discover Albania's concrete bunkers—sites that, though built for potential warfare, have more creative uses today.
Average Monthly Temperatures
Albania Interactive Map
Click on map markers
below to view information about top Albania experiences
Click here to zoom in and out of this map
Tirana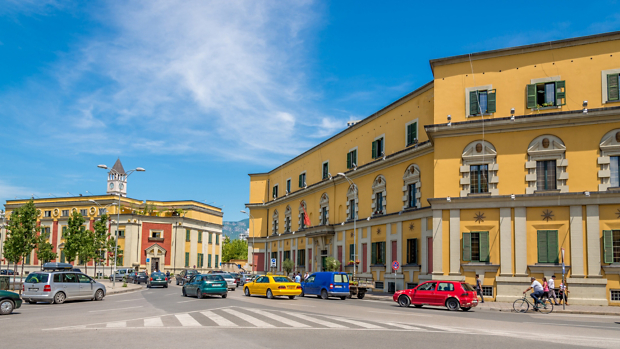 Once a chaotic jumble of gray, Tirana today is a pleasant, bright little capital city. Grand squares, wide boulevards, and lovely wooded parks serve as gathering places for locals and visitors alike. A convivial, majority-Muslim population welcomes foreign tourism, and visitors should not be surprised if a local invites them to join a toast of rakija, the local brandy. The Blloku neighborhood, once restricted to Albania's political elite, now welcomes all to its ritzy bars, restaurants, and abundant sidewalk cafes.
Although Tirana has undergone quite a transformation in recent decades, relics from the past abound, from Ottoman mansions to the Soviet-era apartment blocks—which these days sport a vibrant assortment of murals in every color of the rainbow.
Explore Tirana with O.A.T. on:
Berat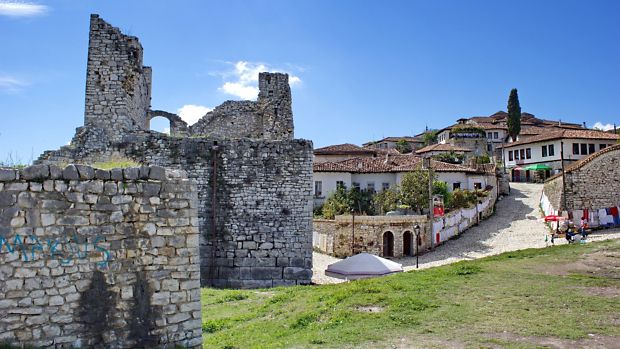 One of the world's oldest continually inhabited cities, Berat is appropriately known as Albania's museum city. Locals still inhabit the Ottoman-era homes of Old Town, which rises in tiers up the hillside toward the citadel. Locally known as the Kala, Berat Castle dates back to the fourth century. Within the castle walls, red-tiled Byzantine churches meet the minarets of Ottoman mosques, a mash-up of religions, eras, and architecture that encapsulates the town's diverse history.
Thanks to its well-preserved, unique mix of influences, Berat's Old Town was designated a UNESCO World Heritage site in 2008. Despite an influx of tourism in the last few years, Berat has maintained an easygoing, welcoming air—with locals and visitors alike gathering together in the cafes and wide avenues around town.
Explore Berat with O.A.T. on:
Gjirokaster
Sandwiched on a hillside between snowcapped mountains and a widely-curving river, Gjirokaster is a charming Ottoman-era merchant town in the Drino Valley. The city's name comes from the Greek word for silver, argyrókastron, likely a reference to the shimmering gray stone that lines the town walls, streets, and roofs. Excavations in the city have revealed settlements that date back to the 2nd century BC; however, the earliest recorded mention of Gjirokaster was in 1336. It rose to prominence a few hundred years later as a center of Ottoman administration.
The past still echoes through Gjirokaster; cobblestone streets rise from the bazaar, winding past turreted old mansions until they reach the hilltop castle. Originally built as a utilitarian fortress, the castle was made elegant and refined by the Ottomans, and today it houses a collection of WWII tanks and an American fighter plane shot down during the war. The castle and the 600 well-preserved Ottoman-era mansions that surround it are a UNESCO World Heritage Site.
Gjirokaster and Libohove, Albania
Produced by Ervin Habazaj
Soar above Gjirokaster for a unique perspective on the Albanian hillside town's Ottoman-era historic structures.
Explore Gjirokaster with O.A.T. on:
Butrint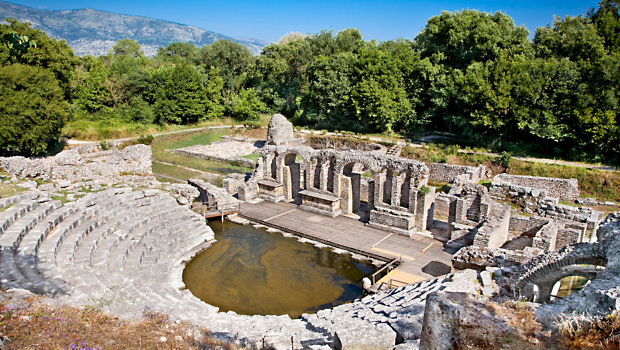 The past is present in Butrint, a sheltered hilltop settlement surrounded by a lagoon on the Straits of Corfu. Inhabited since at least the eighth century BC, the area was only abandoned two hundred years ago, when the land became marshy. Once a Greek outpost, it became a Roman colony, a Byzantine bishopric, a Venetian annex, and finally an Ottoman fortress—and the well-preserved ruins found here today span that entire 2,500-year history.
Deep in the forest, a 3rd-century-BC Greek theater once sat thousands of people. Further on, a beautiful stone mosaic floor lies hidden within the crumbling round walls of a 6th-century Christian baptistery. Atop the hill, where citizens once gathered in the acropolis, the visitors of today find a castle with views across the now-quiet city and the waterfront beyond.
Explore Butrint with O.A.T. on:
Dajti Ekspres Cable Car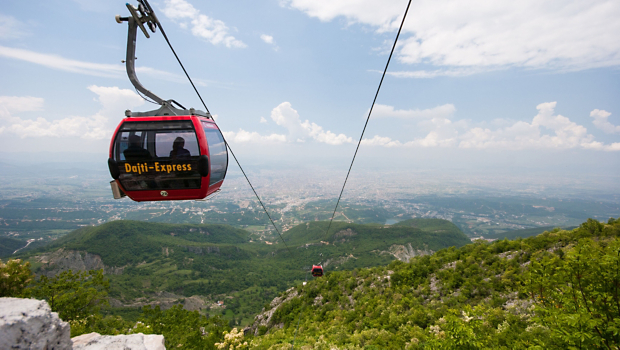 In Tirana, you're never far from the fresh air of a mountain escape, thanks to the Dajti Ekspres Cable Car. The longest cable car ride in the Balkans, the Austrian-built Dajti Ekspres whisks riders from the Tirana suburbs to the "balcony" of Mount Dajti in just 15 minutes. At the top, visitors can relax at a café or restaurant, or set out on a hike—the summit of Mount Dajti is a mile and a half away. Either way, the views are stunning, extending out over Tirana toward the Adriatic coast.
Ride the Dajti Ekspres Cable Car with O.A.T. on:
Featured Reading
Immerse yourself in Albania with this selection of articles, recipes, and more
ARTICLE
Travel back to antiquity to discover the legendary history of the Albanian city of Butrint.
ARTICLE
Can you guess what country is sprinkled with about 750,000 unused military bunkers—some decorated and some untouched?
Butrint—Albania's Time Machine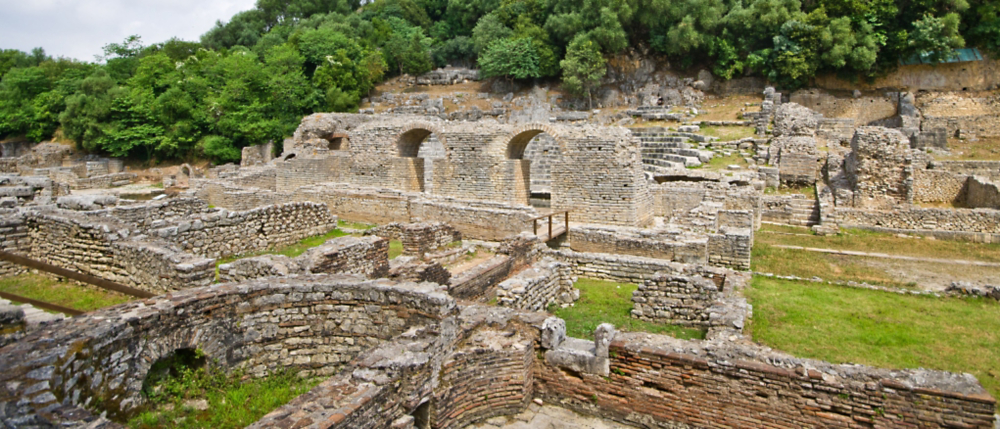 for O.A.T.
If you look at Butrint's ancient ruins as a core sample of Albania's history—indeed, of the entire history of the Mediterranean—you will quickly see how these remote grounds yield up timeless treasures from ages immemorial. The numerous archaeological digs in and around Bouthrōtios (as it was referred to by the ancient Greeks) have even exhumed evidence of human habitation from Neolithic times; tools of stone and flint long buried in silt and clay as the landscape shifted drastically over thousands of years.
The Importance of Connections
It is clear why this site was inhabited, coveted, and disputed over by so many people. Located on a hill in the middle of a peninsula, the site was a significant port on the way from Greece to Italy. It was valued for its safe anchorage and easy access to major bodies of water, inland cities and trade routes; for cultural and strategic purposes; and for the exchange of commercial goods and new ideas. The activity on the top of the hill was constant and ever-changing: from the small settlement of Stone Age fishermen into the occupancy of the tribal Chaonians, to the Greeks and the Romans, through Christianization, Byzantium, the coming of the Venetians, and the conquering Ottomans. Butrint is not only an important place of connection geographically but also in the flow of events called "history." Visiting the site is becoming a witness to, and a link in, a chain that reaches back to prehistory, through today and into the future.
A Legend is Born
Some currently believe that Buthrotum (Latin for Butrint) was derived from an Illyrian word rendered in Greek as bouthos, which is related to the Albanian buzë, meaning "shore." Others believe Buthrotum means "place with much cattle and grazing land." However, the giants of antiquity had other ideas, as evidenced in the interpretation of Buthrotum that suggests a bull sacrifice.
Not satisfied with the modest beginnings of the city, both the Greeks and the Romans had a little fun embellishing of Butrint's origin story. The Roman poet, Virgil, wrote that Butrint was founded by the hero Helenus—son of Troy's King Priam, twin brother of the prophetess Cassandra, brother to the hero Hector, and husband to Hector's widow Andromache. As Virgil's telling goes, while fleeing the destruction of Troy, Helenus landed on the island of Korkyra (modern Corfu) and decided to sacrifice an ox to the god Apollo. Wounded, the animal escaped and swam to the mainland, whence Helenus followed by boat. There he slaughtered the ox, and took it as a sign from Apollo that this was the site on which his "new Troy" should be built.
Both the Greek historian Dionysius of Halicarnassus and Virgil wrote that Aeneas (Trojan hero of The Aeneid fame) visited the city proceeding his flight from the destruction of Troy and preceding his legendary journey that would bring him to Italy and lead to the eventual founding of Rome.
Early Days
Not a lot of information is established about the earliest settlers of Butrint. From archaeological discoveries, we know that Neolithic settlements were both at the epicenter of the site and in the surrounding areas. When kingdoms began to form, Butrint was occupied by a tribe known as the Chaonians. The Chaonians were one of the dominant tribes of the kingdom of Epirus. Experts disagree if it was the twelfth century BC or the eighth, but at some point, Butrint came under Greek rule. The polis that proves this stands on top of the remains of the original hamlet.
The Classical Period to Late Antiquity
This vast period of time captures the imagination in a way nothing else does: shifting alliances, brutal wars, an unprecedented flourishing of art and knowledge. But it was still a time when gods and goddesses could be as vengeful as they were solicitous; involving themselves in human affairs; and whose divine disputes spilled down from on high, throwing the mortal world into chaos. Greek occupation brought with it expansion, stronger fortifications, a theatre, a gymnasium, processional roads, sacred fountains, temples and the cult of Asciepius, to whom a healing sanctuary surrounding a hot spring was dedicated.
Butrint became a Roman protectorate in 228 BC. In 48 BC, Julius Caesar harbored in the city during the civil war against Pompey. As a reward to his soldiers, he later established it as a colony for veterans. Augustus contributed to the city's prosperity further by investing heavily in its success. This is conspicuously also the point of time when court-sponsored poet Virgil created his story The Aeneid which gave special significance to the port both in Greek and Roman history and mythology.
It's not all Ancient History
With Christianization of the Roman Empire, Butrint became a bishopric. Shortly thereafter, the Byzantine Empire absorbed the municipality. A huge earthquake struck in AD 365 causing extensive structural damage from which it never fully recovered. Nonetheless, the dogged city rebuilt and in the following century it gained a massive baptistery and basilica, though the palace was deserted and transformed into workshops.
While the Roman Empire began to fall, the eastern half of the empire survived for another millennium. There were changes to tradition, art, literature and learning. Social change led to different ways people lived and built. A rising sea level contributed to the shrinking of Butrint, and perhaps even its ultimate abandonment. The city came under the rule of the Venetians in the 14th century and eventually it came into the hands of the Ottoman Empire in the late 18th century.
Remnants from all these time periods, evidence of the fascinating differences and developments in art, architecture, culture, and technology, are scattered around the hill and pristine woodlands of this spellbinding site. Especially with its new museum, a trip to Butrint is not just a discovery of an interesting space, it's an adventure through time.
Underground Oddities
from The Inside Scoop
Question: Which country's landscape is dotted with more than 750,000 abandoned military bunkers?
Answer: Albania
Stroll along any sandy beach, rolling hill, or city street in Albania, and you'll see them: weathered concrete bunkers swelling unnaturally from the earth. These dystopian domes—all 750,000 of them—are the handiwork of one man: Enver Hoxha, the Communist dictator who lorded over Albania for nearly 40 years.
Hoxha rose to power at the end of 1944 when much of Eastern Europe was reeling from World War II and embracing communist ideologies. From the onset, Hoxha adopted a hardline style of communism that made even his closest political allies squirm. Over time, his radical ideology drove him to break with more moderate communist governments—including the Soviet Union and China—and to be openly hostile toward neighboring countries, including Yugoslavia and Greece.
As Albania became more and more isolated, Hoxha began to fear that it would be invaded by its enemies and former allies, so he initiated a policy of "bunkerization" in 1967 so the nation would be prepared to defend itself. Over the next 19 years, domed concrete bunkers with narrow gun slits—most of them only large enough to hold one or two people—were installed across Albania … and as the countryside was militarized, so, too, were Albanian citizens. Children as young as 12 were taught how to station themselves in the nearest bunkers to fight off invaders, and local families were expected to maintain and defend the bunkers on their property. By the time the bunkerization project ended in 1986 (shortly after Hoxha's death), there was one bunker in Albania for every four people—and not a single one had ever been used.
Today, the bunkers are a fixture in Albanian life, and they're not going away anytime soon: The cost to remove them would overwhelm Albania's emerging free-marking economy, and so they sit—on sandy beaches, rolling hills, and city streets—reminding residents and visitors alike of Albania's paranoid political past and fueling the country's desire to leave it behind.
In the independent documentary below, you'll hear how locals perceive these curious domes—as well as the paranoid political atmosphere that gave rise to them. From the financial impact of national militarization to the creative ways the bunkers are being used today, find out what it's like to live among these martial mushrooms.