The Leader in Small Groups on the Road Less Traveled in Over 85 Countries
Dispatches
This quarterly magazine is filled with notes from the field that celebrate the adventurous spirit of our most experienced O.A.T. travelers. Hear from travelers themselves as they bring their trips to life through letters, stories, photos, and artwork. Other regular features include interviews with our top Trip Experience Leaders, holidays and festivals around the world, book reviews, recipes, and much more.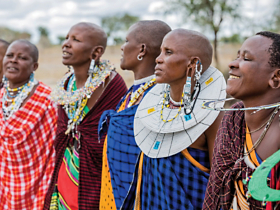 Winter 2020
(Vol. 13, no. 1)
Join traveler Donna Billings as she chronicles her unforgettable adventure across Tanzania and reflects on her many meaningful interactions with the local people there. Follow along with Dispatches Editor-in-Chief Laura Chavanne as she recalls her journey among the astonishing heights of Machu Picchu and Pisac and learns of the Incans' deep connection with the Earth, sun, and stars. And voyage on the Suez Canal and Nile River with travelers Gerald and Jean Hasser as they bear witness to Egypt's greatest marvels.
Past Issues
(Vol. 12, no. 4)
Follow O.A.T. writer Ashleigh Cali-Osgood to Northern Italy and savor the region's local specialties, discovering how food and drink paved the way for an adventure she'll never forget. Take a trip "down-under" with 3-time traveler Howard Jennings in a photo-driven story that captures the beaches of Bondi, the Great Barrier Reef, the Daintree Rain Forest, and much more. And O.A.T. writer David Valdes chronicles the life of Croatian-born sculptor, Ivan Meštrović, in a fascinating story of cultural identity.
(Vol. 12, no. 3)
Get some expert tips from 9-time traveler and photographer Floyd Schleyhahn, who shares his favorite shots from O.A.T.'s Crossroads of the Adriatic adventure. Follow 14-time traveler Judy Maben through The Stans of Central Asia, from the "creepy fascinating" city of Ashgabat, Turkmenistan to stunning Registan Square in Samarkand, Uzbekistan. And hear personal insights from staff writer Lindsay Slattery, who recently traveled on our Allure of the Adriatic Small Ship Adventure.
(Vol. 12, no. 2)
Follow O.A.T. writer Paige Solomon to Thailand and Cambodia where you'll embark on a solo adventure to Angkor Wat and meet the "tarantula woman." Join 14-time traveler Stephen Cutright on a journey back in time in the captivating story of his father's time as a topographer on Machu Picchu. And change plans with 7-time traveler Pamela Keene on the adventure she always dreamed of to Egypt, Israel, and Jordan.
(Vol. 12, no. 1)
Hear from Editor-in-Chief Laura Chavanne as she recounts the early days of her recent adventure in Nepal, including a flightseeing excursion in the Himalayas and trekking in the Annapurna foothills. Set off for the Baltics with 14-time traveler, Judy Maben, and uncover the region's tumultuous history. And join 14-time traveler and photographer Kyle Adler as he shares his recent journey along the Panama Canal—all through the lens of his beloved camera. 
(Vol. 11, no. 3)
Experience Morocco with O.A.T. writer Zack Gross during the observation of Ramadan and discover the range of religious devotion he witnessed on his adventure. Follow along on 16-time traveler Diana White's solo journey through Patagonia and take in the otherworldly-like landscapes that she explored. And find out if a serious fear of heights, a weak ankle, and the threat of altitude sickness will prevent O.A.T. writer Megan Mullin from exploring the ancient Incan city of Machu Picchu.
(Vol. 11, no. 2)
Writer David Valdes Greenwood explores the surprisingly far-reaching Arab influence on Sicily, from citrus groves to the cannoli. Twelve-time traveler Steve Cutright braves the Himalayan altitude to trek to Bhutan's Tiger's Nest Monastery—and finds it well worth the effort. And staff writer Sarah West, whose copy helped bring our new Suez Canal Crossing Small Ship Adventure to life, finally experienced the trip in person—and returned with a deep sense of gratitude.
(Vol. 11, no. 1)
O.A.T. writer David Valdes Greenwood embarks on an Icelandic adventure with his daughter, whose two must-see sites included a geyser and wild horses. O.A.T. Copy Director Meghan Colloton heard ill-fated tales of travelers before her who couldn't set foot on Cape Horn due to uncooperative weather—find out if she got to step ashore. And writer Pamela Schweppe sails you to Antarctica to discover 60 years of scientific research that have taken place on the icy continent.
(Vol. 10, no. 4)
Editor-in-Chief Laura Chavanne brings you to India on a solo adventure, after which she discovers a sense of gratitude for the ways India has fused itself into her life. Writer Andrea Calabretta lets you discover the magnificent sights and smells of Morocco. And 2-time traveler and freelance writer Jackie Sheckler Finch sets sail on the Dalmatian Coast and Greece, transporting you right into her adventure.
(Vol. 10, no. 3)
11-time traveler Judy M. guides you through all of the "beautifully strange" elements of Japan that she encountered during her travels. Travel photographer and 10-time traveler Kyle A. vividly illustrates his Patagonian adventure with stunning photographs and memories from his trip. And writer Al Gentile takes you to the Outer Hebrides, the set of islands off the west coast of Scotland.
View Issue
(Vol. 10, no. 2)
Join O.A.T. staff writer Erin Fahy on her solo adventure through the Balkans, where she experienced the storied past of the region in a way no history text could ever teach her. Cross the Strait of Messina with 26-time traveler Henry Rilling as he relives his most memorable moments from his recent adventure to Sicily and Calabria. And explore Gdansk, Poland's city-by-the-sea and major port.
View Issue
(Vol. 10, no. 1)
Embark on an avian adventure as Editor-in-Chief Laura Chavanne recounts bird encounters from her travels … read 7-time traveler Wanda L.'s account of the Serengeti's Wildebeest Migration … and trace the history and progress made on the Suez Canal in Egypt from 1850 B.C to 2015.
View Issue
(Vol. 9, no. 4)
Join O.A.T. staff writer John Bregoli as he navigates the real-life "Shangri La" of Bhutan … find out why 9-time traveler Howard A. will never be the same after his trip to India … and discover Trieste, one of Europe's best kept secrets.
View Issue
(Vol. 9, no. 3)
Discover how Dispatches Editor-in-Chief Laura Chavanne's solo journey to Vietnam changed her views on travel. Read 5-time traveler Hugh Beykirch's first-hand account of his transformative month exploring Dubai, India, and Bhutan. And delve into the centuries of crusades and conspiracies of the Knights of Malta.
View Issue
(Vol. 9, no. 2)
Navigate the labyrinth of Japan's etiquette and customs with writer Catherine Groux. Board a VW bus for New Zealand's Milford Sound with writer Jenna Thomas. And learn how Grand Circle and O.A.T. became the facilitator of chance reunions around the world.
View Issue
(Vol. 9, no. 1)
Find out what happens when writer and Vietnam War veteran Geof Childs returns to area he was once stationed in decades earlier. Discover the history, artwork, and cathedrals of Sicily with 15-time traveler Diana White. And learn why Lonely Planet named Montenegro's Bay of Kotor the #1 travel destination in 2016.
View Issue
You're receiving this message because your web browser
is no longer supported
We recommend upgrading your browser—simply click the button below and follow the instructions that will appear. Updating will allow you to accept Terms and Conditions, make online payments, read our itineraries, and view Dates and Prices.
To get the best experience on our website, please consider using:
Safari (for Mac or iPad Devices)
Update Browser