Newly built in January of 2018, the 210 passenger the M/V Ventus Australis is an expedition ship designed exclusively for exploring the remote tip of South America, including Patagonia and the Chilean fjords. On board, our group of 20-25 (average of 22) O.A.T. travelers will mingle with other adventurers while absorbing the panoramas afforded by the viewing deck. We'll enjoy regional cuisine and wines, plus complimentary drinks. Our cabins feature low beds, a safe, private bath with shower, and large panoramic windows.
This ship is featured on this popular adventure:
Shipboard Features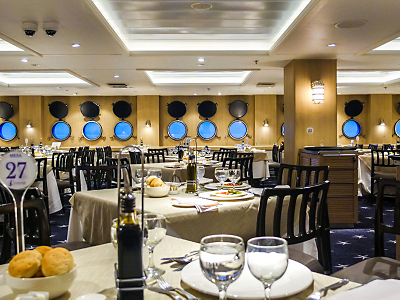 Dining areas. Savor regionally-inspired cuisine in the single-seating main dining area at tables reserved for our small group only. Enjoy complimentary beer and wine at meals.
Indoor common areas. Relax in three lounges, peruse the ship's onboard library, or visit the small gift shop.
Outdoor common areas. Take in the breathtaking views from the ship's large viewing deck, or from your cabin's large, panoramic window.
Zodiac crafts. Embark on Zodiacs from the ship for daily exploration of the glaciers, fjords, and wildlife in this remote corner of the world.
Cabin Features
Each cabin is 177-210 sq. ft. in size
All cabins have panoramic windows
In-cabin amenities: Low, moveable beds and safe
In-bathroom amenities: Private shower
Ship and Crew Information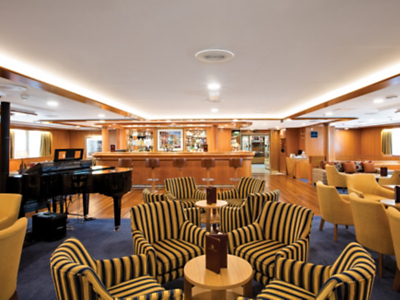 Length: 292 feet
Beam: 48 feet
Draft: 11 feet
Built: 2010
Cabins: 100 cabins, 177-210 sq. ft. in size with moveable beds
Passenger Capacity: 210
Group Size: 20-25 travelers (average of 22), with 1 Trip Experience Leader
Stairs, no elevator