The Leader in Solo Friendly Travel
Freedom. Independent. Liberating. Alive. These are a just a few of the words solo travelers use to describe what it feels like to travel on their own. When you do, your adventure becomes your own: You don't have to worry about accommodating another person's schedule, interests, or needs. You can decide what you want to do when you want to do it. And traveling solo doesn't just mean taking a trip on your own—perhaps you want to travel with your girlfriend, sister, or daughter. Whether you're traveling independently for the first time, or you're already a seasoned solo traveler, O.A.T. will take care of all of the details—making it affordable, easy, and more enjoyable for you to see the world on your own.
Video: A Solo O.A.T. Traveler in Peru
---
Why travel solo with O.A.T.?
You'll never pay more
Many travel companies charge more for traveling on your own. O.A.T. doesn't believe our solo travelers should have to pay a premium to explore the world, so we offer FREE Single Supplements on all O.A.T. adventures and pre- and post-trip extensions and FREE or low-cost Single Supplements on our Small Ship Adventures.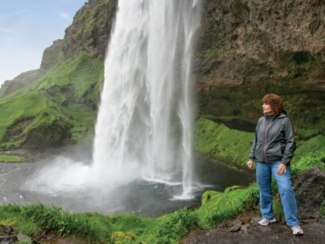 Your comfort—and security—is our #1 concern
With 36 regional offices around the world, you can rest assured that your safety and security is our first priority. Our regional associates have helped plan every detail of your itinerary—so they know your adventure inside and out. Plus, they will be ready to help you and your group at a moment's notice.
Travel with a local Trip Leader or Program Director—every step of the way
You'll have a dedicated, expert Trip Leader or Program Director by your side throughout your entire trip. He or she will guide you through the streets of your destination, provide suggestions on where to explore or eat, and translate the local dialect.
You'll travel amongst friends—two out of five travelers go solo
Our small groups are the ideal size for fostering camaraderie with your fellow travelers. Two out of five O.A.T. travelers explore independently—and 85% of our solo travelers are women—so you are sure to forge special bonds as you experience unforgettable moments together. Plus, you can depend on your Trip Leader's and Program Director's resourcefulness and skills in group dynamics to help bring like-minded travelers together.
Solo traveler stories
Recharging My Batteries in India
Kathleen Brose, 6-time traveler from Seattle, Washington
Discovery and Friendship in Morocco
Patricia Calzi, 20-time traveler from Brighton, Colorado
Best in Package Tours: Solo Travel
Kiplinger's Personal Finance 2016 "Best List"
Frequently Asked Questions
Can I connect with travelers before my trip?
Yes. Please visit our active online "Community" section of our website to connect with other travelers within our Travel Forum, and join us on Facebook.
What kind of support will I receive when I'm on my trip?
You'll be in the hands of our dedicated, local Trip Leaders and Program Directors, who strive to make all of our travelers—but particularly our solo travelers—feel welcome, comfortable, and included. Whether you need help ordering a meal at a local restaurant or wish to pursue special interests, your Trip Leader or Program Director will be happy to assist you.
Will I have a lot of free time for myself?
Each O.A.T. itinerary is different and includes a mix of included tours, activities, and free time. You have the freedom to make your trip your own—whether that means participating in all activities and optional tours with your fellow travelers, or spending time exploring a destination independently. Your Trip Leader or Program Director will be available to offer suggestions based on your interests, as well as provide recommendations on restaurants, museums, local shops, and more.
What should I expect when traveling solo with O.A.T.?
Whether you purchase airfare through O.A.T. or arrange your own flight and our airport transfer, you will be met upon arrival at the airport by your Trip Leader or an O.A.T. representative who will help transport you to the hotel. For included meals, the group will dine together. You can choose to spend as much or as little time as you want with the group. Our solo travelers share that they always feel included in the small group and have made lifelong friends on their adventures with us.
Call us to reserve your next adventure
1-800-955-1925