***Forgot Your Username?
***If you have forgotten your username, please provide your email address in the box below. We'll send you an email with your requested username. If you are having trouble, please call us at 1-800-221-0814.......
Email Sent!!
***You'll receive an email in a few minutes. Please check this email to find your requested username.
If you do not receive an email or you are having trouble logging into My Account, please call us at 1-800-221-0814.
Peru: Lima, Cuzco, Machu Picchu • Ecuador: Galápagos, Quito
16 Days from only $5995 including international airfare
FROM
$5995
16 DAYS
$375/DAY
including international airfare
15 DAYS FROM $5095 Small Ship Adventure Only
Post-trip: Ecuador: The Andes & the Devil's Nose Train
5 nights from: $1195 Single Supplement: FREE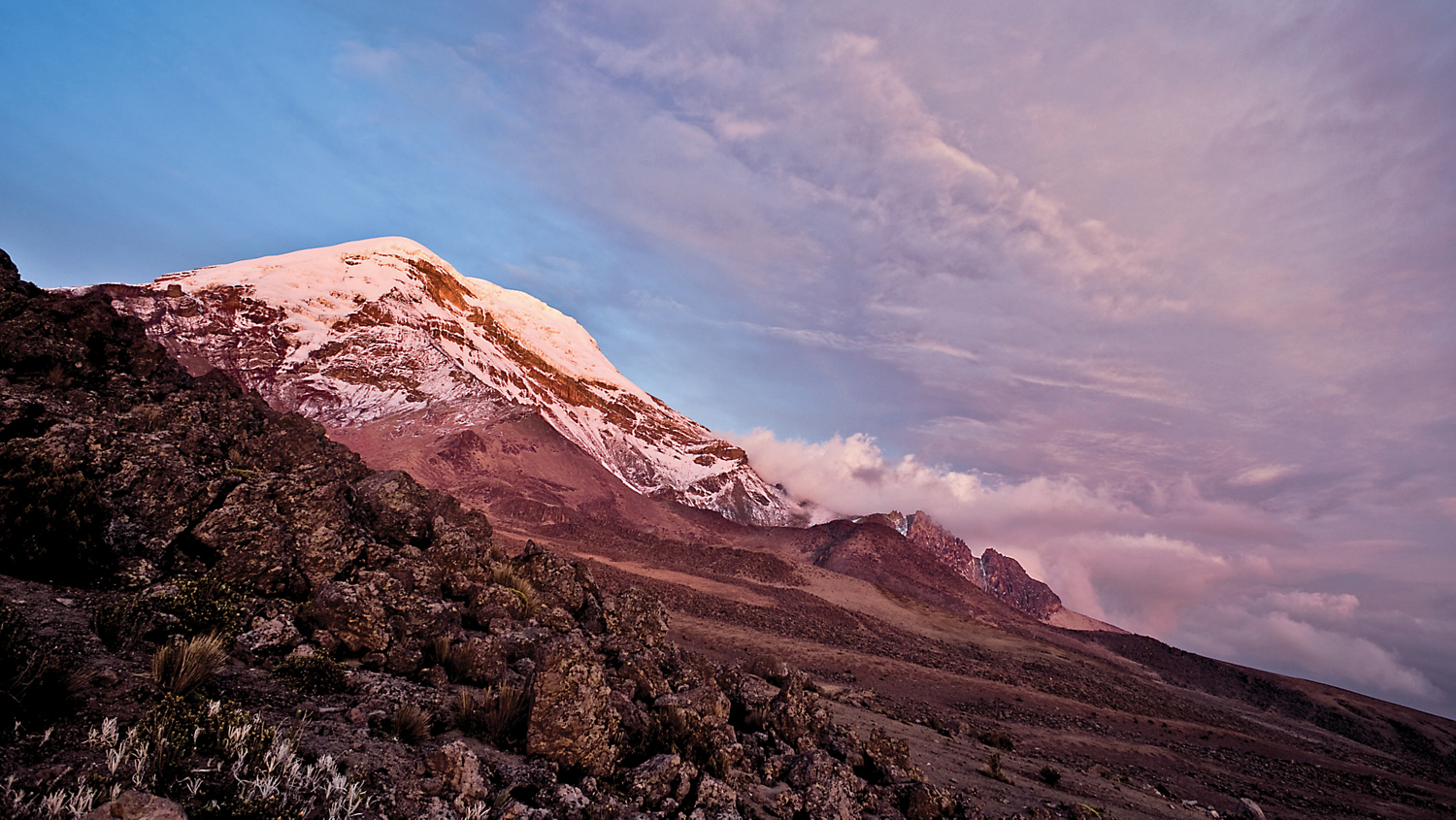 Experience the Andean side of Ecuador, a region of snowcapped volcanoes, distinctive traditional cultures, and a dramatic rail route through the mountains. From traditional markets in the countryside to the city of Cuenca with its Spanish colonial heritage, you'll meet the people who call this scenic region home. Join us to discover more of Ecuador's cultural and natural diversity.
It's Included:

Airfare from Cuenca to Quito
Accommodations for 1 night in Riobamba, 3 nights in Cuenca, and 1 night in Quito
14 meals—5 breakfasts, 5 lunches, 4 dinners
13 small group activities
Services of a local O.A.T. Trip Leader
Gratuities for local guides, drivers, and luggage porters
All transfers
Day 1

Overland to Riobamba

Having concluded our Machu Picchu & the Galápagos adventure, today we depart Quito for Riobamba, following the Pan-American Highway along the Avenue of the Volcanoes. Here we'll see large and small farms, called haciendas, that are irrigated by rushing rivers descending from snowcapped Andean peaks. This part of Ecuador is home to more people of pure Incan and pre-Incan descent than any other part of the country.

We stop along the way to discover the bustling indigenous markets for which this region is famous. Some specialize in traditional crafts like items made from wool and leather; others offer the local crops or flowers. All give us the chance to encounter local people and truly experience the culture and the landscape of this Andean region. We also visit a greenhouse where roses are cultivated (unless it is a weekend or holiday, when the greenhouse is closed) just before stopping for an included lunch.

In the afternoon we arrive in Riobamba, a city whose pastel-colored buildings and cobbled streets linking elegant squares give it a colonial charm. The towering Chimborazo Volcano, Ecuador's highest mountain, is visible from the city on clear days. We enjoy dinner at our Riobamba hotel this evening.

Day 2

Devil's Nose Train • Cuenca

This morning, we visit Cathedral Square, the central plaza in Riobamba. Then we take a ride on the Devil's Nose (Nariz del Diablo in Spanish) section of Ecuador's Trans-Andean Railway, where the tracks make switchbacks to work their way through steep mountain terrain. This section of the railway was a feat of engineering originally built to solve the problem of running trains from the high-altitude capital of Quito to Guayaquil on Ecuador's Pacific Coast. Over the years, other parts of the Trans-Andean Railroad have fallen into disuse, but the tracks along the steep Devil's Nose section continue to provide a thrilling ride.

Following the train ride, we travel by motorcoach to Cuenca. We'll have a boxed lunch en route. Dinner is included this evening at a local restaurant.

After breakfast at our hotel, we discover Cuenca and its traditions on a tour of the city, which is 8,200 feet above sea level. Cuenca has been recognized as is a UNESCO World Heritage Site because of its well-preserved Spanish Colonial architecture. The skyline is dotted with church domes, and four rivers wind through the charming cityscape of gardens, cobblestone streets, and ironwork balconies. We'll explore the Abdon Calderon Park, a flower market, the New Cathedral (begun in 1885), and the Calle Larga—a historic street—in this bustling city of more than 500,000 people. We'll also take in the panoramic view of Cuenca from Turi Hill and visit an orchid farm. Cuenca is famous for its flowers and the farm we visit specializes in the cultivation, reproduction and sale of many kinds of orchids.

We'll enjoy an included lunch, and then in mid-afternoon take a short ride to San Pedro de los Olivos, where we visit a workshop to see the hand-woven shawls called macanas being made. We return to our hotel in Cuenca afterwards. Dinner is on your own this evening.

Day 4

Visit Cajas National Park

After breakfast, we ride from Cuenca into the mountains to visit Cajas National Park (Parque Nacional Cajas). Here we experience the Andean páramo—a high-altitude environment of low-growing plants, the South American version of alpine tundra. Elevations in the park range from 10,170 feet to its high point, the top of the mountain named Cerro Arquitectos, at 14,600 feet. The park offers vistas of pristine mountain scenery including 270 glacially formed lakes and lagoons, and is home to birds and wildlife characteristic of the heights of the Andes.

We'll have lunch at a local restaurant and then visit a factory where "Panama" hats are made by hand. Worn all over Latin America, these hats are a traditional product of Ecuador. We return to our hotel in Cuenca later this afternoon. Dinner is included at a local restaurant this evening.

Day 5

Transfer to Guayaquil • Flight to Quito

This morning, we'll depart for our overland transfer to Guayaquil, which will take us over the majestic Andes Mountains. On the way, we'll stop at the highest point of the Biosphere Reserve at Cajas National Park. The park is protected by UNESCO and is home to vast stretches of evergreen cloud forests and hundreds of lakes. We'll then stop at a family-run farm that grows cacao (cocoa plants), mango, and citrus. We'll learn about the cultivation process and discover many of the fresh fruits that the farm grows. We'll enjoy lunch on the farm before departing for Guayaquil.

We'll arrive at the Guayaquil airport for our flight this evening into Quito. Dinner this evening is at our hotel.

Day 6

Quito • Return to U.S.

Today, we'll visit the Inti Nan Museum, located on the equator. Inti Nan is the Quechua phrase for "Path of the Sun," and the museum contains replicas of indigenous sun temples and other interesting artifacts. You'll have a free afternoon to make discoveries on your own in Quito. This evening, you'll transfer to the airport for your flight home to the U.S.
Please note: This extension may not be available on all departures.