Forgot Your Username
If you have forgotten your username, please provide your email address in the box below. We'll send you an email with your requested username. If you are having trouble, please call us toll-free at 1-800-221-0814.
Email Sent
You'll receive an email in a few minutes. Please check this email to find your requested username.
If you do not receive an email or you are having trouble logging into My Account, please call us at 1-800-221-0814.
Greece: Thessaloniki, Meteora, Zagoria • Albania: Gjirokaster, Tirana • Macedonia: Ohrid, Skopje
18 Days from only $4595 including international airfare
FROM
$4595
18 DAYS
$256/DAY
including international airfare
17 DAYS FROM $3695 Small Group Adventure Only
Itinerary Overview
Journey into the past to explore legendary lands once traversed by the Macedonian king Alexander the Great. Visit ancient Thessaloniki, whose historic streets slope down to the Gulf of Thermaikos, witness the breathtaking clifftop Monasteries of Meteora, and explore the wilds of Zagoria, home to ancient stone bridges and traditional Balkan mountain villages. Cross into undiscovered Albania to explore the Ottoman-era town of Gjirokaster, and Tirana, whose Communist-era trappings are fading into memory. And discover the Republic of Macedonia, a small Balkan nation rich in Greek, Roman, and Ottoman history, including lakeside Ohrid and the Macedonian capital of Skopje. Discover some of Europe's most scenic and historic regions while walking in the footsteps of a man who changed the face of the ancient world.
Make It Your Adventure
Personalize your trip to meet your individual needs, from preferred flights and air routing, to "breaking away" to spend more time in a destination.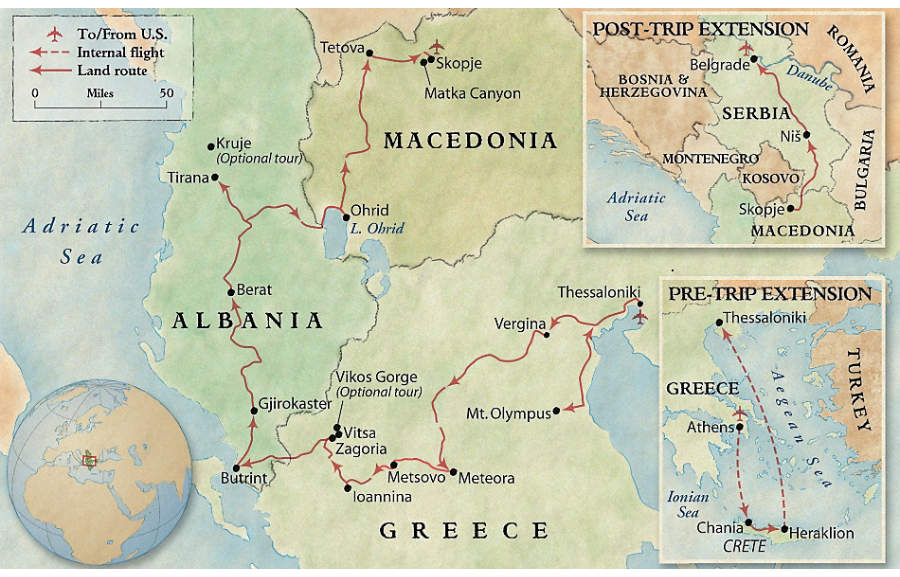 Day-to-Day Itinerary
PRE-TRIP EXTENSION:

NEW Athens & Crete

6 nights from only $1795

Extend your discoveries by exploring Athens and Crete. Visit iconic sites like the Acropolis in Athens, and explore Crete, Greece's largest and most populated island, whose roots date back to one of Europe's earliest documented civilization: the Minoans.

View Extension Itinerary
Depart the U.S. today for your overnight flight to Thessaloniki, Greece.

Day 2

Arrive Thessaloniki, Greece

Upon arrival in Thessaloniki, an O.A.T. representative will meet you at the airport. You'll transfer to our hotel, and meet your Trip Leader and fellow travelers, including those who took our optional pre-trip extension to Athens & Crete. Later, we'll have a brief orientation and Welcome Drink before dinner on your own this evening.

Day 3

Explore Thessaloniki

Today, we'll explore Thessaloniki, Greece's second largest city and the capital of the northern Greek region of Macedonia (not to be confused with the neighboring Republic of Macedonia). First, we'll board a bus to visit historic Ano Poli (Upper Town), the only section of the city that managed to escape the devastating Great Thessaloniki Fire of 1917. We'll wander through Ano Poli to admire the Byzantine churches, traditional pastel-painted homes, and restaurants that cater to the locals.

Then, we'll drive back to the city center where we'll spend some time exploring before stopping at two of Thessaloniki's bustling traditional markets—the city's main street market, Modiano; and Kapani, a 200-year-old market perched on a hilltop, with local shops and tavernas. After time for lunch on our own, we'll visit the Museum of Byzantine Culture to view its extensive collections of sculpture, frescoes, mosaics, and icons from the Byzantine period.

Later this afternoon, we'll enjoy a discussion on contemporary Greek politics and the economy, followed by a Welcome Drink and Welcome Dinner at a local restaurant.

Day 4

Thessaloniki • Mount Olympus • Dion

After breakfast, we'll set off by coach to Mount Olympus, mythical home of the ancient Greek gods. We'll enjoy a hike near the foot of Mount Olympus at the site of Dion, the sacred city of the Macedonians, and the location of the Olympian Games that were held in honor of Zeus and the Muses. It was here that Alexander the Great made sacrifices to the gods before setting off to conquer the ancient world. After taking in the natural beauty of our surroundings, we'll meet our coach and drive to the village of Litohoro, where we'll enjoy an included lunch before returning to Thessaloniki and the rest of the afternoon at leisure.

Dinner is on your own this evening.

Day 5

Thessaloniki • Royal Tombs of Vergina • Meteora

After breakfast, we begin our journey to Meteora, stopping en route at the village of Vergina, home to Aigai, the ancient capital of the Macedonian kings. Discovered beneath a man-made hill almost 40 years ago by Greek archaeologist Manolis Andronikos, the sacred site contains the fourth-century BC tombs of King Philip II—father of Alexander the Great—and other ancient royals, along with numerous items of daily life from the Macedonian era, housed in an underground museum.

After an included lunch, we'll continue our drive to Meteora, a UNESCO World Heritage Site known for its unique geology. Upon arrival, we'll check into our hotel followed by dinner at a local restaurant featuring a syrtaki dance performance—with a chance for you to learn and try out some of the steps made famous in the movie Zorba the Greek.

Day 6

Explore Monasteries of Meteora

This morning, we'll witness the towering rock formations of the region, on top of which are built the famous monasteries of Meteora, some of which date back to the early 14th century. The word meteora actually means "suspended in the air," and these astonishing retreats are indeed perched atop pinnacles that rise about 1,000 feet from the valley floor. For centuries, the monasteries served as Christian redoubts while the Ottoman Turks ruled Greece, and this morning we'll visit two of these historic structures, which will be dependent on local restrictions at the time. Then, after lunch on your own in Kalambaka Town, we'll visit a nearby icon-painting workshop, followed by leisure time to pursue individual discoveries.

This evening, we'll regroup to head out to a local restaurant for dinner featuring an accompaniment of Greek music.

Day 7

Meteora • Visit Metsovo village • Explore Ioannina • Zagoria

After breakfast, we set off to Metsovo, a small village nestled in the Pindus Mountains renowned for its stone mansions, cobbled streets, and longstanding cultural and craft traditions. We'll explore Metsovo's picturesque town square and visit the Tositsa Museum, the restored 17th-century stone and timber manor home of generations of the Tositsa family—famous benefactors of Metsovo. We'll also glimpse centuries-old ways of living when we meet with villagers engaged in local crafts and activities, and watch a dance performance featuring traditional costumes. Then, we'll visit a local taverna where we'll first learn to prepare regional specialties like handmade pies and meatballs simmered in leeks—and then get to dine on the results.

After lunch, our discoveries continue in Ioannina, a regional capital situated on the western shores of Lake Pamvotis, renowned throughout Greece for its feta cheese production and sweet baklava. Ioannina was founded by the Byzantine Emperor Justinian in the sixth century AD, and was often referred to as the "Metropolis of knowledge" during Byzantine times. We'll set off on a walking tour to explore several of the architectural highlights of this ancient lakeside city before arriving at our hotel in one of Zagoria's mountain villages.

We'll enjoy an included dinner together this evening.

Day 8

Explore Zagoria • Optional Vikos Gorge Rafting

This morning, we'll journey into the past to explore Zagoria, a magical region in the Pindus Mountains dotted with hidden villages linked by mountain roads and arched stone bridges. We'll stop in Vitsa, a centuries-old village perched on a mountain slope near the Vikos Gorge. About 12 miles long and a depth of some 3,000 feet in spots, Guinness lists Vikos as the world's deepest canyon. Travelers can elect to hike down the famous Vitsa stairs (which date from the 17th century), down to the tiny village of Kapesovo. After lunch at a local restaurant, we'll return to our hotel, with the rest of the afternoon at leisure.

Or, you may join our optional Vikos Gorge Rafting excursion, which features a raft ride along the crystal-clear waters of the Voidomatis River with experienced local guides.

Dinner is included this evening at our hotel.

Day 9

Journey to Albania • Explore Butrint • Gjirokaster

After breakfast, we leave Greece and cross the border into Albania. We'll enjoy an included seaside lunch before embarking on an excursion to explore the stunning ruins of Butrint, a UNESCO World Heritage Site. Inhabited since prehistoric times, Butrint was the site of a Greek colony, a Roman city, and a bishopric of the Byzantine Empire. Following a period of prosperity under the Byzantines, then a brief occupation by the Venetians, the city was abandoned in the late Middle Ages after marshes formed in the area. We'll explore the archaeological site on foot, marveling at the repository of ruins representing each period in the ancient city's development.

Later, we'll check in to our hotel in Gjirokaster. Dinner this evening is at a local restaurant.

Day 10

Explore Gjirokaster • Visit a traditional Albanian village

After breakfast, we explore the southern Albanian hillside town of Gjirokaster, whose collection of Ottoman-era mansions is listed by UNESCO as a World Heritage Site. Birthplace of Albanian dictator Enver Hoxha, Gjirokaster is nicknamed the "City of Stone" for the distinctive stone roofs adorning its old homes. Our morning discoveries feature a walk through the steep cobblestone streets of the Ottoman bazaar whose origins go back to the 17th century.

Then, we'll visit the small village of Dhoksat, where we'll be treated to a community lunch with members of a local family. After lunch, we'll return to Gjirokaster where you can spend the rest of the afternoon pursuing independent discoveries. Dinner is on your own this evening.

Day 11

Journey to Tirana • Excursion to Berat

After breakfast, we begin our journey to Tirana, with a stop along the way through Albania's wine-producing region to witness the stunning collection of Ottoman-style homes of Berat, a UNESCO World Heritage Site. Our discoveries will include Berat Castle, a 2,500-year old fortress and "living castle" situated high above the Osum River, where we'll also enjoy an included lunch, followed by a short walk around the castle.

We'll arrive in Tirana early this evening, and enjoy an included dinner at a local restaurant in Blloku, or the Block, site of the former dictator Enver Hoxha's villa—once forbidden to the public, the Block is now one of the city's most vibrant districts.

Day 12

Explore Tirana • Optional Dajti Mountain & Bunk'Art Museum tour

After breakfast, we'll gain further insights into Albania during a discussion with a local expert. Then, we visit the National History Museum to learn about Albania's turbulent history before and after World War II, along with the country's post-war difficulties under a Communist regime. The city was founded in 1614 by Sulejman Pasha, who was drawn here by its location at the crossroads of caravan routes, and flourished until the 19th century, when the death of the founder's grand-nephew, Kaplan Pasha, left the city under the control of a megalomaniac, Esat Toptani. It was not until Tirana was named the capital of Albania in 1920 that it began to thrive again. Today, mud-brick houses and cobbled alleyways have largely been replaced by modern architecture and wide paved streets, hills have been reforested and inviting parks created, and the gray façades that characterized the Communist regime now exude a jumble of bright colors.

Then, the remainder of the day is at leisure, with lunch and dinner on your own. Or, you can join our optional Dajti Mountain & Bunk'Art Museum tour this afternoon, with lunch included.

Please Note: This optional tour is not available on Tuesdays. When unavailable, we will offer a replacement optional tour to the hilltop town of Kruja.

Day 13

Journey to Ohrid, Macedonia

After breakfast, we'll depart Tirana and make our way to Ohrid, the picturesque hillside city set along the shores of Lake Ohrid in the Republic of Macedonia. Upon arrival in Ohrid, we'll have a brief orientation walk followed by lunch at a local restaurant. Then, we'll check into our hotel, and you'll have the remainder of the afternoon at leisure. Dinner is on your own this evening.

Day 14

Explore Ohrid • Boat ride to Bay of the Bones "Museum on Water"

Combining historical heritage with natural beauty, the town of Ohrid is Macedonia's crown jewel. Set on the shores of Lake Ohrid, the lakeside town is one of Europe's oldest human settlements—and the entire Ohrid region is listed by UNESCO as a Natural and Cultural Heritage Site. We'll enjoy a walking tour along the narrow streets of Ohrid's compact Old Town, a blend of beautiful old churches, modern restaurants, and vibrant cafés. We'll also visit a workshop specializing in world-renowned Ohrid pearls, created through a secret process passed down by just a few local families over several generations. Then, we'll take a boat ride along the lake's azure waters to the Bay of the Bones and its "Museum on Water," an open-air reconstruction of a Neolithic lake dwelling based on artifacts found on the surrounding lake bed.

After lunch on our own, the rest of the day is at leisure to pursue individual interests in Ohrid. Or you may wish to simply relax along the lakeside promenade to take in the region's natural beauty. This evening, we'll gather together and head out to a local restaurant for an included dinner featuring a performance of Macedonian folk music.

Day 15

Ohrid • A Day in the Life

FOUNDATION VISIT

After breakfast, we head out to explore Elshani, a traditional Macedonian village nestled between the mountains and Lake Ohrid. We'll meet with some villagers in their homes as they prepare a meal of traditional Macedonian food. While our lunch is in the oven, we'll board donkeys (or remain on foot) and head to the local spring or in search of firewood to get a true feel for the local traditions that have endured for centuries in this tranquil region. We'll also visit a local school (when in session), sponsored in part by Grand Circle Foundation, where we can interact with the teachers and mingle with the schoolchildren. Afterward, we'll meet back in the village square for a Community-Hosted Lunch with some of the village families that have welcomed us into their homes.

After lunch, we return to Ohrid for the remainder of the afternoon at leisure. Dinner is on your own this evening.

Day 16

Depart for Skopje • Discover Tetovo • Boat ride in Matka Canyon

After breakfast, we depart for Skopje. Along the way, we'll enjoy a stop in Tetovo, where we'll visit the city's unique Šarena Džamija, an ancient mosque decorated with bright floral paintings. Then, we'll drive to Matka Canyon, a deep mountain gorge surrounding a man-made lake formed by the damming of the River Treska. After lunch at a local restaurant, we'll view some of the region's stunning scenery during a boat ride along the river canyon, and learn about the region's ecosystem at one of the many natural caves found here.

Upon our arrival in Skopje, we'll check in to our hotel, enjoy a brief orientation walk to familiarize ourselves with the area, and then head out for an included dinner at a local restaurant.

After breakfast, we'll explore several highlights of the Macedonian capital on a walking tour, including the rich repository of historical and cultural heritage at the Archaeological Museum and the old Turkish bazaar.

After lunch on your own, the balance of the afternoon is set aside for individual pursuits in Skopje. This evening, we'll gather together to celebrate our discoveries during a festive Farewell Dinner at a local restaurant featuring music.

Day 18

Skopje • Return to U.S. or begin post-trip extension

After breakfast, we transfer to the airport for our return flight home, or to begin our post-trip extension to Serbia: Nis & Belgrade.
POST-TRIP EXTENSION:

Serbia: Nis & Belgrade

6 nights from only $1895

Journey into the heart of the Balkans to discover the rich culture and hidden history of Serbia, from its laid-back university town of Nis—birthplace of the Roman emperor Constantine—to its vibrant capital of Belgrade, whose bright and bustling pedestrian boulevards have long-shaken the dark days of Serbia's past.

View Extension Itinerary