***Forgot Your Username?
***If you have forgotten your username, please provide your email address in the box below. We'll send you an email with your requested username. If you are having trouble, please call us at 1-800-221-0814.......
Email Sent!!
***You'll receive an email in a few minutes. Please check this email to find your requested username.
If you do not receive an email or you are having trouble logging into My Account, please call us at 1-800-221-0814.
Greece: Thessaloniki, Meteora, Zagoria • Albania: Gjirokaster, Tirana • Macedonia: Ohrid, Skopje
18 Days from only $4595 including international airfare
FROM
$4595
18 DAYS
$256/DAY
including international airfare
17 DAYS FROM $3695 Small Group Adventure Only
Post-trip: Serbia: Nis & Belgrade
6 nights from: $1895 Single Supplement: FREE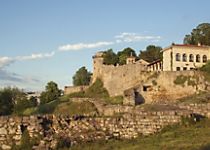 Journey into the heart of the Balkans to discover the rich culture and hidden history of Serbia, from its laid-back university town of Nis—birthplace of the Roman emperor Constantine—to its vibrant capital of Belgrade, whose bright and bustling pedestrian boulevards have long-shaken the dark days of Serbia's past.
It's Included:

Accommodations for 2 nights in Nis and 4 nights in Belgrade
13 meals—6 breakfasts, 4 lunches, 3 dinners
9 small group activities
Services of an English-speaking O.A.T. Trip Leader
Gratuities for local guides, drivers, and luggage porters
All transfers
Day 1

Transfer to Nis, Serbia

This morning we cross the border from Macedonia to Serbia. Upon arrival in Nis, we enjoy an included lunch in a local restaurant. Then, we'll check in to our hotel and have an orientation briefing and some time at leisure. Dinner is on your own tonight.

Day 2

Explore Nis • Visit Nis Fortress & Red Cross Concentration Camp

After breakfast, we'll set off on a walking tour of Serbia's third largest city. Settled in pre-Roman times, the university town of Nis is also the birthplace of Constantine, the Roman emperor responsible for converting the entire Roman Empire to Christianity.

To begin, we'll visit Nis Fortress. The symbol of the city, Nis Fortress is a Turkish-era fortification complex built in the early 18th century over Roman and medieval foundations on the bank of the Nisava River. Then, we learn Serbian history at a monument dedicated to the 1809 Battle of Cegar and Cele Kula—or, "Tower of Skulls." Following the Serbian defeat at the Battle of Cegar, victorious Turks embedded almost 1,000 skulls of dead Serbs in the fortress walls to deter future acts of rebellion (some 58 are still there), and the Tower of Skulls remains a proud symbol of Serbian resistance. We continue on foot to stop by one of the oldest churches in Serbia and the village of Gornji Matejevac.

After lunch on your own, we'll resume our city tour and drive to the nearby memorial museum of Crveni Krst (Red Cross), home to one of Europe's best-preserved Nazi concentration camps. Some 30,000 Serbs, Roma, Jews, and Partisans were held (and about 10,000 killed) at this notorious camp during the German occupation of Serbia from 1941 to 1945. We'll round out today's explorations of Nis with a visit to a tea house, where a local expert will help us discover the rich variety of medicinal herbs used in the region. Afterward, we enjoy a Welcome Dinner at a local restaurant.

Day 3

Transfer to Belgrade • Explore Topola and Oplenac

After breakfast, we'll depart Nis for our northern journey to Belgrade. Along the way, we'll discover the origins of the Serbian kingdom in Topola and Oplenac. Topola was the birthplace of Karadjordje, the man who led the Serbian uprising against Turkish rule in 1804. Our discoveries include the final resting place of Karadjordje and 22 members of the Serbian royal family at the Royal Mausoleum Complex, situated inside St. George's Church, a magnificent five-domed church with marble columns and vibrant mosaics rendered from millions of pieces of colored glass. Then, we'll stop in Arandjelovac, a spa town renowned for its healing waters, where we'll enjoy an included lunch at a the restaurant dedicated to the memory of King Alexander I.

Upon arrival in Belgrade, we'll check in to our hotel and enjoy a brief orientation walk of our surroundings followed by an included dinner at a local restaurant.

Day 4

Explore Belgrade • Optional From Royalty to Today's Belgrade tour

After breakfast, we'll set off on an enlightening city tour of Serbia's capital and largest city. Belgrade (meaning "White City") enjoys a prime location at the confluence of the Sava and Danube rivers—which helps to explain the countless times the city has been rebuilt during its vast 2,300-year history. In fact, Kalemegdan Citadel, Belgrade's impressive fortress at the bend of the two rivers, has been destroyed more than 40 times over the centuries. We begin with a walk through Trg Republik, the city's main square and popular gathering place for locals and visitors alike, passing by the National Museum and Kalemegdan Park, where we'll stop to visit the renowned Belgrade Fortress. Then, our tour continues by bus with a stop at the Church of St. Sava, the massive structure dominating Belgrade's cityscape that is one of the world's largest Orthodox churches.

After lunch on your own, the rest of the day is at leisure in Belgrade with dinner also on your own. Or, you may join an optional excursion that features visits to Tito's monument and the Royal Palace, and dinner at a floating restaurant along the Danube.

Day 5

Belgrade • Excursion to Kovacica

After breakfast, we'll journey outside the city to Kovacica, a picturesque village that is world-renowned for its school of Naive art. Settled by ethnic Slovaks early in the 19th century, Kovacica represents a unique oasis of living traditions, original arts and crafts, and a way of life seemingly untouched by modernity. The Naïve art tradition began in earnest here by two local artists in 1939, and we'll learn about this enduring tradition at the Gallery of Naïve Art, where we'll visit with some artists at their ateliers. We'll also visit the home workshop of a local painter and the atelier of violin maker Jan Nemček, who exports his elegant instruments throughout the world. Then, after an included lunch at a local farm restaurant in the village of Debeljaca, we'll return to Belgrade, where the balance of the day is at leisure.

Dinner is on your own this evening.

Day 6

Excursion to Sremski Karlovci and Novi Sad

After breakfast, we'll discover the northern Serbian province of Vojvodina, beginning in Sremski Karlovci, a charming town set on the banks of the Danube. Here, we'll set off on a walking tour to view its Baroque architecture. Then, we'll journey to nearby Novi Sad, capital of the Vojvodina province. We'll drive by the Petrovaradin Citadel, the towering 17th-century fortress nicknamed "Gibraltar on the Danube." In more modern times, this unique locale hosts the EXIT Festival, a world-renowned music festival that takes place each July. A walking tour featuring many of the city's historic landmarks will also bring us past the Novi Sad Synagogue, the fifth synagogue to be erected here since the 18th century. Then, we'll journey into the countryside outside Novi Sad to enjoy an included lunch at a traditional farmhouse, before returning to Belgrade later this afternoon.

This evening, we'll gather together for a Farewell Dinner in Skadarlija, Belgrade's popular Bohemian quarter.

Day 7

Depart for the U.S.

After breakfast, we transfer to the airport for our return flights home.
Please note:This extension may not be available on all departures.