***Forgot Your Username?
***If you have forgotten your username, please provide your email address in the box below. We'll send you an email with your requested username. If you are having trouble, please call us at 1-800-221-0814.......
Email Sent!!
***You'll receive an email in a few minutes. Please check this email to find your requested username.
If you do not receive an email or you are having trouble logging into My Account, please call us at 1-800-221-0814.
Thailand: Bangkok • Laos: Luang Prabang, Mekong River Cruise, Vientiane • Cambodia: Phnom Penh, Angkor Wat • Vietnam: Ho Chi Minh City (Saigon)
20 Days from only $4895 including international airfare
FROM
$4895
20 DAYS
$245/DAY
including international airfare
18 DAYS FROM $3395 Small Group Adventure Only
NEW Starting with September 2017 departures: Stopover in Hong Kong

3 nights from only $695
Single Supplement: FREE
Get a head start on your adventure with these tips from fellow travelers and Trip Leaders sharing their insights into how you can make the most of this adventure with things to do, see, and experience. The traveler tips below first appeared in our
Traveler Reviews
and
Travel Forum
, and the Trip Leader tips were provided by some of our highest-rated local Trip Leaders from this region.
gloriakp
Traveler
Inexpensive Massages
posted 04/23/2015
"There was a massage place next to our hotel in Vientiane, Laos that most of our group used. It cost $3 per hour for a massage."
Helpful?
pyratelover
Traveler
Make a Trip to Wat Arun
posted 03/13/2016
"Besides making time to see Wat Po and the Jim Thompson House, I would also make a point of visiting Wat Arun (Temple of the Dawn). Although your itinerary includes a nighttime trip along the river at which time you will float by Wat Arun, this will not be the same as visiting this temple on your own. Wat Arun is decorated with bits of porcelain and glass that was collected when boats crashed and their crushed contents were spilled along the shore. It is simply wonderful to look at the beautifully painted pieces of porcelain and the way that the ancient artists used them to decorate the exterior of the imposing prang. This "gem" was my favorite temple by far. "
Helpful?
tedlieber
Traveler
Tired of Asian Food?
posted 09/21/2016
"In Saigon, several in our group were a little tired of Asian food. So, we went to Au Lac Du Brazil, a steak house. We enjoyed it very much. I invited our Tour Leader, and I treated him to dinner. He couldn't stop licking his lips after the meal."
Helpful?
lesliecy
Traveler
Visit Wat Pho
posted 03/12/2016
"Also, consider visiting Wat Pho. It has an enormous golden reclining Buddha. This used to be part of the tour but our guide said they cut it out because it made for a tiring day after the Grand Palace. A number of us just took taxis there because we didn't want to miss it and so glad we did. "
Helpful?
jannsegal
Traveler
Visit the Jim Thompson House in Bangkok
posted 03/12/2016
"I spent 5 days in Bankok on a solo Thailand trip. There is so much to see there. Many great temples not to be missed, and a great find as well that is a bit off the beaten tourist path is the Jim Thompson House. A beatuiful teak house w[ith] great antinques. He was a successfuil American silk trader in the 60s who mysteriously "disappeared". "
Helpful?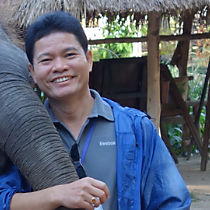 Ray Dechpong
Trip Leader
Mingle with Locals at Midnight Kaiton
posted 02/10/2017
"In Bangkok, Midnight Kaiton (Thanon Petchaburi Tut Mai) is my favorite restaurant. Located at the corner opposite to Pratunam Complex, it is quite a small restaurant that opened more than 30 years ago, and it's open only in the evening. This restaurant is always crowded with local people, especially after work, and it's a fun place to mingle with the locals and watch people going by. Everybody who comes to Midnight Kaiton will only order the khao man kai—which literally means "chicken-flavored rice"—because the restaurant only serves this dish. It's served with chili sauce and a cup of broth made of ginger and garlic. The well-known drink is cha yen (iced tea with condensed milk). I love this place because it's casual, the food is delicious, the service is fast, and the price is very inexpensive."
Helpful?
Pe Dhammasidhi
Trip Leader
Buffalo Market Near Chiang Mai
posted 02/10/2017
"
Sanpatong Buffalo Market existed for almost 60 years as a place to trade buffalo and oxen. Eventually it became popular to trade other household products as well, and the market grew. This market's main demographic is local farmers, and is a great way to get the Thai market feel without all the tourists. You can purchase food, second-hand motorcycles, used bicycles, clothes, crafts, tools, plants, vegetables, livestock, and pets of contemporary Chiang Mai farmers. Sanpatong is also famous for its many rice specialties, especially Khao Neaw Sanpatong (a type of sticky rice). The market is open Saturdays from 4:00am-10am, and it's best to get there early. Wear good walking shoes for the dirt paths.
"
Helpful?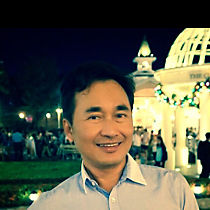 Pairoj Mark Khojasith
Trip Leader
Weekend Market in Bangkok
posted 02/10/2017
" If you are in Bangkok on Friday evening, Saturday, or Sunday, visit Jatu Jak Weekend Market (Kamphaeng Phet 2 Road). This is where a lot of Thai people like to explore while shopping for a wide selections of handcrafts at bargain prices. One path winds through the entire market and the 27 sections fan off from it. If you are looking for local, traditional Thai crafts, you will find wood carvings, ceramic wear, and embroidery here—and that is only the beginning."
Helpful?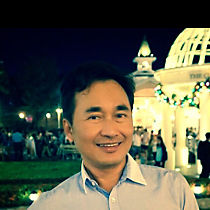 Pairoj Mark Khojasith
Trip Leader
Restaurant for the Royal Family
posted 02/10/2017
"Than Ying Restaurant (Pramuan Road, Bangkok) was created by cooks for the Royal Family (who were also their relatives, including a sister to the queen and now her son). The menu offers the most famous Thai cuisine, such as chicken with green curry. The food is presented well and there is a great ambience. Despite the royal touch, you will find that the prices are reasonable (a choice of set menus, each for under $30 U.S.)."
Helpful?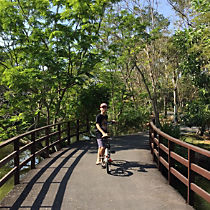 Nee Smith
Trip Leader
The Bangkok Jungle
posted 02/14/2017
"
Bang Kra Jao is known as the "Bangkok Jungle." This oasis in the heart of Bangkok is a network of raised pathways that is perfect for cyclists. The whole route is 15 miles, and passes through local roads, orchards, temples and Sri Nakhon Khuean Khan Botanical Park. Renting a bicycle costs $1.50 U.S. for an hour and $3 U.S. for a day. Travelers should take a taxi to Wat Bangna Nawk Temple and then take the ferry across the river.
"
Helpful?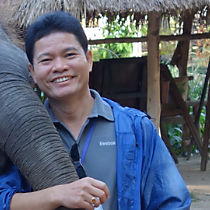 Ray Dechpong
Trip Leader
Waterfall Near the City
posted 02/10/2017
"
Huay Kaew Waterfall is a site I like to visit when I am in Chiang Mai. It's a nice place, and also a popular picnic area for the locals since it is close to the city (just next to the Chiang Mai Zoo, on the foothills of Doi Sutep). This is the closest waterfall to Chiang Mai—only a 15-minute drive from the city center. It's a low-rise waterfall that has water falling year-round, and it doesn't cost anything to enter. Huay Kaew is a great place to relax and enjoy the scenery, especially the refreshing, cool shade of the trees, and listen to the sound of the waterfall and noise of birds. It also has some great areas to walk around. You can even swim in the pool under the waterfall. The water is rather cold, which is good for a summer day.
"
Helpful?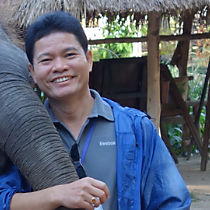 Ray Dechpong
Trip Leader
Stalls Not to Miss at the Weekend Market
posted 02/10/2017
" The best time to visit Bangkok's weekend market, called Jatu Jak Market—or "J.J. Market"—is in the morning from 8am to 11am, because it is less hot and not too crowded. The Market has 27 sections, plus an extra section called Jatu Jak Plaza. To get lost in J.J. Market is pretty common, so you can get a map from facilitators' booths under the white tents. If you're looking for Benjarong ceramics (traditional Thai ceramics), I recommend Jirada Ceramics in Section 19. Section 7 is good for artists' work like paintings, and handcrafts are nearby in Section 8. If you still get lost after shopping, just ask one of the vendors for the direction to Section 7, and you will recognize the Sky Train by Entrance 2."
Helpful?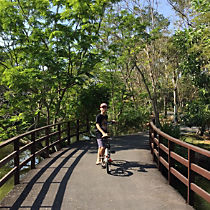 Nee Smith
Trip Leader
The Bang Nam Phung Market
posted 02/14/2017
"
This market is great to visit for Thai food and dessert tasting in Bangkok. Travelers should go between 8:30am and 4pm on the weekends. They should also visit a traditional Thai coffee house, such as Reaum Nom Sod, that offers Thai iced coffee with fresh milk.
"
Helpful?