Asia
Whether you're exploring a bustling city street or a serene temple garden, traveling through Asia can be inspiring, perplexing, and, most of all, exciting. Below, you can find just one of our popular Asia adventures—as well as more information on what makes this region of the world such a stimulating destination.
Stimulate your senses in Asia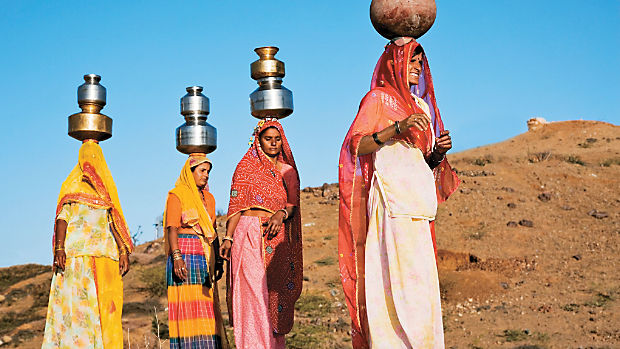 Delhi • Jaipur • Ranthambore • Agra • Khajuraho • Varanasi
16 days from $2,495
Small Group Adventure Only
On an adventure that brings you from bustling Delhi to spiritual Varanasi, you'll unveil the vibrant Heart of India—a country unlike any other. In your small group, you'll see the Taj Mahal at sunrise, search for tigers in Ranthambore National Park, cruise the River Ganges, and much more.
Offering extreme contrasts, rich sensory stimulation, and deep spirituality, Asia travel tends to take visitors' breaths away and ultimately change the way they view the world. Many travelers journey to Asia to see its iconic sights, including the Taj Mahal, the Great Wall, and Angkor Wat, but throughout their trip, they learn that there is so much more to discover in this vast continent. Here, you can witness ancient landmarks and modern cities, sample some of the world's best cuisine, enjoy an incredible variety of landscapes, and discover extraordinarily colorful and complex cultures. On our 13 O.A.T. Asia adventures, you'll uncover the true spirit of Asia—perhaps sleeping in an authentic Mongolian ger, participating in an ancient Buddhist alms-giving ceremony in Laos, interacting with children at a Nepali school, or exploring Turkmenistan and Uzbekistan, two of Central Asia's most enigmatic locales. Throughout your journey, you'll be accompanied by a local Trip Leader, who will help you make sense of the many unfamiliar sights you're bound to encounter, while giving you additional insight into the local culture. But whether you choose to explore the neon-lit streets of Tokyo or the lower foothills of the Annapurnas, you're bound to learn what many of our travelers already know: There is always more to discover in Asia.
Interested in other destinations?
Find Your Adventure