Forgot Your Username
If you have forgotten your username, please provide your email address in the box below. We'll send you an email with your requested username. If you are having trouble, please call us toll-free at 1-800-221-0814.
Email Sent
You'll receive an email in a few minutes. Please check this email to find your requested username.
If you do not receive an email or you are having trouble logging into My Account, please call us at 1-800-221-0814.
ZIMBABWE
Zimbabwe evolved under tribal rule until the late 19th century when a British column led by Cecil Rhodes arrived in search of precious minerals. In 1980, Zimbabwe was granted independence from the UK. With agriculture, mining, and tourism as its main industries, modern-day Zimbabwe has seen its fair share of political and economic turmoil. But, despite trying times, its natural beauty and rich culture continue to intrigue and captivate people from across the world.
The thundering waters of Victoria Falls cascade down rocky cliffs, casting a refreshing mist over surrounding lands … Villagers in nearby markets hand-weave baskets and craft soapstone statues until the sun sets over the savannah plains ... Peeled eyes catch rare glimpses of wild beauty in the depths of teak forests and palm islands … Zimbabwe is the stage upon which dreamlike safari scenes play out daily, for those of us fortunate enough to be part of the audience.
Zimbabwe Interactive Map
Click on map markers
below to view information about top Zimbabwe experiences
Click here to zoom in and out of this map
Most Popular Films
Films featuring Zimbabwe from international, independent filmmakers
Our Zimbabwe
Discover Zimbabwe, where bungee jumpers descend from atop rainbow-laden waterfalls, and elephants wallow in the waters below.
Produced by Tom Varley
Lions of Zimbabwe
Roam Zimbabwe's grasslands with prides of lions as you learn about the threats they face and the hope for their conservation.
Produced by David Conover
Wildlife of Southern Africa
Let the wildlife and scenery of Southern Africa captivate you in this 2-minute film showcasing the natural rhythm of life out in the open plains.
Produced by Rudi Zisterer
Travelogue: Zimbabwe 1948
Get a glimpse into the past as you witness two travelers' vintage 16mm footage of Victoria Falls, Zimbabwe from 1948.
Produced by David Conover & Paul Villanova
Featured Reading
Immerse yourself in Zimbabwe with this selection of articles, recipes, and more
ARTICLE
Women of Zimbabwe Arise (WOZA) strives to make the country a more accepting place for women's rights. Discover how here.
ARTICLE
Get an in-depth look at the bleak outlook of the elephant population and the efforts being taken to save these gentle giants.
ARTICLE
Under the Baobab Tree
Experience a day in the life of Impalila Island as fishermen catch catfish and bird watchers spot Cisticolas.
Zimbabwe: Month-by-Month
There are pros and cons to visiting a destination during any time of the year. Find out what you can expect during your ideal travel time, from weather and climate, to holidays, festivals, and more.
Zimbabwe in January - March
January to March in Zimbabwe is the peak rainy season, leading to thicker vegetation and lower temperatures. Almost daily, clear morning skies will close into afternoon thunderstorms. Higher humidity can make the afternoon high temperatures more uncomfortable. Though it's harder to spot big game, many animals give birth at this time, making it easier to spot newborns. Due to plentiful vegetation bird-watching is at its most bountiful. Also, as this is low season, the dollar will go farther—yet certain parks and attractions might be closed.
Victoria Falls is also more closely accessible, as you can witness its might at mid-level without too much spray.
Must See
With the rains and an increased food supply, many bird species—upwards of 600—migrate through Zimbabwe during the first three months of the year. For veteran bird-watchers, this is a great time for a birding holiday. Among the most highly-sought-after species during this time are the African Pitta and the Taita Falcon.
Zimbabwe in April - June
After the rainy season, Zimbabwe's climate becomes much more comfortable as humidity is lower, and temperatures begin to cool down through June. With clear blue skies almost daily, the time is ripe for spotting big game as they congregate around various watering holes and rivers. Though tourism has picked up, the parks are still not crowded due to their size. You can also enjoy fewer mosquitoes because of lower humidity.
At this time, Victoria Falls is at full power, which can make its mighty flow harder to enjoy with increased spray.
Holidays & Events
April 18: Independence Day
Late April-Early May: Harare International Festival of the Arts
May 25: Africa Day
Must See
Many big game species have given birth in the previous months, so many newborn animals are out and about exploring the world. The plentiful vegetation offers food and nutrition for the newborns, so it's not uncommon to see a herd of elephants with a little one in tow.
Zimbabwe in July - September
The busiest wildlife season of the year, the dry climate between July and September makes for the most bountiful game-viewing—the man-made watering holes in Hwange National Park create stunning concentrations of wildlife. Average temperatures climb to highs in September of around 90 degrees. Nights and mornings will also become cooler due to the more extreme temperatures, so it's advisable to pack warm clothing for sleeping.
Victoria Falls is beginning to calm down—though still with a moderate flow. This is the best time to witness its power as the spray has partially subsided, making most of the waterfall visible. The Zambezi River also has perfect water levels for rafting, as they are not too high or too low.
Holidays & Events
September 16-19: Annual game count in Hwange National Park
Late August/early September: Zimbabwe Fashion Week
Mid-August: Zimbabwe International Film Festival
All of August: Chibuku Neshamwari Dance Festival
Must See
During this time of year, Victoria Falls is at its most stunning. The spray, which comes from the typically thunderous water flow, is almost non-existent. This gives viewers the best opportunity to take in the fall's splendor.
Zimbabwe in October
October is the month for elephants at Hwange National Park. As the dry season peaks, game is easily viewed as animals search for whatever water is left. The temperature is also highest, though as a dry heat it's easily manageable with good hydration.
Must See
As the dry season is in full swing, the air is typically filled with dust—this makes the sunsets and sunrises in Zimbabwe especially beautiful, creating rich red and orange hues.
Zimbabwe in November & December
As the rainy season in Zimbabwe begins in November, the landscape comes alive with lush vegetation—thrilling thunderstorms bring downpours in the afternoon. Many animals give birth around this time, and migratory birds begin to flow in from other parts of the continent.
Holidays & Events
November 10: Jikinya Traditional Dance Festival
December 25: Christmas
Must See
This is a great time to see newborn wildebeest as they learn to walk, bucking adorably on their new legs. Newborn impala are especially cute, with their over-sized ears flopping as they learn to walk and leap from their parents.
Average Monthly Temperatures
Compare Our Adventures
Click 'Select to Compare' to see a side-by-side comparison of up to adventures below—including
activity level, pricing, traveler excellence rating, trip highlights, and more
18 DAYS FROM $5,295 • $ 295 / DAY
Small Group Adventure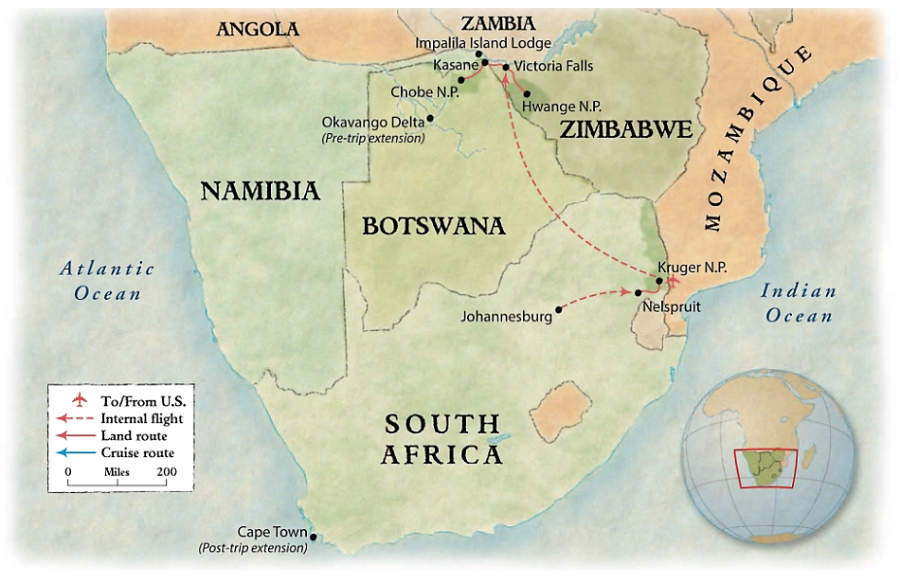 South Africa: Kruger • Zimbabwe: Hwange, Victoria Falls • Namibia: Impalila Island • Botswana: Chobe
46 meals—daily breakfast, 15 lunches, and 15 dinners
Enjoy up to 4 game-viewing excursions.
Spend 3 nights in a tented camp within Hwange National Park
Explore Victoria Falls on your own during a full day at leisure
Experience A Day in the Life of a Hwange community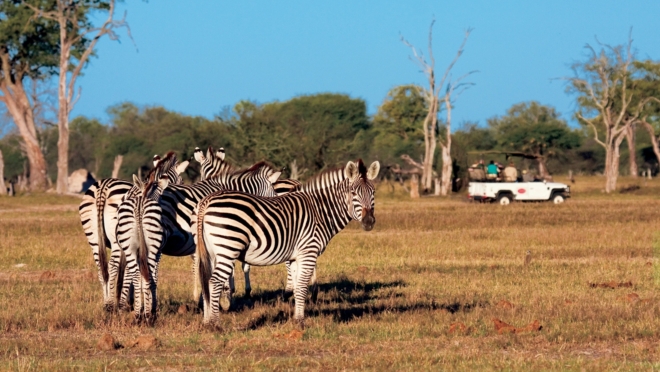 17 DAYS FROM $5,195 • $ 306 / DAY
Small Group Adventure
Zimbabwe: Hwange • Zambia: Kafue • Botswana: Chobe, Okavango Delta • Zimbabwe: Victoria Falls
42 meals—daily breakfast, 13 lunches, and 14 dinners
Enjoy up to 3 game-viewing excursions
Spend 3 nights in a tented camp within Hwange National Park
Soar over Victoria Falls during an optional scenic helicopter ride
Experience A Day in the Life of a Hwange community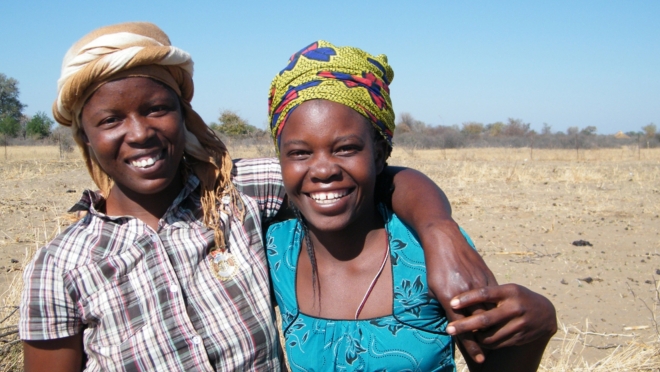 34 DAYS FROM $11,090 • $ 327 / DAY
Small Group Adventure
Zimbabwe: Hwange • Zambia: Kafue • Botswana: Chobe, Okavango Delta • Zimbabwe: Victoria Falls • Kenya: Nairobi, Lake Nakuru, Amboseli • Tanzania: Tarangire, Ngorongoro Highlands & Crater, Serengeti National Park
90 meals—daily breakfast, 29 lunches, and 29 dinners
Enjoy up to 3 game-viewing excursions.
Spend 3 nights in a tented camp within Hwange National Park
Soar over Victoria Falls during an optional scenic helicopter ride
Experience A Day in the Life of a Hwange community