Forgot Your Username
If you have forgotten your username, please provide your email address in the box below. We'll send you an email with your requested username. If you are having trouble, please call us toll-free at 1-800-221-0814.
Email Sent
You'll receive an email in a few minutes. Please check this email to find your requested username.
If you do not receive an email or you are having trouble logging into My Account, please call us at 1-800-221-0814.

UZBEKISTAN
While the great Silk Road connected many Asian countries, Uzbekistan is known as a major crossroads of ancient and medieval civilizations; much of the culture of Central Asia is derived from the area which is modern-day Uzbekistan. Its location along the Silk Road made Uzbekistan the target of conquests by the ancient Greeks, Persians, Mongols, and Russians, to name a few. In fact, the country got its name from Khan Uzbeg, a 14th-century leader of the Mongolian Golden Horde. Evidence shows this area has been inhabited for nearly 40,000 years, and while rugged mountains and harsh deserts mark the bulk of Uzbekistan's geography, it is the most populous and economically powerful country in Central Asia today. In many ways, Uzbekistan is still a thriving trade hub known for its uranium, gold, and cotton production. Most cities and towns have bustling markets including the Chorsu Bazaar, a major trade destination located in Tashkent on the Silk Road.
As different cultures came and went through Uzbekistan, many left their mark on Uzbeki architecture—from the Soviet-era grand public buildings and apartment complexes in the cities to the hundreds of opulent Islamic mosques, madrassahs, and minarets. It's hard to imagine whole cities, such as Samarkand, were destroyed by Mongol ruler Gengis Kahn. In contrast, Uzbek homes present a reserved, modest exterior.
Uzbeks are a humble people and displays of wealth are only reserved for guests and people of honor. It is in the culture and religious sites, such as the Registan in Samarkand with its spacious courtyard and intricate Islamic patterning, where presidents and emperors alike made their power known.
Uzbekistan Interactive Map
Click on map markers
below to view information about top Uzbekistan experiences
Click here to zoom in and out of this map
Most Popular Films
Films featuring Uzbekistan from international, independent filmmakers
Unexplored Uzbekistan
Watch as Uzbekistan comes to life in this montage showcasing architecture, people, and culture belonging to this "world of dreams."
Produced by Mummy Daddy Media
Women's dance: Bukhara, Uzbekistan
Behold the beauty of a traditional Uzbekistani dance performed by local women in Bukhara.
Produced by Ludo Kuipers
Aunt Zoja
Meet Aunt Zoja—a local Uzbekistani who dreams of a peace and understanding throughout the world.
Produced by Paula Sundell
Featured Reading
Immerse yourself in Uzbekistan with this selection of articles, recipes, and more
ARTICLE
Trace the history of Tamerlane, whose legacy in Uzbekistan teeters between hero and butcher.
Uzbekistan: Month-by-Month
There are pros and cons to visiting a destination during any time of the year. Find out what you can expect during your ideal travel time, from weather and climate, to holidays, festivals, and more.
Uzbekistan in December-February
The winter months bring the coldest weather of the year to Uzbekistan, especially in the north, where temperatures may dip below freezing. However, with the impact of climate change, as evidenced in part by the drying out of the Aral Sea over the past four decades, recent winters have been much more mild than in the past, with less wind, snow, and precipitation than previously recorded. And while ski season is in full swing in the Tien Shan mountains, tourism is on the decline around this time of year. With crowds dissipating, winter visitors may have easier access to Uzbekistan's natural and historic sites.
Holidays & Events
January 1: The annual Yillar festival takes place in honor of the new year, and similar to how Christmas is celebrated in other countries, people decorate trees and exchange gifts.
Uzbekistan in March-June
As the sunny weather rolls around, Uzbekistan fills up with more travelers than are seen during the winter months. The number of visitors begins to increase in March and April, and even more so into May and June. While the climate warms up significantly, it's a mild heat, and the chance of rain increases, providing the arid land with a much needed watering.
Holidays & Events
March 21: Navruz is an annual celebration of the springtime new year, honoring the start of the yearly agricultural cycle.
May: Uzbekistan's yearly Silk and Spices Festival celebrates the country's culture, crafts, and more. Performances ensue, which showcase traditional music and costumes.
June 15: Eid al-Fitr signifies the end of Ramadan and is celebrated with communal prayers and feasts.
Must See
Depending on exactly where you go, sometimes you may be lucky enough to catch the brief but beautiful blooming of wildflowers in the otherwise desolate desert.
Uzbekistan in July-August
By now, Uzbekistan begins to really heat up and dry out, with average temperatures in the 90s. Despite the heat, this is the busiest time of year for tourism, and cities like Tashkent liven up with crowds. The dry climate makes this time of year ideal for trekking in the desert.
Holidays & Events
August: Sharq Taronalari is a yearly music festival held in Samarkand showcasing traditional styles of music.
Uzbekistan in September-November
The average temperatures begin to cool down, but the days stay relatively warm into the fall, and just like the springtime, the comfortable weather attracts larger crowds. Autumn is a perfect time for exploring the old towns along the legendary Silk Road.
Holidays & Events
September 1: Uzbekistan's Independence Day
Must See
During the height of harvest season, the colorful Uzbeki markets are ablaze with fresh produce and teeming with locals. This is a great time of year to immerse yourself in their culture, and perhaps sample some of their homemade cuisine.
Average Monthly Temperatures
Get the Details On Our Uzbekistan Adventure
Find out more about the adventure, including activity level, pricing, traveler excellence rating, included meals, and more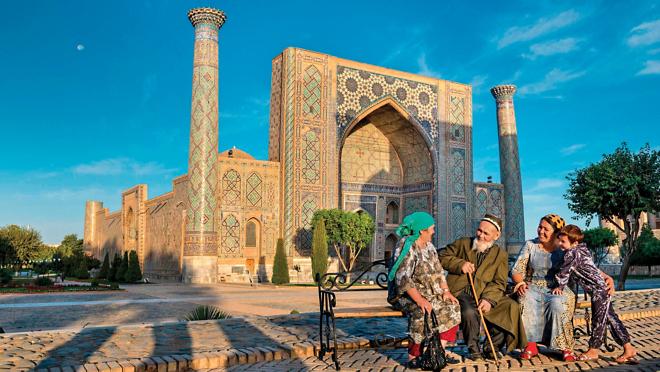 16 DAYS FROM $5,995 • $ 375 / DAY
Small Group Adventure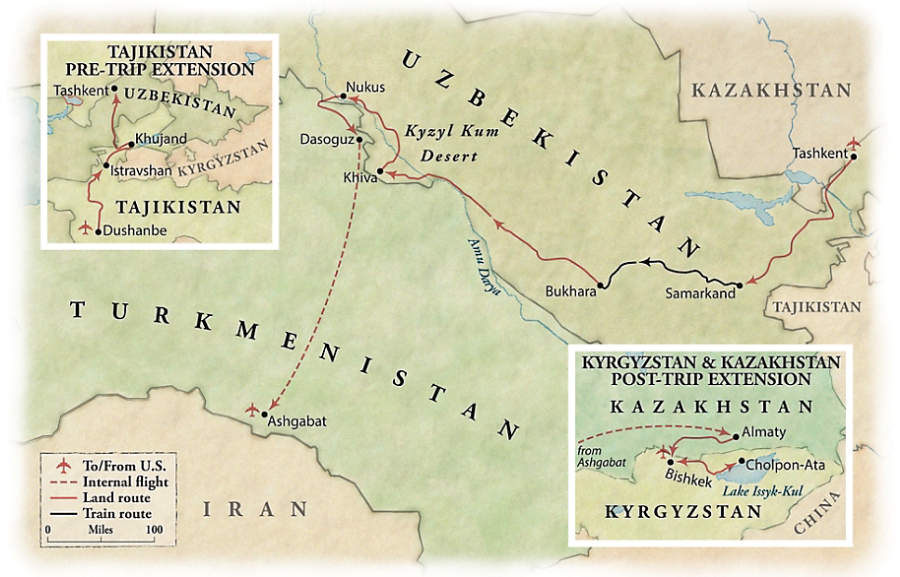 Turkmenistan: Ashgabat • Uzbekistan: Nukus, Khiva, Bukhara, Samarkand, Tashkent
35 meals—daily breakfast, 12 lunches, and 10 dinners (including 1 Home-Hosted Lunch)
Meet the locals as we explore Bukhara's famous domed bazaars
Get a taste of the local culture during a Community-Hosted Lunch in Nayman
Visit Gijduvan's ceramic master and delve into the history of the village's famous pottery
Witness Samarkand's 15th-century archaeological treasure—the Ulug-Bek Observatory