Forgot Your Username
If you have forgotten your username, please provide your email address in the box below. We'll send you an email with your requested username. If you are having trouble, please call us toll-free at 1-800-221-0814.
Email Sent
You'll receive an email in a few minutes. Please check this email to find your requested username.
If you do not receive an email or you are having trouble logging into My Account, please call us at 1-800-221-0814.

TURKEY
Turkey is truly at the crossroads of the Eastern and Western worlds. With Istanbul standing at the head of the Byzantine Empire for a thousand years, and its Islamic successors—the Ottomans—ruling Turkey for the next six centuries, the country is a rich repository of Christian and Islamic treasures. Modern Turkey was largely the creation of Mustafa Kemal Atatürk, an army officer and revolutionary who brought forth the Turkish state from the dying embers of the Ottoman Empire. He defined Turkey as a modern, secular nation—all the more remarkable for a country that is more than 95% Muslim and the one-time seat of an Islamic empire.
Through the centuries, untold emperors, travelers, traders, warriors, and religious pilgrims have been drawn to the myriad treasures of this former stopover along the ancient Silk Road—from the slender Ottoman minarets of Istanbul and golden Mediterranean coast to the surreal landscapes of Cappadocia. Turkey remains a magical destination where you can walk in the footsteps of Byzantine emperors and Ottoman sultans, witness haunting dervish ceremonies, explore Hittite ruins, haggle in exotic marketplaces, and sip tea with some of the friendliest people on the planet.
Turkey Interactive Map
Click on map markers
below to view information about top Turkey experiences
Click here to zoom in and out of this map
Most Popular Films
Films featuring Turkey from international, independent filmmakers
My City: Istanbul
Learn how to best witness Istanbul's cultural traditions, from theater stages to neighborhood meeting spots and more.
This film was produced by the BBC and was first published on BBC.com Travel
Flights over Turkey: Hot Air Balloons of Cappadocia
Take flight in a hot air balloon to float above Cappadocia and marvel at surreal tufa formations.
Produced by Kay Burn Lim
Bazaar: Istanbul - Heritage Shops
See how the crafts on display in Istanbul's colorful bazaar reflect the city's rich multicultural past.
Produced by Kristine Jurgensen and Ian Cross
Featured Reading
Immerse yourself in Turkey with this selection of articles, recipes, and more
ARTICLE
Just below the surface—280 feet to be exact—is the underground city of Derinkuyu. Learn about this engineering marvel.
ARTICLE
How much do you really know about Turkey? Check out these 5 fascinating facts to find out.
RECIPE
Indulge in the sweet Turkish treat lokum, which is made from honey, tahini, and pistachios, with this recipe.
Turkey: Month-by-Month
There are pros and cons to visiting a destination during any time of the year. Find out what you can expect during your ideal travel time, from weather and climate, to holidays, festivals, and more.
Turkey in December-February
The winter months are fairly cold in Turkey, with temperatures in Istanbul averaging in the 40s (°F) and in the 30s in places like Cappadocia—and even colder as you travel to Turkey's eastern fringes. Snow is not uncommon during these months, but those who dress warm will enjoy visiting sites like Ephesus when they are far less crowded than in the summer months. If you don't mind the chill, this is a great time to explore Istanbul, as the lines are much shorter at popular sites such as the Hagia Sophia and Blue Mosque—and you can find better bargains from the merchants in the Grand Bazaar. And with fewer tourists around, this is also an excellent time to quietly view the stunning landscapes of Turkey's inland regions and experience authentic local life.
Holidays & Events
December 31: New Year's Eve is one of the most popular holidays in Turkey, and usually includes a large family dinner, a national lottery, traditional fireworks, and more.
Turkey in March-May
The winter chill is gone and the weather begins to moderate in Turkey in the springtime, with temperatures getting into the 60s (°F) in Istanbul and even warmer in the country's interior. The summer crowds haven't started to arrive yet, making these perfect months to visit Turkey's many ancient ruins. April is also peak tulip season, and the parks and gardens of Istanbul are starting to bloom with color. While it's too early for the sun worshippers who regularly flock to the Turquoise Coast (where most hotels are still closed), the combination of warm weather and fewer people make this an ideal time to explore almost all of Turkey.
Holidays & Events
April: The International Istanbul Film Festival takes place each year and is a ten-day event celebrating cinematic excellence.
April 23: National Sovereignty and Children's Day is a special day with festivities throughout the country, including the opportunity for children—who are the future of the Turkish republic—to take seats in the Turkish Parliament and symbolically govern the country for a day.
Beginning May 15: Ramadan, the Islamic holy month, is celebrated in this predominantly Muslim country with 30 days of fasting during the daylight hours and festive evenings of eating and drinking in Istanbul.
Turkey in June-August
The summer months are the peak travel season in Turkey. The weather is usually hot and dry, with temperatures reaching the high 90s (°F) in the eastern stretches of the country. Ancient sites can get very crowded during these months, along with the cities along the Mediterranean coast, which are filled with visitors seeking relief from the heat with dips in the sea. Cappadocia is not as crowded as other locales, however, and is especially beautiful during these months, when it is carpeted in wildflowers
Holidays & Events
July: Istanbul Jazz Festival features world-renowned jazz musicians performing at various venues in the city.
August: Antalya International Folk Music and Dance Festival Competition is a festival that runs for several months and features performances of folk music and dance from Turkey and around the world.
Must See
The International Sand Sculpture Festival takes place each year (usually in June) at a beach in Antalya and is one of the largest sand events in the world. The works of talented sand sculptors from across the globe are featured in this dazzling competition.
Turkey in September-November
September can still be hot in Turkey, but from the middle of the month onward temperatures begin to cool, making these months ideal for exploring Istanbul or any of the country's ancient sites. Although the days are shorter than in spring, the combination of clear skies, fewer crowds, and pleasant weather make the autumn months just about the perfect time for any Turkish adventure.
Holidays & Events
October 23: Republic Day is a festive public holiday with parades, fireworks, and traditional processions held to celebrate the proclamation of the Republic of Turkey in 1923.
Must See
Cappadocia in the fall is a magical time to visit with the leaves in all their glory and the light lending a special glow to the entire region and its mystical fairy chimneys.
Average Monthly Temperatures
Get the Details On Our Turkey Adventure
Find out more about the adventure, including activity level, pricing, traveler excellence rating, included meals, and more
16 DAYS FROM $6,895 • $ 431 / DAY
Small Ship Adventure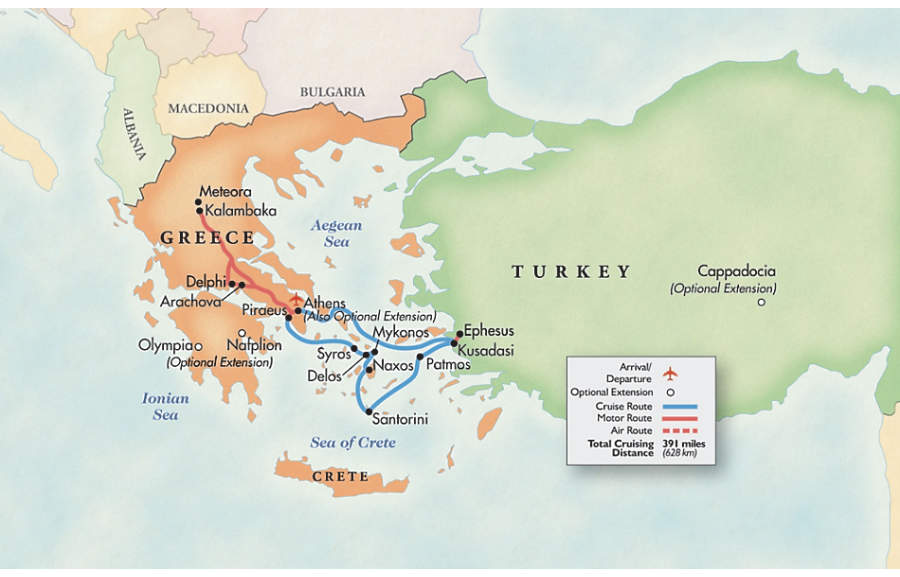 Greece: Athens, Arachova, Delphi, Kalambaka, Meteora • Greek Islands: Syros, Mykonos, Delos, Patmos, Santorini, Naxos • Turkey: Ephesus
31 meals—daily breakfasts, 6 lunches, and 11 dinners (plus all onboard house beer & wine, as well as soft drinks)
Explore the wonders of ancient Ephesus
Dock at the resort town of Kusadasi
Learn how hand-woven Turkish carpets are made at a local cooperative
Spend 4 nights in Cappadocia on our Optional Trip Extension