Forgot Your Username
If you have forgotten your username, please provide your email address in the box below. We'll send you an email with your requested username. If you are having trouble, please call us toll-free at 1-800-221-0814.
Email Sent
You'll receive an email in a few minutes. Please check this email to find your requested username.
If you do not receive an email or you are having trouble logging into My Account, please call us at 1-800-221-0814.

SCOTLAND
Surrounded on three sides by the wind-whipped northern seas, Scotland has more than its share of dramatic scenery. From the southern border of England to the boisterous capital Edinburgh to the far-flung Shetland Islands in the north, this is a land of forbidding black cliffs, rocky gray peaks, and endless green hills. With over 700 islands ringing the coast, there are even a few white-sand beaches to be found in Scotland. But Scotland's cityscapes more than hold their own against this dramatic backdrop—Edinburgh's hilltop castles and towering spires form a dramatic skyline, and the glittering granite buildings of Aberdeen are some of Britain's most beautiful.
As breathtaking as the landscapes and cities are, it's the warm and vivacious Scots that bring this country to life, and their culture of music, dance, and storytelling that has put them on the world stage. From the moody Highlands and streets of Edinburgh have sprung some of the finest poets and authors in the English language. One of the world's biggest arts and performance festivals, the Fringe, is held in Edinburgh. And it's not just their writing and performing that distinguishes the Scots—they are well in tune with the finer things in life. After all, this is the homeland of golf and whisky.
Scotland Interactive Map
Click on map markers
below to view information about top Scotland experiences
Click here to zoom in and out of this map
Most Popular Films
Films featuring Scotland from international, independent filmmakers
Wild Scotland
Soar over Scotland's mountains gliding past stone ruins, and run alongside a herd of reindeer through the countryside.
Produced by John Duncan
Bare Feet: Hogmanay in Scotland
Let an adventurous traveler lead you to Scotland's hidden gems—including a traditional Hogmanay festival.
Produced by Sauce & Liver Productions, LLC
Glyn: A 365 Docobites Film
We've been working with independent international filmmakers to provide you with videos that portray the people, culture, and lifestyles of the countries you're interested in visiting. We believe this video offers a unique perspective on Scotland.
Produced by Epiphany Morgan
Featured Reading
Immerse yourself in Scotland with this selection of articles, recipes, and more
ARTICLE
The castles of the British Isles each have a story to tell. Read about some of the best here.
Scotland: Month-by-Month
There are pros and cons to visiting a destination during any time of the year. Find out what you can expect during your ideal travel time, from weather and climate, to holidays, festivals, and more.
Scotland in January-February
The winter months bring short days and dreary weather to Scotland. High temperatures hover in the low 40 degree Fahrenheit range, with frequent driving rain in the lowlands; in the Highlands, snow-covered peaks welcome skiers and snowboarders. Scots are fond of saying "there's no such thing as bad weather, only unsuitable clothing," so wintertime travelers are advised to dress in layers topped off with a waterproof coat.
Perhaps the best way to cope with Scotland's winter weather is to hunker down by a roaring fire in one of the country's countless traditional pubs. Hearty Scotch fare like haggis, mince and tatties (ground beef and mashed potatoes), and clootie dumplings (a steamed pudding) is made for cold days, and a dram of whisky provides a warming glow.
Holidays & Events
January 25: Burns Night is an annual celebration of Scottish poet Robert Burns. The festivities include a haggis supper accompanied by a reading of "Address to a Haggis," many whisky toasts, and a rousing rendition of "Auld Lang Syne."
February 21-25: The Fort William Mountain Festival is a celebration of mountain culture and the spirit of adventure, with film screenings, workshops, competitions, and even winter hiking.
Scotland in March-May
Although the Highland peaks are still frosted with white this time of year, the snow begins to melt throughout most of Scotland, leaving a carpet of daffodils and bluebells in its wake. Mild breezes bring the daily temperatures into the mid-50 degrees Fahrenheit range.
Springtime is a wonderful season for exploring Scotland's outdoors, with woodland creatures emerging from their winter dens, new lambs appearing in pastures, and migratory birds returning north. The contrast of snowy peaks and green, flower-bedecked valleys is irresistible for mountain hikers, known locally as "fell-walkers." In oft-rainy Edinburgh, April brings a succession of dry days in which to enjoy a hike up Arthur's Seat or a sedate stroll through the blooming Princes Street Gardens.
Holidays & Events
May 1: Beltane is the Gaelic fire festival, marking the end of winter. A chosen May Queen and Green Man lead a parade that ends with the lighting of a bonfire—accompanied by much feasting and merrymaking, of course.
First weekend of May: The Spirit of Speyside Whisky Festival celebrates the world's finest single malt scotch whiskies, many of which come from this very region (Speyside is home to 84 working distilleries, after all). Attendees enjoy tastings, distillery tours, live music, and whisky-appreciation classes.
Scotland in June-August
As Scotland's spring turns into summer, daylight hours stretch into the evening; this far north, a summer day lasts up to 17 hours. The weather is mild and still changeable, but overall remains pleasant with temperatures rising toward 65 degrees Fahrenheit. Wildflowers and soft purple heather bloom throughout the summer, and the countryside is one green vista after another, from gentle hillocks in the lowlands to craggy peaks in the Highlands.
With so much daylight, there is ample time for bird-watching, outdoor exploration, and sightseeing. This is also the best time of year to visit Scotland's islands, as the seas are calm for boat crossings and island shops are open. Late summer is Scotland's busiest time for tourism, as the world-renowned Edinburgh Military Tattoo and Edinburgh Festival Fringe attract festival-goers by the thousands.
Holidays & Events
August: During the same three-week period in August, the Edinburgh International Festival and the Festival Fringe bring music, comedy, dance, theater, and performance art to Edinburgh. The International Festival hand-selects its acts, while the Fringe is open to just about any performer who wants an audience. While the International Festival is more prestigious, the Festival Fringe lays claim to being the world's largest arts festival, with over 2,500 shows to choose from.
August: At the same time as Edinburgh's two performing arts festivals, the Royal Edinburgh Military Tattoo presents a series of military tattoos (military music performances) on the esplanade of Edinburgh Castle.
Must See
Throughout the summer, whales feed off of Scotland's coasts. From the Shetland Isles to the Inner and Outer Hebrides, whale-watchers can spot minke whales, sperm whales, pilot whales, humpback whales, and orcas.
Scotland in September-October
Autumn burnishes the hills and glens of Scotland in tawny shades of red, copper, and bronze. This is the season for hunting and eating duck, pheasant, deer, and hare—plus the freshest local seafood including oysters, herring, and mackerel. Temperatures in autumn are cool (between 40 and 55 degrees Fahrenheit) and while September is often sunny, October sees frequent rainfall.
Holidays & Events
First Saturday in September: Regularly attended by the British monarch, the Braemar Gathering is the biggest and most important iteration of the Highland Games, which take place throughout Scotland all summer long. The celebration of Gaelic culture involves competitions of all kinds, including bagpiping, Highland dancing, hammer throw, and dog herding.
Scotland in November-December
After the leaves fall, Scotland is painted in shades of gray, from leaden skies to smoldering seas. The countryside is quiet, with rural areas all but closing down to visitors. But the approach of the holidays brings a glow to city streets, as Glasgow and Edinburgh host festive Christmas markets. Skiers and snowboarders celebrate the advent of winter at Scotland's five ski areas, which see close to a hundred snowy days every year.
Holidays & Events
November 30: Saint Andrew's Day is Scotland's national holiday in recognition of its patron saint. By law, all buildings in Scotland must display the saltire (the X symbol on the Scottish flag), and the day is marked with traditional Scottish food, music, and dance.
December 30-January 1: Hogmanay is Scotland's biggest holiday, a relic from the country's Viking past that incorporates elements of the Gaelic Samhain holiday and the traditional German Yuletide. The celebration begins with a torchlit procession and continues with fireworks, concerts, and dancing.
Must See
With three days of festivities engulfing the country, Hogmanay is a can't-miss Scottish holiday. Concerts, fireworks, and street parties overtake most cities and towns, while bonfires and torch processions provide a decidedly pagan flavor. And here in Scotland, where Gaelic persists as a local language, singing"Auld Lang Syne" at midnight on New Year's takes on an even richer meaning.
Average Monthly Temperatures
Get the Details On Our Scotland Adventure
Find out more about the adventure, including activity level, pricing, traveler excellence rating, included meals, and more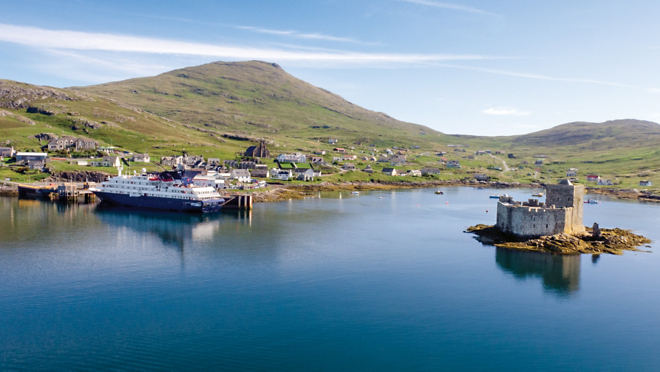 15 DAYS FROM $7,795 • $ 520 / DAY
Small Ship Adventure
England: London, Tresco • Wales: Fishguard, Caernarfon • Ireland: Dublin • Northern Ireland: Belfast • Scotland: Barra, Stornoway, Stromness, Aberdeen, Edinburgh
36 meals—daily breakfasts, 11 lunches, and 12 dinners (plus all onboard house beer & wine, as well as soft drinks)
Explore Edinburgh on foot
Walk among the prehistoric Callanish Stones and 18th-century cottages on the Isle of Lewis
Stroll the alleys of Footdee, a quirky and colorful fishing village in Aberdeen
Tour Scotland's northernmost whisky distillery in Stromness