Forgot Your Username
If you have forgotten your username, please provide your email address in the box below. We'll send you an email with your requested username. If you are having trouble, please call us toll-free at 1-800-221-0814.
Email Sent
You'll receive an email in a few minutes. Please check this email to find your requested username.
If you do not receive an email or you are having trouble logging into My Account, please call us at 1-800-221-0814.

RUSSIA
In 1939, Winston Churchill famously described Russia as "a riddle wrapped in a mystery inside an enigma." And in that sense, not much has changed in the world's largest country. Occupying one-tenth of all land on Earth, Russia spans 11 time zones across two continents (Europe and Asia), with coasts on the Atlantic, Pacific, and Arctic oceans. Approximately 120 ethnic groups reside in Russia, speaking more than a hundred languages.
About 80 percent of Russia's population can trace their ancestry to the Slavs who settled here some 1,500 years ago. The Mongol invasion of Kiev in the 13th century brought about the emergence of Moscow, which until then had been a small trading post. In the 1550s, Ivan IV (known as "the Terrible") became the first in a long succession of "Tsar of All the Russias." The Russian Revolution of 1917 brought the Tsarist monarchy to an end. The USSR (Union of Soviet Socialist Republics) was formed in 1920, and lasted until the fall of the Berlin Wall in 1991 when the Soviet flag with its hammer and sickle was taken down from the Kremlin flagpole and the Russian Federation was born.
From its spectacular cities and vast landscapes to its world-class art treasures and mighty fortresses, Russia is truly a land of superlatives. No less enigmatic now than in Churchill's day, Russia remains one of the most exciting destinations for the serious adventure traveler.
Russia Interactive Map
Click on map markers
below to view information about top Russia experiences
Click here to zoom in and out of this map
Most Popular Films
Films featuring Russia from international, independent filmmakers
My City: St. Petersburg
Enjoy a local's perspective of St. Petersburg—our pre-trip extension—a city that is still establishing its identity.
This film was produced by the BBC and was first published on BBC.com Travel
Seat 22
Journey through Mongolia and its surrounding countries on the legendary Trans-Siberian Railway.
Produced by Stanislas Giroux
100 Wonders: Star City
Enter Star City to see Soviet Russia's advanced space program, hidden from the world for decades.
Produced by Dylan Thuras
Featured Reading
Immerse yourself in Russia with this selection of articles, recipes, and more
RECIPE
Venture off the beaten path of dumplings and try a new recipe for Russia's pelmeni, or meat dumplings.
Russia: Month-by-Month
There are pros and cons to visiting a destination during any time of the year. Find out what you can expect during your ideal travel time, from weather and climate, to holidays, festivals, and more.
Russia in November-February
Russia is spectacular anytime of year with its whimsical buildings and vast landscapes, but it is particularly charming covered in a fresh coat of snow. The snow-covered cities, cozy winter apparel (most notably shapkas, the quintessential Russian fur hats), and warm and hearty food and drinks may be what draw small groups of tourists to the country, but for the most part, Russia is clear of large crowds in the winter.
November through February bring numbingly cold temperatures, which can plummet to as low as -15 degrees. The coldest temperatures are in January, signifying the peak of winter. Big western cities like Moscow and St. Petersburg typically remain above 0 degrees, but farther east, in cities like Irkutsk, you'll feel the bone-tingling cold.
The cold weather isn't all bad though. February is the best time to visit Lake Baikal where you can skate or walk on the frozen lake. Winter is also the best time to track tigers in Russia. Multiple wildlife reserves offer guided tiger tracking tours where you may see the elusive Siberian Tiger in its natural habitat.
Holidays & Events
January 7: Because 75% of locals consider themselves Orthodox Christians, Russia celebrates Christmas in January based on the ancient Julian calendar.
January: The International Festival Competition of Snow and Ice Sculpture in Krasnoyarsk brings together teams from around the world who prove their artistry and skill by sculpting ice and snow to create elaborate designs.
Must See
To get an authentic glimpse into how Russia celebrates the holidays, visit any local winter festival. Revel in the holiday cheer when you ice skate around an open-air rink, witness extremely elaborate ice sculptures, sample traditional holiday cuisine, and take a troika ride, a horse-drawn carriage ride, through the city. These festivals typically run from December to January.
As you explore Moscow, you may find more than winter festivals. If you wander down Arabat Street, you'll be met by a large crowd of snowmen. The snowmen parade is a cute tradition where anybody can build a snowman, or a group of snowmen, and others will add their own snowmen, resulting in the creation of a parade of snowmen. While these "parades" happen all over the city, Arabat Street is the most popular spot.
Russia in March-April
A slight warm up occurs in March and April, but spring weather doesn't quite arrive until May. Between night and day, the temperature varies greatly. Sometimes the day's high is 10-30 degrees warmer than the low. Expect cold weather to stick around in March—this includes a snow shower or two. While the weather is still cold in April, leftover snow on the ground begins to melt, specifically in cities like St. Petersburg and Moscow where it is slightly warmer than in more rural areas. The melted snow reveals lush grass and you may even see flowers start to bloom.
Holidays & Events
February or March: Maslenitsa is an Eastern Slavic folk festival that is one week before Russian Orthodox Lent (which sometimes falls in February). The festival marks the beginning of spring and is celebrated with blinis, Russian pancakes, and other buttery foods.
April or May: Orthodox Easter is celebrated in April or May based on the Julian Calendar, which is used by the Russian Orthodox Church.
Russia in May-June
While spring awakens in parts of Russia, other parts of the country are still experiencing cooler temperatures—Russia spans eleven time zones after all. It's hard to pinpoint exactly how the weather is going to act in Russia because of the incredible size of the country. In May and June, temperatures remain in the 60s in cities like Moscow and St. Petersburg, while in eastern cities like Irkutsk, temperatures can still dip into the 30s.
May is an ideal month to visit Russia as it is still relatively quiet before tourist season begins in June when you can expect larger crowds in Russia's major cities. Get a glimpse of the blooming landscape without the crowds. Moscow has some of the most magnificent floral displays—from the Alexandrovsky Garden outside of the Kremlin to the Hermitage Garden located in the federal district of Tverskoy.
Holidays & Events
May 1: Labor Day
May 9: Victory Day commemorates the defeat of Hitler and honors Russia's fallen World War II soldiers.
June 12: Russia Day is a day of national pride that is celebrated with concerts and firework shows.
Must See
Turning on the fountains at Peterhof isn't just a quick flick of a switch, it's a full-day festival. Over 100 fountains accentuate the grandeur of Peterfhof and are on full display on the opening day as the fountains are celebrated with classical music and fireworks.
The main event of the season is the arrival of the White Nights. White Nights occur when the sun doesn't completely set in the far northern and southern hemispheres for a period of two months. May marks the beginning of the White Nights. A notable event that occurs in June during the White Night's Festival is the Scarlet Sails Festival. The romantic story behind this festival begins when a young girl has a strange encounter with a psychic who predicts that a prince will whisk her away on a ship with scarlet sails. While she doesn't fall for a prince years later, she does fall in love with a wealthy man who happens to own a ship with scarlet sails, and the two sail away together.
The White Nights are the perfect time of year for reenactments of this fairy tale story as the striking scarlet sails of the ship contrast the soft hues of the sky. The festival includes musical and theatrical performances, and ends with a magnificent fireworks show.
Russia in July-August
July and August are pleasantly warm throughout the country, with highs in the 70s. You can enjoy the summer with longer daytime hours. Witness the flowers in full bloom and with over four million miles of forest throughout the country, there are plenty of opportunities to hike and catch glimpses of Russia's diverse wildlife.
While Russia has finally emerged from its cold slumber, summer brings rainfall and unpredictable changes to the weather. Try to plan accordingly and pack clothes for warmer and cooler weather as temperatures can slip into the 50s in July and August. Summer is also a time of year when a slew of bugs arrive, so make sure to keep bug spray on hand.
Must See
The White Nights continue into July, sometimes ending the first week and sometimes lasting through the end of the month. This natural phenomenon also happens in other countries like Finland, Canada, and even America (Alaska is far enough north that it experiences White Nights). Locals take advantage of the longer daylight hours by continuing their celebrations mainly in St. Petersburg where the White Night's Festival is held. During this annual festival, public concerts, nightly theater performances, and carnivals fill the air with an exciting energy.
Russia in September-October
If you blink, you may miss autumn. The short season lasts a few weeks and is marked by bright foliage and few crowds. Take in views of red and orange during an exploration of the forested area surrounding Lake Baikal. Or, stroll through the streets of St. Petersburg where tree-lined streets come to life with colors of gold and red. Autumn is also when the Peterhof fountains close, and similar to when they open in May, a festival marks their closing.
When autumn comes to an end, wintry cold weather arrives, and with it comes the chance of snow showers. In cities like Irkutsk, temperatures sometimes reach a low of 21 degrees in October, so you may want to pack winter essentials this season.
Holidays & Events
September: Moscow City Day celebrates Moscow's origins in the twelfth century. The city celebrates with parades, free entry into select museums, and fireworks.
October: The Kremlin Cup is an international tennis tournament that is held in Moscow.
Average Monthly Temperatures
Compare Our Adventures
Click 'Select to Compare' to see a side-by-side comparison of up to adventures below—including
activity level, pricing, traveler excellence rating, trip highlights, and more
16 DAYS FROM $4,395 • $ 275 / DAY
Small Group Adventure
Lithuania: Vilnius, Klaipeda • Latvia: Riga • Estonia: Tallinn • Russia: St. Petersburg
32 meals—daily breakfast, 10 lunches, and 8 dinners (including 1 Home-Hosted Lunch)
Tour St. Petersburg's highlights
Visit the stunning Baroque Hermitage Museum
Explore the 18th-century Peter and Paul Fortress
Behold the magnificent Catherine Palace
Spend 11 days in Lithuania, Latvia, and Estonia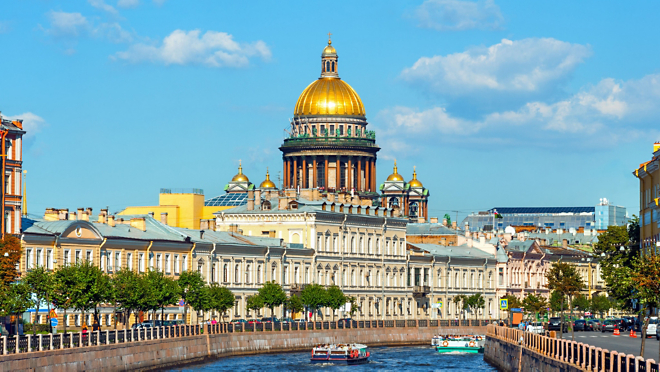 14 DAYS FROM $7,295 • $ 522 / DAY
Small Ship Adventure
Denmark: Copenhagen, Ronne • Poland: Gdansk • Sweden: Visby, Stockholm • Latvia: Riga • Estonia: Tallinn • Russia: St. Petersburg • Finland: Helsinki
34 meals—12 breakfasts, 10 lunches, and 12 dinners (plus all onboard house beer & wine, as well as soft drinks)
Visit St. Petersburg's largest church—St. Isaac's Cathedral
Visit the stunning Baroque Hermitage Museum
Tour the Russian royalty's sprawling Grand Palace
Explore St. Petersburg independently—perhaps you'll enjoy the Russian ballet or circus

Spend 10 days in Denmark, Poland, Sweden, Latvia, Estonia, and Finland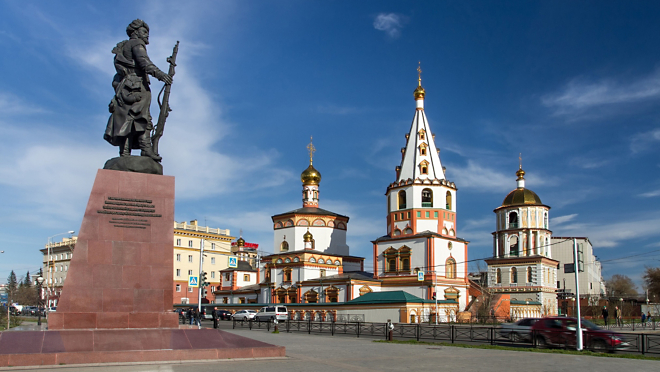 ;
6 NIGHTS FROM FROM $2,895
Discover the geological wonders of Lake Baikal
Explore the Decembrist's House Museum
Visit the Exaltation of the Cross Church
Witness Lake Baikal's wildlife and the Baikal Limnological Museum's aquarium
Spend 15 days in Mongolia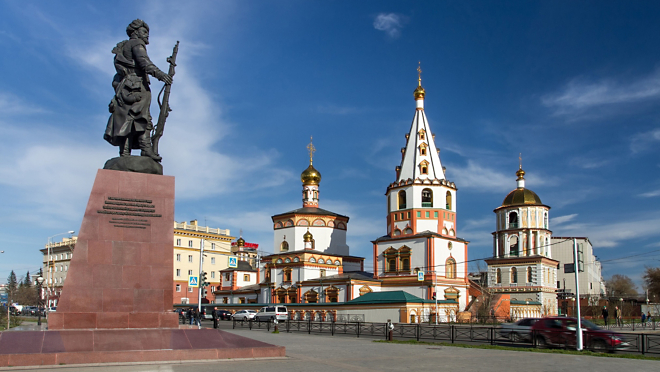 Not Applicable*
Not Applicable*
10 meals—daily breakfast, 3 lunches, and 2 dinners
Discover the geological wonders of Lake Baikal
Explore the Decembrist's House Museum
Visit the Exaltation of the Cross Church
Witness Lake Baikal's wildlife and the Baikal Limnological Museum's aquarium
Spend 15 days in Mongolia