Forgot Your Username
If you have forgotten your username, please provide your email address in the box below. We'll send you an email with your requested username. If you are having trouble, please call us toll-free at 1-800-221-0814.
Email Sent
You'll receive an email in a few minutes. Please check this email to find your requested username.
If you do not receive an email or you are having trouble logging into My Account, please call us at 1-800-221-0814.

PANAMA
For over a hundred years, the country of Panama has been defined by its greatest manmade achievement—the Panama Canal. And while this engineering marvel rightly deserves its place of importance, there is even more to see and discover in this Central American country known as the "Crossroads of the Americas."
A narrow region comprised of two long coastlines, it is no surprise Panama's name comes from the indigenous term for "an abundance of fish." And its strategic location—an isthmus of land bridging North and South America—plus its famous canal linking the North Atlantic to the North Pacific by way of the Caribbean, makes Panama one of the most important shipping routes in the world. Throw in miles of gorgeous beaches, and it's safe to say that Panama is a country with strong ties to the sea.
Beyond the shoreline, however, there is even more to discover. Relatively easy to access, Panama has become a traveler's dream over the past few years. In just one visit, you can dip your toes in two different oceans, experience the both the misty mountains and lush rain forests, immerse yourself in indigenous cultures, and take advantage of its lively urban centers. A unique blend of treasures both natural and cosmopolitan, Panama is a land of diverse people, culture, and experiences to enjoy.
Panama Interactive Map
Click on map markers
below to view information about top Panama experiences
Click here to zoom in and out of this map
Most Popular Films
Films featuring Panama from international, independent filmmakers
Balsa Trees – Natural History
Discover the fantastic array of animals nourished by Panama's balsa trees, which bloom when food is scarce.
Produced by Anand Varma
Diablo Rojo
Witness the demise of the Diablos Rojos, the wildly decorated school buses that once comprised Panama City's bus system.
Produced by Eoin Mclaughlin
Resisting "the Foreign Tentacle"
Discover how Panama's indigenous Kuna people are striving to maintain their culture in a changing world.
Produced by Matteo Borgardt
Featured Reading
Immerse yourself in Panama with this selection of articles, recipes, and more
ARTICLE
When Roosevelt was elected, he dreamed of a link between the Atlantic and Pacific oceans. See how his dream came to life.
Panama: Month-by-Month
There are pros and cons to visiting a destination during any time of the year. Find out what you can expect during your ideal travel time, from weather and climate, to holidays, festivals, and more.
Panama in January-March
Panama's dry season from January to March is perhaps the most picturesque time of year. Yet, you may still catch what locals call bajareque, a comfortable misting rainy mist. For beachcombers, a pleasantly warm seaside climate makes the Pacific coast a great place to get some sun on white-sand beaches, while the Caribbean coast is known for its excellent surfing. The warm, clear waters on either coast are also great for scuba diving and snorkeling.
In the mountains, temperatures are more comfortable than in the lowlands. This is prime hiking season, and Panama's national parks are full of wildlife. While in the jungles, you'll also see that Panama's exotic bird populations are out in full force, so take advantage of prime birdwatching season.
This is the height of tourism season, so expect the coasts and cities to be crowded. Your tourism dollar will not go as far for street vendors and restaurants, yet the beauty that blooms in this season cannot be missed.
Holidays & Events
January 11-21: The Chiriquí Highlands Flower Festival in Boquete is a celebration of art through flowers. You'll see floats covered in bright blooms, and artistic installations depicting landscapes composed completely of flowers.
January 15-20: The Panama Jazz Festival is the country's premier festival celebrating the genre. Musicians from all around Panama and the world come to perform.
March 25-31: Semana Santa is the seven days leading up to Easter. As a predominantly Catholic country, Panamanians will commemorate the prophet Jesus' life with feasts, plays, and in some cases, parades.
Must See
Carnaval is a festival that floods South and Central America with frenetic energy. Thousands swarm the main cities to party—people wearing outlandish outfits dance in the streets, and floats depicting demonic, political, and satirical themes are visually stunning. Expect to get wet—one common tradition is dousing the crowd with a fire hose.
Panama in April-June
The rainy season begins in May, which means water levels throughout Panama are higher. Whitewater rafting is a favorite pastime at this time of year, as you have your choice of robust rapids and calmer, smoother flows.
As most tourists prefer the dry season, the heavy crowds of winter will be gone. In Panama, the frequent downpours will often fade away to clear, shining skies on a whim—this in itself is a sight to behold. The rainforest and high-elevation cloud forests become especially stunning—Panama's flora blooms in intense color from the increased rainfall.
Holidays & Events
May 1: Similar to our Labor Day celebrations in America, Panamanians take this day to celebrate the achievements of workers around the country.
Panama in July-September
During Panama's summer, both coasts are a welcome escape from the hot and humid climate. Tourists tend to avoid Panama, and most of Central America, because of the enduring heavy rains at this time. You can travel at a value, as prices for almost everything are much lower.
Opposite to Panama's autumn, the Pacific Coast becomes ripe for surfing. The wind patterns are now affecting the other side of the country, so waves for all skill levels are available. This would be a great time to learn the art, or practice with more robust waves.
Holidays & Events
Mid-July: The Pollera Festival in Las Tablas celebrates the art of making polleras—meaning "skirts" in Spanish. Hundreds of women take to the streets in fine, ornately-embroidered dresses.
August 15: The Founding of Old Panama commemorates the founding of Panama City in 1519.
September 14-18: The International Bocas Del Toro Sea Fair takes place along the coast of the province of Bocas Del Toro. You can catch boat races, inexpensive seaside vendors, and dance to the beat of live Panamanian music.
Panama in October-December
By the time the rainy season ends in November, Panama is covered in lush vegetation. Flowers are blooming, and peering down a mountainside will reveal astoundingly verdant landscapes. Hiking through San Lorenzo National Park, or any of Panama's outdoor reserves, will reveal a newly-born effusion of life. Take advantage of the longer daylight hours to enjoy the country's natural treasures.
As the rains start to wane by October—and almost completely ceasing in November—you'll have access to many roads that might have been closed during the previous season. Tourism season only starts picking up in December, so this is the time to take advantage of less rain, lower prices, and Panama's most picturesque flora.
Holidays & Events
November 2: Día de Muertos is a day when family comes together to remember relatives who have passed away, often around a large family feast.
November 3: This day celebrates Panama's independence from Colombia in 1903. Expect parades to fill the streets of larger cities, and for bars and restaurants to be open later.
November 28: Panama obtained independence from Spain in a bloodless revolt on this day. Military parades, parties in the street, and music make this a great time to see much of Panamanian culture.
Average Monthly Temperatures
Get the Details On Our Panama Adventure
Find out more about the adventure, including activity level, pricing, traveler excellence rating, included meals, and more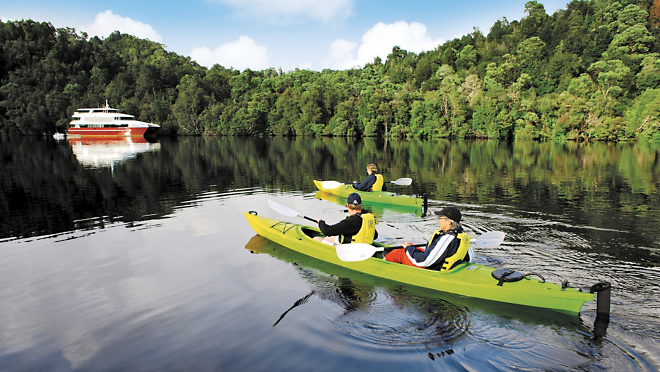 12 DAYS FROM $3,595 • $ 300 / DAY
Small Ship Adventure
Panama: Panama City, Chitre, Chorrera, Gamboa, Taboga Island, Panama Canal, San Lorenzo National Park
28 meals—daily breakfasts, 8 lunches, and 9 dinners
Embark on a 4-day cruise of the Panama Canal aboard a 24-passenger catamaran
Board a dugout canoe and set off to visit an indigenous Embera Indian village, sharing lunch with a local family
Visit the workshops of local artisans, such as a potter and a mask-maker
Explore Panama City during an included tour and on your own