Forgot Your Username
If you have forgotten your username, please provide your email address in the box below. We'll send you an email with your requested username. If you are having trouble, please call us toll-free at 1-800-221-0814.
Email Sent
You'll receive an email in a few minutes. Please check this email to find your requested username.
If you do not receive an email or you are having trouble logging into My Account, please call us at 1-800-221-0814.
NEPAL
Nepal reigns in the collective consciousness as the land of extremes: Home to eight of the world's tallest ten mountains—including the mighty Mount Everest—Nepal is a literal zenith on most travelers' lists. This predominantly Hindu country has a small but thriving Buddhist population, and boasts impressive domed temples, colorful festivals, and even a living goddess.
Yet Nepal also suffers from extreme poverty. It is the poorest country in south Asia and the 12th poorest in the world. In 2008, the Nepali Civil War came to a close and a new republic was created, ending the rule of the world's last Hindu monarchy and ushering in a new era for this small mountainous nation. From fluttering prayer flags to the snowcapped peaks of the Himalayas, steadfast Sherpas to mountaintop monasteries, perspective-altering Nepal takes you on journeys both physical and spiritual.
Nepal Interactive Map
Click on map markers
below to view information about top Nepal experiences
Click here to zoom in and out of this map
Most Popular Films
Films featuring Nepal from international, independent filmmakers
Katmandu Before the Quake
Discover life among the temples of Kathmandu—many of which were destroyed in a 2015 earthquake.
Produced by Jonah M. Kessel ©2015 The New York Times
A Moment at the Top of the World
Experience life in a remote Nepali village, where high altitude often makes small tasks a challenge.
Produced by Maude Plante-Husaruk
Kids on a Wire
See how Nepali children literally go to great heights to receive a daily education.
Produced by Keshab Penday
Featured Reading
Immerse yourself in Nepal with this selection of articles, recipes, and more
ARTICLE
Discover some of the most incredible species of big cats, birds, and reptiles lurking in Nepal's jungles.
ARTICLE
Travel on a journey through Nepal's bustling streets and Himalayan valley, past colorful homes and sacred temples.
ARTICLE
Get an in-depth look at Nepal's history—from the origins of Buddhism to the development of the country's democracy.
Nepal: Month-by-Month
There are pros and cons to visiting a destination during any time of the year. Find out what you can expect during your ideal travel time, from weather and climate, to holidays, festivals, and more.
Nepal in December-February
During the day, Nepal's wintertime temperatures are comfortable, averaging around 50-60 degrees, while the evening temperatures plummet into the 30s. During the winter months, you can expect fog and you may experience snow, especially at higher elevations where the weather is even cooler during the day and night. Expect the closure of some mountain passes when the snow piles up too high in the mountains. It's also advisable to pack clothes that you can layer as the temperature vary greatly between day and night.
Holidays & Events
Early February: Shree Panchami celebrates the end of winter and beginning of spring. This day is dedicated to personal growth and is celebrated in a variety of ways. Some people schedule their wedding on this day, others use it as a day to pray at local temples, and kids are encouraged to use this day to practice writing and reading on their own.
Mid-February: Maha Shivaratri is a sacred day for Hindus who honor Shiva by praying for light instead of darkness. Pilgrims make the journey to Kathmandu to join thousands of other devotees in prayer on this day.
Nepal in March-May
March and April are ideal months to visit Nepal when the renewed vibrancy of spring is welcomed back. With spring's arrival comes warmer weather, colorful blooms, and extended daylight hours. In March and April, temperatures linger in the 70s and 80s during the day and drop at night, so pack warmer clothes for any nighttime activities. May is when things start to heat up with highs sometimes averaging in the upper 90s. This heat is amplified by humid conditions that are common in May. Spring is also one of Nepal's busier months as tourists flock here to experience the warm weather and Holi festival.
Soak up the spring weather and take advantage of the longer daylight hours by setting off on an exciting safari in Chitwan National Park. Experience the park's jungles and grasslands, keeping an eye out for Bengal tigers and one-horned rhinos. Or, stroll through Kathmandu to witness rhododendron in bloom. Rhododendron are Nepal's national flower and can be found blooming across the country—most notably in Himalayan communities.
Holidays & Events
Early or mid-March: Local Hindus fill the streets of Nepal, tossing colorful powders and liquids on each other, to celebrate Holi—an annual festival that marks the beginning of spring.
Mid-April: Nepal rings in its New Year with dances, sporting events, and parades. Bhaktapur is one of the best places to experience this celebration when locals fill the streets to enjoy processions and feasts.
April 8: Buddha Jayanti is a celebration of Buddha's birth in 543 BC.
Late April or early May: Mother's Day
Must See
Holi is considered a national holiday in Nepal and is celebrated by the predominantly Hindu population here. Interestingly enough, the festival has no religious ties or requirements and is solely celebrated to mark the first day of spring. The joyful spirit of the festival is infectious as revelers take to the streets with vibrant powders and liquids that they throw on each other.
Nepal in June-August
June marks the beginning of monsoon season. Expect extreme humidity and hotter temperatures during the day, with heavy rainfall at night. While the weather may not be as cooperative as the spring or autumn weather, fewer crowds visit Nepal in the summer. Plus, the grass is at its greenest and flowers are in full bloom as a result of the wet weather this time of year.
The Everest Base Camp trek is recommended in June when the weather isn't too hot or too cold. Enjoy clear views of the mountain and its surrounding landscape of green grass and vibrant flowers.
Holidays & Events
Late August or early September: Teej is a day dedicated to women. Adorned in red, all the women in a family gather at a meeting place where they enjoy traditional dances, music, and food.
Nepal in September-November
Autumn brings much needed relief to Nepal when pleasant weather arrives back in the region. Comfortable temperatures, little chance of rain, clear conditions, and fresh air make this the best time to visit Nepal. Absorb the sunshine and moderate temperatures during a trek on the Annapurna Circuit, but expect large crowds—autumn is peak tourist season.
Holidays & Events
Early September: Indra Jatra honors Indra, the god of heaven, rain, and thunder. This eight-day festival includes carnivals, processions, and displays of ceremonial masks and sculptures.
Late September or early October: Dashain is a 15-day worship of the goddess Durga. This is the longest and most important Hindu festival in Nepal.
Late October or early November: Tihar is the second most important festival in Nepal after Dashain. Tihar is a five-day celebration that honors crows, dogs, cows, and Laxmi—the Hindu goddess of fortune.
Must See
During Dashain, locals aim to prove their devoutness to the goddess Durga, who is considered the mother of Hindus and protector of people who perform good deeds. Locals do this by buying gifts at local markets and then presenting them as offerings at temples. Another ritual that is common during Dashain is the sacrifice of animals. The final days of Dashain are used to gain the blessings of family elders, and once this is achieved worshipers are finally able to return to their homes and rest.
Average Monthly Temperatures
Compare Our Adventures
Click 'Select to Compare' to see a side-by-side comparison of up to adventures below—including
activity level, pricing, traveler excellence rating, trip highlights, and more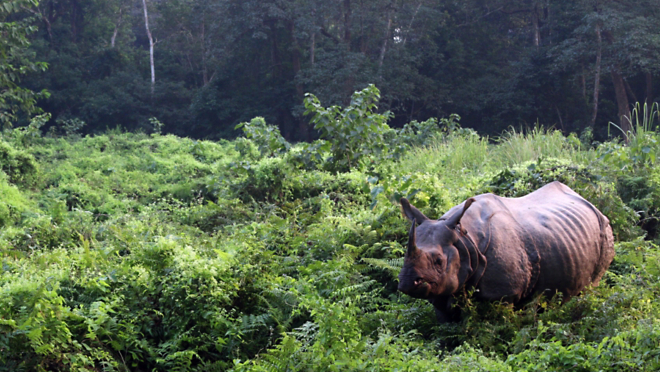 17 DAYS FROM $5,095 • $ 300 / DAY
Small Group Adventure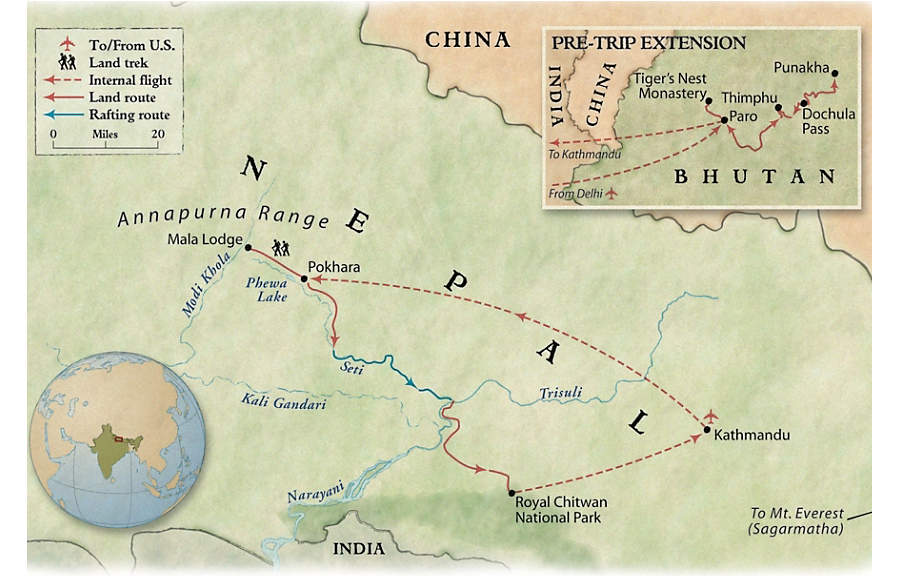 Nepal: Kathmandu, Pokhara, 3-Night Overland Trek, 2-Night River Camp, 2-Night Jungle Safari
36 meals—daily breakfast, 11 lunches, and 11 dinners (including 1 Home-Hosted Dinner)
Explore the temples and marketplaces of Kathmandu
Trek the Annapurna Mountains
Experience A Day in the Life of a Nepali village
Raft down the Seti River
Search for tigers and rhinos in Chitwan National Park
;
5 NIGHTS FROM FROM $1,395
Visit the holiest temple in Nepal, the Boudhanath Stupa
Discover the ancient city of Kirtipur
Sip tea and explore the markets in Kathmandu
Not Applicable*
Not Applicable*
9 meals—4 breakfasts, 2 lunches, and 3 dinners
Visit the holiest temple in Nepal, the Boudhanath Stupa
Discover the ancient city of Kirtipur
Sip tea and explore the markets in Kathmandu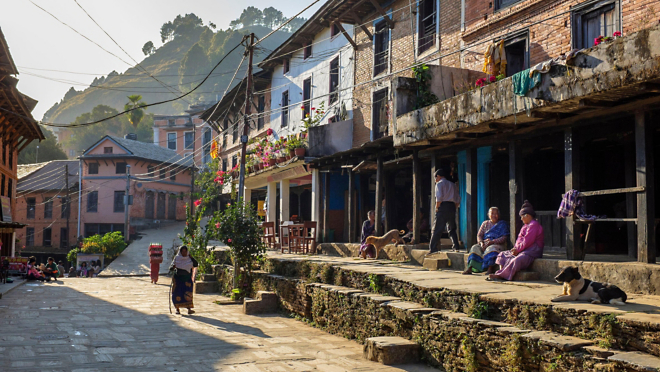 ;
5 NIGHTS FROM FROM $1,495
Visit the holiest temple in Nepal, the Boudhanath Stupa
Trek to Dharampani village
Sip tea and explore the markets in Kathmandu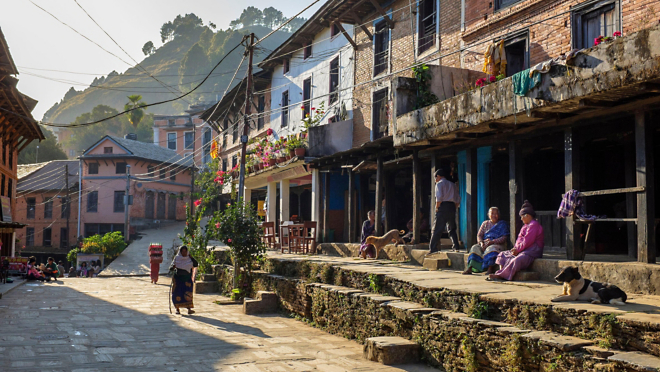 Not Applicable*
Not Applicable*
13 meals—5 breakfasts, 4 lunches, and 4 dinners
Visit the holiest temple in Nepal, the Boudhanath Stupa
Trek to Dharampani village
Sip tea and explore the markets in Kathmandu