Forgot Your Username
If you have forgotten your username, please provide your email address in the box below. We'll send you an email with your requested username. If you are having trouble, please call us toll-free at 1-800-221-0814.
Email Sent
You'll receive an email in a few minutes. Please check this email to find your requested username.
If you do not receive an email or you are having trouble logging into My Account, please call us at 1-800-221-0814.

ISRAEL
With a long Mediterranean coastline, the Negev Desert to the south, and snowcapped mountains in the north, Israel is a geographically diverse destination, especially for its small size. It's also the birthplace of Judaism and Christianity respectively, and an important land historically for Islam from the area's time under Muslim rule. Within many cities and towns three worlds—one Jewish, one Christian, and one Muslim—exist both peacefully and in conflict.
Established in 1948 after World War II, modern Israel was founded as a haven for Jews around the world after the horrors of the Holocaust. The territory of Israel is historically considered land promised to the Jewish people by God. Yet, the conflict between Israelis and Palestinians has been going on for more than 100 years since the fall of the Ottoman Empire and the end of World War I.
A Palestinian state existed where Israel is today, established by the Romans almost two thousand years ago. The current conflict between the Palestinians and Israeli Jews is focused around this displacement. The country has made a lasting peace with Egypt and Jordan, yet tensions are still high with Lebanon, Syria, and the displaced Palestinian people.
More recently, the surge of Jewish settlements in the West Bank has sparked waves of fighting which flare and wane with the passing of time: most of the country today lives in peace.
Israel is many things to many different people: an embattled homeland, a symbol of religious imperialism, and a holy land. Unequivocally, Israel is a land of historical and cultural wonder.
Israel Interactive Map
Click on map markers
below to view information about top Israel experiences
Click here to zoom in and out of this map
Most Popular Films
Films featuring Israel from international, independent filmmakers
Inspired Israel
Soar over Israel's lush fields and sculpted canyons, gliding past hillside towns.
Produced by Jeffrey Worthington
Women at the Western Wall
Learn about Israel's Women of the Wall prayer group, which is challenging Orthodox customs at the holy Western Wall.
Produced byTamir Elterman
Qumran and the Dead Sea Scrolls
Explore Qumran and learn about the Essenes' complex culture—including the creation and preservation of the Dead Sea Scrolls.
Produced by Jeffrey Worthington
Med Breaks - Haifa
Follow locals to the beach to catch some waves in Haifa where the surf industry is growing.
Produced by Yaeer Eldar
Featured Reading
Immerse yourself in Israel with this selection of articles, recipes, and more
ARTICLE
Piece together the meaning and history of Jerusalem's mosaics with O.A.T Trip Leader Khalil Shreim.
ARTICLE
See Israel from the eyes of a local—O.A.T Trip Leader Gabriella Landau.
ARTICLE
Discover how Israel came close to creating a Utopian society.
Israel: Month-by-Month
There are pros and cons to visiting a destination during any time of the year. Find out what you can expect during your ideal travel time, from weather and climate, to holidays, festivals, and more.
Israel in January-February
January and February experience cooler temperatures that can range anywhere from 40-60 degrees, with the coolest weather in the mountains. These months also have the most rainfall as the rainy season typically lasts from October to March. While the weather isn't ideal, you won't have to compete with tourists for views of the Western Wall and you won't have to fight your way through crowds in Masada as the country sees fewer tourists these months.
With little to no crowds and cooler temperatures, these are ideal conditions for hiking—Israel is known for having the most trails per square meter in the world. Enjoy exploring the lush oasis of golden cliffs and crystalline water at the Ein Gedi Nature Reserve without the crowds.
Holidays & Events
January 6: Orthodox Christmas
January 6: The Sea of Galilee Tiberias Marathon is an annual race that begins and ends in Tiberias
Must See
Although it's cold during January and February, this is one of the best times to enjoy the outdoor wonders of Israel. Clear conditions and relatively warm water (never dipping below 70 degrees), make this the best time to snorkel in the Red Sea. Dive to witness the rainbow beds of coral that come in nearly 100 varieties and to catch a glimpse of the 800 species of underwater wildlife, including turtles, whale sharks, and stingrays.
For avid bird watchers, keep your eyes peeled for wintering birds who migrate during these months—from pelicans to eagles and swallows.
Israel in March-April
The weather becomes noticeably warmer in March and April, where the coldest locations in the north, like Golan Heights, have temperatures averaging around 60 to 75 degrees. Southern Israel experiences very pleasant and warm weather along with a lot of sunshine as the rainy season comes to an end in April. As the weather warms up, tourists begin to flock to Israel—expect more crowds, especially during Holy Week.
People from all over the world make the journey to Israel around Easter and Passover for an unparalleled experience. In addition to the hordes of tourists, locals also have a two-week vacation, so expect very long lines, increased prices, and crowded streets and sights.
Holidays & Events
February or March: Purim is an annual Jewish festival, celebrated in March, features colorful costumes and detailed masquerade masks that evoke the lively spirit of Mardi Gras
March: The Jerusalem Arts Festival is a celebration of art, theater, and music in March
March or April: Easter; religious services and processions take place from Palm Sunday through Easter Sunday. Easter is mainly celebrated in Jerusalem when locals and Pilgrims fill the streets to walk in the footsteps of Jesus.
April: Passover is celebrated with Pilgrim festivals and the Seder (a ceremonial meal). During the week of Passover, those observing the holiday give up foods containing yeast—stores even take yeast-based products off their shelves.
Must See
As a result of the rainy season, spring blooms with colorful wildflowers. The anemone, cyclamen, and lupine—known in Hebrew as the kalanit, rakefet, and the tourmus—are just a few of the vibrant florals that you can expect to see in March and April.
Israel in May-June
Pleasant weather, no crowds, and little to no rain make May the best time of the year to explore Israel. Not to mention, Israel comes to life with festivals and celebrations in May and June—from Israel's Independence Day to Shavuot. Israel's Independence Day is on the fifth day of the month of Iyar, which follows the Jewish calendar and is typically celebrated in either April or May. But before Israel celebrates Independence Day, locals commemorate the soldiers that fought to achieve the State of Israel with their own Memorial Day, which also follows the Israeli calendar.

Shavuot is considered to be a religious and agricultural celebration in Israel. The religious holiday is celebrated for one day, usually in May and commemorates the gifting of the Torah from God to the Jewish people. Shavuot is also celebrated as an agricultural festival that marks the start of the harvest season.
Holidays & Events
April or May: Israel's Independence Day is typically celebrated in May depending on the Jewish calendar
May: The EAT Festival showcases local restaurants and traditional cuisine
June: The Israel Festival is an annual celebration of local dance, music, and theater
June 30: White Night is an all-night festivity in Tel Aviv's White City, a UNESCO World Heritage Site. This event displays Israel's unique culture in a variety of mediums, including concerts and street parties
Must See
A truly one-of-a-kind event is the Negev Desert festival. Similar to the Burning Man festival in Nevada, this Israeli event takes place in the desert over the course of six days and fosters community and creativity. If there is any time to attend a festival of this kind, it's in May as the desert temperatures aren't too hot and rare rainfall won't hinder your experience.
Israel in July-August
Summer in Israel's arid climate brings dramatic temperature increases, little to no rain, and high humidity. If you are exploring the desert these months, be sure to stock up on sunscreen and water as the sweltering heat hits the hardest in the desert. While summer ushers in extreme heat, it is the perfect time to cruise Lake Kinneret and take advantage of the beach, although you can expect large crowds as July and August mark peak tourist season.
Holidays & Events
August: The Red Sea Jazz Festival is an annual celebration of local jazz acts that has been held in Eilat since 1987
Must See
If you find yourself looking for a highly unique experience, the annual Festival of Light in Jerusalem is held at the very end of June and continues through the beginning of July. Follow a path through the heart of the city to witness light installations and detailed works of art. Pass the Church of the Holy Sepulchre and walk through Jerusalem's Jewish Quarter, two sites that you'll witness during the day and now you can experience at night if you choose to participate in this festival.
Israel in September-October
September is an ideal time to visit Israel when the temperatures cool down and crowds start to dissipate. Cool off and escape the summer heat with a visit to the lowest place on Earth. Float effortlessly in the mineral-rich waters of the Dead Sea and experience the world's saltiest body of water firsthand. Although the weather is pleasant and you'll beat the crowds in September, be aware that during the holy holiday of Yom Kipur, Israel's streets clear up completely of people and cars, and bars and restaurants close down to observe this holiday. October provides a stark contrast to September as large crowds descend on Israel to celebrate Sukkot, a week-long holiday that honors the protection of the Israelites.
Holidays & Events
September or October: Rosh Hashanah celebrates the Jewish New Year
September or October: Yom Kipur is the holiest day of the year in Judaism and means "Day of Atonement"
Must See
Get an intimate and authentic view of Israel in September when the country celebrates two major holidays—Rosh Hashanah and Yom Kipur. During these holidays, restaurants and businesses will close. Rosh Hashanah is the quieter of the two holidays as most locals attend synagogue services and enjoy meals with friends and families. You may want to stop into a synagogue to get a truly whole picture of how this Rosh Hashanah is celebrated by locals. Following Rosh Hashanah is Yom Kipur, a holiday that is spent praying during synagogue services during the day and then followed by lively festivities—locals sing in the streets and after a day of fasting, the conclusion of this holiday is celebrated with large meals.
Israel in November-December
November marks the last of the pleasant weather, but as a result of little to no rainfall in the summer, the land is arid and not as lush. A significant cool down occurs in December and along with the cooler weather comes rainfall. Expect less sunshine and more overcast and cloudy days in December as well.
Although the weather isn't ideal in November and December, little to no crowds and mild temperatures are perfect for exploring the Machaneh Yehuda, one of the oldest neighborhoods in Jerusalem, and visiting the 4000-year-old city of Jaffa.
Holidays & Events
December 25: Christmas Day
December: Hanukkah
Must See
Locals like to take advantage of November's pleasant weather by holding the Hula Valley Bird Festival. Explore Agamon Park, Hula Nature Reserve, and Golan to to catch glimpses of native desert birds.
Looking to escape the cool weather in December? Throughout December, museums, theaters, concert halls, galleries, and more offer free admission and restaurants have special offers as part of Hamshushalayim, a combination of the Hebrew words for Thursday, Friday, Saturday, and Jerusalem. Hamshushalayim is a celebration of Jerusalem's art and culture.
To get a true sense of the holiday season, Israel has a variety of festivals and shows for those celebrating Christmas and/or Hanukkah. In Jerusalem, Christmas festivals fill the streets with people waiting to get a glimpse of Santa, sample traditional holiday treats, and find their perfect Christmas Tree. Hanukkah celebrations tend to be less busy as the main event of the holiday is lighting the menorah. Public menorahs are lit throughout Israel while locals pray and sing before savoring a hearty meal.
Average Monthly Temperatures
Compare Our Adventures
Click 'Select to Compare' to see a side-by-side comparison of up to adventures below—including
activity level, pricing, traveler excellence rating, trip highlights, and more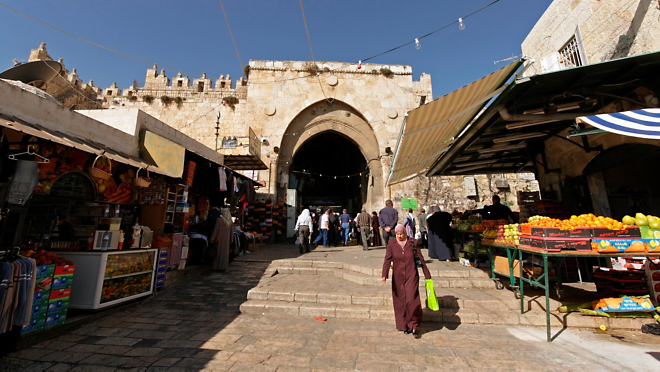 17 DAYS FROM $3,895 • $ 230 / DAY
Small Group Adventure
Israel: Tel Aviv, Nazareth, Golan Heights & the Sea of Galilee, Jerusalem, Dead Sea & Masada
29 meals—daily breakfast, 6 lunches, and 8 dinners (including 1 Home-Hosted Lunch and 1 Home-Hosted Dinner)
Discover Jerusalem's Old City
Float in the hyper-salinated waters of the Dead Sea
See what life is like in a kibbutz
Explore the ancient hilltop fortress of Masada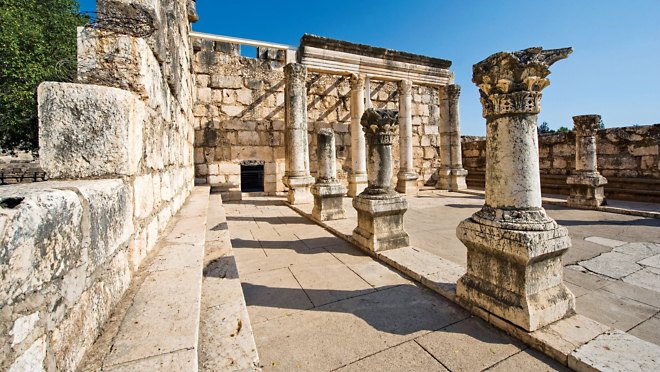 17 DAYS FROM $8,695 • $ 512 / DAY
Small Ship Adventure
First departure: 10/18/17
Days in Israel
4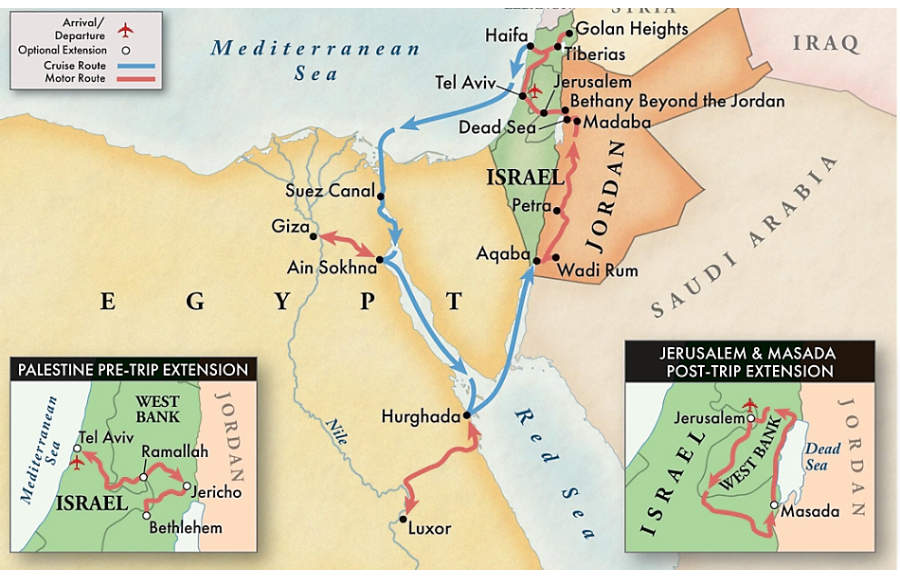 Israel: Tel Aviv, Jaffa, Haifa, Tiberias, Golan Heights • Egypt: Suez Canal, Giza Pyramids, Luxor & Valley of the Kings • Jordan: Aqaba, Wadi Rum, Petra, Madaba, Mount Nebo, Dead Sea, Bethany Beyond the Jordan • Allenby Bridge Border Crossing • Israel: Jerusalem
42 meals—daily breakfasts, 14 lunches, and 13 dinners (plus all onboard house beer & wine, as well as soft drinks)
Discover Jerusalem's Old City
Discuss the ongoing Israeli/Palestinian conflict with members of a Jewish-Arab association
Explore the multi-terraced Bahá'í Gardens
Visit the Mount of Beatitutes where it is said Jesus gave his Sermon on the Mount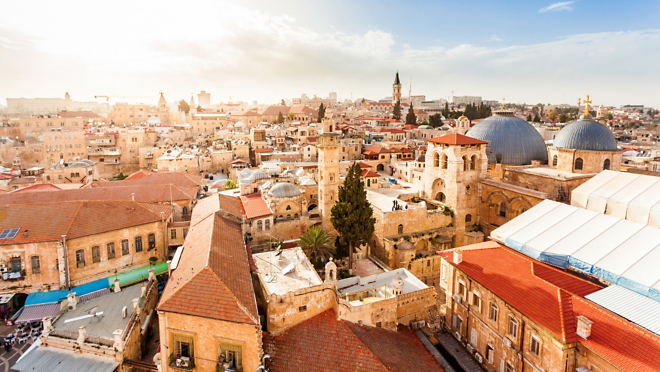 ;
4 NIGHTS FROM FROM $2,595
Discover Jerusalem's Old City
Float in the hyper-salinated waters of the Dead Sea
Explore the ancient hilltop fortress of Masada
Gain insight into daily life with a local family during a Home-Hosted Dinner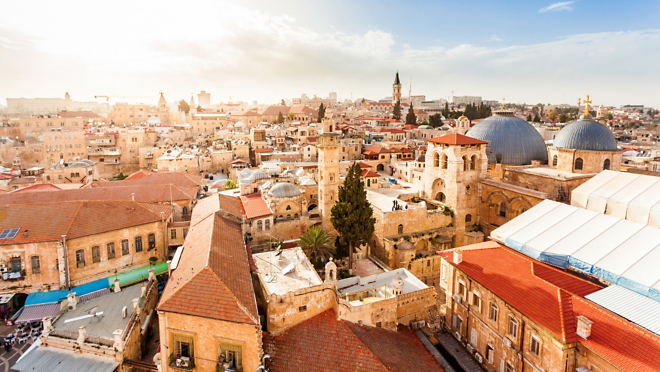 Not Applicable*
Not Applicable*
Discover Jerusalem's Old City
Float in the hyper-salinated waters of the Dead Sea
Explore the ancient hilltop fortress of Masada
Gain insight into daily life with a local family during a Home-Hosted Dinner