Forgot Your Username
If you have forgotten your username, please provide your email address in the box below. We'll send you an email with your requested username. If you are having trouble, please call us toll-free at 1-800-221-0814.
Email Sent
You'll receive an email in a few minutes. Please check this email to find your requested username.
If you do not receive an email or you are having trouble logging into My Account, please call us at 1-800-221-0814.

HONDURAS
When Christopher Columbus arrived near the site of the city of Trujillo, he reportedly said "Thank God we have departed from those depths." Honduras—which is the Spanish word for "depths"—is a land of overwhelmingly diverse ecology and a rich history rooted in the central story of the Maya and the Spanish conquistadores.
Until the first Spanish conquests in 1502, the Maya created awe-inspiring monuments as the prodigious Hieroglyphic Stairway in Copán. Conquistadores including Hernán Cortés and Gil González Dávila ushered in the Maya's demise in Honduras, instituting Spanish rule over the country until full independence in 1839. Since then, Honduras has endured a complicated political history of dictators and corruption.
Yet amid the political and economic strife of Honduras, its nature and history are where the country's treasured reputation shines. Considered one of the most biodiverse nations in the world, Honduras has become a world-renowned birdwatching destination. Thick jungle and high-reaching cloud forests—areas where jungle canopies reach almost 10,000 feet in elevation covered in a persistent fog—jealously guard the many archaeological sites and mountains throughout the country.
For the hardy traveler, Honduras offers an adventure into the depths of the Central American identity—people living between ancient and colonial, a force of nature predominant throughout the country, and a simpler way of life.
Honduras Interactive Map
Click on map markers
below to view information about top Honduras experiences
Click here to zoom in and out of this map
Most Popular Films
Films featuring Honduras from international, independent filmmakers
Everything is Incredible
Get inspired by the persistence of a Honduran man who strives to build his own helicopter.
Produced by Tyler Bastian
Featured Reading
Immerse yourself in Honduras with this selection of articles, recipes, and more
ARTICLE
The Mayan empire fell centuries ago, but their legacy is still felt throughout Central America.
Honduras: Month-by-Month
There are pros and cons to visiting a destination during any time of the year. Find out what you can expect during your ideal travel time, from weather and climate, to holidays, festivals, and more.
Honduras in January-March
Honduras has two main seasons: wet and dry. The dry season—which coincides with the winter months in North America—is the most popular time to visit Honduras. The sunny days are ideal for taking advantage of the wealth of outdoor activities here, like hiking, birdwatching, and visiting ruins (though you may have to share the trails and sites with other visitors).
Scuba divers will want to visit Honduras in February. While diving is a draw here year-round, you are more likely to spot sharks in February.
Holidays & Events
January 6: Three Wise Men Day—or Three Kings Day—commemorates when the magi presented Jesus with gifts of gold, frankincense, and myrrh. Communities celebrate with gift giving, traditional meals, and reenactments of biblical stories.
February 3: During the Feast of Our Lady of Suyapa, Hondurans honor their country's patron saint, the Virgin of Suyapa, by lighting candles, attending mass, and even pilgrimaging to the Basilica de Suyapa, located outside the capital city of Tegucigalpa. The day is named for a small statue of the Virgin Mary, which was said to perform miracles, originally found by a peasant in 1747 on his way to Suyapa.
Honduras in April-June
Honduras's rainy season begins in May. Though rainfall is more common, it is not persistent: a short, heavy downpour will often be followed by hours of sunshine. Pack a rain jacket or plan indoor activities during the afternoon (when downpours are most common), and you can take advantage of the country's natural beauty without the hassle of peak dry season crowds.
The heavy rains come with advantages: the rain and cloud forests are at their healthiest, and elevated water levels make this time of year the best for white water rafting.
Holidays & Events
April 12: For the Punta Gorda Festival, people from across Honduras gather on the island of Roatan to celebrate the day the Garifuna people escaped slavery and arrived at the island in 1797. The festivities include a march by foot and boat along the bay, music and dance performances in traditional dress, and Garifuna food.
April 14: The Day of the Americas or Pan American Day, a holiday observed across the Americas to reflect on the region's spirit of unity is celebrated in Honduras with parades, pageants, and plays.
Must See
Coinciding with the first major rainfall of the season, the Rain of Fish Festival is celebrated in the small Honduran town of Yoro, where residents claim the sky rains fish once a year. While scientists say the phenomenon is likely the result of riverbanks flooding and then receding in quick succession, leaving small fish to flop in the streets, Yoro's inhabitants prefer a spiritual explanation, and celebrate the Rain of Fish each year with a carnival and parade.
Honduras in July-September
Heat and humidity are the hallmarks of summer in Honduras. This is a great time of year to explore the country's beautiful beaches, which range from tropical paradises of soft white sand to more rugged—though equally spectacular—dark sand beaches. Travelers in the know will enjoy Honduras's Caribbean coast, which offers excellent snorkeling and surfing, but is less explored than its more touristy neighbors.
Take note, however: Hurricane season begins in August, and has the potential to upend travel plans along the coast.
Holidays & Events
Early August: The annual Sunjam Festival is held each year during the first weekend of August on the tiny, uninhabited Honduran island of Utila. The festival hosts an all-night rave featuring techno-house music, DJs, and plenty of food and drink.
Late August: The Festival of Corn recognizes the role the crop plays in Honduran diet, heritage, and way of life. To celebrate, the country holds parades and local competitions, and Hondurans feast on corn-based dishes like tortillas and donuts.
September 15: Honduras—along with Guatemala, El Salvador, Nicaragua, and Costa Rica—celebrates its Independence Day on this day. Throughout the country, students and teachers in military garb march through the streets, pounding drums and bearing their national flag in a festive show of patriotism.
Honduras in October-December
Throughout October and into November, occasional hurricanes can occur, bringing mudslides and flooding to the rain forest. But the rainy season ends by mid-November, making December an ideal time to visit Honduras: the landscape is lush and green from the rain, and you can explore it without fear of getting caught in a rain Storm.
Average Monthly Temperatures
Get the Details On Our Honduras Adventure
Find out more about the adventure, including activity level, pricing, traveler excellence rating, included meals, and more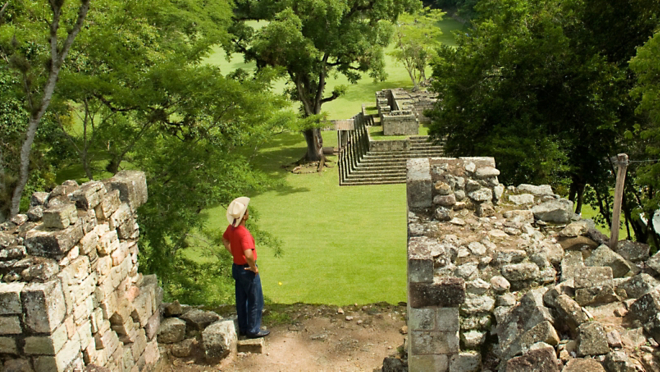 16 DAYS FROM $3,395 • $ 213 / DAY
Small Group Adventure
El Salvador: San Salvador • Honduras: Copán Ruinas • Guatemala: Guatemala City, Panajachel, Antigua • Belize: Belize City
35 meals—daily breakfast, 11 lunches, and 9 dinners (including 1 Home-Hosted Lunch)
Experience world-renowned bird watching
Explore the charming colonial architecture of Copán Ruinas
Delve into Mayan history at the Copán Archaeological Site