Forgot Your Username
If you have forgotten your username, please provide your email address in the box below. We'll send you an email with your requested username. If you are having trouble, please call us toll-free at 1-800-221-0814.
Email Sent
You'll receive an email in a few minutes. Please check this email to find your requested username.
If you do not receive an email or you are having trouble logging into My Account, please call us at 1-800-221-0814.

GUATEMALA
Guatemala is a geographically diverse country as it is cut into three sections by the Sierra Madre de Chiapas mountain range, which runs west to east through the country. Along with volcanoes, snow-capped mountains, and endless valleys and hills, the terrain of Guatemala is a nature lover's dream.
The Mayan civilization, which was centered in Guatemala, lasted from around 2000 BC to about AD 900 when it mysteriously and almost completely disappeared, leaving behind ancient ruins—such as the ancient city of Tikal—and various customs and styles that live to this day. Since then, the colonial Spanish empire, tumultuous periods of dictatorships, geo-political influence from the United States, and a relatively new democratic system—a system which still struggles with crime, drugs, and general instability—have all left an imprint on the culture and landscape of Guatemala. In 1996 After a 36-year civil war, general peace returned to Guatemala followed by a revitalization and rediscovery of the country's Mayan roots through education and the development of the tourism industry. Today, more than 50% of Guatemalans can trace their ancestry to the ancient Maya.
Guatemala is an opportunity to tantalize the senses. From the ubiquitous tamale—corn-based dough filled with chicken or pork and steamed in a plantain—to the infectious melodies of marimba chapinlandia music, Guatemala's tastes and sounds are sure to entice. And while on the road, watch out for "chicken busses," brilliantly-colored school busses called such because people and goods are crammed on like chickens.
Guatemala Interactive Map
Click on map markers
below to view information about top Guatemala experiences
Click here to zoom in and out of this map
Most Popular Films
Films featuring Guatemala from international, independent filmmakers
Poco a Poco
Meet Guatemalan women who are using traditional weaving to better their lives "little by little."
Produced by Actuality Media
Travelogue: Guatemala 1947
Get a glimpse of the bustle of daily life in Guatemala in 1947 with these rare, candid films.
Produced by David Conover & Paul Villanova
Earth Diaries - Semana Santa
See how entire communities work together to celebrate Semana Santa (holy week) in Guatemala.
Produced by Cynthia Younker
Featured Reading
Immerse yourself in Guatemala with this selection of articles, recipes, and more
ARTICLE
The Mayan empire fell centuries ago, but their legacy is still felt throughout Central America.
ARTICLE
The ancient group painted human sacrifices head to toe in "Mayan blue." Discover more about the Mayans.
RECIPE
Bring Latin American flair into your kitchen with this easy and delicious empanada recipe.
Guatemala: Month-by-Month
There are pros and cons to visiting a destination during any time of the year. Find out what you can expect during your ideal travel time, from weather and climate, to holidays, festivals, and more.
Guatemala in November-January
Guatemala, known as the "Land of Eternal Spring," has only two true seasons every year—wet and dry. The stretch between November and January is during the dry season, and considered the country's summer. The coolest months of the dry season are December and January—which also makes them the busiest for tourism. The crowds will be bigger and prices will be higher during this popular time of year.
Holidays & Events
December 7: La Quema del Diablo (Burning the Devil) is an annual Guatemalan tradition that symbolically purifies people's homes and the land from devils that may have been lurking there over the year. Locals decorate the front of their houses with flickering lanterns and light small papier–mâché demons, while large bonfires or effigies of Satan are burned in town squares.
December 25: Christmas
January 1: New Year's Day
Must See
The weather this time of year is perfect for outdoor exploration, such as touring Tikal National Park or Yaxha Ruins, avoiding the rain and mud you would inevitably encounter during the wet season.
Guatemala in February-April
The dry season continues February through April. Clear skies and comfortable temperatures are this season's hallmarks—it's far less rainy and humid, and generally cooler than it is during the rest of the year. This is a great time to visit otherwise steamy cities like Guatemala City and Antigua.
Holidays & Events
March/April: Semana Santa (Holy Week) and Easter. Semana Santa, the week-long celebration leading up to Easter, is famous for its over-the-top religious processions.
Must See
While the dates change each year on the Christian calendar, you can always expect Semana Santa—or Holy Week—to be an event worth witnessing. Antigua is especially famous for its elaborate processions, including lavish floats featuring religious icons, which parade over vibrant carpets created each year for the occasion.
Guatemala in May-July
Guatemala's wet season is also its winter, though it doesn't resemble winters experienced in more northern regions. Instead, the climate is tropical with periodic rain showers, usually in the afternoon.
Holidays & Events
May 1: Labor Day; similar to Labor Day in the U.S., Guatemala celebrates workers achieving labor rights with parades and political rallies.
July 1: National Indigenous Festival is a two-week event celebrating the traditions and culture of Guatemala's indigenous Maya people.
Must See
Every year in late July, the city of Cobán hosts a Folkloric Festival, an impressive two-week event showcasing the indigenous traditions of the Maya, such as music and dance.
Guatemala in August-October
August through October is well into Guatemala's winter, which means it continues to be rainy. But in the dramatic Guatemalan Highlands region—nestled in the Sierra Madre de Chiapas mountains—visitors can enjoy cooler temperatures with clear skies in the morning.
Holidays & Events
August 15: Festival of the Virgin of the Assumption; parades, fairs, and parties are held throughout the country in honor of the Virgin Mary—patron saint of Guatemala City.
September 15: Guatemalan Independence Day; this jubilant, country-wide celebration includes dances, parades, and fireworks.
October 20: Commemoration of the 1944 Revolution is a day set aside to celebrate Guatemala's nearly non-violent revolution, and is usually marked with present-day peaceful protests.
Must See
Every year in late July or early August, the city of Cobán hosts a Folkloric Festival, an impressive two-week event showcasing the indigenous traditions of the Maya, such as music and dance.
Average Monthly Temperatures
Compare Our Adventures
Click 'Select to Compare' to see a side-by-side comparison of up to adventures below—including
activity level, pricing, traveler excellence rating, trip highlights, and more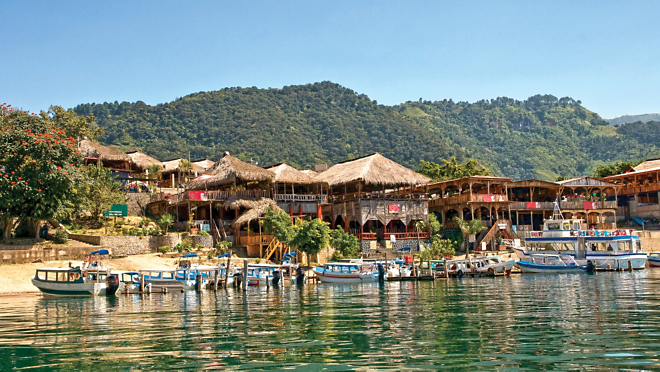 16 DAYS FROM $3,395 • $ 213 / DAY
Small Group Adventure
El Salvador: San Salvador • Honduras: Copán Ruinas • Guatemala: Guatemala City, Panajachel, Antigua • Belize: Belize City
35 meals—daily breakfast, 11 lunches, and 9 dinners (including 1 Home-Hosted Lunch)
Tour Guatemala City's brightly-colored Yurrita Church and spectacular National Palace
Hike through the 247-acre Atitlán Nature Reserve
Discover the Mayan significance of the Yaxhá ruins
Experience daily life in the villages along Lake Atitlán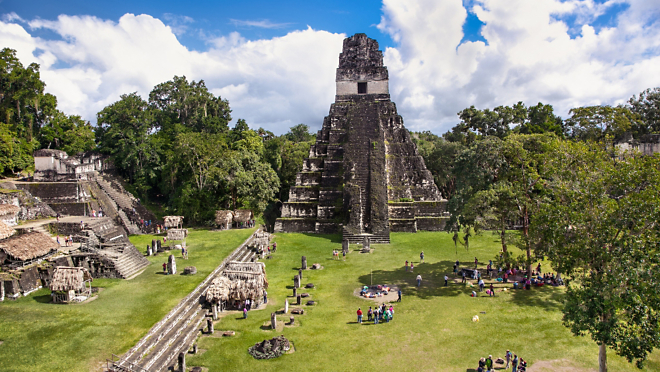 ;
5 NIGHTS FROM FROM $1,245
Discover colorful woven customs in Antigua
Experience daily life in the villages along Lake Atitlán
Tour Guatemala City's brightly-colored Yurrita Church and spectacular National Palace
Dive into Mayan history during an exploration of Tikal, a UNESCO World Heritage Site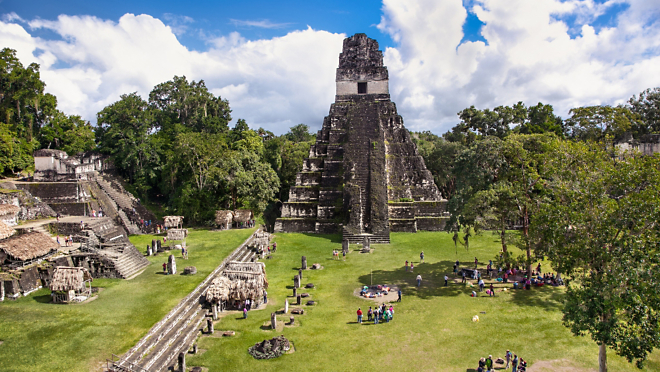 Not Applicable*
Not Applicable*
9 meals—5 breakfasts, 2 lunches, 2 dinners
Discover colorful woven customs in Antigua
Experience daily life in the villages along Lake Atitlán
Tour Guatemala City's brightly-colored Yurrita Church and spectacular National Palace
Dive into Mayan history during an exploration of Tikal, a UNESCO World Heritage Site