Forgot Your Username
If you have forgotten your username, please provide your email address in the box below. We'll send you an email with your requested username. If you are having trouble, please call us toll-free at 1-800-221-0814.
Email Sent
You'll receive an email in a few minutes. Please check this email to find your requested username.
If you do not receive an email or you are having trouble logging into My Account, please call us at 1-800-221-0814.

FINLAND
Finland is a country of endless pine forests, surreal winter landscapes, and a modern culture respectful of her nature. With nearly 75 percent of the country covered in trees and nearly 190,000 lakes, 5.5 million Finns maintain an exemplary instance of balance between man and the elements.
With the receding of massive glaciers from the last Ice Age around 8500 BC, people began populating Finland. Until the twelfth century, a separate Finnish culture—with a distinct language born around the first century—thrived with other Scandinavian peoples until conquest by Sweden through a series of religious crusades. During the Protestant Reformation of the 16th century, the official religion of Finland became Lutheranism: Today, more than 70 percent of the population is members of the Lutheran Church.
It was during the "Wraths"—two major wars between Sweden and Russia in the 18th century—and the Finnish War in the early 19th century that eventually made Finland a territory of the Russian Empire. It's during this time the Russian Tzar rebuilt a destroyed Helsinki, leaving his architectural footprint on Finland's capital that exists to this day.
Since claiming independence from Russia in 1917, Finland has become a major manufacturing center as well as a mecca for music, art, and design. Yet its natural wonders—the swirling luminescence of the Northern Lights in Lapland to the north, the complex system of lakes used as transportation today, and the mythical home of Santa Claus at Korvatunturi to name a few—place Finland as both a land of wondrous nature as well as fascinating culture.
Whether enjoying a relaxing sauna or drinking a beer under the "midnight sun", Finland is a place where the sweetness of life takes center stage.
Finland Interactive Map
Click on map markers
below to view information about top Finland experiences
Click here to zoom in and out of this map
Most Popular Films
Films featuring Finland from international, independent filmmakers
Welcome To Helsinki
Glide above peaceful, picturesque Helskini—from its boat-filled ports to its grand cityscape.
Produced by www.skycam.ee
Sense the Silence
Escape to Finland in this film to experience the tranquility of snow-covered landscapes and night sky wonders.
Produced by Riku Karjalainen
Intersection: Helsinki
Quirky, stylish, and above all friendly—meet some of the young locals of Helsinki's Kallio neighborhood.
Produced by Shern Sharma
©2014 THE NEW YORK TIMES
Featured Reading
Immerse yourself in Finland with this selection of articles, recipes, and more
ARTICLE
Learn about the evolving roles of Scandinavia's Sami women
ARTICLE
Discover the influences and innovators that established Finland's capital as a global design destination.
Finland: Month-by-Month
There are pros and cons to visiting a destination during any time of the year. Find out what you can expect during your ideal travel time, from weather and climate, to holidays, festivals, and more.
Finland in January-March
With its northerly location, Finland is cold and dark during the winter months. The sun rises for only a few hours a day through January, snow falls are frequent, and bitterly cold temperatures—especially in the country's northern Lapland region—drive most tourists away.
And yet, winter holds an important place in the Finnish national consciousness, with many Finns describing the season as a period of magical quiet and stillness. To take advantage of their country's beautiful nature and copious snowfalls, Finns enjoy a plethora of wintertime activities designed to get them outside: Ski resorts in Lapland are very popular this time of year, as is the celebrated Finnish tradition of sitting in a sauna followed by a quick plunge into the ice water of a lake or sea.
Must See
Finland straddles the Arctic Circle, so it's possible to see the Northern Lights—the milky green wisps that dance across the night sky—throughout the winter. But if seeing the Lights is a priority, visit Finland around the spring equinox (March 21) when they are most visible.
Finland in April-June
Finland's winters are long, and extend into April—snow still covers much of the northern regions during this month. Spring begins to show its colors in May, when an abundance of wildflowers burst into bloom and warm temperatures return. The confluence of pleasant weather, sunnier days, and few crowds make May one of the best times to visit Finland.
As spring turns to early summer, the days grow increasingly longer, reaching their apex on the summer solstice (June 21). In Finland's many towns above the Arctic Circle, the sun never fully sets on the solstice, while Finns throughout the country celebrate Midsummer with parties and bonfires.
Holidays & Events
April 30: The last night in April is known as Walpurgis Eve in Finland, when winter is toasted farewell in anticipation of May Day (May 1). The biggest Walpurgis celebrations take place in Helsinki: Boisterous—and boozy—block parties take over the city center and university students in traditional white caps parade through streets. The festivities continue all night long, and are traditionally capped off by champagne picnics in the park on the morning of May 1.
Must See
Finland's Midsummer Festivals operate at two speeds—rowdy or relaxing—but either way, they are the highlight of most Finns' year. Celebrating the "Eternal Sun" of the summer solstice, Finns flock to country cottages to embrace the white night and warm weather. Many Finns host all-night bonfires, enjoy long soaks in the sauna, or swim in the country's many pristine lakes—this is a time for connecting with nature, and with each other.
Finland in July-September
A pleasant transition from summer to fall occurs in July through September. July is considered to be the peak of summer when the temperatures are the warmest and average in the high 60s and low 70s. If you're traveling to Finland at the end of the summer, be sure to pack lighter clothes, rain gear, and bug spray. July and August experience heavy humidity and frequent rainfall, and expect a lot of bugs around forested areas and waterways in Lapland.
September marks the beginning of autumn when the temperatures begin to cool down. Other than occasional fog and cooler weather, September is ideal for hiking and soaking in the colors of fall, and on clear nights, you may witness the Northern Lights dancing overhead. But, expect larger crowds in July through August as this is a popular tourist season.
Holidays & Events
Early July: The World Wife Carrying Championships is a quirky annual competition where men carry their wives or partners on their backs and race though an obstacle course.
Mid-July: The Kaustinen Folk Music Festival brings together hundreds of international folk musicians, dancers, and more.
Late August: The Helsinki Festival is Finland's biggest arts festival, which features work by artists, dancers, singers, and actors.
Finland in October-December
Darkness descends on Finland in the autumn months as the days grow shorter and chillier. October goes out in a blaze of colorful glory, with fall foliage of vibrant oranges and reds that rivals New England. Finns make the most of the dwindling daylight by taking to the countryside, where they hike and forage for mushrooms and wildberries.
November brings rain and even snow in Finland's north, while December grows colder and snowier throughout the country. The first snowfalls of the season make for excellent dog sledding and snow shoeing in these months.
Holidays & Events
Early October: Herring is a staple food in Finland, where short growing season necessitates an abundance of preserved foods. To celebrate this iconic salty fish, the Baltic Herring Market is held the first week of every October in Market Square, Helsinki. Fisherman bring their wares to the market, and festive stalls feature herring marinades, traditional Finnish brown bread, and handicrafts.
Late October: It's no secret that the Finns love their saunas and Helsinki Sauna Day is a full day's celebration of these beloved rooms. Private saunas open to the public so everybody is able to enjoy them when the weather cools down.
December 6: This year, Finland will celebrate its 100th anniversary of liberation from Russia. Independence Day festivities include patriotic parades, eating baked goods with blue and white frosting (the colors of the Finnish flag), and placing two candles in the home of every window.
Must See
Tap into your inner child when you travel to Finland in December. The Arctic Circle comes alive with holiday cheer this time of year, specifically in Rovaniemi, which is considered to be Santa Claus' official home. Visit the holiday village in Rovaniemi to experience the magic of Santa, discover international Christmas traditions, enjoy shopping, and sample traditional cuisine at local restaurants.
Average Monthly Temperatures
Compare Our Adventures
Click 'Select to Compare' to see a side-by-side comparison of up to adventures below—including
activity level, pricing, traveler excellence rating, trip highlights, and more
17 DAYS FROM $6,295 • $ 371 / DAY
Small Ship Adventure
First departure: 4/26/18
Days in Finland
4
Norway: Oslo, Flam, Bergen, Alesund, Trondheim, Rorvik, Bodo, Svolvaer, Tromso, Kirkenes • Finland: Ivalo, Helsinki
38 meals—15 breakfasts, 11 lunches, and 12 dinners
Investigate Lapland culture at the Siida Museum in Ivalo
Learn about the ancient Sami people by visiting one of their families
Enjoy a Home-Hosted dinner to learn about Finnish culture
Take a tour of Helsinki, Finland's capital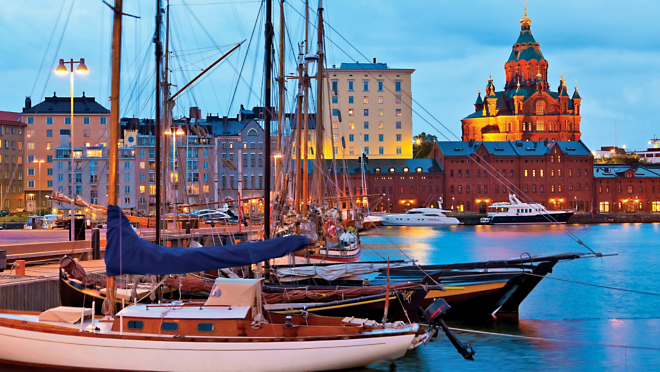 Please call for pricing
Small Ship Adventure
Denmark: Copenhagen, Ronne • Poland: Gdansk • Sweden: Visby, Stockholm • Latvia: Riga • Estonia: Tallinn • Russia: St. Petersburg • Finland: Helsinki
40 meals—16 breakfasts, 12 lunches, and 12 dinners (plus all onboard house beer & wine, as well as soft drinks)
Visit Hakaniemi Market Hall
Take a city tour including a stop at the Sibelius Monument
Enjoy a free afternoon to explore beautiful Senate Square