Forgot Your Username
If you have forgotten your username, please provide your email address in the box below. We'll send you an email with your requested username. If you are having trouble, please call us toll-free at 1-800-221-0814.
Email Sent
You'll receive an email in a few minutes. Please check this email to find your requested username.
If you do not receive an email or you are having trouble logging into My Account, please call us at 1-800-221-0814.

ESTONIA
Inhabited for at least 8,500 years, lushly forested Estonia is a gem of natural beauty that also boasts a turbulent history. So desirable was the Baltic state that it was occupied in turn by Germans, Danes, Swedes, and Russians. During World War II, it changed hands from Soviet to Nazi and back to Soviet within several years. For more than four decades, Estonia remained within the grip of the USSR, but it made history—and won independence—with the peaceful "Singing Revolution," a years-long campaign in which Estonians protested by singing national songs once banned by the Soviets. Sovereignty was declared in 1988 but the revolution wasn't truly over until unarmed citizens stopped the last Soviet tanks trying to take over media buildings in 1991.
Since then, the splendors of Estonia have been on full display once again. Like something from a fairytale, Estonia is a wooded idyll (with forest covering 50% of the land) studded with castles, fortresses, and churches whose steeples peek above the tree line. A nature-lover's paradise, it is home to more than 1,500 islands, myriad lakes, and rocky beaches, and air which has been rated by the World Health Organization as among the purest in the world. It's become a magnet for European travelers, which has been made easier by the fact that it was the first Baltic nation to earn the right to adopt the euro as currency. Now, the rest of the world is getting wise to the abundant charms of Estonia.
Estonia Interactive Map
Click on map markers
below to view information about top Estonia experiences
Click here to zoom in and out of this map
Most Popular Film
Films featuring Estonia from international, independent filmmakers
Tallin
Experience the magic of Tallin, Estonia as you glide over red-roofed neighborhoods and sprawling parks.
Produced by www.skycam.ee
Featured Reading
Immerse yourself in Estonia with this selection of articles, recipes, and more
ARTICLE
Learn how Estonia, Latvia, and Lithuania came together to achieve independence from each other.
Estonia: Month-by-Month
There are pros and cons to visiting a destination during any time of the year. Find out what you can expect during your ideal travel time, from weather and climate, to holidays, festivals, and more.
Estonia in December-February
Estonia in winter is an idyllic setting with its classic architecture, somber forests, and frozen lakes and rivers. Though often reaching negative single digits in temperature—which can last into March—cities like Tallinn are blanketed both in powdery snow and warm holiday lights. Tourists typically do not visit Estonia during the winter, except for winter sports enthusiasts.
With its stunning outdoor environments, it's no wonder Estonia has several popular winter sports resorts. Kiviõli, meaning "stone oil" for the shale mining industry that dominates the town, is home to the Adventure Center, a massive snowboard and ski park. Alternately, some rural areas of the country could be off-limits, as the highways generally are the only snowplowed roads. Packing warm clothes is essential to enjoying Estonia's winter.
By December, the sun begins to set in mid-afternoon, meaning outdoor excursions should take place early in the day. Spending time in Estonia's charming medieval cities, especially in the glow of night lights, makes for especially picturesque and romantic walking tours.
Holidays & Events
December 24-25: In Estonia, Christmas Eve is the most important part of the holiday season. National traditions include sauna baths after preparing the house on Christmas Eve, creating stuffed animals out of straw, and having a popular Estonian dish of pig ears and sauerkraut.
December 31: New Year's Eve in Estonia is best celebrated in the capital, Tallinn. Thousands come together to see the fireworks shed a luminous glow on frozen Lake Ülemiste, creating a dream-like display of color.
December to the first week of January: The Christmas Music Festival brings musicians who play Christmas songs from hundreds of years ago to today for crowds of thousands.
January 1-7: The Tallinn Bach Music Festival, otherwise known as "BachFest," largely takes places at St. Nicholas' Church in Tallinn. Orchestras from around the world perform, while experts in the music of J.S. Bach come and give scholarly lectures.
February 7-14: The Tallinn Winter Festival is a classical music celebration which brings top performers from all around the continent to the nation's capital.
Must See
The Christmas markets in Tallinn, which run from November 18 to January 7, light up the historically rich capital. The whole of Town Hall Square, from cobblestone to steeple top, are awash in the warm lights of Christmas. Local craftsmen selling delicate wooden dolls—and all kinds of other Christmas-themed decorations and toys—can be found at the markets.
The centerpiece of the Christmas market in Tallinn is the 60-foot spruce tree which, according to legend, is erected annually at the site where the first public Christmas tree was displayed almost 600 years ago.
Another event to experience is the Christmas Music Festival. Musicians from all over the world come together to perform music from as far back as the medieval era, in hopes of showing spectators how people hundreds of years ago would have heard it.
Estonia in March-May
The freezing temperatures of December to February in Estonia begin to wane, though snow is known to cover the ground until at least mid-March. After the overcast grayness of March, wide expanses of countryside fields bloom with the golden yellows of dandelions and soft purple tones of anemones in April.
Cities bounce back to life amid warmer temperatures as Estonians come out to enjoy the energy—and each other's company—in street-side cafés. Peak tourism season has not yet arrived, so traveling to Estonia at this time bears the opportunity to experience the country's urban beauty without distracting crowds.
Holidays & Events
April 1: Easter in Estonia, and much of the week prior, is calm and subdued. Much like in the U.S., most businesses are closed and the streets will typically be almost empty of people.
Mid-April: The Estonia Music Days festival features fresh new classical music from modern Estonian composers.
Late April: For the International Choir Festival, over 1,000 singers from several countries come together to perform both classical and modern pieces of choral music.
May 15: In 1248, the Danish king Erik IV bestowed the rights of Lübeck Law—giving the city the right of independent rule—to Tallinn. Estonians celebrate the city's independent cultural spirit with musical performances, speeches, and fine art shows.
Must See
One of the biggest modern and post-modern classical festivals in the world, Estonia Music Days is a week-long celebration of contemporary classical compositions and abstract pieces.
You'll have an equal chance to walk into a hall with a full orchestra as you will an intimate performance of one or two musicians in a back-alley pub. Performance permeates many of Tallinn's open spaces, so take this opportunity to experience Estonia's rich musical culture.
Estonia in June-August
Starting in mid-June, Estonia's short summer brings warmer temperatures and many hours of sunlight. Similar to Scandinavian summers, some parts of Estonia will experience up to 19 hours of sun. Though only about a month and a half long, tourists pour in to take advantage of the pleasant climate and numerous festivals.
With the bigger crowds in Tallinn and other cities, your travel dollar will not go as far. Prices for lodging, restaurants, and souvenirs will go up.
Holidays & Events
First Week of June: Tallinn celebrates its "Old Town Days" festival, a one-week commemoration of the city's folk culture. Music, food, dancing, and a specific theme—in past years being such concepts as "versatility"—fill the streets.
June 23: Midsummer's Eve, a national holiday, brings many Estonians outdoors to enjoy the almost continuous sunlight.
First Week in July: Õllesummer is Estonia's largest beer festival. A massive half-shell stage is set up, and modern musical acts from around the world perform to crowds of thousands.
Last Week of August: The Tallinn Chamber Music Festival brings musicians and composers from Estonia and around the world to several stages and venues, presenting old favorites and fresh modern compositions in classical music.
Must See
Midsummer's Eve is a time when many Estonians take to the countryside. Sunlight almost never ceases—children stay up until dawn, and people all over hold bonfires and barbeques as they enjoy the subtle transition from dusk to dawn.
In many villages, bonfire parties are the stage for music that lasts through the night. These small public gatherings are a great time to experience true Estonian cooking, much of it focused around pork, sauerkraut, and beer.
Estonia in September-November
Autumn in Estonia is one of the best times to visit—peak tourism season has died down, and the country is flooded in the stunning colors of fall's red and orange hues.
More than 50 percent of the country is covered in woodlands. Many small towns exist harmoniously with the surrounding forests, so small hamlets like Viljandi become idyllic landscapes flush in brilliant color.
Fall is largely dry in Estonia, with most of the season's sparse rain showers in September. Before mid-November's snowfall, take advantage of the country's outdoor splendor while taking crisp breaths of what experts consider some of the cleanest air in the world.
Holidays & Events
November 16-19: St. Martin's Day Fair brings the crafty side of Estonia to the fore. At Saku Suurhall in Tallinn, artisans from around the country—as well as dozens of food vendors—sell offerings that touch on many cultural elements of the country.
November 17-December 3: The Tallinn Black Nights Film Festival delivers hundreds of film submissions—from short animations to full-length independent cinema—to over 80,000 people across a span of two weeks.
Must See
September is a foodie's dream in Estonia. Culinarians from all over the country come together to offer the methods and tastes of Estonian cooking for Estonia Food Month. Local farms are engaged in the biggest harvest season of the year, so ingredients are especially fresh.
Average Monthly Temperatures
Compare Our Adventures
Click 'Select to Compare' to see a side-by-side comparison of up to adventures below—including
activity level, pricing, traveler excellence rating, trip highlights, and more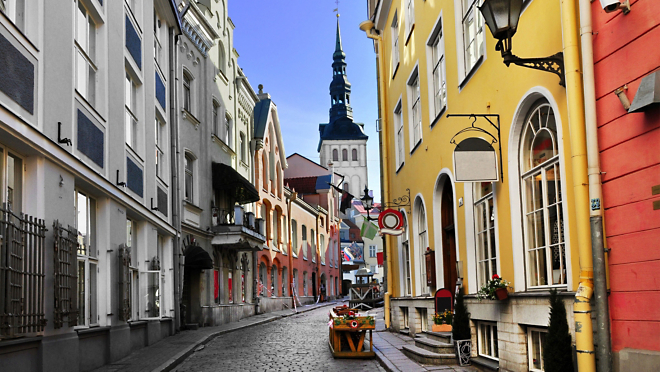 16 DAYS FROM $4,395 • $ 275 / DAY
Small Group Adventure
Lithuania: Vilnius, Klaipeda • Latvia: Riga • Estonia: Tallinn • Russia: St. Petersburg
32 meals—daily breakfast, 10 lunches, and 8 dinners (including 1 Home-Hosted Lunch)
Enjoy city tour of Tallinn, including the UNESCO World Heritage Site Old Town and the Song Festival
Visit Kadriorg Park, the resplendent gift of Peter the Great to his wife
Experience the famous beach town of Pärnu for the best seaside views
Savor a small town lunch in leisurely Narva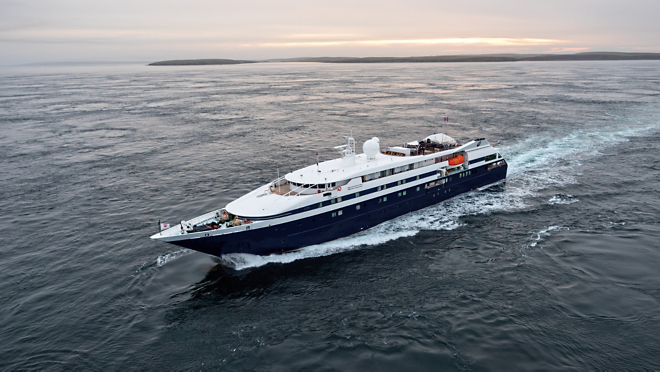 14 DAYS FROM $7,295 • $ 522 / DAY
Small Ship Adventure
Denmark: Copenhagen, Ronne • Poland: Gdansk • Sweden: Visby, Stockholm • Latvia: Riga • Estonia: Tallinn • Russia: St. Petersburg • Finland: Helsinki
34 meals—12 breakfasts, 10 lunches, and 12 dinners (plus all onboard house beer & wine, as well as soft drinks)
Visit Tallinn, including its UNESCO World Heritage Site Old Town, and the Song Festival, the public performance grounds that launched a revolution