Forgot Your Username
If you have forgotten your username, please provide your email address in the box below. We'll send you an email with your requested username. If you are having trouble, please call us toll-free at 1-800-221-0814.
Email Sent
You'll receive an email in a few minutes. Please check this email to find your requested username.
If you do not receive an email or you are having trouble logging into My Account, please call us at 1-800-221-0814.

EL SALVADOR
El Salvador Interactive Map
Click on map markers
below to view information about top El Salvador experiences
Click here to zoom in and out of this map
Recommended Viewing
Watch this video showcasing what makes this country so unforgettable
ReelEarth: Ballet in El Salvador is Alcira Alonso
Produced by Cady Voge
Follow a 92-year-old ballet director and her protégé as they devote grueling hours of practice for their upcoming Swan Lake tour in El Salvador.
17:15 | 614 views
Recommended Videos
Watch your fellow travelers' favorite films & videos
How to Make El Salvadoran Pupusas
Produced by Epicurious
Learn to make pupusas, a traditional stuffed tortilla dish from El Salvador, with Chef Sergio Remolina.
Trip Extension: El Salvador
Follow an indigo dyer, a nurse, and a veteran into the heart of Suchitoto, El Salvador, on this trip extension.
Featured Reading
Immerse yourself in El Salvador with this selection of articles, recipes, and more
ARTICLE
The Mayan empire fell centuries ago, but their legacy is still felt throughout Central America.
ARTICLE
The ancient group painted human sacrifices head to toe in "Mayan blue." Discover more about the Mayans.
El Salvador: Month-by-Month
There are pros and cons to visiting a destination during any time of the year. Find out what you can expect during your ideal travel time, from weather and climate, to holidays, festivals, and more.
El Salvador in November-January
Out of El Salvador's two seasons, the dry season in November through April is the better time of year to visit the region. December is considered the best time to travel to El Salvador when the weather is comfortable and the air is fresh.
These summer months are ideal for experiencing San Salvador's bustling city and hiking through Cinquera National Park's tropical landscape. During the summer, expect larger crowds of tourists flocking to the region to experience the warm and pleasant weather, as well as the holiday season in December.
Holidays & Events
November 1: All Saints' Day commemorates every Christian saint.
Late November: Carnival de San Miguel honors the patron Our Lady of Peace and is marked by processions, dancing, and musical performances.
December 25: Christmas Day is a time for family members to come together in one place and celebrate the holiday together. The night before, on Christmas Eve, the whole family gathers together for a meal followed by a fireworks display.
El Salvador in February-April
The dry season continues through April. Temperatures average around 80-90 degrees Fahrenheit, with the hottest of the summer weather occurring in March and April. Similar to November through January, you can expect larger crowds of tourists in the region who are looking to experience the warm weather, as well as Holy Week in March.
During the warmer months, you will have the best opportunities to view wildlife—perhaps you'll spot monkeys, snakes, and parrots as you explore Cinquera.
Holidays & Events
Weekends in February: The International Festival of Art and Culture in Suchitoto is a celebration of international art. Artists from around the world showcase their displays, music, dances, and films.
March 17:The Feast of San Jose is celebrated in northern El Salvador in Agua Caliente. Typically, locals taking part in the day's festivities attend celebratory rodeos and processions.
Late March: Semana Santa, or Holy Week is the week leading up to Easter.
Late March or early April: Easter Sunday concludes Holy Week. Vigils are held Saturday night through Easter Sunday.
Must See
If you're traveling to El Salvador in February, The International Festival of Art and Culture is an annual event that brings together artists from around 30 countries who travel to Suchitoto to display their talents. The event includes work from musicians, actors, dancers, and filmmakers. And, if you're in El Salvador in March, you'll experience Semana Santa, or Holy Week. Processions are the main events of the week leading up to Easter, but locals also have the chance to show their creativity. Locals cover the streets in vibrantly colored sand that is arranged to portray biblical scenes and elaborate designs.
El Salvador in May-October
May through October are considered El Salvador's winter months. El Salvador doesn't experience a traditional winter—temperatures remain warm with average highs in the 80s in cities like San Salvador. Be sure to pack lightweight clothes and rain gear because winter is also the country's rainy season. June through September see the most rainfall over the winter and storms are common this time of year. Fortunately, the tropical region is only affected by moderate storms and doesn't typically get hit by hurricanes. If a little rain doesn't bother you, this is a great time to travel to El Salvador when fewer tourists are exploring the region. You'll avoid the crowds and see important sites uninterrupted like Joya de Cerén—an archaeological treasure chest—and Suchitoto—a quaint colonial town.
Holidays & Events
Throughout July: The Julias Festival is celebrated in Santa Ana.
First weekend in May: The Festival of Flowers and Palms honors the Virgin Mary and is celebrated with processions, dances, and preparations of a variety of traditional cuisines.
Must See
The month-long Julias Festival honors Saint Santa Ana and runs through the end of July. Locals fill Santa Ana's colonial-style streets where they enjoy a variety of musical performances, carnivals, and parades. One notable parade is the equestrian parade, which brings together hundreds of riders and their horses.
El Salvador in August-October
The rainy season continues through October. If the wet weather doesn't bother you, August and September might be ideal times to visit. These months see the most rainfall with averages totaling up to 11-14 inches. The excessive amount of rainfall means fewer tourists and more uninterrupted discoveries. In addition to rain, the winter months typically see storms, but fortunately, El Salvador rarely gets hurricanes. Similar to May through July, it's advisable to pack lighter clothes to keep you cool and water resistant outerwear to keep you dry from the rain.
Holidays & Events
First week in August: The Festival of El Salvador is dedicated to "the Savior of the World."
August 31: Las Bolas de Fuego is a fiery festival that is held yearly in Nejapa, a small town located around 30 minutes outside of San Salvador.
Must See
The Festival of El Salvador is an annual celebration of the Divino Salvador del Mundo, or Savior of the World. The main festivities take place in San Salvador where thousands of locals fill the streets to take part in processions, watch colorful parades, and enjoy traditional music. But, a statue of Jesus being carried around the crowded streets is considered the main event.
If you're interested in a more thrilling event, the Bolas de Fuego festival is held on August 31 and commemorates a devastating volcanic eruption that shook the tiny city of Nejapa in 1922. Locals split into teams and each team member douses rags in kerosene. The rags are then set on fire and members throw the rags at opposing team members. The tradition has been celebrated for decades and is meant to represent the eruption that destroyed the town years ago.
Average Monthly Temperatures
Get the Details On Our El Salvador Adventure
Find out more about the adventure, including activity level, pricing, traveler excellence rating, included meals, and more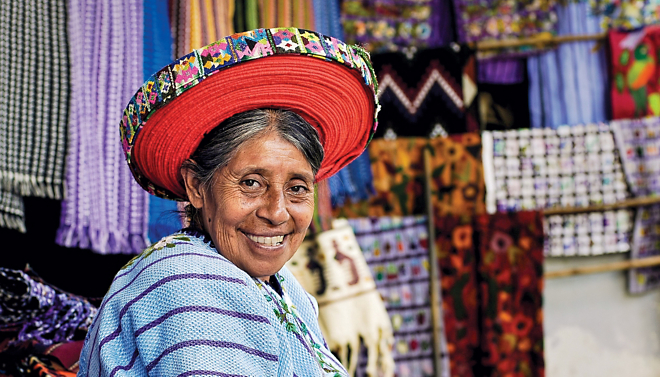 16 DAYS FROM $2,995 • $ 188 / DAY
O.A.T. Adventure by Land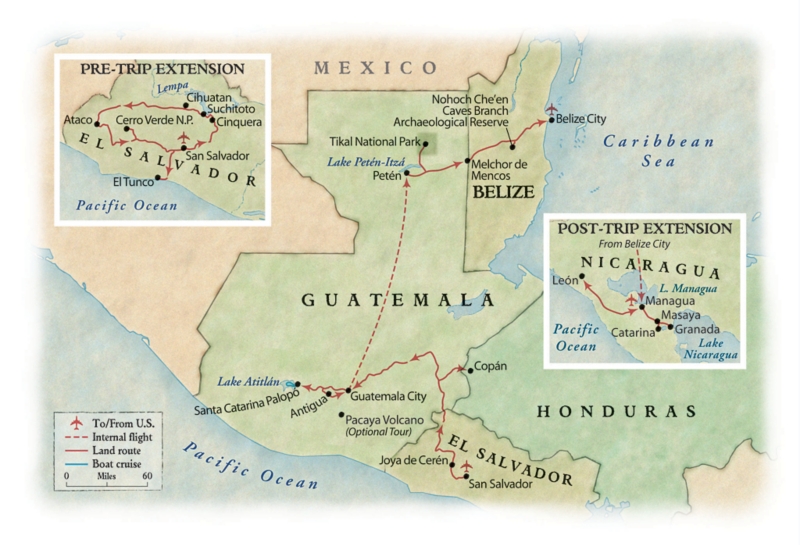 El Salvador: San Salvador • Honduras: Copán Ruinas • Guatemala: Guatemala City, Panajachel, Antigua • Belize: Belize City
33 meals—15 breakfasts, 12 lunches, and 6 dinners (including 1 Home-Hosted Lunch)
Explore the charming colonial city of San Salvador
Witness the breathtaking San Salvador Cathedral
Investigate the everyday life of ancient natives at Joya de Cerén