Forgot Your Username
If you have forgotten your username, please provide your email address in the box below. We'll send you an email with your requested username. If you are having trouble, please call us toll-free at 1-800-221-0814.
Email Sent
You'll receive an email in a few minutes. Please check this email to find your requested username.
If you do not receive an email or you are having trouble logging into My Account, please call us at 1-800-221-0814.
ECUADOR
Named for its geographical location straddling the equator, Ecuador is a compact South American country that—for its size—is the most biodiverse nation on Earth. With a veritable patchwork of ecological regions including the Galápagos Islands, Amazon rain forest, Pacific coast, and the Andes mountain range, Ecuador boasts impressive contrasts of scenery. Its natural spoils are matched only by its cultural vibrancy, with a majority of its 15 million residents having mixed European and Amerindian multiracial ancestry, or mestizos.
At the heart of this diverse country is its striking natural landscapes and wildlife. The famed Galápagos Islands, birthplace of Charles Darwin's Theory of Evolution, is a chain of otherworldly volcanic islands where snorkeling with sea lions, watching giant tortoises bathe in mud pools, and witnessing droves of marine iguanas scurry past your feet is just another Tuesday. Meanwhile, the dense, steamy jungles and churning rivers of Ecuador's Amazon rain forest can excite any nature-lover with the sheer scope of plant, insect, and animal species found here.
Ecuador Interactive Map
Click on map markers
below to view information about top Ecuador experiences
Click here to zoom in and out of this map
Most Popular Films
Films featuring Ecuador from international, independent filmmakers
The Last Ice Merchant
Times have changed, but an antiquated tradition still lives on for the last ice merchant of Chimborazo.
Produced by Sandy Patch
Wild Galápagos
View the diverse Galápagos wildlife—from playful sea lions to iguanas lounging in the sun.
Produced by Richard Sidey
This Is My Place
Meet a park ranger charged with protecting Ecuador's forests and conserving both the environment and private landowner's way of life.
Produced by Zach Mather
Travelogue: Ecuador 1949
From Coca-Cola to street vendors—see the ways Quito, Ecuador has remained remarkably unchanged since 1949.
Produced by David Conover & Paul Villanova
Featured Reading
Immerse yourself in Ecuador with this selection of articles, recipes, and more
ARTICLE
Islands whose wildlife inspired a great naturalist
ARTICLE
Set sail with Charles Darwin on the HMS Beagle on an excursion that changed the face of biology.
ARTICLE
We've got you covered for your next Galápagos adventure with the wonders you can expect to see and packing essentials.
ARTICLE
Don't worry: Bats aren't here to suck your blood—they will protect you from insects though.
ARTICLE
Discover a woman's experiences with a local shaman in Ecuador as he performs a cleansing ceremony.
Ecuador: Month-by-Month
There are pros and cons to visiting a destination during any time of the year. Find out what you can expect during your ideal travel time, from weather and climate, to holidays, festivals, and more.
Ecuador in January-February
The Galápagos are pleasantly warm and clear in January and February, making for the best snorkeling season. The mainland at this time is experiencing almost daily thunderstorms and fog coverage—temperatures are lower, making for a comfortable climate.
Holidays & Events
February 12: El Dia del Oriente, the anniversary of the "discovery" of the Amazon River
Must See
In Floreana, January and February mark nesting season for the majestic Galápagos flamingo. Green sea turtle hatchlings begin taking over the beaches heading toward the sea.
Ecuador in March-April
Sun exposure in the Galápagos is most intense in March and April. The rains begin to subside, but torrential downpours are still possible. For many, this is the best time for surfing off the Ecuadorean coast.
Must See
The eggs of flamingos, marine iguanas, and sea turtles begin hatching. As the summer solstice draws closer, the waved albatross begins arriving in Española. Many avian species, including Darwin's Finches, are in mating season so energetic songs fill the air. Penguins also start coming out during March and April.
Ecuador in May-June
May marks the end of the rainy season. Many roadways in Ecuador are drenched in water, so detours and closings are common. The dry season is peak bird-watching time in the rainforest, with beautiful species like the gray-headed kite, yellow-tufted dacnis, and guira tanager more common. With strong winds hitting the Andes, the resulting moisture pushed to the lowlands creates thick cloud forests over the jungle. The mainland climate tends to be muggy with overcast skies.
Holidays & Events
June 21 and 22: Inti Raymi, an ancient Incan festival featuring indigenous people dressing in brightly-colored costumes. Typically they "invade" the plazas of cities and towns, signifying the endurance of their cultural heritage.
Must See
The iconic blue-footed booby begins its courtship ritual, and several species such as the waved albatross and giant tortoise start nesting. The giant tortoise will continue nesting season through November. This is also prime season for oceanic voyages as dolphins and humpback whale sightings are more frequent.
Ecuador in July-August
July and August is winter in Ecuador, so high-altitude hikes are comfortable in mid-70's temperatures. With stronger currents in the seas, visiting bustling Quito or charming mountainside villages are popular.
Holidays & Events
August 16: The Festival of the Corn, a festival in Tarqui, involves the much-anticipated Corn Queen Competition, and energetic local music and dance fill the streets.
End of August: The Yamor Festival, held in the communities of the Otavalo people, pays homage to Mother Earth. Music and dance in brightly-colored geometric designs fill the streets, and chicha—a fermented corn drink—is widely popular.
Must See
While the currents are strong in July and August, the colder waters make for peak whale-shark sightings. The Galápagos Hawk, with its spotted golden plumage, begins courting on the islands of Española and Santiago. Nesting season for masked boobies and swallow tail gulls begins on Genovesa.
Ecuador in September-October
September is the best time to visit the Amazon. Less rain means fewer mosquitoes, lower rivers, and better trail access. Through September is the Ecuadorean winter—cooler temperatures mean high-energy excursions are more manageable. October is the beginning of the rainy season, dropping regular rainfall until May.
September marks the end of a vacation season, so by the end of the month there are generally fewer tourists. Prices will be lower, and popular tours and attractions—especially the Galápagos Islands—will be less crowded.
Holidays & Events
September 23 and 24: The Festival of the Virgen de Las Mercedes sees plazas and streets all across South America filled with people wearing black masks and sporting brightly-colored religious dioramas on their backs.
October 9: Ecuador celebrates the independence of Guayaquil, the city in which its revolution began. The streets are filled with ornate dancing, music, and fireworks.
Must See
During the coldest season in Galápagos, several species including penguins and sea lions are most plentiful. Blue-footed boobies and other seabirds are hatching, while stony-plumed lava herons and giant tortoises are nesting. With the coming of nutrient-rich sub-Arctic waters carried by the Humboldt Current, colorful marine life like the Burrito Grunt Fish begin schooling in the region.
Ecuador in November-December
A couple of months into the rainy season, vegetation is now lush and thick everywhere. Insects are more plentiful and wildlife is harder to spot amid the increasing rains.
Holidays & Events
November 2: The Day of the Dead brings families in rural Ecuador to their loved ones' graves for picnics, while city dwellers drop flowers at the graves and enjoy a family meal at home in memoriam of their passed relatives.
December 6: The Foundation of Quito Festival celebrates the founding of the city with streets and plazas flooded with dancing, music, and frenetic street parties.
Must See
Sea lion pups with their upturned snouts and gleaming black eyes are born, and the beaches are rife with tortoise hatchlings making their way to sea. Mating season begins for green sea turtles and elegant brown noddies.
Average Monthly Temperatures
Compare Our Adventures
Click 'Select to Compare' to see a side-by-side comparison of up to adventures below—including
activity level, pricing, traveler excellence rating, trip highlights, and more
16 DAYS FROM $6,395 • $ 400 / DAY
Small Ship Adventure
Ecuador: Quito, Amazon, Galápagos
38 meals—daily breakfast, 11 lunches, and 12 dinners (including 1 Home-Hosted Lunch)
Take a 7-night Galápagos cruise on a privately-chartered ship
Set out on daily snorkeling excursions and view native wildlife on the islands
Experience the Amazon Rain Forest and A Day in the Life of an Amazon tribe
Explore downtown Quito and its historic Old Town
16 DAYS FROM $5,795 • $ 363 / DAY
Small Ship Adventure
Peru: Lima, Cuzco, Machu Picchu • Ecuador: Galápagos, Quito
36 meals—daily breakfast, 11 lunches, and 10 dinners (including 1 Home-Hosted Lunch)
Take a 4-night Galápagos cruise on a privately-chartered ship
Set out on daily snorkeling excurisons and view wildlife on the islands
Explore downtown Quito and its historic Old Town
Straddle the equator while visiting the Middle of the Earth museum and complex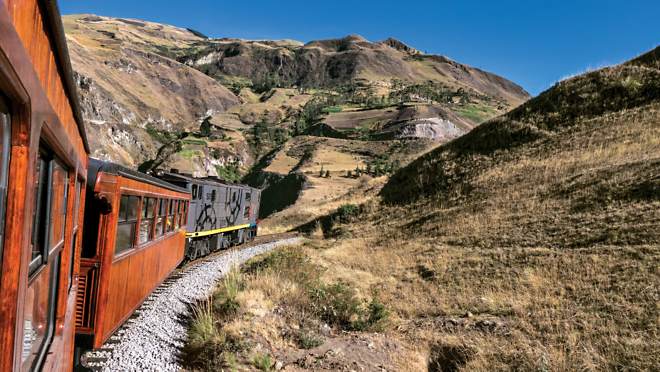 ;
7 NIGHTS FROM FROM $1,895
Explore downtown Quito and its historic Old Town
Tour the town of Riobamba, surrounded by the majestic Andes Mountains
Ride the Devil's Nose Train, a thrilling train ride over steep gorges and past waterfalls
Discover the natural beauty of Cajas National Park, South America's alpine tundra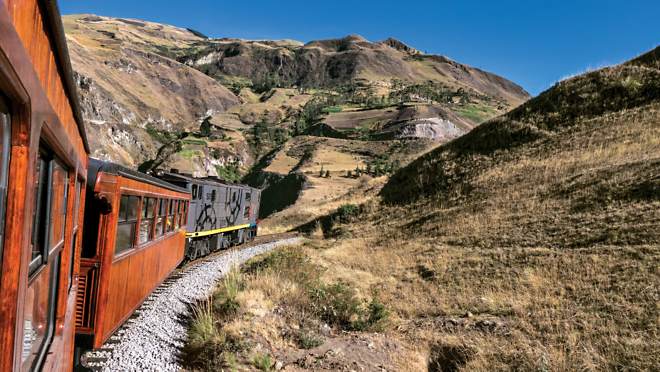 Not Applicable*
Not Applicable*
18 meals—7 breakfasts, 6 lunches, 5 dinners
Explore downtown Quito and its historic Old Town
Tour the town of Riobamba, surrounded by the majestic Andes Mountains
Ride the Devil's Nose Train, a thrilling train ride over steep gorges and past waterfalls
Discover the natural beauty of Cajas National Park, South America's alpine tundra