Forgot Your Username
If you have forgotten your username, please provide your email address in the box below. We'll send you an email with your requested username. If you are having trouble, please call us toll-free at 1-800-221-0814.
Email Sent
You'll receive an email in a few minutes. Please check this email to find your requested username.
If you do not receive an email or you are having trouble logging into My Account, please call us at 1-800-221-0814.

CZECH REPUBLIC
Nested in vast forests and mountains, the Czech Republic is a landlocked nation of over ten million people comprising the Bohemia and Moravia regions of Europe. Encased in a ring of mountains, the past kingdoms and nations of the modern Czech Republic have lived within similar borders for more than a thousand years. The vast Bohemian Forest, diverse mountain vistas, and plethora of breathtaking medieval castles and monasteries make the Czech Republic a land of awe-inspiring beauty.
Prague—the nation's capital and called the "city of a thousand spires"—is home to Prague Castle, the largest castle in the world. Throughout the Middle Ages and the Renaissance, many churches and monasteries built in a "Bohemian Baroque" style came to encompass a particular "Czech" identity.
Until New Year's Day 1993, the Czech Republic was a part of Slovakia in the former Soviet republic of Czechoslovakia. After a 41-year reign under a one-party Communist government, peaceful protesters launched the "Velvet Revolution" to install a parliamentary, democratic government in 1989. With well over 50% of the population over the age of 30, many remember the scarcity which marked the everyday life of Czechs under communism.
The Czech Republic is arguably the beer capital of the world, with more consumed per capita annually than any other country. The site of pilsner-style beer first brewed in 1842, the Czech Republic's history has been intertwined with brews since the tenth century—the monks of a monastery in the Břevnov section of Prague brought beer brewing to the area in about AD 993.
Czech Republic Interactive Map
Click on map markers
below to view information about top Czech Republic experiences
Click here to zoom in and out of this map
Most Popular Films
Films featuring Czech Republic from international, independent filmmakers
The Best Puppet Show in Prague
We've been working with independent international filmmakers to provide you with videos that portray the people, culture, and lifestyles of the countries you're interested in visiting. We believe this video offers a unique perspective on Prague.
Courtesy CNN
The Heart of Prague Pumps Lager
Imbibe the history and culture of beer in the Czech Republic—home of the first "golden beer."
This film was first published on BBC.com Travel. Produced by Brad Cohen and Hyde Harper.
100 Wonders: Bone Church
Marvel at the unconventional décor of Sedlec Ossuary, or the Bone Church, in the Czech Republic.
Produced by Dylan Thuras
Featured Reading
Immerse yourself in Czech Republic with this selection of articles, recipes, and more
ARTICLE
Let writer Albert C. Doyle guide you in navigating Prague's pristine streets—including where to find the best beer.
Czech Republic: Month-by-Month
There are pros and cons to visiting a destination during any time of the year. Find out what you can expect during your ideal travel time, from weather and climate, to holidays, festivals, and more.
Czech Republic in December-February
With fewer crowds to contend with in Prague and other locales, winter in the Czech Republic can be a quiet time to visit. Winter months are moderately cold throughout the country, with average lows in the 30s (ºF) in December and January—although it is colder in Prague, where temperatures fall below freezing most of the time. And few scenes are more captivating than the snow-covered spires of Prague.
Holidays & Events
December 5: Saint Nicholas Day is a strange local tradition in Prague where groups of three dress up as St. Nicholas, a devil, and an angel. The trio then sets out into the night to decide which children have been naughty or nice. The good ones get candy and the bad ones are thrown into a devil's sack.
January 5: The Three Kings Procession in Prague features Biblical characters in period dress, camels, and a live nativity scene.
Must See
Christmas in Prague—Visit Prague when the tree in Old Town Square is beautifully lit and decorated, and take the chill off by sampling the wide variety of treats from street vendors, including spit-roast pork, pastries, hot chestnuts, and mulled wine.
Czech Republic in March-May
The start of spring brings warmer weather and beautiful blossoming flowers to the Czech Republic—but it also starts bringing in tourists, especially during April and May when temperatures average in the 60s and 70s (ºF). Cooler weather than in the upcoming summer months also make these ideal times for hiking and biking in the countryside.
Holidays & Events
April 30: Witches Night is a celebration of the end of winter that takes place in Prague and other cities. Rooted in pagan rituals, witches are burned in effigy and costumed festivities take place in many parks.
April 30-May 1: Beltine Festival of Celtic Culture is a 16-hour event featuring Celtic music, dance, and food that takes place in various castles and historic buildings in West Bohemia.
Mid-May: Prague Spring International Music Festival runs for three weeks with international musical performances held in venues throughout the city.
Must See
The Prague Easter markets are a sight to see in March and April. Brightly decorated wooden huts line the streets, with vendors doling out homemade food and drinks, and artisans selling handcrafted goods. Traditionally, local artists will hand-paint custom Easter eggs for visitors to take home as souvenirs. Depending on what mood you're in, ice-cold Czech beer and hot mulled wine are said to compliment a stroll through the markets quite well.
Czech Republic in June-August
This is the peak tourist season in the Czech Republic, and cities like Prague can be extremely crowded. Temperatures average in the 70s (or warmer). With daylight stretching until 9 or 10 pm, these months are also ideal for mountain hiking and visiting historic sites. In a country teeming with year-round music, beer, and wine festivals, most of them take place during these summer months.
Holidays & Events
August: Highland Games. One of Europe's biggest celebrations of Scottish Highland Games take place at Prague's Sychrov Castle, a social gathering featuring Scottish dancing and drumming, Scottish and Irish music, bagpipe performances, and more.
Czech Republic in September-November
Fall in the Czech Republic is marked by cooler temperatures (in the 60s°F and then dipping into the 40s at night) and Czech town squares, castles, and national parks are bathed in colorful autumn leaves. This is also the start of the grape harvest and wine-making.
Holidays & Events
September: The Prague Autumn International Music Festival is an annual event that draws the world's best conductors playing classical compositions.
November 17: Freedom and Democracy Day is celebrated in Prague and throughout the Czech Republic featuring ceremonial rituals, flying of the Czech flag, and music associated with the 1989 Velvet Revolution.
Average Monthly Temperatures
Get the Details On Our Czech Republic Adventure
Find out more about the adventure, including activity level, pricing, traveler excellence rating, included meals, and more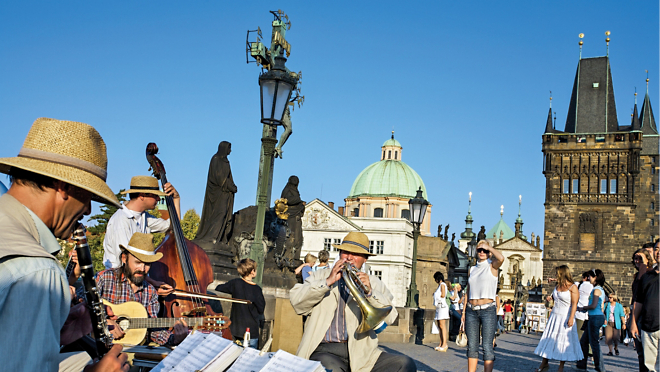 15 DAYS FROM $3,495 • $ 233 / DAY
Small Group Adventure
Czech Republic: Prague, Cesky Krumlov, Slavonice • Slovakia: Bratislava • Hungary: Budapest
30 meals—daily breakfast, 9 lunches, and 8 dinners (including 1 Home-Hosted Dinner)
Tour the historic beauty of Prague
Travel through time to quaint Český Krumlov
Learn the 16th-century secrets of Ceske Budejovice Budweiser Budvar Brewery
Live life through the eyes of a rural Czech farming family in Slavonice