Forgot Your Username
If you have forgotten your username, please provide your email address in the box below. We'll send you an email with your requested username. If you are having trouble, please call us toll-free at 1-800-221-0814.
Email Sent
You'll receive an email in a few minutes. Please check this email to find your requested username.
If you do not receive an email or you are having trouble logging into My Account, please call us at 1-800-221-0814.

CUBA
Stroll just about anywhere in Cuba, from the cobblestone streets of Trinidad to the Malecon of Havana and you'll see that the past and present are inextricably entwined. El coche horse carts share lanes with vintage cars and young people check their text messages in 500 year-old plazas. To visit is not to go back in time so much as to be in many times at once: 16th-and 17th-century architecture reveals the influence of Spanish rule … images of Jose Marti, the spiritual father of independence from Spain, gazes out from countless murals …and the national fervor for the heroes of the 1959 Revolution is still evident from graffiti to statues and even flower beds spelling out "hasta siempre, Fidel"—a promise to remember their former leader "until forever."
Many travelers feel the same way about Cuba itself. It's a truly unforgettable blend of natural beauty, rich history, and vibrant culture. Cuba is the rolling mountains of the Escambray, the red clay earth of tobacco country in dramatic Viñales Valley, and the sparkling aquamarine waters of the Bay of Pigs and Playa Ancon. It's a blend of elegant Spanish Colonial colonnades and vibrant Caribbean colors. The infectious rhythms of salsa and rumba float on the air as live music seems to be playing all day long. When night falls, dancers follow the music, whirling away the hours. Across the land, as a new era of openness begins, one thing remains unchanged: the resilient people of Cuba are eternally welcoming, friendly, and eager to share their land with you.
Cuba Interactive Map
Click on map markers
below to view information about top Cuba experiences
Click here to zoom in and out of this map
Most Popular Films
Films featuring Cuba from international, independent filmmakers
Cuba - Lost in Time
We've been working with independent international filmmakers to provide you with films that portray the people, culture, and lifestyles of the countries you're interested in visiting. We believe this film offers a unique perspective on Cuba.
Produced by Paul Wegschaider
My City: Havana
Enjoy a local perspective on Havana—one of Cuba's most spirited cities.
This film was produced by the BBC and Jonathan Wells, and was first published on BBC.com Travel
Havana Bikes
We've been working with independent international filmmakers to provide you with films that portray the people, culture, and lifestyles of the countries you're interested in visiting. We believe this film offers a unique perspective on Cuba.
Produced by Diego Vivanco
Featured Reading
Immerse yourself in Cuba with this selection of articles, recipes, and more
ARTICLE
The feeling of living in frozen time is one of Cuba's most frustrating realities and its most powerful allure.
ARTICLE
As Cuba transforms, one thing remains the same: a sense of patriotism. Get a glimpse of the country's culture here.
ARTICLE
The streets of Cuba's capital pulse with vintage cars that you may not be used to seeing—here are five favorites.
RECIPE
With its cool, refreshing taste, the mojito is a delight for the senses. Find a local Cuban recipe here.
Cuba: Month-by-Month
There are pros and cons to visiting a destination during any time of the year. Find out what you can expect during your ideal travel time, from weather and climate, to holidays, festivals, and more.
Cuba in November-April
Cuba's dry season, with sunny skies, low humidity, and comfortable temperatures (generally around 80 degrees Fahrenheit), is an excellent time for exploring the island. Temperatures dip slightly between December and February, getting down to 60 degrees Fahrenheit on occasion, and visitors to Cuba's mountains are advised to bring a jacket—but the rest of the island stays fairly warm. With such perfect island-getaway weather, this is also the busiest season for tourism. Prices do rise slightly, but Cuba is a good value at any time of year.
Holidays & Events
December 25: Christmas celebrations in Cuba are quiet, family affairs.
January 1: New Year's Day and Liberation Day, the anniversary of Fidel Castro's 1953 revolution, are fervently celebrated in Cuba's cities.
Must See
Christmas celebrations are muted in Cuba, thanks to the fact that it was banned for decades under the Castro regime. But Christmas Eve—called "Noche Buena" in Spanish—is a night of feasting. Families serve roasted pig, or lechón, accompanied by plantains, beans and rice, rice pudding, and rum cake.
Cuba in May-October
Almost all of Cuba's rainfall occurs between May and October. Heavy, short bursts of rain and wind are followed by beaming blue skies—so visitors during this season can expect plenty of sunny weather interspersed with occasional storms. Temperatures and humidity rise throughout the rainy season, especially between June and September when it can get as hot as 90 degrees Fahrenheit. Along the coasts, marine breezes help maintain a comfortable climate even on the hottest days of the year. Hurricane season peaks between August and October, and brings the potential for flooding and damage.
Cuba experiences a mini-high season in July and August, when locals go on holiday, and prices are at their highest.
Holidays & Events
July 18-27: Carnival in Santiago de Cuba
July 25-27: Revolution Day celebrations last for three days in Cuba, marking the insurrection of Fidel Castro and his men against Fulgencio Batista in 1953.
Late July and early August: Carnival in Havana
Must See
Cuba's Carnival celebrations involve gaudy floats, dancing in the streets, and elaborate costumes. The most traditional festivities take place in Santiago de Cuba, where a diverse mix of cultures results in a riot of color, music, and dance.
Average Monthly Temperatures
Compare Our Adventures
Click 'Select to Compare' to see a side-by-side comparison of up to adventures below—including
activity level, pricing, traveler excellence rating, trip highlights, and more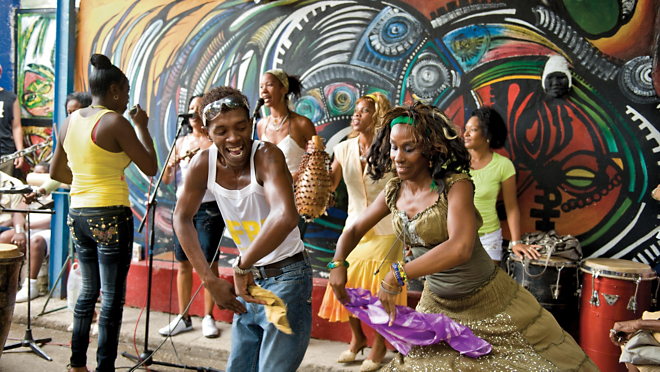 13 DAYS FROM $5,195 • $ 400 / DAY
Small Group Adventure
Cuba: Camaguey, Remedios, Matanzas, Havana
28 meals—11 breakfasts, 9 lunches, and 8 dinners
Meet cowboys at King Ranch in Camaguey
Learn about the street festivals in Remedios from locals who specialize in the tradition
Visit the oldest baseball stadium in Cuba, still in use in Matanzas
View a dance rehearsal in Havana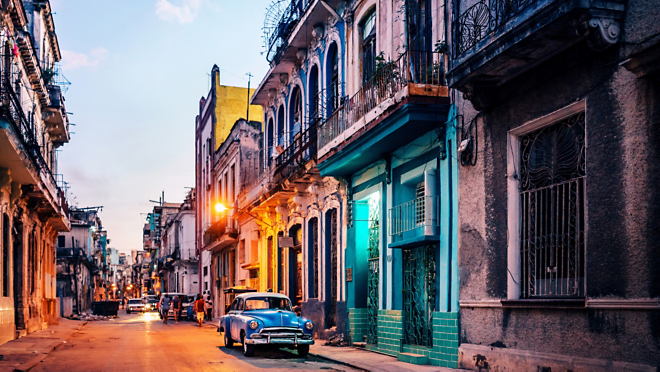 12 DAYS FROM $4,895 • $ 408 / DAY
Small Group Adventure
Cuba: Havana, Cienfuegos, Trinidad
25 meals—10 breakfasts, 6 lunches, and 9 dinners
Walk the cobbled streets of Old Havana
Visit Trinidad and experience the Sierra del Escambray mountain range
Visit coastal Cienfuegos and see a classic Cuban singing performance
Learn about the role of contemporary dance in Havana