Forgot Your Username
If you have forgotten your username, please provide your email address in the box below. We'll send you an email with your requested username. If you are having trouble, please call us toll-free at 1-800-221-0814.
Email Sent
You'll receive an email in a few minutes. Please check this email to find your requested username.
If you do not receive an email or you are having trouble logging into My Account, please call us at 1-800-221-0814.

CUBA
Compare Our Adventures
Find out more about the adventure, including activity level, pricing, traveler excellence rating, included meals, and more
Trip Itinerary
Preview your Cuban cultural discoveries from Havana and Cienfuegos to colonial Trinidad.
Please call for pricing
Small Group Adventure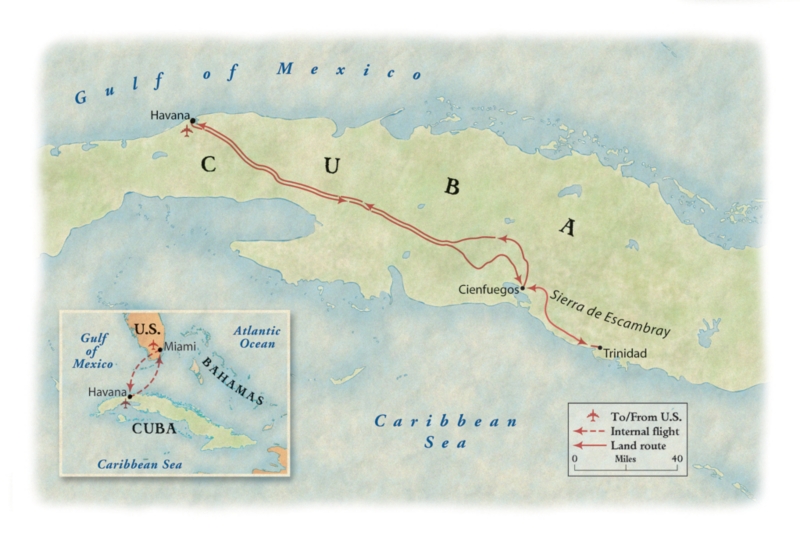 Cuba: Havana, Cienfuegos, Trinidad
26 meals—10 breakfasts, 7 lunches, and 9 dinners
Walk the cobbled streets of Old Havana
Visit Trinidad and experience the Sierra del Escambray mountain range
Visit coastal Cienfuegos and see a classic Cuban singing performance
Learn about the role of contemporary dance in Havana
Adventure Details
Find the Adventure That's Right for You
Our Activity Level rating system ranks adventures on a scale of 1 to 5 to help you determine if a trip is right for you. See the descriptions below for more information about the physical requirements associated with each rating.
Travelers should be able to climb 25 stairs consecutively, plus walk at least 1-2 miles over some uneven surfaces without difficulty. Walks typically last at least 1-2 hours at a time. Altitude can range from zero to 5,000 feet.
Activity Level 2:
Moderately Easy
Travelers should be able to climb 40 stairs consecutively, plus walk at least 2-3 miles over some uneven surfaces without difficulty. Walks typically last for at least 2-3 hours at a time. Altitude can range from zero to 5,000 feet.
Activity Level 3:
Moderate
Travelers should be able to climb 60 stairs consecutively, plus walk at least 3 miles over some steep slopes and loose or uneven surfaces without difficulty. Walks typically last for 3 or more hours at a time. Altitude can range from 5,000 to 7,000 feet.
Activity Level 4:
Moderately Strenuous
Travelers should be able to climb 80 stairs consecutively, plus walk at least 4 miles over some steep slopes and loose or uneven surfaces without difficulty. Walks typically last for 4 or more hours at a time. Altitude can range from 7,000 to 9,000 feet.
Activity Level 5:
Strenuous
Travelers should be able to climb 100 or more stairs consecutively, plus walk at least 8 miles over some steep slopes and loose or uneven surfaces without difficulty. Walks typically last for 4 or more hours at a time. Altitude can range from 10,000 feet or more.
Hide Acivity Level
TRAVELER EXCELLENCE RATING
PRICE
including international airfare
HIGHLIGHTS & ACTIVITIES IN CUBA
*This information is not available for our trip extensions. You must reserve the main trip to participate on this extension.
**This information is not currently available for this trip. Please check back soon.
Recommended Viewing
Watch this video showcasing what makes this country so unforgettable
Cuba - Lost in Time
Let the rhythms of Cuba captivate you in this music-driven video, highlighting everyday scenes from across the island.
Produced by Paul Wegschaider
Recommended Videos
Watch your fellow travelers' favorite films & videos
My City: Havana
Enjoy a local perspective on Havana—one of Cuba's most spirited cities.
This film was produced by the BBC and Jonathan Wells, and was first published on BBC.com Travel
Cuba - Lost in Time
Let the rhythms of Cuba captivate you in this music-driven video, highlighting everyday scenes from across the island.
Produced by Paul Wegschaider
Havana Bikes
In Havana, more than just the cars are vintage. Learn how the locals rely on (and strive to maintain) their 1950s bicycles.
Produced by Diego Vivanco
Cuba: Month-by-Month
There are pros and cons to visiting a destination during any time of the year. Find out what you can expect during your ideal travel time, from weather and climate, to holidays, festivals, and more.
Cuba in November-April
Cuba's dry season, with sunny skies, low humidity, and comfortable temperatures (generally around 80 degrees Fahrenheit), is an excellent time for exploring the island. Temperatures dip slightly between December and February, getting down to 60 degrees Fahrenheit on occasion, and visitors to Cuba's mountains are advised to bring a jacket—but the rest of the island stays fairly warm. With such perfect island-getaway weather, this is also the busiest season for tourism. Prices do rise slightly, but Cuba is a good value at any time of year.
Holidays & Events
December 25: Christmas celebrations in Cuba are quiet, family affairs.
January 1: New Year's Day and Liberation Day, the anniversary of Fidel Castro's 1953 revolution, are fervently celebrated in Cuba's cities.
Must See
Christmas celebrations are muted in Cuba, thanks to the fact that it was banned for decades under the Castro regime. But Christmas Eve—called "Noche Buena" in Spanish—is a night of feasting. Families serve roasted pig, or lechón, accompanied by plantains, beans and rice, rice pudding, and rum cake.
Watch this film to discover more about Cuba
My City: Havana
Enjoy a local perspective on Havana—one of Cuba's most spirited cities.
This film was produced by the BBC and Jonathan Wells, and was first published on BBC.com Travel
Cuba in May-October
Almost all of Cuba's rainfall occurs between May and October. Heavy, short bursts of rain and wind are followed by beaming blue skies—so visitors during this season can expect plenty of sunny weather interspersed with occasional storms. Temperatures and humidity rise throughout the rainy season, especially between June and September when it can get as hot as 90 degrees Fahrenheit. Along the coasts, marine breezes help maintain a comfortable climate even on the hottest days of the year. Hurricane season peaks between August and October, and brings the potential for flooding and damage.
Cuba experiences a mini-high season in July and August, when locals go on holiday, and prices are at their highest.
Holidays & Events
July 25-27: Revolution Day celebrations last for three days in Cuba, marking the insurrection of Fidel Castro and his men against Fulgencio Batista in 1953.
Late July and early August: Carnival in Havana
Must See
Cuba's Carnival celebrations involve gaudy floats, dancing in the streets, and elaborate costumes. Some of the most vibrant festivities take place in Havana, where a diverse mix of cultures results in a riot of color, music, and dance.
Watch this film to discover more about Cuba
My City: Havana
Enjoy a local perspective on Havana—one of Cuba's most spirited cities.
This film was produced by the BBC and Jonathan Wells, and was first published on BBC.com Travel
Average Monthly Temperatures
Cuba Interactive Map
Click on map markers
below to view information about top Cuba experiences
Click here to zoom in and out of this map
Havana
Havana is a feast for the senses. Salty ocean breezes follow you along the Malecon promenade. Salsa, son, and mambo music fill not only street corners but nightclubs that have been open since Hemingway was a regular. From the 115-foot tower of Edificio Gómez Vila on Plaza Vieja in Old Town, vistas of candy-colored buildings unfold beneath the endless blue of a Caribbean sky. And traditional savory Cuban meals await you in welcoming family-owned paladares. With so much to experience, it's no surprise that Old Havana is a UNESCO World Heritage Site, but the delights of the city radiate outward to modern Verdado, which surrounds a lush tropical forest, and onward to affluent Miramar. Wherever you go, your ride of choice is likely to be a classic car from the 1950's, still tuned up perfectly and gleaming as bright the smiles that are sure to greet you.
Discover Havana with G.C.F. on:
Cienfuegos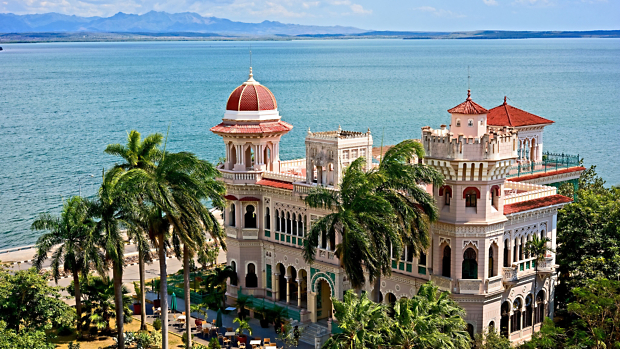 Gleaming alongside a southern bay west of Havana, Cienfuegos is the most French-influenced city in Cuba, founded in 1819 by transplants from Louisiana and Haiti (both of which had been settled by France). The orderly streets of this lively port follow a refined classic grid, with elegant 19th-century architecture housing everything from concert halls and ballet studios to modern sneaker stores and quaint handcraft shops. The historic center is a UNESCO World Heritage Site anchored by Jose Marti Park, which is surrounded by imposing structures, including the domed Government Palace, the Catalan Ferrer Palace, and the grand Teatro Tomas Terry, a concert hall in continual use since 1879. The views of the sea here are best enjoyed from the rooftop of Palacio del Valle, the ornately-decorated Moorish-style mansion that helps keep Cienfuegos's reputation as "The Pearl of the South."
Explore the Cienfuegos with G.C.F. on:
Trinidad
In many ways, Trinidad is a microcosm of all the diversity of Cuba in a single jewel-like setting. To get there by land, one must wind their way over and through the verdant Escambray mountain range. But Trinidad's far border is the Caribbean, its white sandy beaches luring visitors to Playa Ancon on the Peninsula of the same name. Nestled between mountain and sea, Trinidad proper is a UNESCO World Heritage Site where lemon yellow Colonial buildings outline 500-year-old cobbled streets. A hotbed of traditional arts and culture, Trinidad boasts countless ceramicists, wood carvers, painters, and linen workers. But it is perhaps best known for its Casa de la Músíca, a hillside plaza where live musicians perform every evening. Locals and visitors alike fill not only the plaza, but the massive stone stairs above and below it, to listen to salsa and rumba—and to dance the night away.
A Cuban State of Mind
Witness scenes of everyday life played out on rural farms and along Cuba's cobbled city streets.
Courtesy Manuela Senatore
Explore Trinidad with G.C.F. on:
Sierra del Escambray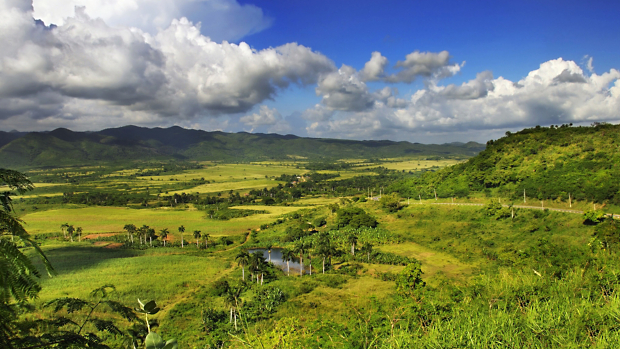 Situated just west of Trinidad, the Sierra del Escambray mountain range is a lush green region split into two mountainous sections by the Agabama River. The Topes de Collantes nature reserve protects the region's ancient caves, cascading waterfalls, canyons, and tropical wildlife like the Cuban trogon and Cuban parrot. The Valley de los Ingenios—which was historically used to produce the country's supply of sugarcane—still hosts abandoned sugar mills and plantations overrun by greenery and is listed as a UNESCO World Heritage Site.
This mountain range also played a role in recent Cuba history. It acted as a base for the Escambray Rebellion of the 1960s against Fidel Castro's government as well as a refuge during the Bay of Pigs Invasion.
Explore Sierra del Escambray with G.C.F. on:
Cojímar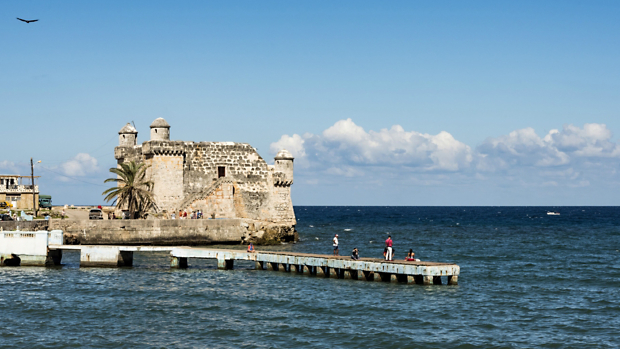 The pace of life is dreamy in Cojímar, which is probably why it enchanted Ernest Hemingway so much. At the old wooden pier, abuelos (grandfathers) boast about their memories of "Papa," as the famous author is known, even as the younger generations still fish here. Hemingway joined the locals on plenty of fishing expeditions, and it was here he met Gregorio Fuentes, the fisherman who inspired The Old Man and the Sea. Indeed, Hemingway is so beloved that the town erected a monument in his honor, a bronze bust composed of metal the local fisherman collected from their boats' anchors, propellers, and chains. Of course, not all the local history is literary. The 17th-century Spanish fort, Torreón de Cojímar, was built to defend the coast, but in turn also led to the growth of the city. It is now included as part of a UNESCO World Heritage Site.
Explore Cojímar with G.C.F. on:
Featured Reading
Immerse yourself in Cuba with this selection of articles, recipes, and more
ARTICLE
The feeling of living in frozen time is one of Cuba's most frustrating realities and its most powerful allure.
ARTICLE
As Cuba transforms, one thing remains the same: a sense of patriotism. Get a glimpse of the country's culture here.
ARTICLE
The streets of Cuba's capital pulse with vintage cars that you may not be used to seeing—here are five favorites.
RECIPE
With its cool, refreshing taste, the mojito is a delight for the senses. Find a local Cuban recipe here.
The Cuba You Can Look Forward To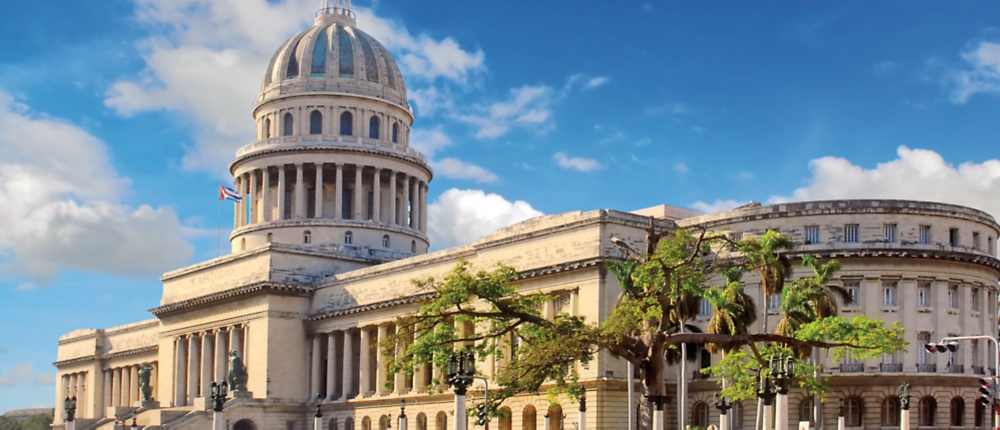 Next year in Havana
by Paul Reyes, The New York Times Magazine
Reprinted with permission from The New York Times
Cuba is the idiosyncratic sister of the Caribbean, and a large part of its idiosyncrasy stems from having watched as the last half-century passed it by. What was once a cultural hotbed moldered under Communism. Still, there is an embattled dignity in Havana's dilapidated architecture, whether colonial style or Art Deco or even the midcentury classics; nowhere else does the traveler find this peculiar marriage between the contemporary and the antiquated, with its incongruous traces of the space age, of Spanish flair and Soviet flotsam. There is, too, a unique resilience among Cubans themselves, whose talent for improvisation, for making do with what's at hand, is legendary. The feeling of living in frozen time is one of Cuba's most frustrating realities and its most powerful allure. To imagine Cuba without it evokes an almost existential question
The specter of a thaw is what motivated me, back in 2009, to press my father — an exile who arrived in the United States in 1962 at age 15, along with his younger brother — to see the island sooner rather than later. For more than 40 years, he refused to send a penny in its direction, either as remittance for his cousins (as it did many others, the revolution fractured our family) or as a tourist himself. That summer, he finally acquiesced, seeking to reconcile with his family and to discover what had become of his country.
Many of us — Cubans, exiles and second-generation Cuban-Americans — admire the anachronistic surfaces while also looking past them to see something else emerging. For years, Cuba has been much more than just jerry-built Chevys with Mitsubishi engines; Audis have been gliding through the streets of Havana for some time; mobile technology is increasingly common. A tourist economy fed by visitors from around the world has fueled a slow-motion modernization. Most of those hailing from the United States have been Cuban-Americans returning to see loved ones, but an increasing number are those with no familial connection to the island, just a fascination with its culture and contraband mystique.
Every time I visit Cuba, even as I come across sights I must have seen a thousand times — the channels of Habana Vieja, the breathtaking vistas of Viñales — I'm compelled to dive back in and work my way through the country. To be clear, this is what you do there: Work your way through it. Leisure left long ago. Instead, the sublime is found in the haggling and hustling and negotiations, in the aesthetic overabundance of color and music and traffic and weather and strays ...
Congress is not likely to lift the calcified embargo against Cuba any time soon; but by itself, President Obama's executive order to normalize diplomatic relations is expected to have a profound effect on how the two countries engage each other, simply by allowing more Americans to immerse themselves in Cuba's culture. In doing so, the thinking goes, Americans will begin to empower Cubans by doing what tourists do best: hiring drivers, renting rooms, buying meals and souvenirs — spending money. Through these practical transactions, Obama said, American tourists will inevitably do the diplomatic work of sharing their values while "making the lives of ordinary Cubans a little bit easier, more free, more prosperous."
Actual prosperity is still a long way off, but with an influx of American visitors spending money with fewer restrictions, it seems reasonable to imagine that the Cuban talent for improvisation will evolve beyond just having to make do, to seizing the opportunity at hand.
From The New York Times, January 11, 2015 ©2015 The New York Times. All rights reserved. Used by permission and protected by the Copyright Laws of the United States. The printing, copying, redistribution, or retransmission of this Content without express written permission is prohibited.
Cuba: A Culture in Transition
How the Cuba of today will not be the same in years to come
for O.A.T.
Due to the Caribbean nation's decades-long isolation, Cuban culture remains a mystery to most Americans. What we think we know about Cuban people and their culture is almost exclusively shaped by politics.
When Fidel Castro and his band of guerrilla fighters emerged from the Cuban jungle in 1959 to overthrow the Batista dictatorship, the U.S. government initially wished the rebels well. But when Revolution turned to Communism, relations between the U.S. and our Caribbean neighbor quickly soured—and have remained hostile ever since.
Yet the people of Cuba have always been so much more than its controversial system of government. Just like the tropical island's undulating landscapes and forested hills, Cuba's cultural vibrancy was firmly in place long before the 1959 Revolution—and is certain to outlive it. But Cuban culture is changing.
Cuba's culture is shaped by its past
In order to truly understand Cuban culture—or any unfamiliar culture—consider this advice from Irish travel writer Dervla Murphy: "To travel in ignorance of a region's history," she writes, "leaves you unable to understand the 'why' of anything and anyone." And she chooses the perfect example to illustrate her point: "Castro's Cuba must baffle visitors uninformed about the five-hundred-year lead-up to Fidel's revolution." Murphy understood that Cuban culture is inextricably bound to its past …
Cuba is one of the few countries in the world to have cast off three imperial powers from its shores over its lengthy history—Spain, the United States, and the Soviet Union. And it was only with the collapse of the Soviet bloc that Cuba became completely independent of foreign influence.
In the ensuing years, Cuba has seen a legalization of the U.S. dollar, the advent of limited private enterprise, Fidel Castro's withdrawal from politics, and cautious overtures to capitalism. And with Cuba's doors opening to global tourism, Cuban culture is in the midst of an unprecedented transformation.
A passion for patriotism, community, and music
Throughout their nation's embattled history—perhaps as a direct result of it—Cubans have been a deeply patriotic people. Their love of country (even for many living in exile) transcends political viewpoints. Feelings of nationalism have always run deeper than loyalty for socialistic ideals—yet there remains great pride in the achievements of the Revolution. While it is a poor nation, Cuba can boast one of the world's best health care systems, as well as almost 100% literacy. A melting pot of races, Cubans' sense of community, neighborhood spirit, and egalitarianism is without equal—and their friendliness unfailingly extends to foreign visitors.
The resilience and inventiveness of the Cuban people in the face of austerity is mind-boggling (look no further than how they have managed to preserve antique American cars for half a century!). Museums are ubiquitous throughout the country, and Cuba's most popular sports are baseball and boxing. And to anyone walking the streets of Havana, the lifeblood of Cuban culture quickly becomes apparent—music and dance. Passion, pride, and general ebullience for life are traits of the Cuban people that long predate the Revolution. And with any luck, they should survive this transitional time in Cuban history.
While it is much too early to predict the long-term effects of 21st-century global capitalism on Cuba, there is no question that it is a land and culture at a crossroads. To experience this rapidly-changing island nation through the eyes of the proud Cuban people—to engage with them directly in discussions about their lives, work, traditions, and vibrant culture—is an opportunity we are proud to be able to offer today.
How the Cuba of today will not be the same in years to come
Car-spotting in Cuba
A field guide to finding 5 vintage beauties
by David Valdes Greenwood, for O.A.T.
A flash of pink tailfin catches your eye as a Cadillac worthy of Elvis rounds the corner … a lemon-yellow '57 Chevy glides by, chrome details gleaming … and nobody blinks at the scene. It's just another day in sunny Havana.
The streets of Cuba's capital pulse with vintage cars that we're not used to seeing in the wild. But in Havana, these rare birds are easy to find if you know where to look—and this field guide will help you spot five of our favorites.
1959 Cadillac Convertible
Just about the most iconic convertible of the late 1950s, this beauty is famous for its dramatic space-age tailfins and double-bullet taillights resembling rocket thrusters. The pink version—several of which still cruise the Malecón in Havana—is associated with Elvis (even though his first love was a 1955 model), and has been immortalized in TV, film, and song. See it in the 1989 Clint Eastwood movie Pink Cadillac and then watch for it in Cuba.
1955-57 Chevy Bel Air
Chevy enthusiasts swoon over the 1955-1957 Bel Airs, nicknamed "tri-fives" for each year of their release. In Cuba, their hues have a tropical palette—from vivid lime to sherbet orange—and feature a thin strip of a complementary color running along the frame, widening into the tail and swooping downward toward the rear tire. Check out James Bond's car in Dr. No for a sneak peek.
1955-56 Ford Fairlane
Among the easiest cars to spot in Cuba, you can't miss the mid-1950s Ford Fairlanes' signature swoosh. Whether two doors or four, convertible or hardtop, you can tell a Fairlane by the way its frame's decorative stripe dives to a notched point before leveling off. The car is so beloved that when a red and white model was used in the 1990 film The Adventures of Ford Fairlane, filmmakers had to reassure enthusiasts that the vehicle wasn't actually blown up in an explosion sequence.
1952-54 Buick Special
The lowest-priced Buick of its time was a hit, jazzed up with three orbs on each of its front fenders; called VentiPorts, they were intended to make drivers feel like they were at the wheels of a fighter plane. Seek out that detail, and then look for the Sweepspear—a line of trim that runs the length of the frame and plunges toward the rear tire. You may recognize Specials from TV shows like Andy Griffith and Highway Patrol, both of which used them as police car models.
1925 Chevrolet Superior K
If you want to find the quetzal of Cuban cars—the rarest of the rare—keep your eyes peeled for the oldest car on the road: the Superior K. If you happen to catch this ivory-colored stunner, it'll likely be in Havana. Resident Francisco Rodriguez still drives his soft-topped, two-door Superior to run errands, and once a month, he joins a brigade of enthusiasts from his classic car club. It's incredible to see a relic from Charlie Chaplin's era on the road.
A field guide to finding 5 vintage beauties
Recreate the Best Mojito in Cuba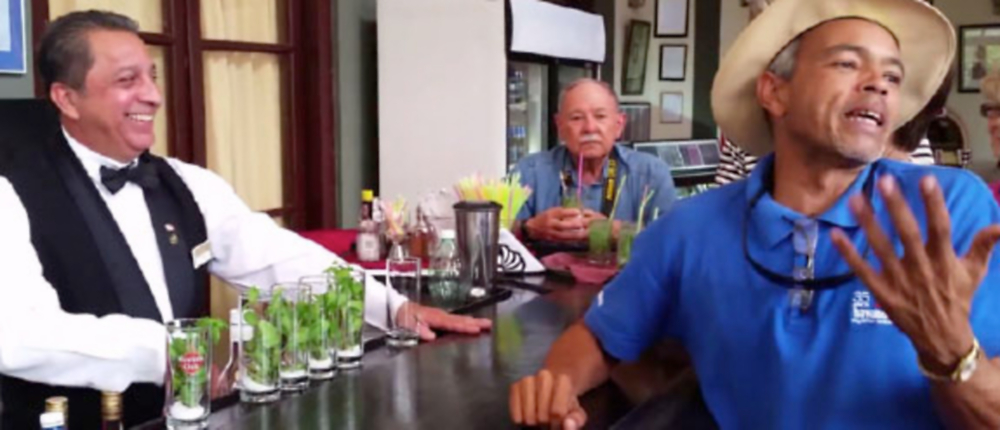 Trip Experience Leader Raul Izquierdo shares the Hotel Nacional's famous recipe
Maryclaire Dugre, for O.A.T.
U.S.-Cuba relations are at an all-time high—and that calls for a celebratory drink. Mojito, anyone? OAT Trip Experience Leader Raul Izquierdo let us in on the recipe from the Hotel Nacional, where bartender Angel has been mixing the minty cocktail for 25 years. Follow Angel's simple steps to stir up a taste of Havana at home.
Hotel Nacional Mojito
Makes 1 drink
Ingredients:
1 tbsp. sugar
Juice of half a lime
2 mint sprigs
2 oz. Havana Club Añejo 3 Años (3-year-old) rum
Sparkling water
Handful of ice cubes
Preparation:
Pour lime juice and sugar into a Collins glass.
Pick leaves from mint sprigs, add to glass
Fill glass halfway with sparkling water and muddle.
Pour in the rum, stir.
Add ice and top with sparkling water. Salud!
Raul's picks: Where to sip a mojito in Havana
Along with the Hotel Nacional's glamorous terrace, Raul recommends these mojito hot spots:
La Bodeguita del Medio, Old Havana
Spend cocktail hour at one of Hemingway's favorite haunts.
Hotel Ambo Mundos, Old Havana
Enjoy a drink with a view at the rooftop bar.
Trip Experience Leader Raul Izquierdo shares the Hotel Nacional's famous recipe