Forgot Your Username
If you have forgotten your username, please provide your email address in the box below. We'll send you an email with your requested username. If you are having trouble, please call us toll-free at 1-800-221-0814.
Email Sent
You'll receive an email in a few minutes. Please check this email to find your requested username.
If you do not receive an email or you are having trouble logging into My Account, please call us at 1-800-221-0814.

CROATIA
Compare Our Adventures
Click 'Select to Compare' to see a side-by-side comparison of up to adventures below—including
activity level, pricing, traveler excellence rating, trip highlights, and more
Compare Adventures
Find the Adventure That's Right for You
Our Activity Level rating system ranks adventures on a scale of 1 to 5 to help you determine if a trip is right for you. See the descriptions below for more information about the physical requirements associated with each rating.
Travelers should be able to climb 25 stairs consecutively, plus walk at least 1-2 miles over some uneven surfaces without difficulty. Walks typically last at least 1-2 hours at a time. Altitude can range from zero to 5,000 feet.
Activity Level 2:
Moderately Easy
Travelers should be able to climb 40 stairs consecutively, plus walk at least 2-3 miles over some uneven surfaces without difficulty. Walks typically last for at least 2-3 hours at a time. Altitude can range from zero to 5,000 feet.
Activity Level 3:
Moderate
Travelers should be able to climb 60 stairs consecutively, plus walk at least 3 miles over some steep slopes and loose or uneven surfaces without difficulty. Walks typically last for 3 or more hours at a time. Altitude can range from 5,000 to 7,000 feet.
Activity Level 4:
Moderately Strenuous
Travelers should be able to climb 80 stairs consecutively, plus walk at least 4 miles over some steep slopes and loose or uneven surfaces without difficulty. Walks typically last for 4 or more hours at a time. Altitude can range from 7,000 to 9,000 feet.
Activity Level 5:
Strenuous
Travelers should be able to climb 100 or more stairs consecutively, plus walk at least 8 miles over some steep slopes and loose or uneven surfaces without difficulty. Walks typically last for 4 or more hours at a time. Altitude can range from 10,000 feet or more.
Hide Acivity Level
TRAVELER EXCELLENCE RATING
PRICE
including international airfare
HIGHLIGHTS & ACTIVITIES IN CROATIA
*This information is not available for our trip extensions. You must reserve the main trip to participate on this extension.
**This information is not currently available for this trip. Please check back soon.
Recommended Viewing
Watch this video showcasing what makes this country so unforgettable
Smart Travels with Rudy Maxa: Croatia's Dalmatian Coast
Discover Croatia's Dalmatian Coast—including its crown jewel of Dubrovnik—with Emmy award-winning travel expert Rudy Maxa.
Produced by Small World Productions
Recommended Videos
Watch your fellow travelers' favorite films & videos
Crossroads of the Adriatic - Back to Croatia
Follow along with O.A.T. traveler Penny P. from St. Louis, Missouri as she samples culinary favorites at a local family farm and explores the historic city of Zagreb.
Submitted by Penny Parker, 21-time traveler
Historical
Travelogue: Dubrovnik, Croatia 1969
Get a glimpse of Dubrovnik as it was in 1969—from a vintage tram to a crowded food market.
Produced by David Conover & Paul Villanova
Traveler's Perspective: Dalmatian Coast
Follow along as traveler John B. from Fort Collins, CO takes you through his Croatian discoveries.
Submitted by John Balza, 16-time traveler
Dubrovnik Old Town Aerial
Enjoy a bird's-eye view of Dubrovnik, the lovely and historic crowning jewel of Croatia.
Produced by Zlatko Medić
Croatia: Month-by-Month
There are pros and cons to visiting a destination during any time of the year. Find out what you can expect during your ideal travel time, from weather and climate, to holidays, festivals, and more.
Croatia in December-February
During the winter months, the Adriatic keeps Croatia's coast relatively insulated—even in January (the coldest month) the temperature almost never dips below 41⁰F and snow is rare. So while it might not be possible to swim in the country's characteristically enticing seas, it is still comfortable enough to explore seaside gems like Dubrovnik and Split.
It's a slightly different story for the inland areas, which experience low temperatures of around 30⁰F in chilly January. Snow is also common, but when it dusts the slopes of Mount Sljeme, it transforms northern Croatia into an undiscovered (and extremely affordable) ski destination.
No matter where you chose to go, you'll enjoy lighter crowds and lower prices, as travelers don't typically visit during this time of year.
Holidays & Events
December 25: Christmas Day
December 31: New Year's Eve
Carnival: Numerous festivals are celebrated throughout the period leading up to Lent
Must See
Throughout the Advent season, the streets of Zagreb are festooned with lights, and festive décor and activities can be found around every corner—including an ice skating rink, a nativity scene, and countless stalls selling mulled wine, cabbage rolls, and sweet štrukli (cheese-filled pastry). Can't make it before Christmas? The merriment typically continues through the first week of the New Year.
Carnival offers another opportunity for revelry. From Split to Dubrovnik to the island of Pag, many Croatian destinations mark the event with traditional masks and merriment. But for an all-out jamboree, Rijeka is the place to be. During the week leading up to the main event, the city hosts a charity ball (attended by sports stars and politicians alike), a car rally, and a children's parade. The celebration culminates in an afternoon march, followed by "the burning of the Pust," when a puppet symbolizing the last year's woes is taken out to sea and set alight.
Watch this film to discover more about Croatia
Bare Feet: Croatia's Dalmatian Coast
Explore the Dalmatian Coast and learn about Croatian history and culture through its traditional dances.
Produced by Sauce & Liver Productions, LLC
Croatia in March-May
Easter heralds the beginning of Croatia's spring season, which is marked by rising temperatures and longer days. Many of the country's island resorts open their doors in March (though it's usually still too cool for an ocean dip). Inland attractions also benefit from the changing seasons: As snow begins to melt, the Plitvice Lakes swell to their highest levels, and Krka Falls course with the run off. What's more, the rising temperatures coax local flora and fauna out of hibernation, creating a spectacular display of life in the country's national parks. By May, balmy weather has arrived, but summer's crowds are just beginning to trickle in, making the month ideal for outdoor enthusiasts who would rather rub elbows with locals than foreign visitors.
Holidays & Events
March/April: Easter
May 1: Labor Day; also known as May Day, this public holiday honors the working class. A free lunch of grah (bean soup)—a true workers' dish—is served throughout the country
Must See
Since 1997, Croatia has welcomed the arrival of sailing season with an annual Easter Regatta. Over a four-day period, yachts fill up the harbors of Hvar Island to compete in tests of seamanship across the tranquil waters of the Adriatic.
Not to be outdone, the mainland kicks off its cultural season in April. From a harp festival and garden show in Zagreb, to asparagus and wine tastings in Istria, and a feast for the patron saint of Spilt, Croats find any excuse to step outside and enjoy the warmer weather come April.
Before summer kicks off in earnest, Zagreb hosts the first of two annual Fashion Weeks to highlight the season's upcoming trends. The event not only brings together big-name designers from around the world, but is also an opportunity for up-and-coming Croats to showcase their contributions to the world of style. It's an appropriate festival for the country responsible for one of fashion's most enduring accessories—the necktie.
Watch this film to discover more about Croatia
Bare Feet: Croatia's Dalmatian Coast
Explore the Dalmatian Coast and learn about Croatian history and culture through its traditional dances.
Produced by Sauce & Liver Productions, LLC
Croatia in June-August
Warm weather, sunny skies, and low precipitation make summer an ideal season for discovering Croatia—and travelers have caught on. Temperatures peak in July and remain high throughout August, and so does the number of visitors. For a summertime feel without elbow-to-elbow crowds, opt for June, when the average high hovers around 77⁰F and sunshine is plentiful. Whether you come at the start of the season or at its height, one thing is certain: Croatia will be lively with holidays and cultural festivals.
Holidays & Events
June 22: Anti-Fascist Struggle Day; marks the start of the uprising against the Nazi and Italian forces that occupied the country in 1941
June 25: Statehood Day; marks the day that Croatia formally proclaimed independence from Yugoslavia in 1991
August 5: Thanksgiving Day; also known as Victory Day, this public holiday celebrates Croatia's War of Independence—in particular, Operation Storm, which brought an end to the country's Serbian separatist movement
Must See
If you find yourself in Zagreb, you may experience the International Folklore Festival, which is marked by five days of stage performances, concerts, and exhibitions highlighting Croatian heritage. Around the same time, the coastal town of Omis honors traditional song with its week-long Festival of Dalmatian Klapa.
With a long scholarly history and a deep appreciation for bygone traditions, it's no surprise that Dubrovnik's most famous cultural festival is more intellectually-minded. Founded in 1949, the Dubrovnik Summer Festival is a month-and-a-half-long celebration of classical theater and music. From Shakespearean tragedies to Viennese orchestras, the city's Renaissance squares and Baroque palaces resound with a cacophony of timeless creativity.
Tiny Motovun takes a more modern approach to its artistic celebration: It hosts an independent film festival that was launched in 1999 as a response to the dominance of Hollywood blockbusters in Croatian cinemas. Dubbed "the Woodstock of film," more than 40,000 movie buffs descend on the sleepy medieval town to enjoy late-night screenings that run continuously for nearly a week.
For a more low-key holiday, head toward the sea. With a lengthy coastline and hundreds of islands, the country is a haven for beachgoers. Boasting blue-green waters and hidden coves, the Dalmatian Coast is considered Croatia's Riviera, attracting international vacationers and celebrities alike.
Watch this film to discover more about Croatia
Bare Feet: Croatia's Dalmatian Coast
Explore the Dalmatian Coast and learn about Croatian history and culture through its traditional dances.
Produced by Sauce & Liver Productions, LLC
Croatia in September-November
Fall ushers in a change of pace in Croatia. While temperatures and crowd levels remain high at the start of September, they start to taper off toward the end of the month—though not so quickly that ocean-lovers can't linger on the beach into the start of October. As autumn progresses and the air cools, leaves begin to show off their coppery hues. The changes are especially evident in the national parks, where deciduous trees create a canopy of color. For most of the season, daylight lingers and precipitation holds off, creating the perfect environment for enjoying harvest celebrations. But when November arrives, night comes earlier, a chill sets in, and the heaviest rain of the year begins to fall.
Holidays & Events
October 8: Independence Day; commemorates the Croatian Parliament's decision to sever legal ties with Yugoslavia in 1991
November 11: St. Martin's Day; a harvest celebration marking the day grape juice traditionally turns into wine. After the wine is "baptized," Croatians typically enjoy goose and mlinci (dried flatbread) dinners.
Must See
If you visit Split in early September, you may be surprised to see toga-clad locals and epic gladiator battles. It's all part of the Days of Diocletian, a festival honoring the city's Roman founder. In addition to elaborate costumes and performances, horse-drawn-carriage parades, booming drums, and Mediterranean cuisine also add to the ancient atmosphere.
For a more traditional fall fête, Opatija beckons with Marunada. This 45-year-old festival celebrates the maruni, a large, sweet chestnut variety that grows at the foot of nearby Mount Učka. Revelers can sample a number of treats made with maruni, from pancakes to goulash to pie.
Truffles are another highlight for foodie travelers. Croatia's Istrian peninsula abounds with them, and late autumn is prime truffle-hunting season. Many of the region's smaller towns celebrate their newfound availability, so if you'd like to sample this delicacy, head to Livade for Zigante Truffle Days, or to Buzet for The Weekend of Truffles.
Watch this film to discover more about Croatia
Bare Feet: Croatia's Dalmatian Coast
Explore the Dalmatian Coast and learn about Croatian history and culture through its traditional dances.
Produced by Sauce & Liver Productions, LLC
Average Monthly Temperatures
Croatia Interactive Map
Click on map markers
below to view information about top Croatia experiences
Click here to zoom in and out of this map
Dubrovnik
Though relatively small in size, the exquisite walled city of Dubrovnik was a major player in world commerce during the 15th and 16th centuries, serving as the base for a fleet of trade ships that traversed the Mediterranean—and acquiring considerable wealth and political clout in the process. In the early 1990s, Dubrovnik's fortunes shifted dramatically when it was besieged, shelled, and severely damaged during Croatia's war for independence from Yugoslavia. But the city has been impeccably restored under UNESCO supervision. With its marble streets, baroque buildings, and iconic red-tiled roofs—visible both from atop its medieval walls and from the peak of Mount Srd in the distance—it is truly deserving of its reputation as the "Pearl of the Adriatic."
Dubrovnik Old Town Aerial
Enjoy a bird's-eye view of Dubrovnik, the lovely and historic crowning jewel of Croatia.
Courtesy Zlatko Medić
Explore Dubrovnik with O.A.T. on:
Plitvice Lakes
Deep within Croatia's mountainous central region, a stone's throw from the border with Bosnia and Herzegovina, lies one of Europe's most intriguing natural wonders: Plitvice Lakes National Park. Stretching out over 114 heavily-forested square miles, this UNESCO World Heritage Site is comprised of 16 turquoise, green, and azure lakes laced together by waterfalls coursing over limestone ridges. This collection of pools is divided into an upper section—home to the park's largest lake—and a lower section, featuring the tallest waterfall in Croatia. Both can be explored via wooden footpaths that snake over crystalline waters rimmed by beech, spruce, and fir trees, and adorned with tiny rainbows tossed into the air by the cascades' spray.
Explore the Plitvice Lakes with O.A.T. on:
Hvar Island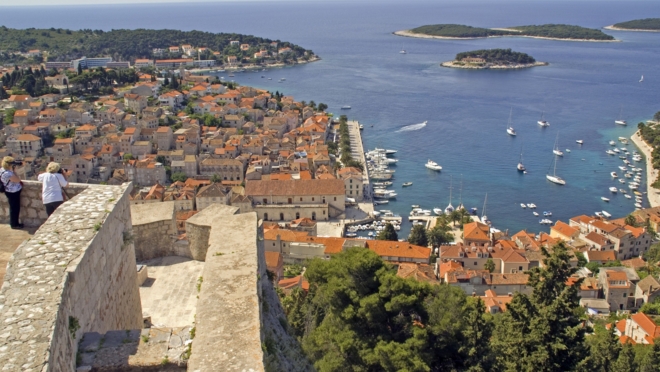 Located just three miles off the Dalmatian Coast, the island of Hvar remains a world away in terms of atmosphere. With some 40 miles of pebbly beaches and isolated coves, Hvar is a haven for posh European holidaymakers looking to escape the bustle of the mainland. But there's more to the island than its jet-set appeal. Hvar's rugged interior brims with gently sloping vineyards, endless olive groves, and fragrant fields of lavender—all owing to 2715 hours of sunshine the island receives each year. The expanses of coastline and vegetation are punctuated by ancient hamlets and lively cities—like Hvar Town, the largest municipality on the island, which maintains a timeless appeal even among its more modern accouterments.
Explore Hvar Island with O.A.T. on:
Opatija
Along the Kvarner Gulf, nestled between Dalmatia and Istria, beckons the welcoming coastal town of Opatija. A popular all-season resort destination since the mid-19th century, Opatija was the place to be for fashionable aristocrats from around Europe who came there to rejuvenate. In fact, for several years, the Austrian emperor Franz Joseph I used to enjoy his winters in Opatija. You can still see many late 19th-century luxury hotels and villas scattered along Opatija's mountainous coast. But the town's star attraction is its famous lungomare—a seaside promenade that stretches 7.5 miles along the sparking coastline. Completed in 1911, the lungomare transformed Opatija into a popular health resort in the 20th century. And even today, many would agree a stroll along the lungomare makes them feel better.
Explore Opatija with O.A.T. on:
Zagreb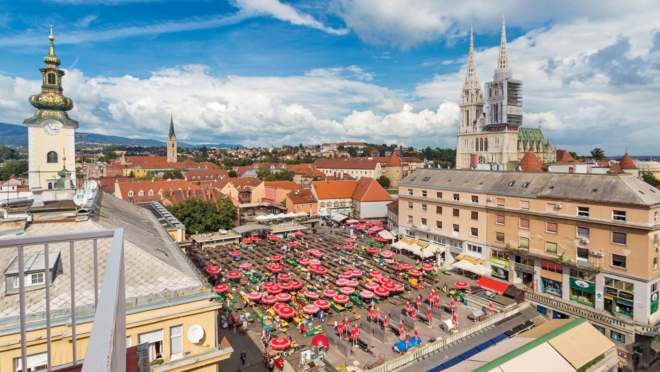 Like many medieval cities, Croatia's 1000-year-old capital is divided into distinct parts: the Upper Town (Gornji grad) is Zagreb's historical jewel box, where landmarks like the Gothic St. Mark's Church and the 18th-century Parliament building reside. Its Lower Town (Donji grad), meanwhile, is home to many of the city's cultural and modern-day touchstones, including art museums and cafés. And at the city's heart is the Square of Ban Jelacic (Trg Bana Jelacic), a pedestrian-only quad where friends and families gather to socialize, listen to concerts, and cheer on the national soccer team during international matches, as well as to peruse the wares at the Dolac market. Operating continuously since the 1930s, this open-air bazaar bustles daily with vendors hawking everything from fresh produce, flowers, and dairy, to local olive oil and honey..
Explore Zagreb with O.A.T. on:
Featured Reading
Immerse yourself in Croatia with this selection of articles, recipes, and more
ARTICLE
In Croatia, locals proudly adorn themselves with the morcic to bring good luck. Learn more about this special symbol.
ARTICLE
Learn about Croatia's unique aloe lace tradition—intricate pieces that are woven by Benedictine nuns.
ARTICLE
Follow along as a travel writer recounts her journey through the Balkans—chock-full of surprises and hidden gems.
ARTICLE
See how the Republic of Ragusa, the heart of which we now know as the city of Dubrovnik, became a progressive culture.
The Morcic: A Tale of Love and War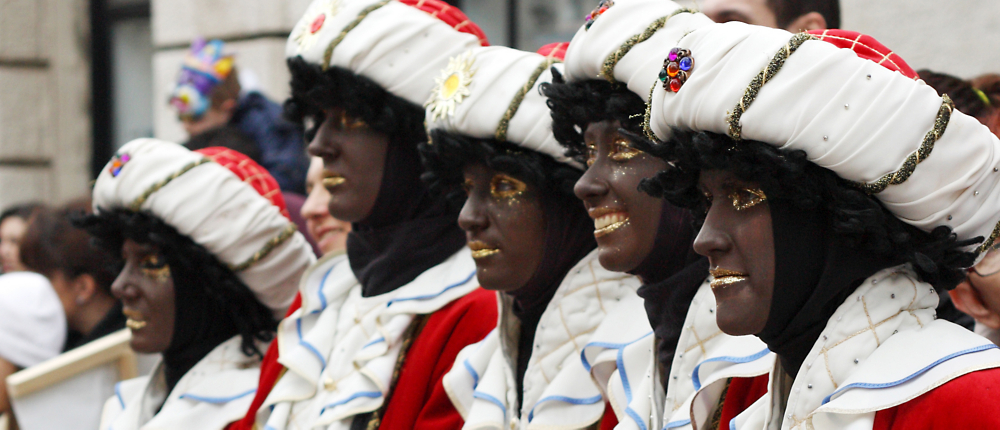 Croatia's symbol of good luck
by Travis Taylor, for Grand Circle
Every culture has its charms and symbols for warding off evil spirits and keeping on the right side of fate. From the kavacha tube pendant of India to the iron horseshoe of the U.S., superstition weaves itself around these objects and lends an air of mysticism and intrigue to their otherwise humble histories. In Croatia, specifically in the region surrounding the city of Rijeka, it is the morcic (pronounced "more-cheech") locals proudly adorn themselves with to bring good luck and acknowledge their loyalty to the region.
An unlikely symbol, the morcic is a portly, Moor-inspired bust wearing a large white turban and thick, golden necklace. Since the 17th century, jewelers have fashioned the figurine into necklaces, rings, pendants, and earrings that are indelible symbols of good fortune in Rijeka and Croatia. And, as is the case with most good luck charms, the history of the morcic is muddied by myth, its narrative thread weighted with beads of legend.
Love & loss
The first of several stories about the origins of the morcic involves an Italian countess who, in an act of love, granted her black-skinned maidservant and friend freedom so that she could return to her home and family. When her maidservant left, the countess, overcome with sadness at having lost her friend, commissioned a jeweler to fashion the girl's likeness in precious metals for her to wear as a way to always remember their friendship.
A trophy of war
Another popular story of the morcic's origins describes a nobleman of Rijeka who fired an arrow into an approaching Ottoman army camped on the Grobnik Field outside the city. The arrow struck and killed the Ottoman's pasha (high ranking officer), sending the threatening military forces scattering. As the warriors dispersed, the people of Rijeka prayed to God to save them from any further attacks from the Ottoman Empire. In response to their prayers, stones rained down from heaven, covering the warriors up to their necks, until only their heads and turbans remained. To commemorate the miraculous victory, Rijeka's men created earrings for their wives with the bust of a turban-wearing Moor.
The Venetian connection
The truth, historians contend, is much less mythical. The creation of the morcic is attributed to Venice, the famed city of water on the opposite side of the Adriatic Sea from Croatia. While relations between the Croats and Venetians was not always amicable, the two cultures shared many similarities, including an obsession with the latest fashion.
Around the 17th century, the Venetians, captivated with the distant Orient, began to appropriate elements from these far away, enigmatic lands. It wasn't long before Venetian noblemen began to use royal servants—black Moors—dressed in Oriental clothes of the finest silk and beaded with beautiful jewels. These much-sought after servants were known as moretto, and it was a matter of prestige to have one of these foreigners as a servant. Inspired by the lavish colors and finery of their dress, Venetian jewelers fashioned decorative ornaments of the moretto out of precious metals and stones. These figurines, also known as blackamoors, became very popular among royalty and common people alike.
Not to be outdone by the Venetians, the Croats created their own version of the moretto, which is the morcic. The Croatian version highlights the head specifically, but is no less ornate and bejeweled than its Venetian counterpart. The prevalence of the image—for a period, nearly everyone in Rijeka wore some form of the morcic—helped it become something more than a piece of jewelry.
The miniature Moor became a reminder of the region's history (the defeat of the Turks and the Ottoman Empire), an indication of economic power and social standing, and an icon of positive energy. Keeping it close, it is said, will manifest optimism, guarantee good fortune and provide protection from evil forces. Once worn by the fishermen of the city, the morcic can still be found decorating men's ears, while brooches, bracelets, rings, and pins can be found in the homes of almost every resident of the city. Due to its distinct appearance and exquisite craftsmanship, the morcic is recognized across the globe, and even modern-day designers like Dolce & Gabbana have used the blackamoor in their creations.
Contemporary criticism
Some art historians and activists have raised concern over the continued creation of such jewelry, describing the morcic and moretto as offensive reminders of African subjugation concealed in beautiful ornamentation. However, despite such controversy, the morcic remains a common, much-loved symbol in Croatia and is the mascot for the extravagant International Rijeka Carnival, which is held every year from January to early March.
Although Rijeka is considered the home of the morcic, morcic jewelry can be found throughout Croatia. Master jewelers and artisans imbue their morcic creations with the nobility, beauty, and cheerful spirit of the region, creating a good luck charm and souvenir that embodies a grand tradition for Croatians.
Handmade in Hvar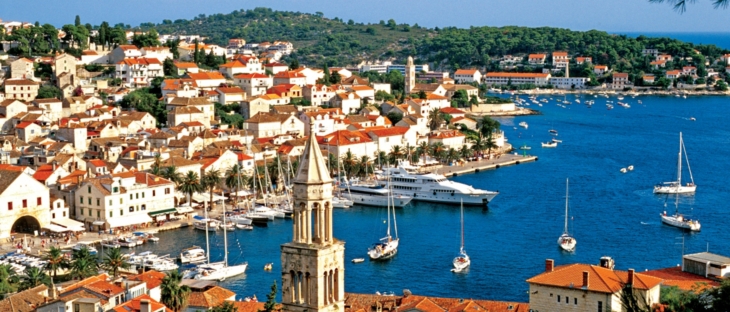 Croatia's unique aloe lace tradition
by Jana Stepic, Trip Experience Leader, Slovenia
Croatia's long tradition of creating elaborate lace patterns by hand is so significant that in 2009, it was listed by UNESCO as part of the world's intangible cultural history. One type of lace, made in the town of Hvar on the island of the same name, is so rare that it is only made by less than a dozen Benedictine nuns. The sisters weave delicate, intricate pieces from a unique material: fibers that they harvest from local aloe plants and make into thread.
The aloe plants—also referred to locally as agave—grow all over the island of Hvar. The sisters collect leaves from plants three years or younger and remove the hair-thin white threads from the core of fresh leaves. After the meter-long threads have dried, the nuns attach them to a cardboard background and weave them into elaborate, freehand patterns using metal needles.
Aloe weaving was brought to Hvar in the 19th century by sailors returning from the Canary Islands, a Spanish archipelago off the west coast of Africa. In Croatia, the Canaries are called Tenerife, thus aloe lace became known on Hvar as tenerifa lace.
Beginning in the early 1800s, the nuns operated a girls' public school, where they taught domestic skills to local young women. They developed tenerifa lace-making as part of this education. The girls' school is long closed, but nuns continue to live in the closed convent, spending their day in prayer and lace-making. Today, guests may visit the convent daily before noon to watch aloe lace being made and talk with the sisters as they weave.
The delicate lace cannot be washed or ironed, making it suitable mainly for decorative purposes. There are three styles of the lace. Tenerifa lace is sewn on a piece of cardboard with a needle, over a spider web of aloe threads. With tenerifa s mreskanjem (tenerifa "with netting"), circles of round eyelets (mreska) are woven together around a central point with a hooked netting needle, creating a flower-like shape. Finally, the mreskanje na okviru ("filet embroidering") technique involves embroidering decorative motifs onto a piece of netting with small square eyelets.
Hvar lace makes for a unique souvenir. Since each piece is distinct and handmade, prices vary widely. Even if you don't purchase any lace, the experience of visiting the Benedictine nuns in their ancient home, watching them practice an art form they have perfected—and of which they are the sole practitioners—is sure to be an unmatched experience.
Croatia's unique aloe lace tradition
The Balkans: Lovely States of Mind and Meanderings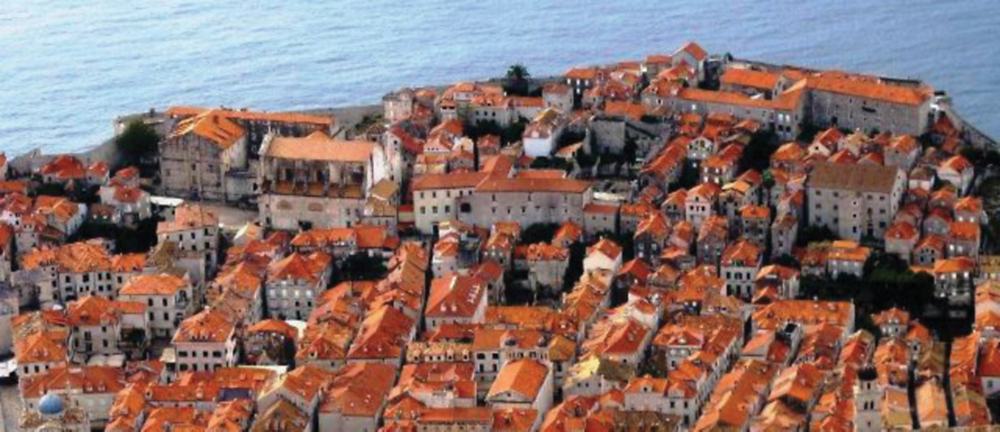 by Fyllis Hockman, for O.A.T.
This is not going to be your typical travel story. Oh sure, it started out that way. A story about a tour sponsored by Overseas Adventure Travel they called The Crossroads of the Adriatic. It was going to be all about the medieval town of Dubrovnik in Croatia, a series of dozens of waterfalls at Plitvice Lakes, streaming down cliffs, cascading over rocks, weaving through brush over an expanse of 114-square miles, exploring Sarajevo in Bosnia, a city that suffered through the longest, most devastating siege by Serbia's hands in the history of modern warfare and a visit to Ljubljana, Slovenia, my newest favorite European city with broad promenades, wide pedestrian-only walkways and multiple town squares. And that's just the tip of the itinerary that brought a new adventure to our group of 16 day after day. But that's where the story veered into trouble …
I found myself being equally surprised and delighted by all the little extra things we were seeing and doing—and yes, often eating—that were NOT on the itinerary that I decided makes an interesting story in and of itself. Because, in all my travels with other tour companies, this has not always been the case.
This is not meant as a love letter to O.A.T. but rather my impressions of a travel philosophy of "Learning and Discovery" which O.A.T. takes very seriously and which elevated an already enticing itinerary into a far more expansive travel opportunity.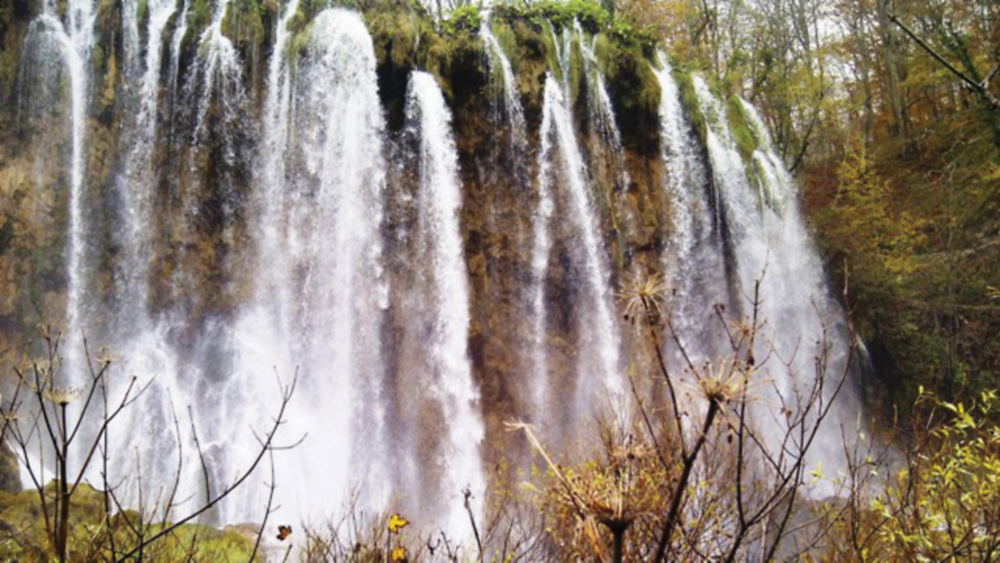 During our first day, we explored the Old Town of Dubrovnik, still resembling its 15th-century heritage, scaling its huge fortress walls to enjoy exhilarating views of the Adriatic coast. At night, ostensibly nothing is planned—until our ever-creative and ingenious guide, Ivana, notices a small sign on an old church announcing a string quartet concert. So with mostly make-shift chairs set up in the tiny church, we join the locals in witnessing a surprisingly professional performance.
En route home from Montenegro, a small country boasting ancient villages, a bay designated by UNESCO as one of the 25 most beautiful, aristocratic mansions and a Baroque shrine—in other words a full day of historical exploration included in our itinerary—we stop to visit a local (and yes, you will soon tire of that word …) embroidery artisan in traditional dress who regales us with the intricate process of embroidery, with an initial introduction to the silkworm who makes it all possible—literally. The little buggers are there in all its iterations from birth to thread. Admittedly for me, it was a little late in the evening to be all that interested in the lifecycle of a silkworm taking place before my eyes, but others in the group seemed more enamored.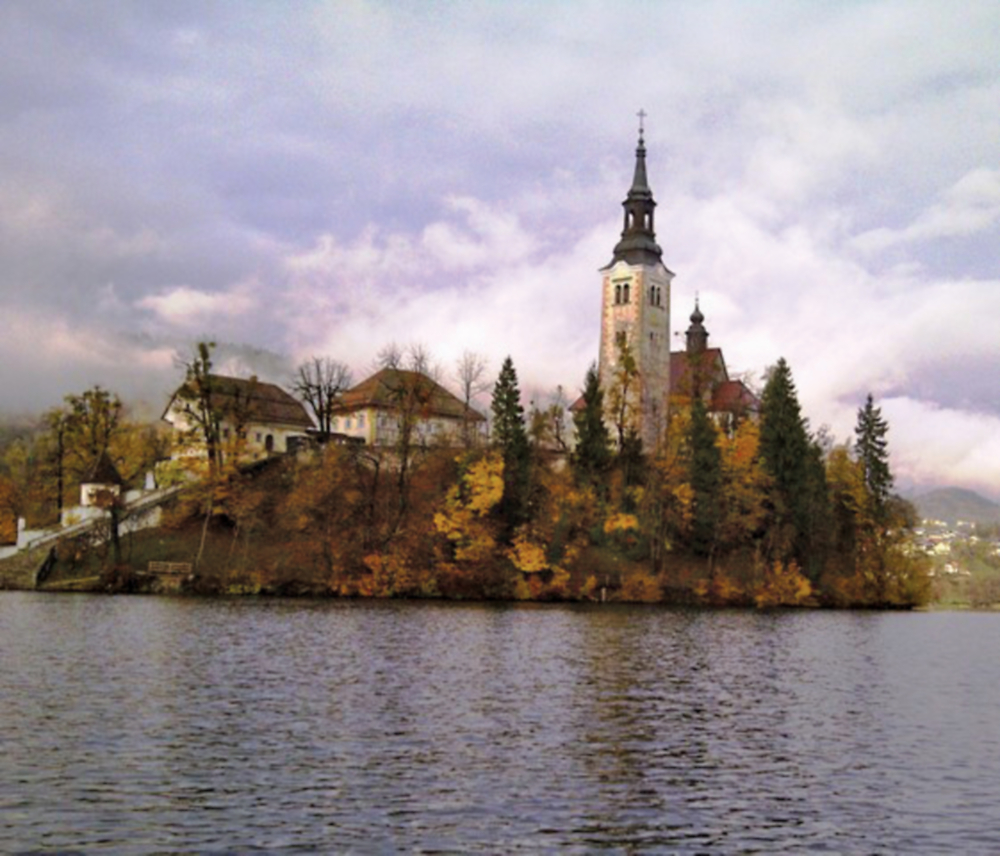 At a small farmhouse where we spent the night near Slavonia, Croatia's breadbasket, several women admired the pottery in the kitchen. Next day? Another unscheduled stop—this time at the potter's shop—not only to buy, of course, but also to learn about the process of how the different cups and bowls were made. Ivana just set it up—she certainly didn't have to.
And she even convinced the potter to open up to accommodate us even though it was the end of the season. Very persuasive, our Ivana. And because this was a stop mainly for the women she promised to find something comparable for the men. Of course, she didn't have to look any further than a local brew pub in the next town.
Onto Bosnia-Herzegovina. And I need to pause here for a little history. The four countries we visited, along with Serbia and Macedonia, used to comprise Yugoslavia, where Marshall Tito reigned from 1945-1980 as a much-beloved, both then and surprisingly still, benevolent dictator—although admittedly not to those who disagreed with him. When he died, the economy crumbled, unemployment skyrocketed, and the unity and harmony among the many populations—Roman Catholics Croats, Orthodox Serbs, Bosnian Muslims and assorted Jews, who lived, worked and intermarried together—deteriorated into nationalistic jingoism and animosity. The Bosnian War of 1991-1996 was the result.
In Bosnia, the main L&D surprises revolved around food. First, an unscheduled stop at a roadside stand where Ivana bought enough tangerines, the agricultural specialty of a very verdant river valley en route to our next town, to last for the rest of the trip. Crossing over from Croatia to Bosnia-Herzegovina meant transitioning from Roman Catholic churches to Islamic mosques. Pocitelj, the first town we stopped in, is a typical old Muslim village frozen in time from the late 15th Century. Streets of rocky cobblestones transporting us back to the Middle Ages were marred only by an avalanche of tourist stands with local souvenirs. I always feel so guilty for ignoring the plaintive entreaties to buy, stand after stand after stand. I was happy to get back to our tangerines.
And then there's the Tunnel of Life, the very low, narrow, dimly lit secret dirt passageway that led from under an airfield in Sarajevo to the Adriatic Sea. It was the only access to food, water, small arms and medical supplies that brought the only relief to the city of 400,000 who were victims of daily aerial bombardment for almost four years, as Serbia cut off all food, water, electricity, and medicines to the Muslim population it was trying to destroy. As we watched a video of the city disappearing building by building, street by street, explosion by explosion, Ivana tried to soften the emotional blow by plying us with burek, sweet Bosnian pastries. They helped, but just a little.
And did I mention the visit to a local mountain village priest—he just happened to be a personal friend of Ivana's—ostensibly, of course, to learn a little more about the village lifestyle but I think the blueberry strudel that he himself cooked and the wine from nearby vineyards were more than sufficient incentive for the extra drive. The beautiful 18th-century church was just a bonus.
And while sampling truffles in one of the Istrian hill towns outside of Lovran, Ivana was asked how truffles are found. A quick phone call later and another detour of the bus (we had a very accommodating bus driver who sometimes seemed in cahoots with Ivana as to what surprise to spring next), we were meeting with a truffle hunter and his dog, Riki—who demonstrated the well-protected art of finding the evasive white and black gourmet gold.
In case our three squares a day weren't sufficient, even the local guides got into the act by providing us with even more to eat in the way of local snacks: "You can't possibly leave (fill in the town) without sampling (fill in the delicacy…)" was their mantra. Among the many savory offerings were the best of regional chocolates, the yummiest roasted chestnuts, the finest Bosnian coffee, the sweetest rahat lokum (Turkish delight), the grandest Istrian truffles, the best of cream cakes, the most delicious Bosnian burek, the mouth-watering strudel from Father Robbie's oven, and my personal favorite, an almost endless amount of regional brandies at every stop. Blame the superlatives on Ivana.
During out tour of Zagreb, the sprawling European Croatian capital, the recent culinary L&D expanded into the arts.
Though ample free time is always factored into the tours—what should be time off for Ivana — she instead saw it as an opportunity to provide more options for her ever-greedy charges. In this case, tickets to either a jazz contest or the ballet, simply because they were in town when we were.
And when our Learning and Discovery adventures kept us on the bus traveling from town to town, country to country, they didn't stop. As impressive as all our unscheduled stops were, even more so were Ivana's constant tales of history, culture, Tito, controversies, architecture, Tito, education, economics, Tito—yes, they want him back—plus personal experiences and other tantalizing tidbits day after day. The fact that it was still as fascinating by the end of week two is even more of a phenomenal accomplishment.
So yes, my usual travel articles deal with the destination; this one with the journey. And what made that journey so unusual were the many moments of learning and discovery that jumped off the itinerary page and into my heart. Thank you, Ivana.
About the Author:
Fyllis Hockman, a frequent contributor to FAB Senior Travel, lives in the Washington D.C. area. She is an established, award-winning travel writer and a member of Society of American Travel Writers member since 1992. She has been traveling and writing for almost 30 years.
Fyllis Hockman, for O.A.T.
Liberal Arts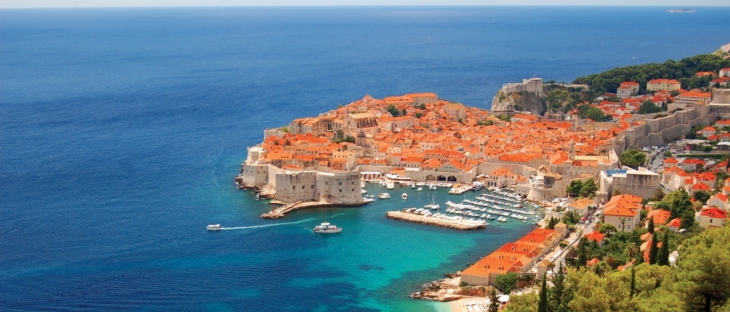 The progressive culture of the Republic of Ragusa
by David Valdes Greenwood from Currents
The somber leader leaned over the table, his pale brow furrowed as he considered the words before him one last time. His advisors and peers waited quietly, knowing the significance of the moment. And then, with a stroke of a pen, it was over. The slaves were declared free.
This dramatic moment might sound familiar, the stuff of Lincoln biographies and American history texts. But in fact, the scene played out more than 4,000 miles away and 400 years before the U.S. Emancipation Proclamation. (In fact, it occurred decades before Christopher Columbus first set eyes on the Americas.) The scene described is the legal abolition of slavery in the Republic of Ragusa, a maritime state that rivaled Venice in its heyday. And the ruler was a prince, not a president, surrounded by some of the wealthiest men in the kingdom.
Surprisingly for an aristocracy of that type, Ragusa—the heart of which we now know as the city of Dubrovnik—made itself a place where the most progressive ideals came to life. Ragusa was never perfect, but while it lasted, it came close to demonstrating how a society that believed in liberty could make such a thing true.
A city comes together
As early as the seventh century, a rocky island just off the Dalmatian coastline of Croatia had become an outpost for Greek sailors pausing to rest on their trading excursions; onshore, small bands of refugees from the Roman city of Epidaurum made camp and eventually settled. Over the next few centuries, the two communities became so entwined that they filled in the channel that separated them. The united settlement was Ragusa (later named Dubrovnik in Croatian).
Because of Ragusa's prime spot on trade paths, first the Saracens and then the Venetians tried to seize control of the city. A stealthy Venetian plot to overthrow local leadership in the tenth century was thwarted when an old man named Blaise warned a priest that he, aided by heavenly forces, had been holding off the intruders for several days to allow the city time to prepare. When Ragusa took measures to defend itself, the Venetian fleet abandoned their attack. Ever since, Blaise has been the city's patron saint.
For most of the next two centuries, Venice and Ragusa were fairly amicable as enemies go, with Venice using the port as its naval base. But the locals increasingly grew tired of their rival profiting most from this arrangement, and when Hungary wrested control of Ragusa from Venice, the ruling class seized the moment. With little interference from Hungary, they set about transforming Ragusa into a worldclass city-state, with its own thriving trade industry and newly expanded holdings that ran the length of Southern Dalmatia.
Silver spoons & hearts of gold
Life in Ragusa was decidedly stratified. There were only three classes: the plebeians, consisting of the poor and the laborers; citizens, the equivalent of the middle class; and nobility, whose status was guaranteed by birth. You couldn't marry outside your class, thus limiting your upward mobility if you were not already noble by blood. And being noble came not only with status and wealth, but with power.
According to the laws of Ragusa, only nobility could hold major government offices. Citizens could hold positions as clerks and minor functionaries, but could not make policy; plebeians had no role at all. The head of state was a Rector (chosen from among the princes) who presided over a two councils, but the powerhouse body was the Senate. To avoid corruption, both Rector and Senators were subject to strict term limits: one month for Rectors and one year for Senators. In this way, the long-term values of the group as a whole became more dominant than the values of a single individual in any given session.
Happily, what they valued was (to use American lingo) liberty and justice for all. The flag of the Republic bore the motto Libertas (freedom) and the fortress walls at the entrance to the city were inscribed with this phrase: Non bene pro toto libertas venditur auro ("Liberty cannot be sold for all the gold of the world"). This was more than a slogan, for these wealthy elite put in place some of the most progressive policies Europe had ever seen. They didn't need to do that, of course, seeing as they already had status and power, but they seemed intent on proving the motto written on the state council chamber crest: Obliti privatorum publica curate ("Manage the public affairs as if you had no private interests").
A kinder, gentler Europe
The nobles took care to safeguard the population from birth to death, establishing in the 14th century both an almshouse for the elderly and an orphanage for the young. The orphanage was created not just to care for children whose parents had died but also for those born out of wedlock. Wearing veils to hide their features, women came at night to the ruota, a rotating wooden platform at the entry to the orphanage. After kissing her infant goodbye, a mother would ring the bell and slip away. The staff of the orphanage would allow for a few moments to pass out of concern for the mother's privacy, and then turn the ruota so that the baby could be taken in. Concern for the emotional well-being of the mother was so great that a law was passed to severely punish any who dared accost a woman before she could depart.
Physical health was deemed no less important. Public medical care was instituted at the dawn of the 14th century and soon after, the city's first pharmacy (and the third anywhere on Earth) opened in 1317. On the ground floor of a Franciscan monastery, the pharmacy offered remedies and medical supplies at low cost to the citizenry, allowing them to better care for themselves, while also helping fund the continued existence of the Franciscan order. By the end of the century, the city also had a separate quarantine hospital to prevent the spread of infectious disease.
The greatest accomplishment in forwardthinking Ragusa was the abolition of slavery. In 1416, with the full support of the Senate, the Rector of Ragusa signed a proclamation that the existing slaves were to be free and that further transport of slaves through the region was prohibited. As Ragusa depended little on slave labor aside from household servants, it was that latter provision that had the most effect: slave labor had been a major component of the trade between Eastern and Western Europe. Cutting off this supply route took a number of years but it set a precedent, and Venice was one of the states that followed suit before the end of the 1400s.
Boom time
With such progressive policies in place, Ragusa blossomed, and the 15th century saw the acquisition of the coveted islands of Korcula, Brac, and Hvar. Ragusa's population swelled to more than 40,000, putting it nearly on par with London. A treaty with the Ottoman Empire, though expensive, allowed the merchant ships of Ragusa to enter the Black Sea, to which only Ottoman vessels had access, and gave the republic a serious defensive strategy in times of conflict.
The Ottomans liked this deal as well, because they considered Ragusa an indispensable stop on their trade route between Anatolia and Florence. That's why the Sultans reacted mildly in the 16th century when Ragusa, angling ever upward, agreed to let its merchant vessels sail under the Spanish flag. With Ottoman routes and the backing of the Spanish armada, Ragusa became a trading powerhouse that rivaled—and weakened—Venice.
For the next 200 years, Ragusa was the showpiece of the Balkans. The epicenter for both the scientific community in the region and for the burgeoning Slavic literary scene, the city also became a playground for architects. Public and private buildings rose at an astonishing rate, with an eye toward unity of aesthetic. The republic's style blended Venetian influences from both the Gothic and Renaissance eras with traditional Croat building techniques and embraced rich color on decorative trim.
Expression continued to soar in the fine arts, as well. Sculpture and painting reached new heights in Ragusa, with 16th century masters bringing new realism and softness to depictions of religious and cultural life. Onstage, liturgical mystery plays were popular, but soon gave way to Croatian dramas of secular nature, gripping dramas unique to Ragusa that were in such demand that they were performed on a public stage in front of the Prince's Palace to accommodate the crowds.
Shake, rattle, and fall
So how did such a richly cultured economic powerhouse lose its way? The first answer is that it was shaken to its core, literally, by an earthquake in 1667. Almost the entire city collapsed or burned in the ensuring fire and 5,000 citizens were killed (a surprisingly small number considering how much of the infrastructure was destroyed). Among the dead were the Rector and a fair number of Senators, throwing leadership into chaos even as the dust was settling.
The city tried to rebuild, though its signature architectural flourishes were traded in for more modest style, and trade routes were re-opened. Venice was not able to capitalize on its rival's losses and, slowly, the Republic regained its footing, at least in diplomatic terms; by the end of the 18th century, Ragusa had offices and consulates in 80 port cities worldwide, and the flag of Saint Blaise was considered a symbol of neutrality in an increasingly fractious Europe.
But a second blow was to come, this time political: Just as the Ottoman Empire was waning, diluting its ability to bolster and protect Ragusa, both Habsburg Austria and Napoleonic France were ascending. Ragusa tried to use its neutrality to take advantage of ports that warring parties and their allies couldn't enter, but by not shoring up alliances, Ragusa risked being left friendless should one side emerge triumphant. And that is just what happened.
With Britain, Austria, Russian, and France forces all eyeing the Republic, its days were numbered. Russian forces laid siege to Ragusa in 1806, firing thousands of cannonballs on the city, and the city agreed to surrender to Napoleon, who used his power to end the barrage. But even Napoleon's might was temporal. In 1815, the Congress of Vienna awarded the entire territory to the Habsburgs. Just like that, with a stroke of another pen, the Republic of Ragusa was abolished, centuries of power signed away into history.
The progressive culture of the Republic of Ragusa