Forgot Your Username
If you have forgotten your username, please provide your email address in the box below. We'll send you an email with your requested username. If you are having trouble, please call us toll-free at 1-800-221-0814.
Email Sent
You'll receive an email in a few minutes. Please check this email to find your requested username.
If you do not receive an email or you are having trouble logging into My Account, please call us at 1-800-221-0814.

CHINA
China may not be the oldest civilization in the world, but it's the longest, most continuous one. Stretching back some 5,000 years, Chinese civilization slowly emerged from the fertile flatlands of the middle Yellow River and eventually developed into what is now the most populous nation on Earth. With a land mass slightly less than that of the United States, China clocks in as the fourth-largest country in the world—and many predict the Asian giant is poised to overtake the U.S. as the world's largest economy in the upcoming decades.
Beginning in 221 BC and over the next 2,000 years, China was ruled by emperors—more than 500 in all. While its entire span of history has been rich and tumultuous, China was especially turbulent during the twentieth century. After the last of the Manchu emperors, Pu Yi, was overthrown in 1912, a revolution led to the establishment of the Republic of China. Further revolutions and civil wars ensued, and in 1949 Communists with Mao Zedong as head of state established the People's Republic of China—while a rival government was established off China's coast on the island of Taiwan under the leadership of Chiang Kai-shek. As mainland China transformed into a socialist society—and remained isolationist—the United States backed Chiang Kai-shek. To consolidate power, Mao embarked on a disastrous, decade-long Cultural Revolution, which ended in 1976. Shortly thereafter, the U.S. began establishing formal diplomatic relations with the People's Republic of China, and officially ended ties with Taiwan in 1979.
With its vast size and remarkable breadth of landscapes, iconic sites such as the seemingly infinite Great Wall, Beijing's Forbidden City, the Terra Cotta Army of Xian, Guilin's limestone pinnacles, and the Yangtze gorges are just a tiny fraction of China's myriad wonders.
China Interactive Map
Click on map markers
below to view information about top China experiences
Click here to zoom in and out of this map
Most Popular Films
Films featuring China from international, independent filmmakers
36 Hours in Chengdu
Watch things heat up in Chengdu, China, from hot pots to giant panda pens.
Produced by Jonah M. Kessel, Max Duncan, Sarah Li, Will Lloyd and Dominic Yip
Saving China's Elephants
Learn how China is striving to protect its shrinking population of Asian elephants.
Produced by Andrew Jacobs
©2014 The New York Times
Chengdu's Monastery Food Haven
Get a taste of Chinese culture as locals lead you to food markets, an outdoor tea café, and an opera house.
Produced by CNN
Earth Diaries - Wild Horse Racing
Catch the excitement of traditional Tibetan horse racing as skilled riders compete in China.
Produced by Cynthia Younker
Featured Reading
Immerse yourself in China with this selection of articles, recipes, and more
RECIPE
Jiaozi dumplings are the perfect appetizers or snacks. Find the recipe for this traditional Chinese dish here.
ARTICLE
Find out how China's one-child policy has changed since its enactment in 1979.
China: Month-by-Month
There are pros and cons to visiting a destination during any time of the year. Find out what you can expect during your ideal travel time, from weather and climate, to holidays, festivals, and more.
China in December-February
China is a vast country, and winter weather varies dramatically from the north to the south, and east to the west. Northern cities like Beijing and Xian are very cold in these winter months, with temperatures averaging below freezing (and well below freezing in Tibet), while places such as Hong Kong are very mild, with little rain and temperatures averaging around 60º F. And although it may seem that the entire nation is traveling during Chinese New Year, winter months see far fewer crowds at the Great Wall, Beijing, Xi'an, Chengdu, and other iconic destinations.
Holidays & Events
January 5: Harbin Ice & Snow Sculpture Festival begins. The world's largest ice and snow festival lasts an entire month and takes place in the northern Chinese city of Harbin, known as the "Ice City."
February 16: Chinese New Year begins.
Must See
Chinese New Year: The country's most important traditional festival, Chinese New Year (also known as Spring Festival) is a week-long celebration of family and friends, and includes cultural activities, temple fairs, dragon dances, concerts, and parades throughout the country.
China in March-May
Spring is one of the best times to explore China. Fruit trees begin to blossom and temperatures slowly rise into the 70s (ºF)—except in the extreme northeast and northwest parts of the country. And it's still dry in northern cities such as Beijing and Xian, while summer rains have already begun in the south. Major sites are still relatively uncrowded throughout China, although with temperatures also warming up in Tibet, May is the start of the tourist season there.
Holidays & Events
March 2: Lantern Festival is a tradition that dates back 2,000 years and takes place on the last day of Chinese New Year. Activities vary regionally, but most include floating lanterns, fireworks, and dragon dances.
April 5-7: Qingming Festival (also known as Pure Brightness Festival or Tomb-Sweeping Day) is a seasonal celebration relating to spring and respecting ancestors. Activities include tomb sweeping, spring outings, and kite-flying.
May 1-3: Labor Day (International Worker's Day). During Labor Day celebrations, travel volume is high and dense crowds can be expected at major attractions and in many Chinese cities.
Must See
Must See: Spring flowers in bloom. With some 600 species of rhododendron native to China (some of which can grow to 30 feet high) spring is the time to view clusters of these flowers carpeting the meadows and mountains in vivid colors. In March, large peach orchards come into bloom in China's southern city of Guilin. And every April, millions of brightly colored tulips and lilies are on display at the Tulip Cultural Festival in Beijing's Shunyi District.
China in June-August
Summers are hot and humid in China, and daytime temperatures can reach 95+°F in all but the northeast and mountainous areas. Summer rains are often brief but heavy, making the flora vibrant and high water levels in the Yangtze and other rivers. It's also a great time to visit places like Tibet and the beaches of southern China, although bear in mind that typhoon season begins in August in the south.
Holidays & Events
June 18: Dragon Boat Festival is an ancient Chinese celebration known for rice dumplings (zongzi) and dragon boat races.
China in September-October
Considered the best time to visit China, these are the months when the summer rains have ceased (except in Hong Kong) and the weather is at its optimum. Cooler weather also makes this an ideal time to climb the Great Wall, and fall colors start to appear in parts of the countryside.
Holidays & Events
September 24-26: Mid-Autumn Festival
October 1-7: Chinese National Day (Golden Week) commemorates the founding of the People's Republic of China.
Must See
The Mid-Autumn Festival in Beijing (also called the Moon Festival) is China's second most important festival (after Chinese New Year). Traditions center on family life, eating sweet pastries called mooncakes, and releasing festive red lanterns.
China in November
This is still a great time to explore China, with temperatures cooling down and smaller crowds at popular destinations. Plus, it's the best time to see fall colors at their peak across the country, including gingko trees turning a beautiful golden color in the south.
Must See
Fall foliage is at its peak in places like the Great Wall, the Yellow Mountains, and the Yangtze River, and clear skies add to the colorful display and dazzling views.
Average Monthly Temperatures
Compare Our Adventures
Click 'Select to Compare' to see a side-by-side comparison of up to adventures below—including
activity level, pricing, traveler excellence rating, trip highlights, and more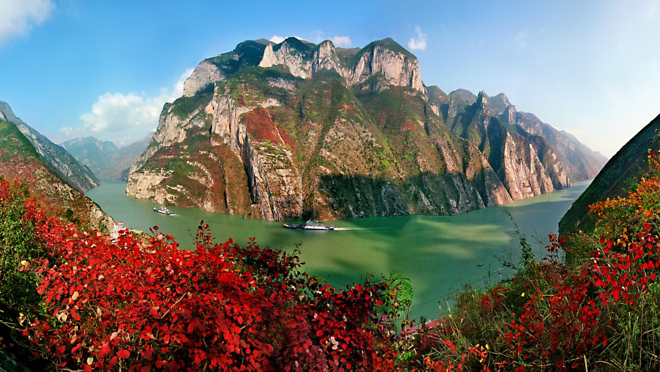 22 DAYS FROM $4,495 • $ 205 / DAY
Small Ship Adventure
China: Beijing, Xian, Chengdu • Tibet: Lhasa • China: Yangtze River, Wuhan, Hong Kong
50 meals—daily breakfast, 14 lunches, and 16 dinners (including 2 Home-Hosted meals)
Explore a section of the Great Wall that hasn't been rebuilt for tourists
View the Three Gorges Dam during a 3-night Yangtze River cruise
Stroll along the narrow lanes of Beijing's hutongs
Witness the 2,200-year-old Terra Cotta Army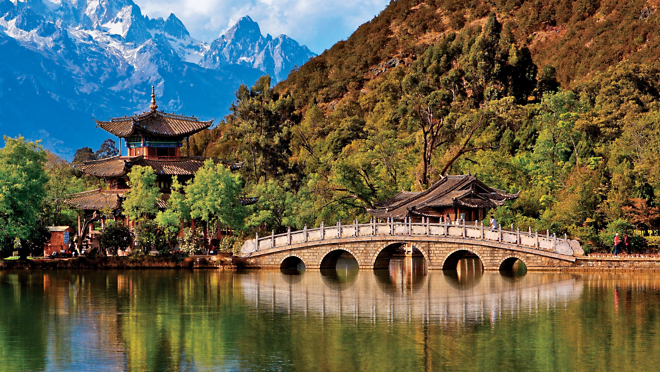 ;
8 NIGHTS FROM FROM $2,195
Marvel at the landscapes of Shilin, the Stone Forest
Browse the Bai handcrafts in Dali's Old Town
Wander the maze-like lanes of Lijiang's remarkably-preserved Old Town
Take a boat ride on the crystalline waters of Erhai Lake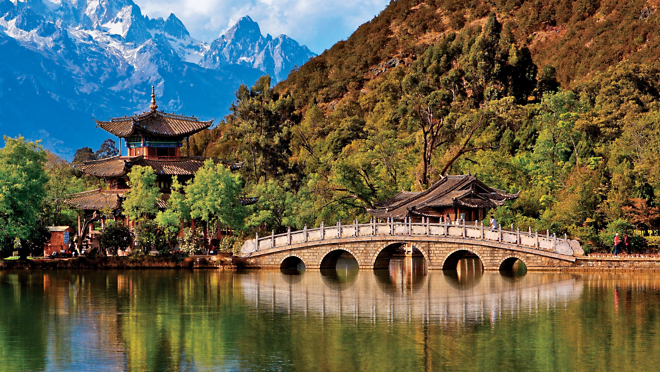 Not Applicable*
Not Applicable*
17 meals—8 breakfasts, 5 lunches, and 4 dinners (including 1 Home-Hosted Lunch)
Marvel at the landscapes of Shilin, the Stone Forest
Browse the Bai handcrafts in Dali's Old Town
Wander the maze-like lanes of Lijiang's remarkably-preserved Old Town
Take a boat ride on the crystalline waters of Erhai Lake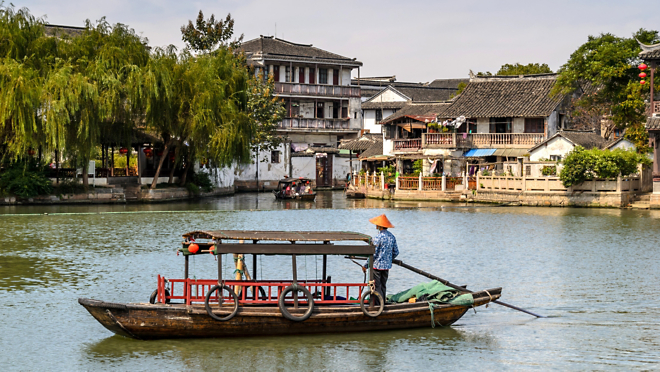 ;
6 NIGHTS FROM FROM $1,795
Stroll along the Bund overlooking the Huangpu River
Discover the Yu Gardens
Cruise the canals of Suzhou, called the "Venice of the Orient"
Visit a traditional fishing village on the Yangtze Delta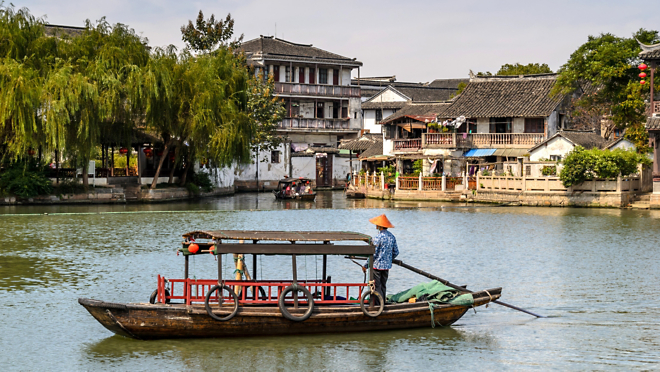 Not Applicable*
Not Applicable*
12 meals—6 breakfasts, 4 lunches (including a Home-Hosted Lunch), and 2 dinners
Stroll along the Bund overlooking the Huangpu River
Discover the Yu Gardens
Cruise the canals of Suzhou, called the "Venice of the Orient"
Visit a traditional fishing village on the Yangtze Delta